Peachtree Settlement Funding Reviews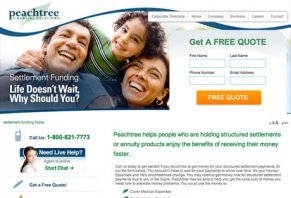 Peachtree Settlement Funding can purchase your future payments related to a structured settlement, which can provide immediate money for medical expenses, home purchases, and more.
About Peachtree Settlement Funding
Peachtree Settlement Funding is a buyer of structured payment settlements received as the result of lawsuits, annuities, lottery winning, life insurance policies, and more. The company claims that their process is easy, and you can typically have your money in 90 days or less.
Peachtree Settlement Funding is a division of Peachtree Financial, which is owned by JGWPT Holdings (who also operates JG Wentworth), and has been in business since 1996. The company holds an A+ rating with the Better Business Bureau, with just 13 closed complaints over the past three years. Based on our research, most online customer complaints cite poor customer service.
How Peachtree Settlement Funding Works
According to the Peachtree Settlement Funding website, future payments you receive as part of a structured settlement annuity shrink in value over time due to inflation. In addition, because this money is illiquid, it's not easily available in the event of an unforeseen emergency, when purchasing a home, etc. Because of this, Peachtree Settlement Funding "helps people… enjoy the benefits of receiving their money faster."
Peachtree Settlement Funding can buy some or all of your payments. They claim to make the process simple, easy, and efficient, and that you could receive your money in as little as 90 days. However, keep in mind that buying structured settlements is regulated by state laws, which means that it will likely be subject to a court ordered review. Despite this, Peachtree Settlement Funding claims to have a high rate of court approvals, and can even provide you with an immediate cash advance if necessary.
According to the company's website, purchasing your structured settlement payments can be completed in five steps:
Step 1: Discuss your needs, and make sure that Peachtree Settlement Funding can meet those needs.
Step 2: Determine the value of your structured settlement, and figure out which options are available to you.
Step 3: Gather information, answer your questions, and collect the proper paperwork and documentation.
Step 4: Prepare for the court process.
Step 5: Collect your money.
Peachtree Settlement Funding Pricing
In order to begin the structured settlement payout process, you'll need to contact Peachtree Settlement Funding at 800-821-7773, or request a quote here.
Peachtree Settlement Funding quotes are free. Although we couldn't locate any specifics about the company's fees, most structured settlement companies charge 10-20% of the total payout amount. For example: If you have a settlement valued at $1 million, Peachtree may pay you between $800K and $900K, while keeping the remainder as profit.
Pros
Allows you to cash out your structured settlement in one lump sum payment.
Easy 5-step process.
Claims to have most structured settlement payments funded in 90 days or less.
In business since 1996, and A+ Better Business Bureau rating.
Cons
Most common complaint includes poor customer service.
Bottom Line – Is Peachtree Settlement Funding a Scam?
There are several companies you can choose from to handle your structured settlement, so you should definitely do your research prior to committing. This is because many of these companies charge extremely high fees and interest rates in exchange for loaning you money, which in some instances can put you in a worse financial position than when you began.
Also, keep in mind that based on our research, the parent company (Peachtree Financial) is part of a recent class action lawsuit that alleges deceptive business practices.
With this in mind, it's often a good idea to use pre-settlement funding companies only if you're left with no other option.
For people that have never been through the process.

I began searching to help financially during a tough time while waiting on my settlement. I have never been through the process of doing this before. Pre- qualification customer service was very polite and helped me understand if I had what was required to use the services and sent me a number via text to call and begin the process. I was also informed by my lawyer to go through this company for the small amount I needed in comparison to what I would get in the settlement. I also read the website as well for what cases they take.

However, upon calling the number, the representative refused to even really speak with me and was very rude and told me that even though what was advertised and what my lawyer said and what the previous representative said, I have no case to be opened or worth speaking to my lawyer about from them, and everyone else was wrong, and she wasn't.

However, she never even heard any details about my case, just rudely kept asking me if I was in a car accident or not. I said, "that is not the only cases the company handles, it was not a car accident injury, no." She said, "then we can't help you." I said, "well, the previous representative was much more helpful and polite than you are." She said, "oh really?" I said, "yes, you won't even listen to me, just keep asking about a car accident." I then asked to speak with someone more polite and informative. She said "no" and wished me good luck in life broke and hung up on me.

So whatever money this company could have profited from me no longer will. I'm not sure that even matters as companies no longer value customers anyways. I am just disappointed to be treated in such a way when I have never dealt with this situation I'm in before, and maybe after listening, I possibly would or wouldn't have qualified, however, I would never know because it never got that far.

Bottom Line: No, I would not recommend this to a friend

---

Bad rates

By Hiddington

,

Maryland

,

May 1, 2016
Verified Reviewer

I've had my settlement since I was a kid. I recently was laid off so I ran into troubling times.

I called Peachtree and was lowballed and felt totally helpless since I have no credit. They offered me 50k in exchange for 300k in payments. I eventually signed up after repeated calls and promises of money. It was not until I signed up that I found this website and decided to call Michael davis as reccomended by someone on this blog.

The person I contacted offered me a deal where he would buy the same payments that Peachtree offered but in exchange for 78k. I was taken back and thought that was impossible. As soon I called PeachTree to cancel, they magically were able to match that offer. I figured if they tried to rip me off of 28k they do not deserve my business.

Bottom Line: No, I would not recommend this to a friend

---

Advertisement

---

The big hustle

By Sam

,

Rockaway, NJ

,

Jul 31, 2015

Just got a call back from Peach Tree regarding funding for an accident settlement that is still months away. I was requesting $5000.00. I had surgery as a result of the accident and my pain and suffering is extreme. They received all of the paper work from my attorney at the close of business on Friday. They called me at 10:30 am on Monday with an offer of $500.00. They claimed we would have to start with that amount since we don't know the limits of the other persons insurance policy but more money could be forth coming based on additional information. Here's the hustle, they would wave all fees of the $500.00, all I would have to do is pay them $1000.00 when my case settles. Imagine that! I'm sure that they would continue to string me along with small advances at that crazy payback amount until they had stolen half of what I might receive. Stay clear of these sharks.

Bottom Line: No, I would not recommend this to a friend

---

Peachtree has high rates

By Ashley

,

Florida

,

Jul 9, 2015

I never had a problem with Peachtree. My father died and left me some money. He died in a wrongful death. So I needed 20k to fix my home and Peachtree helped get it in two months but interest is 41000 so it is quite high but it's also because payments are not due until 2017, so they have to wait three years. I am not sure is that bad? I am 22 years old.

Bottom Line: Yes, I would recommend this to a friend

---

Advertisement

---

I found a better funder than Peachtree

By Jeff

,

New York

,

Mar 27, 2014

I never really liked these legal funding companies. I have found that like Peachtree they charge fees over and above what you borrow AND they compound their high interest rates so that the client often end up owing back double in like 2 years. I have found Redwood Funding Group to be the most reasonable with no fees or compounding interest.

Bottom Line: No, I would not recommend this to a friend

---