Pearl Box Co Reviews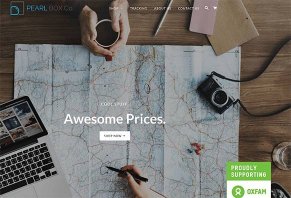 Pearl Box Co promises to add some fun back to your online shopping experience with a continually changing collection of curated clothing and lifestyle items, especially leggings.
What is Pearl Box Co?
Pearl Box Co is an e-commerce company with a constantly-changing collection of clothing items and accessories. Every month, the website offers over 100 different fandom-related products that they claim break the mold set by conventional apparel stores.
According to their website, Pearl Box Co forgoes maintaining a massive, unoriginal collection of lackluster goods to instead carefully curate a selection of unique pieces designed to get browsers excited about shopping again.
While Pearl Box Co offers a variety of products, the company seems to specialize in athleisure clothes and leggings.
How Does Pearl Box Co Work?
Pearl Box Co offers a boutique experience for online shoppers with a continually changing collection of products. Interested customers need only to make an account on the website, add products to their cart, and then proceed with their payment.
The company website states that purchased items will be shipped from their warehouse within 3-5 days of payment and that customers will receive shipping confirmation information and tracking numbers via email.
Though Pearl Box Co acknowledges that shipping times can vary considerably across the globe, the company estimates that most orders arrive within 1-3 weeks of the shipping date.
For every purchase on the website, Pearl Box Co donates $1 to Oxfam International, a confederation of 19 charitable organizations dedicated to fighting global poverty.
What Products are Available from Pearl Box Co?
Pearl Box Co's ever-changing collection consists of a wide variety of wellness products, athletic wear, electronics, and trendy accessories. At the time of publishing, we found that the website had seven categories (cool stuff, beauty, workout, shapewear, teeth whitening, bestsellers, and new), most of which contained 5-15 curated items.
The company is most known for its athleisure collection, which includes push up leggings, booty shorts, sports bras, and other feminine apparel. Pearl Box Co's push up leggings come in a variety of styles that include denim, high waisted, yoga pants, contour, and printed leggings.
The company claims that their leggings are sexy, stylish, and comfortable; and they state that their push up leggings are optimally designed for increased shape and support. But can they give you the figure you crave? Let's look at the details.
Will Push Up Leggings Make Your Butt Look Bigger?
Pearl Box Co's website photos and copy make it clear that a major selling point of the brand's leggings is their promise to boost the impact of your derriere. Will they work? Admittedly, there isn't much research on the web that we could find about whether push up leggings leads to a more hourglass-looking figure.
The aptly named website How To Get a Bigger Butt does tell us that 'butt lift jeans' were first invented in Brazil and became a favorite figure enhancer for women in Latin America and beyond.
These jeans typically rely on strategic dyeing, clever stitching, and compression-style fabrics to produce an illusion of a smaller waist and a more substantial rear, and they often make use of a diagonal seam to form a heart shape that cuts across the hips to further enhance curves.
Pearl Box Co leggings seem to follow similar strategies for contouring, especially the brand's denim leggings. Other models make use of contrasting fabric panels, well-placed stitching, and bright colors to heighten the effect.
While these leggings won't add something to your figure that isn't already there, How To Get a Bigger Butt tells us that they can be thought of as a "push up bra for your tush." But do tight leggings have any benefits need the aesthetics?
Specifically, will they help women improve their athletic performance?
Do Compression Leggings Improve Athletic Performance?
Markets Industry tells us that athletic clothes for women is an enormous industry these days that has dramatically boosted the popularity of spandex in all kinds of clothing.
Many of these items are branded as compression clothing, which postdoctoral researcher Abigail Stickford mentions in a New York Times blog post are designed to purportedly increase blood circulation and oxygen delivery to improve sports performance.
But do they work? We looked through some of the available research to see if compression clothing can improve athletic performance or workout results. One study from The International Journal of Sports Physiology and Performance showed that calf compression sleeves seemingly made no difference in the athletic performance of 16 male distance runners.
Likewise, a 2013 study showed that compression shorts didn't increase blood flow to the legs after exercise. While exercise itself significantly increases blood flow to muscles, compression shorts seemed to make little difference in the process.
A summary of different studies produced by Human Kinetics also revealed that the benefits of compression clothing seemed to be inconsequential for helping athletes improve their performance in the moment or recover faster afterward.
Will compression clothing like Pearl Box Co leggings improve your athletic performance and recovery times? The evidence isn't substantial that they will. However, no studies have yet found any adverse effects from exercising in tight clothing, so feel free to experiment if you are curious.
How Much Does Pearl Box Co Cost?
Because Pearl Box Co's product collection is varied and constantly changing, it's impossible to provide any exact pricing information.
Generally, we found that you can expect to pay between $20-$50 for most apparel and less than $50 for the beauty products, trendy accessories and jewelry options. Our research showed that most leggings from Pearl Box Co cost between $27.99- $39.99.
Shipping costs vary depending on the price and size of your order, as well as where you are shipping it to. We found that the cost is usually between $4.97- $15, and purchases over $60 qualified for free shipping at the time of writing.
We found that the company offers a 30-day return policy from the time of purchase (not shipping arrival date) for unused items in their original packaging. For qualified returns, buyers need to pay the cost of shipping or have the cost deducted from their return.
Once your return makes it back to the company, you will be notified whether the return is approved. If it is, you will be credited the purchase amount to your account (minus return shipping).
Their website states that some products are exempt from returns, including perishable goods, intimate or sanitary items, and hazardous materials like flammable liquids or gases. Sale items also don't qualify for returning.
Likewise, exchanges are only offered for products that are damaged or defective, and you are responsible for paying the return shipping costs.
All returned items should be shipped to 55 Chrisp St, Rapid Creek, NT Australia 0810. You can also contact the company through email at support@pearlboxco.com
What Do Customer Reviews of Pearl Box Co Say?
The Pearl Box Co website contains reviews for several of the brand's products, including their popular push-up leggings. At the time of writing, these reviews were mostly positive, with customers noting that their leggings were a 'great fit,' 'cute and flattering,' and 'a must buy.'
The only reviews we could find off the company website for Pearl Box Co products were on DirtyScam.com and Reviewopedia.com. On both sites, the company is called a scam by numerous customers and receives a low ranking (one out of five stars on Reviewopedia).
Customer comments about the brand included the following:
"I had no one help me when my product went missing at all…. To this day have sent over 20 emails to this company and they have an auto response… I don't recommend ordering from them if you're worried about your product showing up and having someone help you."

"I ordered a pair of black leggings… they were not black; they were dark grey and very see-through (thin material)… their leggings are not good quality."

"[These leggings] are terrible. They took forever to get, and they are not sized right at all, and lastly, they false advertise so bad. They posted a photo of a fitness model wearing this brand; they are not this brand at all…They are so cheaply made & see through."

"Very poor quality + wrong size (XL instead of S)…I realized that the 'Deep grey, Push up leggings' they advertise definitely do not match with the product they ship, as you can clearly see there is a line in the middle of the leg which is lacking."

"These are FAR from squat proof, it's a total farce, and falsely advertised. The ones I received were made with the THINNEST material I've ever seen on "Squat proof" leggings…I can't bend over to do ANYTHING without others seeing right through my leggings…I e-mailed the company a week ago about all of this, and never got a response."
At the time of writing, we found just one positive review off the company website. Most other reviews mentioned that the leggings they received were the wrong size, not true to the website's photos, or made from low-quality fabric.
Our Consensus: Should You Buy from Pearl Box Co?
Pearl Box Co is an e-commerce brand that advertises itself as an attractive alternative to "boring" options from traditional brands. The company promises to provide browsers with an ever-changing collection of quality wellness products, but our research into online reviews for these products shows that customers aren't always coming away happy.
The (admittedly few) online reviews we found about Pearl Box Co made it clear that many customers struggled to contact the company for returns, didn't receive their orders in a timely fashion, and failed to obtain the right size and product that they ordered.
At this time, we weren't able to find any online reviews for the other products currently offered on the company website. Because we haven't tried these products for ourselves, we can't speak to their quality.
Should you order from Pearl Box Co? The wisdom of the crowd might tell you to stay away. Their return policy is stricter than most, and you will be required to pay for shipping both ways.
However, there just isn't enough information online at the time of writing to know for sure, so we are interested in hearing from your experience.
Updated review

Finally received my purchase

By Jason D.

,

Florida

,

Jan 3, 2020
Verified Reviewer

It took what felt like forever for the recipient to receive this gift. I have not as yet been advised of its quality. I will update when I find out.

Bottom Line: No, I would not recommend this to a friend

Previous review
Dec 29, 2019

Never received my purchase

I made my purchase on December 5th, I then paid with PayPal and never received the merchandise. All attempts to reach the company have failed and a dispute has been filed with PayPal. Hoping that this will generate a response from the company.

(

read more

read less

...)

---

Unethical company

By Colleen S.

,

New Port Richey, FL

,

Sep 17, 2019
Verified Reviewer

I ordered 3 bras from this company. I was unhappy with the merchandise and returned then on June 19th. I have a Customs form and receipt from the post office. The company has not returned my money as of yet.

Bottom Line: No, I would not recommend this to a friend

---

Advertisement

---

3 out 3 people found this review helpful

Terrible experience/quality

By Regina C.

,

California

,

Dec 31, 2018
Verified Reviewer

I placed my order for three pairs of leggings two weeks before Thanksgiving. I didn't get any communication from the company until the second week of December, however, the payment was immediately taken from my account. When I finally got an email from the company, they declined to refund my money and stated they would not be able take the product back. Once the product arrived, there was no information in the package that stated where the package was shipped from or how I could return it. There wasn't even any product information in the package. I would never buy from this company again or recommend it to anyone. If I could give no stars I would.

Bottom Line: No, I would not recommend this to a friend

---

4 out 4 people found this review helpful

Scam

By Claudia G.

,

Florida

,

Jul 24, 2018
Verified Reviewer

I received my order today and to say that I'm dissatisfied with my purchase is a huge understatement, the pants are nothing like as advertised. They are not remotely of anything I would ever buy or wear; the quality is just unacceptable. I will expect a full refund, and I will never ever purchase anything from this site again.

Bottom Line: No, I would not recommend this to a friend

---

Advertisement

---