PediVac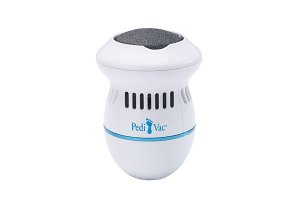 Summary
PediVac is callus remover that uses an emery pad that spins at 2,000 RPM and an internal vacuum to make skin removal easy and clean.
PediVac Review
PediVac is a hand-held foot file that uses a high-RPM motor and a vibrating emery pad to quickly remove calluses and dry skin.
The site claims their foot file is the first of its kind to grind and vacuum in shaved skin cells without leaving any mess.
The company behind the PediVac is Telebrands, whose business model focuses on As Seen on TV products like Atomic Beam flashlights, Red Copper cookware, and the Brass Bullet hose.
In this review, we'll give you our analysis of how this product works, how it compares to other forms of foot filing, what it costs and how it compares to callus removers you can find on Amazon.
How the PediVac Works
To get an idea of how this machine works, we read through the instruction manual that comes with the product. Basically, your PediVac has a cover over the emery pad that you'll need to remove. Once the cover is off, push the power button for two seconds.
The device has two speed settings: low and high. When you turn on your PediVac, it will automatically run at low speed. Press the power button once to switch to high speed. You'll know you've made the switch to high-speed when the LED light on the power button changes from green (low speed) to red.
At high speed, the PediVac's emery pad spins at 2,000 revolutions per minute which is what makes it efficient at removing calluses.
The instructions say that, to remove a callus, you'll want to "gently press the emery pad to the thickest area of dead skin you want to remove," them slowly move the emery pad out toward the healthy skin. Press and hold the power button to turn off the device.
Clean-up, according to the instructions, takes a few steps.
You'll want to remove the emery pad and run warm water over it. Air dry the pad before using it again.
To empty the collection chamber, you'll want to hold the device in your dominant hand and then twist the top of the PediVac counter-clockwise.
From there, the directions say to "slowly remove (the) circular sponge filter from (the) chamber," the instructions say.
You'll want to rinse the filter with warm water and let it air dry. This is a bit of a different process than what's advertised in the product's commercial. The commercial shows someone just tapping the side of the PediVac on a trash can and all the skin falls out.
According to the instructions, you'll want to air dry the filter. You can use it up to 100 times before getting a replacement.
The final step to cleaning your PediVac is to use a small brush (included with the device) to brush out the interior of the collecting chamber.
Manual Methods of Removing Calluses and Dry Skin
Before the advent of devices like PediVac, the popular ways of removing calluses were emery pads and various metal devices you'd rub against your feet like a cheese grater.
The downside to these devices was manifold. First, it takes a lot of time to grind down a callus with an emery pad. Rather than letting the device itself do the work, you have to provide the pressure in order to grind down the tough skin.
On top of that, keeping a clean working area while you're doing this is almost impossible, as your filed skin tends to get all over the carpet or floor.
As far as metal devices go, there's a real risk of injury, as missing running the sharpened surface over soft, healthy skin could cause some real pain.
As we'll point out in the pricing section, the investment is minimal enough to where the price difference is well worth the control you have and the ability to avoid any injuries or mess.
PediVac Pricing and Return Policy
At the time of publishing, you could buy one PediVac along with a replacement emery pad for $19.99 plus $7.99 for shipping. You could add a second PediVac along with a tube of a foot cream known as "Miracle Foot Repair" for an additional $19.99 without any extra shipping fees.
You also have the option of upgrading to their "Deluxe" package, in which you get a dark gray PediVac and 10 extra emery pads. The gray PediVacs have a three-year warranty, too. Basically, you're paying an extra $20 to get nine extra emery pads per device as well as a dark gray color instead of the standard white and blue.
As a side note, the site was offering a PediVac with rechargeable batteries as a free upgrade.
According to the fine print, you can return your PediVac anytime within the first 30 days of having it. To do so, you'll need to send the following information, Telebrands says:
Order number
Name, address and phone number/email address
An explanation for the return
Indication noting your request for a return or a refund
PediVac Versus Similar Products on Amazon
We believe that comparison is an integral part of a purchasing decision. Knowing how much other similar items cost will give the PediVac some better context. Here's a quick list of three of the top-rated callus removers on Amazon:
Emjoi Micro-Pedi Nano Callus Remover: $24.95, 4.6 stars from more than 1,000 reviews
1790 Electric Foot File & Callus Remover: $14.92, 4.6 stars from more than 1,000 reviews
MicroPure Electric Rechargeable Pedicure Foot File: $26.99, 4.5 stars from 350 reviews
The big difference between these three products and the PediVac is that none of them have a vacuum mechanism to suck up the dead skin before it hits the ground. Furthermore, only one of the three is rechargeable.
So, in terms of value and clean-up, we think that the PediVac actually performs pretty well against the top-ranked devices on Amazon.
What makes the comparison more interesting, though, is that PediVac's phone message says it could take two to four weeks to ship to your home, whereas callus removers on Amazon can ship in as few as two days.
The Bottom Line
We've reviewed another product similar to PediVac that features a vacuum: the Personal Pedi Air. Both products spin at 2,000 RPM and come with a replacement pad. The Personal Pedi Air ships for free, which saves you $7.95 compared to the PediVac.
That being said, the vacuum feature is really helpful whether you choose the PediVac or not. It's the main advantage you get over the callus removers we found on Amazon.
Nowhere on the product's website does it tell you how to get replacement pads for the PediVac. We tried calling the customer service line three different times to get an answer but could not reach a representative any of those three times.
With this in mind, we'd say approach the PediVac with caution. While the device might work well for you, it's hard to say what will happen when you need to replace the emery pad.
Because of that, we'd suggest including other callus removers in your research, particularly ones for which it's easy to find replacement emery pads.
Customer Reviews
Posted on Jul 14, 2020
Brand new doesn't spin
This is a junk product. It never worked right out of the box. The top emery board never spun despite charging it multiple times. Calls to customer service have never been answered. Do not waste your money on this product. I would never purchase from them again. Very disappointing.
Length of Use: Less than 3 months
Bottom Line: No, I would not recommend this to a friend
Pros and Cons
No "pros" were specified in this review
Doesn't work
False advertising
Posted on Apr 29, 2019
Great
I have had such terribly dry ugly feet that I won't even go GET a pedicure because I don't want anyone to see them. The calluses are thick and hard and crack often which is painful. With this PediVac, I see feet I haven't seen in 35 years! Can't wait to get sandals.
Bottom Line: Yes, I would recommend this to a friend
Our Promise to You
In order to safeguard you and ensure helpfulness and relevance, our compliance team manually assess every customer review before it goes live.
We have a zero-tolerance policy for fake reviews, and companies cannot control or alter any reviews at any time.