Peeps Glasses Cleaner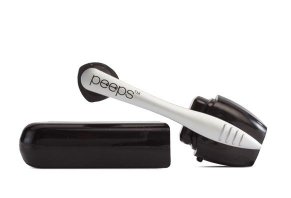 If you wear glasses and want a non-chemical way to clean off your lenses, Peeps by CarbonKlean may provide the solution via a brush and carbon-infused cleaning pads that can last 500 uses.
Peeps Glasses Cleaner Review
Peeps by CarbonKlean is a new glasses cleaner that uses a carbon brush to remove oils and dirt from the surface of glasses.
The company claims the technology behind the product was used by NASA on a space station, and that Peeps are "the safest lens-cleaning product available."
Aside from Peeps, CarbonKlean produces SmartKlear and ScreenKlean, a pair of squeegee-like devices you use to clean smartphone, tablet and computer screens.
In our review of Peeps, we'll give you a quick rundown of how the product works based on material provided on the company's website, a summary of how much Peeps cost and a comparison to other lens-cleaning products.
How Peeps Glasses Cleaner Work
There are two parts to the Peeps cleaning process, both of which are included in one small device. First, you'll pull out the carbon brush that, according to the company, uses an invisible carbon mixture to lift grease, oils, and dust off of your glasses without scratching them.
A demo video of the product reveals that the carbon brush is less than an inch wide. You'll slowly move the brush from one side of your lenses to the other. As the brush glides across the surface of the lens, the invisible mixture picks up all the foreign objects on your lenses.
At this point, you'll pull out the Peeps cleaning pads. They look like a pair of tweezers with black pads on the ends of them. Slide the tweezers over your lens, squeeze them down onto the lens surface and gently wipe them back and forth across your lens.
As we mentioned, CarbonKlean claims that you can go through this process 500 times before your Peeps stop working as they should. We read through some customer reviews on Amazon to confirm this and found some interesting information that we'll share later in this review.
Peeps work on prescription and over-the-counter glasses, an FAQ sheet notes, including glass and CR39 lenses.
Editor's note: We researched the claim that the technology behind Peeps was first used by NASA and we could not find any evidence, though we don't doubt there could be a link.
Why Carbon Is Used as a Cleaning Agent
TheFAQ document we mentioned also notes that carbon is an essential part of Peeps because carbon molecules are good at absorbing oils. According to the company, the carbon they use for their glasses cleaners is "specially formulated to handle the fingerprint oils on eyeglasses and sunglasses."
They point out that, in the old days, people used to use newspaper to clean windows. This is because the carbon-based ink on newspaper pages soaked up the oils on the glass.
Peeps Glasses Cleaner Pricing and Return Policy
At the time of publishing, one pair of Peeps cost between $14.99 and $15.99 depending on which color you want. For example, "Electroplated Gold" Peeps were $15.99, whereas plain black Peeps were $14.99.
As far as we can tell, the more expensive Peeps' color scheme doesn't affect its performance – electroplated gold is just a cosmetic enhancement. Other colors you can choose include: blue, rose gold, space gray, lime, pink, purple, and red.
If you want to return your Peeps, your options are limited. The company's Returns page notes that "only returns of product in original, unopened, new condition will be accepted."
In other words, you can't try your Peeps and then return them if you don't like how they work.
To complete a return, you'll need to send your Peeps to the following address: CarbonKlean; 24 Village Pointe Dr.; Powell, OH; 43065.
Once CarbonKlean receives your Peeps, they'll verify that the product is unopened and in new condition, then they'll notify you that they will process your return. According to the fine print, it could take up to 14 business days to receive your refund.
Customer Reviews of Peeps Glasses Cleaner
One way to find out how effective Peeps lens cleaners are is to review what customers are saying about them on Amazon.
Peeps had more than 420 reviews at the time of publishing, with an average rating of 2.7 out of five stars. As the average rating indicates, the reviews of this product are mixed.
For example, a recent customer named Ellen Ackerman said she loves her Peeps because, as a dog groomer, she gets a lot of dirt and grime on her glasses every day.
"I bought one of these cleaners almost a year ago and it is just now starting to wear out," she wrote. "They are still like magic … most definitely will be buying another (or 3)."
A few other reviews we read indicated that customers were satisfied with the level of cleaning their Peeps provided.
On the opposite side of the spectrum were reviewers who complained that the pads on the Peeps came off, rendering them useless.
"After only a month or so, the cleaning pads started to roll up at the edges and finally peeled off completely," a review named Carla Cardinal wrote. "If you're looking for something that cleans well, this works...for a very short time."
These contrasting viewpoints are indicative of the overall Amazon review Peeps profile: 37% of the reviews were five or four stars, while 54% were one or two stars.
Based on these reviews, we believe that Peeps could be a hit or miss product for you and, in the event that the cleaning pads come off, CarbonKlean doesn't offer replacements.
Comparing Peeps to Other Eyeglass Cleaners
One of the most popular ways to clean glasses is to use a microfiber cloth. Amazon has no shortage of highly-rated microfiber cloths, one of which is best-seller MagicFiber, a six-pack of cloths that are $8.99 with Amazon Prime and get 4.7 stars from more than 11,000 customer reviews.
An overview of customer reviews reveals that people felt the cloths were effective in cleaning computer screens, phone screens, and glasses.
As a point of comparison, it's important to note that the 18 of the top 19 rated eyeglass cleaners were microfiber cloths. Based on this, we believe that you may be happier with cloths than with a device like Peeps, especially considering that multiple customers noted Peeps' cleaning pads came off soon after using them.
The Final Word: An Overview of CarbonKlean Peeps' Strengths and Weaknesses
Based on our research of how Peeps work, what they cost and what customers are saying about them, we believe we've found a clear set of pros and cons.
First, the pros. Peeps allow you to clean your glasses without using any chemical cleaners which, according to a Lifehacker article about the right way to clean glasses, can strip your lenses of their protective coatings.
Also, we like how Peeps provide a brush you can use to lift debris off the surface of your glasses so that you can avoid having those debris scratch your lenses when you wipe the cleaning pads across your lenses.
The downsides of Peeps are that the product's cleaning pads may come off after a short time, rendering them ineffective. Also, we believe that sets of microfiber cloths like the ones we mentioned earlier could provide just as effective a solution at around half the price.
Finally, the Peeps return policy is pretty restrictive and doesn't allow you to get replacement parts or refunds if, for example, the cleaning pads fall off.
Useless product

By Brian M.

,

Toronto, Ontario, Canada

,

Feb 16, 2020
Verified Reviewer

I just received my Peeps. I used as instructed on two pairs of glasses, brush first, than pads. The pads caused streaks on all lenses. I repeated, this time breathing on the lenses first. No better. The glasses are dirtier than ever. The return policy suggests that it does not cover an unsatisfactory product. I would give zero stars if that were an option.

Bottom Line: No, I would not recommend this to a friend

---

Upfront marketing company - don't waste money!

By Michael B.

,

Winchester, United Kingdom

,

Jan 15, 2020
Verified Reviewer

The marketing of the product is first class and certainly gets you interested. However, logistics are poor with it taking well over a month for the product to arrive and it's then you realize you have bought an expensive small piece of plastic. Presented in a plastic baggy too, which if a gift looks poor.

Watch if outside of the US for customs costs - for me that added over a third to the price. They will point to their pages of terms and conditions which is fine but hardly represents transparency in pricing. They inflate the cost of the product on the customs declaration too, which is unhelpful when that drives the added taxes you then have to pay.

I haven't used the product for any length of time but note that many experience the pads falling off after a period. We shall see.

So a 9 for marketing - you will get loads of electronic newsletters before you get your goods if you are into that. A 1 for logistics for the reasons above and a 2 for customer service, which although poor is at least timely.

Bottom Line: No, I would not recommend this to a friend

---

Advertisement

---

High tech money pit

By James K.

,

Richmond, TX

,

Dec 27, 2019
Verified Reviewer

Don't waste your hard-earned money. The eye doctor and glasses company I use changed from the excellent lens cleaner and micro cloth to Peeps. Peeps neither cleans my glasses, nor can it be used in the many other ways I need - phone touch screen, camera lenses, retina screens, etc. It's a lot of money for something that can be used in very few situations, and then it does not perform as promised. A complete commercial scam.

Bottom Line: No, I would not recommend this to a friend

---

I now have to buy new lenses

By Susan T.

,

Georgia

,

May 7, 2019
Verified Reviewer

I have always taken care of my glasses and only cleaned them with recommended cleaners...until I read about Peeps.

Peeps sounded wonderful so I ordered some. They were exactly what I wanted. Except...one evening while cleaning my glasses and checking for smudges under my OttLite I was horrified. My lenses looked as if they had been cleaned with steel wool!

I have only cleaned my glasses with the recommendation microfiber cleaners so I have no idea why they are so scratched.

I am so disappointed because the Peeps sounded wonderful. They were recommended by some great companies but I cannot recommend them.

Bottom Line: No, I would not recommend this to a friend

---

Advertisement

---

Peeps

I bought two pairs of Peeps, one for me and one for my wife, and the same results in both Peeps. When I took the Peeps out of the box, I read the instruction, then I took the brush out and brushed my glasses, then used the brush like suggested. It left like a grease mark behind. I could not understand that. I put the glasses on you and I could see fine, but you had a smutch to go long look through. Not very happy with the results, will return both pairs to Walmart. I'm an unsatisfied customer. Couldn't find Peep's phone number for Peeps online, does not exist.

Bottom Line: No, I would not recommend this to a friend

---

Not as advertised

By Lucy B.

,

Wollongong, Australia

,

Mar 26, 2019
Verified Reviewer

I bought one and had seen reviews and read about it then thought why not, it was only $5. It arrived, and I was keen to try it out as the ad and reviews showed how clear the glasses became, no cloudiness that can sometimes happen with spray and cloth combos. I used as instructed and it did remove dust and debris from the surface, but as for cloudiness, it just smears it around to the edges not as clean and clear as advertised. I will keep trying to see if it improves.

Bottom Line: No, I would not recommend this to a friend

---

Advertisement

---