Peloton Tread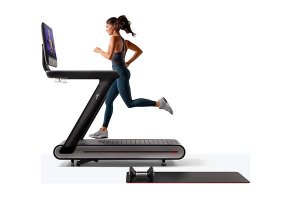 The Peloton brand expands their home fitness empire with the Tread, a top-of-the-line treadmill equipped with a 32" touchscreen.
Peloton Tread Reviews - Hype or Legit?
As the newest product in the Peloton family, the Peloton Tread brands itself as a top-quality treadmill that's designed to keep you motivated and meeting your fitness goals.
As we've written previously, Peloton began as a cycling brand in 2012 and quickly attracted a national following because of their premier equipment and immersive live-streamed class structure.
The Peloton Tread builds on that fitness foundation with a home treadmill that promises to let you work out to a mix of cardio and strength workouts that are taught by Peloton's elite New York City instructors. It's the company's goal to help you achieve your best level of fitness on your own time, with the experience of a premium fitness studio in your home.
Does Peloton Tread live up to its brand name, or is it merely an overpriced piece of exercise equipment? Let's look through the details so you can decide whether it's a good choice for you.
How Does Peloton Tread Work?
The company website tells us that the Peloton Tread is a 72" by 36.5" by 72.5" treadmill that comes equipped with a shock-absorbing slat-belt that makes it a low impact way to run.
The Tread is known for its innovative speed and incline knobs, which are located on the side of the machine.
The company states that this makes walk-to-sprint transitions easy because you can turn the dials in an intuitive, ergonomic movement. For those who prefer standard treadmill design, the Tread also has physical buttons on the front for increasing your speed and incline as well as an emergency stop safety feature.
What truly makes the Tread stand out, though, is the 32" HD touchscreen across the front that lets you monitor your workout stats in real time and stream fitness classes from Peloton's NYC studio.
These classes are offered live up to eight times a day through the Tread's screen and the Peloton Digital app, and you also have unlimited access to previous workouts for streaming on-demand.
About Peloton Tread Class Types
The real value of Peloton Tread comes from the caliber of workouts it provides for you, and Peloton Tread makes it possible to complete all Bootcamp, Floor and Running/ Walking classes offered in Peloton studios.
These classes range from ten-minute warm-ups to 90-minute marathon training sessions, and up to eight workouts are streamed live from the Peloton studio each day.
Many of these classes have components that take place on the floor next to the Tread and incorporate strength-training, abdominal workouts, and flexibility moves into the workouts.
Note: It's also possible to stream Peloton workouts without committing to the brand's Bike or Tread with Peloton Digital, a standalone app that costs $19.49/month. Those in the NYC area can also sign up for physical Tread classes at the studio website.
What Does Peloton Tread Cost?
According to the brand's website, the Peloton Tread on its own costs $3,995. That doesn't include the shipping and assembly fees, which brings the total to $4,295.
The company also offers three package deals (Essentials: $4,524, Works: $4,644, and Family: $4,844) that add accessories like resistance bands, free weights, an exercise mat, wireless earbuds, glass water bottles, and more to the order.
Once purchased, you will need to pay $39/month for a video subscription to use the Tread for workouts. Those who already own a Peloton stationary cycle can access the video content on the Tread without having to pay for another subscription.
If you prefer not to pay for a subscription, it's possible to use the Tread like a regular treadmill in the 'Just Run' mode, and the HD screen will display your metrics as your workout. The Tread also comes with three pre-selected workouts, though your stats from these workouts won't be saved once you finish.
It's possible to return the Peloton Tread within 30 days of purchase, though it should be noted the company won't refund any shipping or assembly charges, and you might be charged an additional return shipping fee of $250 or more, depending on your location. You can initiate a return by contacting the company directly through their support page.
Customer Reviews of Peloton Tread
Peloton Tread was a relatively new release at the time we wrote this article, which means that most of the reviews of the program are from people who used it only in a testing environment. Nonetheless, watt do these reviews say about the system overall?
We looked at comments from the Peloton Facebook page, Business Insider, PC Mag, and Pure Wow to get a sense what customers thought.
One opinion we saw repeatedly was that the Tread was a high-quality piece of fitness equipment. Users noted that even running at top speeds didn't jostle the 32-inch screen and that they found the incline and speed knobs more intuitive to use than the options on standard treadmills.
A few people commented that they thought the screen seemed too big and that its proximity to their face made them feel slightly dizzy while working out.
How does the Tread perform with Peloton workouts? Customer reviews show that the company's on-demand workout style translated well to running, both for beginners and advanced athletes.
Many users wrote that the coaching kept them motivated and pushing themselves harder than they would on a standard treadmill. They praised the competitive atmosphere of real-time leaderboards and enjoyed getting shout-outs from the NYC instructors during class.
We did notice a few comments that the transition to floor workouts was a little tricky, as glares on the Tread's screen made it hard to follow the instructor's instructions. Space is another concern, as the Tread's relatively bulky shape makes it hard to fit in small rooms, especially when you factor in the floor space necessary for off-machine exercises.
However, the Tread is comparable in size to other professional-level treadmills, so it isn't more of a space commitment than other top models.
What Other Fitness Options are Similar to Peloton Tread?
At almost $4,300 before you factor in the monthly subscription cost, the Peloton Tread doesn't come cheap. Are there other options you should consider instead? The first that comes to mind is combining a Peloton Digital subscription with a standard treadmill.
As we've written previously, Peloton Digital is the company's standalone app, and you can access all of the company's live and on-demand workouts for $19.49 per month. While you won't gain access to real-time stats or see how you're doing compared to the rest of the Peloton crew, this option will save you a lot of money while still offering a relatively similar workout experience to the Tread.
If you're looking for a Peloton alternative altogether, there are plenty of fitness apps that offer live streamed and on-demand workouts to keep you motivated.
Obe fitness ($27/month) and Aaptiv ($14.99) come to mind, and both programs offer you a broad variety of workouts that don't require you to buy on-brand equipment. Obe gives you video access to 28-minute exercise routines that are similar in content to Peloton, while Aaptiv is exclusively audio.
Which workout strategy is best for you? You'll need to evaluate your fitness needs carefully to find out. Peloton Trend provides a top of the line treadmill and studio class experience, and it comes with a price tag to match. A lot of people can get fit without spending $4,000 on a treadmill, though there are undeniable advantages to completing Peloton workouts on Peloton-brand equipment.
If you take competition both with yourself and against others seriously, want to improve your running times, and thrive in a studio class environment, no other treadmill option at the time of writing comes close to Peloton Tread.
If your workout needs are a little more modest or you're not sure whether you want to make a $4,000 commitment to running, there might be other options available that will serve you just as well.
Our View: Who Is Peloton Tread Best For?
As we've shown in this article, Peloton Tread is branded as a stellar fitness option for both beginner and advanced runners, and there's a good chance those who love the Peloton bike will find a lot to appreciate with this treadmill.
This device offers the full Peloton experience, and new workout videos are added to the streamable collection each day. It's likely that you'll save money by exercising on the Tread if your habit is to attend boutique studio classes each week, but more casual exercisers might find it too pricy for the features you receive.
The Peloton Tread is best for people who get motivated by exercising in a studio environment in real time. While it's possible to use the Peloton like a regular treadmill, doing so means that you are paying for features that you aren't fully utilizing, including the massive HD screen.
We also think it's important to remember that testing out the Peloton Tread can be expensive if you decide it's not for you, as the company won't reimburse your $300 shipping costs and you may need to spend an extra $250 in shipping costs to return it.
For these reasons, we think that those who are interested in the Peloton Tread should find one in a studio showroom to try before committing, or at least complete a few Peloton Digital workouts on a standard treadmill first. This will give you a sense of whether this high-energy workout style is a good fit for you and worth the commitment to the equipment.