Penn Foster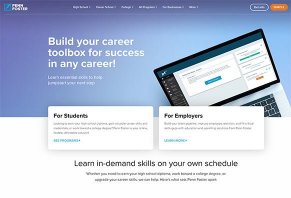 Founded in 1890, Penn Foster is an online university that provides their 133,000 students access to more than 150 degrees, diplomas, certificates, and other learning opportunities.
Penn Foster Reviews - Is It the Right Choice for Education?
Penn Foster is an accredited online college, high school, and career school that promises to help you learn the essential skills you need to achieve success in any career, at your own pace, wherever you are, and on any device with an internet connection.
The university advertises its wide range of online certificate and degree programs are also affordable, with flexible payment options available. They can even work with employers to create personalized training and education—what they call "upskilling"—solutions.
The Penn Foster website advertises that among their 133,000 students, 88% of graduates say they feel more prepared for their current career after graduating, 96% achieved their goals, and 97% would recommend the university to a friend.
But, are they necessarily the best option to help you build your "career toolbox?" We'll help you answer this central question by taking a detailed look at Penn Foster's programs, admissions criteria, tuition costs, and their competition.
We'll end with a section offering our opinions and the opinions of educational experts about if Penn Foster is a good fit for you and how to find that out.
Which Programs Does Penn Foster Offer?
Penn Foster currently offers more than 150 high school, associates, bachelor's, and certificate programs. You can also take many of the courses offered in these programs individually.
High School Programs
Penn Foster allows students to earn a high school diploma via their accredited and licensed online program, with nine different "Pathways" available that can help prepare you for in-demand fields following graduation:
Carpentry
Electrical
Plumbing
Early College Courses
Healthcare
Information Technology
Automotive Repair Technician
Child Care Professional
Pharmacy Technician
Career School Programs
Penn Foster advertises their nearly 100 career school diploma and certificate programs can help you learn "valuable, in-demand skills aligned with today's growing industries":
Career Diploma Programs (total of 57) include: Administrative Assistant, Auto Repair Technician, Certified Personal Trainer, Drafting with AutoCAD, Home Inspector, Legal Transcriptionist, Paralegal, Physical Therapy Aide, Small Business Management, Web Page Designer
Career Certificate Programs (total of 42): Accounting Essentials, Business Security, Electronic Medical Records, Fitness and Nutrition, Medical Terminology, Natural Health Care for Pets, Public Relations, Sports Nutrition
College Programs & Degrees
Penn Foster offers 80 ACE-reviewed college courses across a variety of industries:
Bachelor's (60 credits): Business Management, Criminal Justice
Associate Programs (total of 22 programs; 30 credits) include: Account, Business Management, Computer Information Systems, Graphic Design, Marketing, Medical Assistant, Veterinary Technician
Undergraduate Certificate Programs: Accounting, Business Management, Child Development Associate Credential Prep, Foundation Skills for Technology, General Studies, Graphic Design, Human Resources, Veterinary Practice Management
Career Diploma Programs: Pharmacy Technician, Veterinary Assistance
What's Involved with Penn Foster's Admissions Process?
According to their website, Penn Foster offers an open admissions policy that allows you to enroll in any of their programs at any time, without having to wait for approval. And as soon as you enroll, you'll immediately gain access to lessons and have the opportunity to begin learning.
With this said, there are a handful of minimal requirements, depending on the program:
High School – You must have completed the 8th grade.
Career School – You'll need a high school diploma for most of these programs, although it's important to double-check age and education requirements for the specific program you're interested in.
College – You must have a high school diploma or GED equivalency certificate for Associate or Bachelor's programs. Again, double-check the requirements for your intended specialization.
Penn Foster indicates that the quickest and easiest way to register is by clicking the "Enroll Now" button on any page and completing the enrollment form.
Afterward, you'll receive your student ID via a welcome email, which allows you to create a username and password in the student portal and begin classes.
Alternately, you can enroll by phone or mail.
Will Your Credits Transfer to Penn Foster?
When it comes to high school, you can send Penn Foster an official transcript from an accredited institution, at which point they will evaluate it "for comparable subjects where a full credit has been earned." This is free of charge.
If the university recognizes them, incoming high school students can transfer up to 16 credits at $40 per credit. They advertise that the average savings is $250.
Penn Foster college students will also need to submit an official transcript from previous institutions for evaluation. Coursework is only available for transfer if you've received a minimum grade of "C." You can transfer up to 75% of the required credits for your Penn Foster program.
In either instance, credits are deducted from your tuition once approved. Speaking of which, let's find out what you can expect to pay for an education from Penn Foster.
How Much Does Penn Foster Tuition Cost?
Like any other university, your tuition at Penn Foster will primarily depend on your course of study, along with any transfer credits.
The website points out that "payment covers the entire cost of tuition, including books, course materials, and the support of our dedicated faculty."
They also advertise mobile-friendly coursework, goal setting-progress tracking tools, and access to a dedicated success coach.
Regardless of cost, the university doesn't charge an application fee, and they advertise they "will create a tuition plan that works for you, your budget, and your lifestyle," with 0% interest.
You can save up to 25% by paying in full. Monthly installments can be withdrawn monthly, or you can mail in payments if you prefer. Many of their programs are also approved for veteran's education benefits, including reservists.
High School
Full Pay: $949
Monthly Auto Pay: $1,219
Monthly Mail Pay: $1,315
Career School Diplomas
Full Pay: $589–$869
Monthly Auto Pay: $639–$999
Monthly Mail Pay: $704–$1,179
Career School Certificates
Full Pay: $589–$1,019
Monthly Auto Pay: $639–$1,199
Monthly Mail Pay: $704–$1,349
Career Diplomas:
Full Pay: $1,019–$2,399
Monthly Auto Pay: $1,239–$2,599
Monthly Mail Pay: $1,342–$2,774
College Associate (per semester):
Full Pay: $1,009–$1,299
Monthly Auto Pay: $1,199–$1,649
Monthly Mail Pay: $1,446–$1,762
College Bachelor's (per semester):
Full Pay: $1,069
Monthly Auto Pay: $1,279–$1,329
Monthly Mail Pay: $1,446
Undergraduate Certificate Programs:
Full Pay: $759–$999
Monthly Auto Pay: $759–$1,199
Monthly Mail Pay: $929–$1,309
If you're dissatisfied with your studies or otherwise can't continue, Penn Foster provides full refunds within the first six days of enrollment. Afterward, they emphasize your refund amount is based on lessons completed, tuition collected, and enrollment date.
Also, their website notes:
Refund policies and amounts may vary by program, state, and/or payment plan chosen at time of enrollment. The full tuition protection agreement and any differences will be reflected on your specific enrollment agreement.
For full details, you can reach a Penn Foster representative at (800)275-4410
And check their Refund Policy page.
Penn Foster vs. Other Online Colleges & Education Programs
According to the National Center for Education Statistics, more than 15 percent of university students took at least one of their courses online last year, with greater than 14 percent of all students taking all of their courses online.
Because of this popularity, you have a lot of solid options when it comes to building your career toolbox via online universities. And like Penn Foster, the majority of them offer dozens of degree programs, flexible learning environments, a variety of financial assistance options, and accreditation.
Here's how some of their high-level statistics compare:
An online university's retention rate represents how many students successfully complete their freshman coursework, and who then enroll as sophomores. It's a big indicator of how pleased students are, whether academically or support-wise.
The National Center for Education Statistics also reports that the average retention rate for 4-year degree-granting institutions, both public and private, is 81%.
Comparatively, we can see in our table above that WGU and APU rank reasonably close, although the remaining online universities' rates fall meaningfully lower—sometimes as much as 75% less.
Note: We couldn't locate third-party data regarding Penn Foster's retention rate during our research.
Online universities typically come with lower graduation rates than brick-and-mortar institutions as well, which references the percentage of students who successfully complete all required coursework for their program. A low number can similarly indicate student dissatisfaction.
Returning to the NCES, they indicate that as of 2016, 59% of public college students completed their degrees within six years along with 66% of private nonprofit students, which dropped to 26% at for-profit institutions.
At 43%, we can see that Penn Foster's graduation rate is meaningfully higher than this average, and is at the upper end of the spectrum compared to popular competing online colleges.
Penn Foster also offers one of the highest numbers of education programs, although SNU more than doubles it, which might be important, depending on your needs. On the other hand, Strayer ranks lowest at more than 25 programs.
Tuition-wise, Penn Foster falls somewhere near the middle compared to competing online institutions. WGU and Capella are at the upper end of the spectrum, while APU and Ashford are toward the bottom.
In many instances, online education from for-profit institutions is more expensive—often meaningfully more—than similar coursework from public brick-and-mortar universities.
As a result, writing for PBS News Hour, Paul Solman reports that 15.5% of for-profit school students default on their loans. In fact, he writes, "for-profit schools account for more than a third of all loans in default."
Together, Penn Foster boasts a meaningfully higher graduation rate than many of their online university competitors (no retention rates available), offers among the highest number of courses, and charges students middle-of-the-road tuition.
Bottom Line: Is Penn Foster the Right Online University for You?
Penn Foster was founded in 1890 and has had more than 13 million students pass through their doors since.
The accredited university also holds an A+ rating with the Better Business Bureau (as of 4/5/19) and comes with mostly positive online student feedback. Are they necessarily the right option for you, though?
Betty Vandenbosch, Ph.D., chancellor of Purdue University Global, says that when deciding between Penn Foster and other online universities, you should first recognize that finishing your undergraduate education represents an enormous commitment, and "the decision isn't black and white."
You have to, "answer for yourself: 'Is it worth it? Can I afford it? Will I be more successful,'" she says.
To ensure that you get the most out of your experience, Vandenbosch recommends that you have clearly defined goals before enrolling.
Lynne M. Lander Fleisher, director of Clarion Online at Clarion University of Pennsylvania, also suggests students look for programs that are regionally accredited. "This is so important if you transfer credits into an online university, or eventually have to transfer credits out to another institution," she says.
Once you've narrowed down your options, Fleisher urges that you don't stop at their website.
"Call the institution, ask to speak with a faculty member or subject matter expert (SME) in the field of study you wish to pursue, ask a lot of questions, and don't make apologies for asking them," she says.
The bottom line is that Penn Foster offers more education programs than many other popular for-profit online universities, along with competitive tuition, a storied history, and a current roster of more than 133,000 students.
Do all of these factors add up to the right distance education opportunity for you? We'd suggest giving Penn Foster a call and using the recommendations above to take a first step toward finding out.
Will steal your money

By Ren H.

,

North Carolina

,

Jan 7, 2020
Verified Reviewer

When I enrolled in this program, I paid in full for the first semester. I spoke to an admissions advisor, who told me I would get refunded for any transfer credits I received after enrolling. I did get credit for biology in October, and I still have not been refunded. I have been wasting so much time and anxiety trying to get this resolved, but no one there is willing to help.

Bottom Line: No, I would not recommend this to a friend

---

Waste of time

My daughter went through the course for her GED. We asked before she started if it would be accepted in our state to go to college, and they said it would be no problem. It was not accepted, so she had to start all over and take the state course. I will say the course is well done, and fairly priced. It is a good course, but you can't trust the representatives.

Bottom Line: No, I would not recommend this to a friend

---

Advertisement

---