Penny Stock Sniper Reviews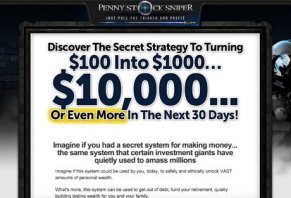 Penny Stock Sniper is a subscription-based investing system that's claimed to inform you when to invest in certain penny stocks in order to maximize your ROI.
About Penny Stock Sniper
Discovered by investment expert Jeff Avery, Penny Stock Sniper is claimed to be a powerful subscription-based service that can help deliver outstanding investment returns and unlock vast amounts of your personal wealth.
In order to accomplish this, Jeff claims that the weekly text and email alerts you'll receive as part of the Penny Stock Sniper program will take all the guesswork out of choosing which stocks to follow, which ones are ready to take off, and which are poised for maximum profit. As a result, you'll learn how to take a modest amount of money and "rapidly scale it up to five, six or even seven figures." In fact, Jeff claims that the Penny Stock Sniper system is so easy that it works over 3 simple steps:
Every month Jeff claims to analyze thousands of promising stocks and whittle the list down to a dozen or so.
Then, Jeff will email or text you when a particular stock is ready to take off, usually about once per week.
You "pull the trigger" and invest in the stock.
According to Jeff, the investing principles taught in the Penny Stock Sniper system can be used by anyone, regardless of experience or income level.
If you could finally achieve financial freedom, it could be life changing. After all, you'd be able to truly enjoy life, take advantage of everything it has to offer, and even help loved ones. But can you realistically expect Penny Stock sniper to help get you there? Consider the following:
Unanswered Questions Regarding Penny Stock Sniper
At its most basic, we have a lot of important unanswered questions regarding the Penny Stock Sniper system. These include:
Who is "investment expert" Jeff Avery? Outside of sites directly related to Penny Stock Sniper, there doesn't appear to be any information about him online.
Is the e-book the only purchase you'll need to make as part of the system (we'll talk more about this in the Pricing section)?
If Jeff was on to such a big "secret," why would he choose to offer all of his proprietary information through a $100 Clickbank e-book? Instead, why not sell it for thousands (or even hundreds of thousands)?
If everyone who signs up for the Penny Stock Sniper system is purchasing the same stocks each week, wouldn't this be considered a pump and dump scheme?
What Kind of Customer Reviews Does Penny Stock Sniper Have?
Like nearly all Clickbank products, Penny Stock Sniper is offered through affiliate websites who earn commissions off of each referral they make, and will often make any claims necessary in order to get you to make a purchase. This, in combination with that fact that the product appears to be relatively new, means that searching for "Penny Stock Sniper reviews" only returns fake review websites (see here, here, and here as examples) that are often intended to try and convince you to obtain the product rather than provide genuine and immense value.
During our research, we learned that the system is produced by Penny Stock Sniper LLC based out of Georgia, although it appears the company was dissolved in 2011 by the LLC's administrator, Darious Clay. However, there isn't any other information available about the LLC or the admin elsewhere online.
Do You Like Text-Based Stock Picks? Consider Your Options.
Finally, if you're thinking about signing up for text-based stock picks to use in your investing arsenal, keep in mind that these are nothing new. In fact, by simply performing a Google search for "text stock picks," you'll return dozens (perhaps even more than 100) results.
Penny Stock Sniper Pricing & Refund Policy
Penny Stock Sniper is priced at $97 for a lifetime membership. With your purchase, you'll also receive 4 bonus reports:
How to Minimize Risk & Maximize Profits
How to Get the Absolute Best Deal on a Stock Brokerage Account
When to Lock in Your Gains for Maximum Profits
Two Dirt Cheap Stocks Set to Explode in 2014
Like all Clickbank products, Penny Stock Sniper comes with a 60-day refund policy. In order to initiate the process, you'll need to contact customer service at 800-390-6035.
Important note: According to the FAQ at the end of Penny Stock Sniper's sales page, in order to use the system you'll "need to have at least a discount brokers account at a place like E*Trade or TD Ameritrade. Discount brokers are not created equal though. There's some great ones and some really lousy ones out there too."
The text then goes on to read, "That's why I've created a special report How to Get the Absolute Best Deal on a Stock Brokerage Account that you get with your Penny Stock Sniper membership. It walks you through setting up your brokerage account and the very best ones our members have found to use online."
Ultimately, this means that you'll need to pay more money, above and beyond the initial $97 investment, in order to put the information contained in Penny Stock Sniper system to use.
Is Penny Stock Sniper Your Path to Financial Freedom?
Considering the fact that there's very little information provided about what the Penny Stock Sniper system contains, the lack of online customer reviews, the fact that penny stocks are some of the most volatile stocks you can purchase, and the fact that you have numerous options when it comes to text-based stock picks, we'd recommend doing your research before handing over nearly $100 of your hard-earned money.
Thankfully, you've taken the right first step by reading HighYa's Penny Stock Sniper review! But don't stop there: What's your experience with the system? Tell the world about it by writing your own Penny Stock Sniper review!
2 out 2 people found this review helpful

Penny Stock not worth my two cents.

By Paul Rock

,

Grove City, OH

,

Jul 1, 2017
Verified Reviewer

I put about $500.00 in an online account just to see if I could do Penny Stock, mostly. I went to the experts Penny Picks/Penny 101, gave them my email, and daily they told me the picks that were on the move.

After playing with them, I can say that not one of those stocks (I had so many Penny stocks) were in the green more than one or two days. I have not closed my account yet, but I will this week. As for the experts, I feel they made those stocks move by speaking about those stocks. I have $217.00 that I will pull out. Not one good stock, out of maybe 50 stocks.

Bottom Line: No, I would not recommend this to a friend

---

5 out 5 people found this review helpful

Previous stock picks in video and lack of information on company and expert.

By Mike Southerland

,

Atlanta

,

Sep 18, 2015

I took the time to look up the stocks that are in the video that supposedly made millions (Symbols provided in video) and each one seems to be out of business or flat. Looking at the stock individual history, it does not show any spikes in the stock, if anything it shows a straight line or decline. I believe the video that I watched was a couple years old and not current.

I have searched the internet several times for real data and this seems to be the only site with any substance. That seems strange if in fact this is such a wonderful inexpensive way to make extra cash.

I would also like to point out that I have no experience in trading and I thought this might be an easy way to stick your toe in the water but this really is a mystery.

Bottom Line: No, I would not recommend this to a friend

---

Advertisement

---

7 out 8 people found this review helpful

Pump and Dump

By Darren Wheat

,

Orlando, FL.

,

Aug 22, 2015

The previous reviews are 100% correct. It was not the $97 I was concerned about. Mr. Avery said we should buy shares up to 70 cents of the stock ECEZ. After the stock gained 12 cents per share in the first week, he sent an email at 9:30 a.m. on Monday morning of the following week (today), saying that his instinct was that the stock would go down. What an instinct! The stock dropped 12 cents per share in less than an hour. Before I even knew what hit me, all my gains were erased. Do not invest your money in this service, as it is clearly a scam. Please consider someone reputable like Tim Sykes or Cameron Fous.

Bottom Line: No, I would not recommend this to a friend

---

11 out 12 people found this review helpful

He has what covered?

Jeff seems to be a good guy. His news letters are very convincing. Unfortunately his picks are not! I paid $97 for his lifetime subscription, I made all this back on his first pick. A month later on his second pick, I lost $150.00. Another month later after two emails and two phone calls to him, I am down about $300 and still trying to sell his latest pick. My emails went unanswered as well as my phone calls. He definitely didn't have me covered!

Bottom Line: No, I would not recommend this to a friend

---

Advertisement

---

9 out 10 people found this review helpful

This Sucks

By HSW

,

Atlanta, GA

,

Jul 28, 2015

A total waste of money. Emails each week and no stock picks. I do not think there is a Jeff Avery. He does not respond to emails and there is no way to communicate with him or his company.

Bottom Line: No, I would not recommend this to a friend

---

15 out 16 people found this review helpful

Waste of time and money

By Ed Abrego

,

Las Vegas, NV

,

Jul 21, 2015

Don't waste your money. This is a complete rip-off. Figuring this was going to be a pump-and-dump type of News letter, I'd check it out. Two weeks in and he hasn't sent a single pick. Instead, he sends an email saying he's completely committed to us as subscribers and he needs time to get the absolute BEST picks. Ridiculous.

This is this week's email on 07-17-2015

Hey guys,

I realize my big new stock pick has already been delayed by a week, but I need a few more days. Every time I'm about to send out a new pick, I say a little oath to myself…

"I, Jeff Avery, solemnly swear that now's the perfect time to take the shot. I have no hesitations that this will be a hefty money-maker for my snipers. It's time to pull the trigger and profit!"

I've got that written down on a little sticky note on my brand new Macbook Air. Seriously, take a look: http://www.pennystocksniper.com/note.jpg

If I can't recite that to myself with 100% conviction, then there's no way I'm sending the pick out. I've learned to trust my gut with these things, and my gut's saying I need a few more days to finish researching a few company developments I just became aware of. I need you to be patient for just one more week.

Sit tight until next Friday and I promise you'll be rewarded BIG TIME.

I've got you covered,

Jeff Avery

Don't waste your time or money

Bottom Line: No, I would not recommend this to a friend

---

Advertisement

---