PeopleSmart Reviews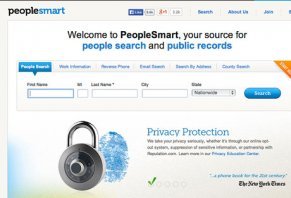 PeopleSmart is an online public information aggregator that claims to provide customers with access to over 15 billion profiles in one easy to use interface.
About PeopleSmart
If you've searched for online public records recently, it's likely you've visited the PeopleSmart website at one point or another. This company claims to provide access to more than 15 billion individual profiles, including email addresses, home and work addresses, phone numbers, background checks, and much more.
But when it comes down to it, does PeopleSmart deliver what it claims, and do they do so in an ethical manner? Let's dive in and take a look.
Quick Facts About PeopleSmart
Similar to Instant Checkmate and BeenVerified, Redwood City, CA-based PeopleSmart claims to provide their customers with access to billions of public records, aggregated into one easy to use interface. However, in addition to providing high-quality data, expert customer service, and affordable prices,
PeopleSmart claims to differentiate themselves by offering complementary services such as:
Reverse phone lookups
Background checks
White page contact information, including address, phone, and email
Court Runners – Can help you obtain non-digitized records.
IdentitySmart – ID protection services that include $1 million in ID theft insurance protection, automatic monitoring alerts, and more.
A partnership with Reputation.com, although it's not made clear exactly what this partnership entails.
PeopleSmart Pricing & Refund Policy
If you decide to join PeopleSmart, three are three different membership options:
Basic: $2.95 per month (billed annually) – Includes basic information, email and social network, birth, death, and marriage, and sex offender and inmate lookups. Additional reports cost anywhere from $0.95 to $29.95.
You can also opt in for a 7-day trial with this option. However, if you fail to cancel your trial, you'll automatically be enrolled in membership and charged accordingly (we'll dig in to this in the Bottom Line section).
Pro: $29.95 per month – Includes everything under the Basic plan, in addition to criminal record and work information lookups. You'll also receive discounted prices on Premium contact, cell phone, and background reports.
Unlimited: $59.95 per month – Includes everything under the Basic plan, in addition to Premium contact and cell phone reports.
Keep in mind that, whichever membership you choose, it will automatically renew once it expires. According to PeopleSmart, they will send you an email 30 days prior to this occurring.
All PeopleSmart services come with a 100% satisfaction guarantee, which means that if you're unable to find a record related to an individual, you can contact the company at 888-813-0008 to request a refund. Keep in mind that this request must be made within 60 days.
What Do Other Consumers Have to Say About PeopleSmart?
PeopleSmart holds an A rating with the Better Business Bureau, despite having more than 616 closed complaints over the past three years. Nearly all customer complaints we encountered during our research, whether on the BBB website or elsewhere, referenced billing issues as their main concern. These included:
Problems with the 7-day trial – Specifically, being charged for a one-month membership even after the trial was cancelled within the first seven days.
Ordering a one-time report, and being charged for a monthly membership afterward.
What's the Bottom Line About PeopleSmart?
Unlike some of the other public record aggregators we've reviewed, PeopleSmart does seem to stand behind their product, and even offers refunds if you run a report and don't return any information. In addition, the company offers some unique services such as court runners and ID protection.
However, although PeopleSmart claims to use "honest marketing," the overwhelming majority of complaints we encountered referenced automatic membership enrollments, even after customers cancelled within their 7-day trial periods. On top of this, it appears that you could also be signed up for multiple accounts without your knowledge. For example: If you run a report through FreePhoneTracer, you may be signed up for both a FreePhoneTracer and a PeopleSmart account, and will need to request both to be cancelled in order to stop all charges.
Bottom line: Use PeopleSmart if you're looking to obtain detailed information about someone, but be sure to keep a close eye on your credit card activity—even if you've already contacted the company to cancel your membership.
People aren't just searching for other people—they're also searching for reviews about the companies they use. Do you have experience with PeopleSmart? If so, write a review today!
» See Also: The Problem with People Search Websites and How You Can Find the Same Information for Free
Paid but no report

By Jennifer K

,

New South Wales, Australia

,

Feb 26, 2018
Verified Reviewer

Don't pay if you are outside of the USA. They took my money and sent a receipt for my report, but when I log in and try to search, it says the info isn't available outside of the US, which is fine, but give me my money back then.

Bottom Line: No, I would not recommend this to a friend

---

Useless info and watch out for billing

I signed up for PeopleSmart's trial a few years ago and looked up several people using their service. The searches resulted in no useful information and only gave me what I already hand: date of birth and address history. In some cases, the current phone numbers on PeopleSmart were not accurate.

Of more concern to me, I tried to cancel my membership and could not find a "contact us" option to cancel. I wanted to ask for a refund when I got automatically upgraded to the Premium plan, from $39.95 to $119, but there was no phone number to call. It was as if they were preventing customer contact intentionally, and had an automatic money-making upgrade clause that kept charging my credit card.

I feel like this company is more of a scam outfit than a firm that is providing a valuable service. Don't waste your money.

Bottom Line: No, I would not recommend this to a friend

---

Advertisement

---

Scam at best

By Catherine Stiteler

,

Bluffton, SC

,

Jul 18, 2015

I needed to check possible criminal background for my family's safety. I found PeopleSmart and entered the person's name and city. It then said that no records were found. I paid 30 dollars, clicked search and guess what, nothing, not one thing. They say they do an extensive search. I then, Goggled the county the person in question lived in and found the Clerk of Courts. Put the name in and bingo, up came everything, for free. How extensive can PeopleSmart be if I could easily find it myself in what is the most likely place for criminal records. I requested a refund, and they said no. It's bait and switch all the way, and a scam. Don't waste your money.

Bottom Line: Yes, I would recommend this to a friend

---

Useless readily available info

For 14.95 I thought I was going to get the full information, but instead I didn't even get a birth date or address. I got more information for free from another site. This is a rip off.

Bottom Line: No, I would not recommend this to a friend

---

Advertisement

---

Employee background checks

I've tried using this a couple times, but if really gave me no more information than I could find using a Google search. And it cost $30.00.

Bottom Line: No, I would not recommend this to a friend

---

Read the fine print

By Jose

,

Berkeley, CA

,

Nov 19, 2014

Well, basically, I purchased a $2 one-time service, at least that's what I thought I purchased. It turns out I signed up for a $19 monthly service. It could be my fault for not reading the fine print, yet they are not open about it. Make sure you know what you "acknowledge or authorize".

Read the fine print if you don't want to be mislead and overcharged! In my case it cost me $40.

Bottom Line: No, I would not recommend this to a friend

---

Advertisement

---