Perfect Bacon Bowl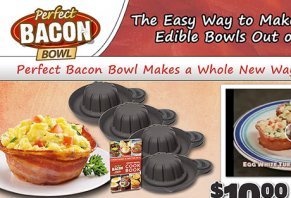 Perfect Bacon Bowl is an "As Seen on TV" product claimed to help you create a bowl made of bacon in seconds & fill it with whatever ingredients you like.
Perfect Bacon Bowl Review: Does It Work or Just Hype?
If you're a bacon aficionado (and who isn't?), Perfect Bacon Bowl is out to change how you eat by letting you to cook bacon into a bowl and fill it with whatever your tummy desires.
According to the manufacturer, this means that Perfect Bacon Bowl not only allows you to make bacon bowls, but also to make bread bowls for soups, stews, pizza bites and more. Then you can fill them with eggs and hash browns, macaroni and cheese, and can even make bacon cheeseburgers.
If you're looking to satisfy your insatiable desire for bacon, Perfect Bacon Bowl might seem like the most perfect invention in all of history. But before you hand over your hard-earned money, there are some important considerations you should keep in mind.
We'll get to all of these in a moment, but let's first take a look at how Perfect Bacon Bowl works.
How the Perfect Bacon Bowl Works
To use the Perfect Bacon Bowl, the manufacturer claims you just need to wrap a few pieces of your favorite cut of bacon around the device, put it in the oven, microwave, or toaster oven, and you'll have a bowl made of bacon in a matter of minutes. Then, you can fill the bowl with the savory ingredients of your choice and enjoy.
On top of this, while your bacon is cooking, the grease is claimed to collect at the bottom of the Perfect Bacon Bowl, after which you can easily pour it out, giving you a healthier bacon-loving experience.
And after you're done using Perfect Bacon Bowl, the manufacturer claims you can pop it into the dishwasher to clean it.
Other Options for Making Bacon Bowls
Despite how Perfect Bacon Bowl's manufacturer might make it seem, keep in mind that there are several other methods of making bacon bowls. The most popular of which is to use an upside down muffin tin, but you can even use foil-wrapped tin cans.
Granted, these methods may be more labor-intensive than using the Perfect Bacon Bowl, but they can also save you some money in the process.
Customer Reviews for Perfect Bacon Bowl
*Keep in mind that to date, the Perfect Bacon Bowl has been rebranded twice, having been previously sold as the Perfect Bacon Basket and Perfect Bacon Pan, so if you're searching for reviews outside of HighYa, make sure to look for these names as well.
Since writing our original Perfect Bacon Bowl review, 13 HighYa readers have provided their feedback and have given the device an average rating of 2.5 stars, although only 31% would recommend it to a friend (as of 6/6/15). While some readers claimed that Perfect Bacon Bowl works as advertised and provides a unique way to prepare bacon, just as many complained that Perfect Bacon Bowl is time-consuming, they couldn't remove the bacon from the device, and a difficult ordering process/unwanted items added to orders.
Important note: Many "As Seen on TV" products like Perfect Bacon Bowl are manufactured overseas, which may not meet some of the strict health guidelines found elsewhere. As such, you'll definitely want to wash your Perfect Bacon Bowl thoroughly before using it.
Perfect Bacon Bowl also had 194 Amazon customer reviews at the time of our research, where it earned an average rating of 3.3 stars. There, most of the compliments and complaints mirrored those found here on HighYa.
With this said, it's important to note that many of the positive Amazon reviews came from account where this was their only review, or where all reviews were posted on the same day (or within a very close time period), which are often indications they may be fake.
From a company perspective, Perfect Bacon Bowl is manufactured by Allstar Products Group, who held an A- rating with the Better Business Bureau based on 254 closed complaints, most of which referenced poor quality products and difficult customer service experiences.
Perfect Bacon Bowl Pricing, Shipping & Return Policies
Perfect Bacon Bowl comes in a set of two for $10, plus $7.95 in shipping and handling fees, for a total of $17.95. However, at checkout, you'll be forced to purchase another set of two Perfect Bacon Bowls for an additional $4.95 shipping and handling, bringing your minimum order total to $22.90. For that, you'll receive four Perfect Bacon Bowls and a cookbook.
If purchased directly through the manufacturer, Perfect Bacon Bowl comes with a 30-day refund policy, less S&H charges. Ultimately, this means you lose 50% more in S&H charges than you'll receive as a refund.
With this said, in order to request a refund, you'll need to contact customer service at 855-663-5646.
Keep in mind that the ultimate goal of most ASOTV manufacturers is to have their products featured on store shelves. As such, Perfect Bacon Bowl is also available at Amazon, Walmart, Bed Bath & Beyond, Walgreens, and many other third-party retailers.
Our Bottom Line
While it is true that you can cook a serviceable bacon bowl on a muffin tin, if you eat enough bacon (or know someone who does), it might just be worthwhile to purchase four Perfect Bacon Bowls for about $23.
However delicious bacon may be though, most people don't eat bacon often enough to really make this worth the purchase. On the other hand, if you're a true bacon lover (or bread bowl lover), and you think you can really use/give away four of these things, it might be worth it.
If you decide to give Perfect Bacon Bowl a try, we'd strongly recommend purchasing it through a local retailer or Amazon, as this could save you a hefty chunk of change in lost S&H charges if you're dissatisfied and decide to process a return.
2 out 4 people found this review helpful

Works as advertised

By Tim

,

Hereford, MD

,

Jul 21, 2015

I was given the Bacon Bowl as a gift. I was skeptical about buying it online or on the phone because ALL of these As Seen On TV merchants always try to up-sell you and they charge an outrageous amount for shipping and handling. This is why I only buy As Seen On TV items in local stores in their As Seen On TV sections.

I took the 60 seconds or so that it took to read the instructions and I followed them to the letter. I placed the Bacon Bowl and the bacon in my microwave oven and cooked it for the recommended 2 minutes and 30 seconds. Before I started the microwave oven, I placed one of those anti-splatter covers over the plate I put the bacon bowl on to avoid having a mess to clean up later.

After the first 2 minutes and 30 seconds of cooking I checked the bacon and it was not as crisp as I like bacon to be cooked. So, again, following the written instructions, I cooked the bacon again for another 30 seconds. After this additional time, the bacon still was not crispy enough to suit me so I cooked again for another 30 seconds. At the end of this cooking time, the bacon was perfect.

Now, there were large holes in the bottom of the bowl. But I didn't really expect any other result nor did I really care because I had prepared a scrambled egg to put inside of the Bacon Bowl to complete my breakfast.

Because I followed the written instructions, the bacon bowl slipped easily off of the Bacon Bowl cup. After taking the bacon off of the cup, I gently rolled the bacon bowl in a clean paper towel to absorb any remaining grease. The result was a delicious breakfast that I will have again.

Total prep time for bacon bowl and scrambled egg was approximately 7 minutes.

Bottom Line: Yes, I would recommend this to a friend

---

4 out 6 people found this review helpful

Good product but don't order online

By John Anderson

,

California

,

Jun 24, 2015

Product works well. Bought mine at a store that carries as seen on TV products. I don't have muffin tins or Pyrex bowls so it was fine for me. Five minutes in the microwave as opposed to 35 minutes in an oven on a muffin tin. As you see most of the product reviews were complaining about the shipping not the product and the way they do business.

Bottom Line: Yes, I would recommend this to a friend

---

Advertisement

---

3 out 3 people found this review helpful

Could be worse

By Tony Patino

,

Tampa, FL

,

Nov 30, 2014

The first few taste like paint thinner if you don't wash them first. Most bowls are not this small too, so it should be called something else that isn't as misleading, like maybe Bacon Container or Bacon Coffee Cup. Also, they leak when filled with water. I was able to make a leak-proof one by using the crochet method a close friend taught me, but that was very time consuming and still ended up leaking later that night. This is more of a party item than anything else. I absolutely love mine.

Bottom Line: Yes, I would recommend this to a friend

---

5 out 6 people found this review helpful

bad deal. could not remove bowl from pan.

By Camilla Taylor

,

Texas

,

Apr 1, 2014

Could not remove cooked bacon bowl from pan. Bowl just tore up. Don't waste your time or effort. Use muffin tin instead.

Bottom Line: No, I would not recommend this to a friend

---

Advertisement

---

2 out 4 people found this review helpful

Works Great

By Rob P

,

Hamilton NJ

,

Mar 29, 2014

Not sure what you people are doing wrong but it works as advertised for me. Got this as a gag gift for my birthday and we actually ended up liking it.

Bottom Line: Yes, I would recommend this to a friend

---

26 out 28 people found this review helpful

Ordering process is disgusting.

By Connor

,

Scottsdale, AZ

,

Jan 2, 2014

Their website shows that it's $10.00 plus P&H. However what it doesn't tell you is that P&H is $12.30. But whatever, that was fine.

On the confirmation email it says that it qualifies for a shipping rebate through FreeShipping.com. So I decided to sign up for that since it was a 30 day free trial and I could cancel it before it charged me. What you don't find out until later is that the shipping rebate takes 4-6 weeks (just enough time to charge you for your subscription). So I gave up and canceled it.

When I went to check my order status I noticed that it said it would take 2-3 weeks to ship. At this point I just decided to cancel it all together. When you click "Cancel Order", they offer to give you a $5 discount. Then I realized Amazon had the same thing for $18.99. Almost $5 less than what I originally ordered. Basically, if you want to buy this, just go through Amazon. Or go to cancel your order and take the $5 discount.

Overall the entire ordering process was thoroughly annoying. I didn't even want a bacon bowl that bad in the first place.

Bottom Line: No, I would not recommend this to a friend

---

27 out 28 people found this review helpful

bacon bowl scam

By Ava

,

Arizona

,

Dec 28, 2013

Bacon sticks to pan and impossible to remove from the tin in one piece!

Bottom Line: No, I would not recommend this to a friend

---