Perfect Water Purifier Reviews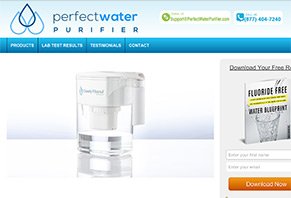 The Perfect Water Purifier is a specialized water pitcher that uses a proprietary filter to provide the cleanest water possible, without harmful contaminants.
About Perfect Water Purifier
The Perfect Water Purifier (also known as the Clearly Filtered Water Pitcher) is claimed to use cutting-edge, high-powered purifying filters to provide you with the best tasting water that's been stripped of as many chemicals as possible.
In order to accomplish this, each Perfect Water Purifier is claimed to feature dual-action gravity filters (more about this next) containing activated carbon. This carbon works to pull the water through the filter, while catching up to 71 harmful chemicals on a molecular level, including fluoride, heavy metals, and bacteria. However, the Perfect Water Purifier/Clearly Filtered Water Pitcher is claimed to keep all the healthy minerals in tact, including calcium, magnesium, zinc, and more.
Once the water is filtered though the Perfect Water Purifier, it remains in a 100% BPA-free, medical-grade plastic pitcher until you're thirsty and ready to use.
With this said, let's take a closer look at exactly how the Perfect Water Purifier's filter works.
How Does the Perfect Water Purifier Claim to Work?
According to the company, the Perfect Water Purifier uses gravity to pull the water through an activated carbon filter containing "contaminant-catching micropores." This activated carbon is claimed to be ionically charged, with holes that are 2.0 microns in size. And when contaminants pass through these holes, the carbon's natural electrical charge "grabs" them, "sticks them to the filter," and removes them from your drinking water.
Then, underneath the carbon filter is a second organic filter (known as NatClean) that contains dozens of layers with thousands of natural "micro-channels" that also catch and absorb heavy metals, fluoride, and pharmaceutical contaminants, while allowing good minerals and pure water to pass through. And although the NatClean's layers are contained in a very small area, the company claims that one filter contains enough surface area to cover half a football field.
In total, four of these activated carbon/NatClean combinations are contained in each Perfect Water Purifier filter.
What is Activated Carbon?
Derived from charcoal, activated carbon "is a form of carbon processed to have small, low-volume pores that increase the surface area available for absorption or chemical reactions."
In addition to the water filtration provided by the Perfect Water Purifier, activated carbon is also used for groundwater remediation, air purification, capturing volatile organic compounds (VOCs), and more.
Water Filtration vs. Water Purification
Regardless of whether a filter contains activated carbon or not though, it's important to distinguish here between filtration and purification, since you'll often see them used interchangeably when doing your research.
According to OffTheGridNews, water filtration is "the process of ridding water of any impurities through a physical barrier, chemicals, or a biological process." On the other hand, purification is defined as removing "all bacterial components from water without attending to undesirable chemicals and minerals."
As such—despite what it's name might lead you to believe—the Perfect Water Purifier only filters water, but does not purify it based on the standard definition of the word.
How Does the Perfect Water Filter Compare to Other Filtration Pitchers?
Referencing only function (we'll talk about pricing in a moment), Perfect Water Purifier looks much like options from popular manufacturers such as Brita and Pur. Not only this, but the Perfect Water Purifier's gravity filter also works much the same as the competition.
The difference, it would seem, is the fact that Perfect Water Purifier's filters are made with organic, activated coconut carbon that's better for the environment and contain uniform hole sizes, which allows more contaminants to be caught. According to the company, other manufacturers tend to use lower-quality carbon that features pores of all sizes, which means that the water molecules are only cleaned when they move through the small holes. As a result, because liquids follow the path of least resistance, these molecules often go through the bigger holes and aren't "cleaned."
Also, most of the competition's filters only include one block of activated carbon, but not the second layer of NatClean filters. However, much of the competition does use BPA-free plastics, similar to Perfect Water Purifier.
From a performance aspect though, based on the demo videos on the product's website, the additional filtration provided by the Perfect Water Purifier appears to translate into slower filling times.
Clearly Filtered Water Pitcher's Price
From a pricing standpoint, it might be the case that the Perfect Water Purifier's improved performance will cost you. This is because most of the competition is priced much lower than the Perfect Water Purifier; in some instances well over half the cost. The Perfect Water Purifier's replacement filters are also priced much higher than the competition, although they only need to be replaced once every 6 months (most of the competition's filters should be replaced every 2 months or so).
Does the Perfect Water Purifier Work as Well as it Claims?
The Perfect Water Purifier website displays lab test results from a study conducted by The Agriculture Commissioner of the County of Los Angeles during March 2006, which showed that the filters almost completely removed 71 different chemicals from tap water.
In addition, there are a few different video demonstrations on the Perfect Water Purifier site showing how it can filter everything from muddy water to Gatorade.
Do Customers Think the Perfect Water Purifier Works Well?
At the time of our research, the majority of online reviews for the Perfect Water Purifier/Clearly Filtered Water Pitcher were from independent bloggers who received a complimentary pitcher in exchange for an unbiased review. Unsurprisingly, many of these reviews were positive, and often cited ease of use and better tasting water.
However, the Perfect Water Purifier had a total of 16 Amazon reviews as of 4/2/15, with an average rating of 4 stars. Common compliments appeared to reference ease of use, improved water taste, and reduced contaminant levels. On the other hand, some of the most common complaints referenced difficulty filling in the sink, awkward cover design, failure to work as advertised, and high price.
From a company perspective, the Clearly Filtered Water Pitcher is manufactured by Perfect Aqua Purifier, LLC based out of Austin, TX. However, the company is not listed with the Better Business Bureau.
Perfect Water Purifier Pricing & Refund Policy
If ordered directly through the manufacturer, the Perfect Water Purifier is priced at $69.95 plus free shipping.
A replacement filter is priced at $49.95 and will need to be changed out, on average, once every 6 months. Ultimately, the company claims this will provide you with about 200 gallons of purified water.
With your order, you'll also receive a free report titled the Fluoride Free Water Blueprint.
Important note: Perfect Water Purifier's VIP program allows you to save 20% on filters, while having them shipped directly to your door once every six months (essentially their version of an autoship program).
If you decide to purchase through the Perfect water Purifier's landing page, there isn't any option to enroll in the VIP program, and there's no indication in the Terms and Conditions that you'll be automatically signed up after completing your order. However, VIP enrollment is an option when checking out through the company's main website.
The Perfect Water Purifier comes with a 90-day refund policy, less S&H charges or a $15 restocking fee (whichever is greater), although the company claims you'll still get to keep the pitcher. In addition, the Perfect Water Purifier comes with a lifetime warranty for the pitcher, regardless of how it breaks.
In order to request a refund or cancel your autoship enrollment, you'll need to contact customer service at (877) 404-7240.
Should You Buy the Perfect Water Purifier?
Chopping to the Point: Based on data provided by the company, it appears that the Perfect Water Purifier will remove many more contaminants from your drinking water than some of the competition. However, this added benefit will cost you, as the Perfect Water Purifier system is priced 2-3 times higher than other manufacturers, and replacement filters can cost 4-5 times as much.
If you're thinking about purchasing a Perfect Water Purifier though, we might recommend first having your water tested to determine if you even need one in the first place.
3 out 3 people found this review helpful

Beware, they will not refund your money

By James Herre

,

Bradenton, FL

,

Jul 1, 2017
Verified Reviewer

I ordered the pitcher like the others on this page. I was charged $150.00 for additional filters which I did not want. I returned them but never received a credit for them. I called repeatedly to no avail. Do not deal with these people.

Bottom Line: No, I would not recommend this to a friend

---

4 out 5 people found this review helpful

It's a scam

I ordered a pitcher and I returned it back and 175.00 was taken from my checking account. It's been 10 months that I've been waiting for my refund. I returned the filter and pitcher and been trying to get my refund. I'm going to the news on TV, maybe they can help. I'm a single parent of 2. I want my money.

Bottom Line: No, I would not recommend this to a friend

---

Advertisement

---

3 out 3 people found this review helpful

Great water, not so great admin.

By Lynn

,

Berkshire

,

Oct 4, 2016
Verified Reviewer

After a few hiccups I received my Clearly Filtered jug and filters and I am extremely happy with the product. The filter really does last 5-6 months (2 heavy users).

I think the admin needs to improve as they appear to have a lot of dissatisfied customers but I dealt with a lady called Brooke who was very helpful. I cannot fault this product, the water is fantastic.

Bottom Line: Yes, I would recommend this to a friend

---

4 out 5 people found this review helpful

Ripped off

By Jen

,

Minnesota

,

Sep 24, 2016
Verified Reviewer

I was charged $150 for filters which I never received and never refunded for. I am unable to get a response from them now. Fraud!

Bottom Line: No, I would not recommend this to a friend

---

Advertisement

---

6 out 6 people found this review helpful

Company is difficult to deal with, bad customer support

By Mike

,

Mississippi

,

Sep 16, 2016
Verified Reviewer

The company had a clever marketing scheme. Buy a water filter/pitcher for $10, and 3 months later they bill you $150 and send you 3 filters.

I understood this upfront and made the $10 purchase. I have a more expensive filter system and used this pitcher as a "2nd stage" filter. It worked well. The water tasted "improved" with this filter. But only for about 5 or 6 weeks. These filters only last 4 to 6 weeks for a family of 2! But one filter costs $50.

At the time of my purchase, I purchased one for my son as well. 3 months later I was billed the $150 twice as expected. The only problem was that my son did not receive his filters.

Contacting the company was hell. Over a period of a week all my calls went through to a voice mail system, and not once were any of my calls returned. Eventually, I threatened to reverse the charge on my credit card. Well, what do you know! Someone decided to call me.

Bottom line – The poor & indifferent customer service motivated me to look at their competitors. I have found a competing product that I expect to be superior, while it is priced more cheaply. For example, I will pay about $15 per replacement filter instead of $50. And best of all, I won't be paying a premium price for horrible customer service.

Bottom Line: No, I would not recommend this to a friend

---

7 out 8 people found this review helpful

Fraud

By Richard

,

Maryland

,

Aug 24, 2016
Verified Reviewer

I returned filters as discussed with them. They acknowledged receipt but never processed agreed upon refund.

Emails bounce, phone accounts locked.

Bottom Line: No, I would not recommend this to a friend

---

6 out 7 people found this review helpful

Definitely a SCAM

By Ken White

,

Round Rock, TX

,

Jul 21, 2016
Verified Reviewer

I have been trying since May to get someone to respond to my emails asking for when to expect my next filter. I was getting a reply that the email address could not be reached. When I called the number it says "Your account has been locked". I finally went online and looked up Perfect Water Purifier and realized it is a SCAM.

Only gave it a "1 star" because it wouldn't accept "None".

Bottom Line: No, I would not recommend this to a friend

---

6 out 7 people found this review helpful

Scam

Evansville, WI

,

Jul 14, 2016
Verified Reviewer

I was contacted that I could receive a free pitcher, and that I would have to pay only for shipping and first filter free. There would be a $149.85 charge for every 3 replacement filters. I paid the charge but have not received the filters. The first contact I made, they said they would be sent shortly. This all started April 30. I have sent several other emails with no response. I called today and all I got was the message stating that my account is closed. This is definitely a SCAM.

Bottom Line: No, I would not recommend this to a friend

---

9 out 11 people found this review helpful

RIP OFF

Philadelphia, PA

,

Jun 10, 2016
Verified Reviewer

I purchased from TV. $9.95 trial. NEVER, I repeat NEVER, received any other items, like my filters. Then was billed $149.85.

Gee, parent company blames it on the distributor who, just happened to "close their doors" with only a one-sentence explanation when you call: "They have closed their doors." Nothing else. Parent company doesn't care. Total rip off. It seems that Texas is the new Florida for rip off companies. Do not buy.

Bottom Line: No, I would not recommend this to a friend

---

13 out 14 people found this review helpful

Never refunded my money

By Elizabeth

,

Clermont, FL

,

Jun 3, 2016
Verified Reviewer

I ordered the "free pitcher". They also quoted a price for the filters but sent me 3. So they over charged me a lot of money. I called and called. Finally someone said I could sent back the filters but not the pitcher as it was a free thing. So I did! I called to get my money back. I've been calling since April 15th when I spoke to a guy that said refund had to come from a merchant.

They crashed so they were behind. He was sending my request to them and I should have it in 7-10 days. Well, I know how that stuff goes because I've worked for a lot of companies with "new software" etc. So I gave them more time when the money was not deposited into our account.

Yeah, well the phone just rang and rang, with a message to hold then would hang up. So I've been calling every couple of days all month of May. Just to find out they conveniently closed down. I hope there's going to be a lawyer out there to get people's money back. I will never buy into something like this again!

Bottom Line: No, I would not recommend this to a friend

---

12 out 12 people found this review helpful

Not happy with customer service

I forgot about the auto order of filters when you get the "free" pitcher. So I went and ordered three more. Then I got a notice in the mail that I would be receiving my 3 filters as part of the free pitcher deal. I contacted the company to let them know I forgot about the deal and already ordered filters and received them and asked them not to send more until I needed them. I was on hold for 8 minutes and then put to voice mail where I left a message explaining the situation. I have sent 3 emails with no response from anyone.

I did not want to believe the negative on line reviews but now I have to. I will be cancelling my account and may have to cancel my credit card and have a new one issued. I don't expect to hear back from them after everything I've read. So disappointing as I have been very happy with the water and pitcher.

Bottom Line: No, I would not recommend this to a friend

---