PerfectBiotics Reviews
Claimed This company has claimed this profile, is getting alerted on any new customer reviews entering this page, and may engage in dialogue with its customers to address their matters.

Companies cannot pay money or provide goods in order to remove or alter customer reviews.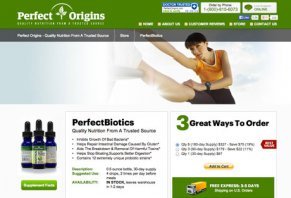 PerfectBiotics from Perfect Origins is a new, all-natural probiotic formula that claims to balance digestion, improve immune system response, and more.
About PerfectBiotics
By using 12 different strains of probiotics, PerfectBiotics from Perfect Origins claims to be the most powerful all-natural probiotic supplement available on the market. In fact, the supplement is claimed to help remove harmful toxins from your body, improve digestion, boost your immune system's response, and much more.
But does PerfectBiotics really perform as well as it claims, and is it a good use of your hard-earned money? Let's separate the good facts from the bad and see what they have to say.
PerfectBiotics by Perfect Origins Details
PerfectBiotics is the newest supplement from Perfect Origins, which claims to help your digestive system regain its balance from poor eating habits, stress, chemicals in the foods you eat, and more. Like many other probiotics, including New Chapter Probiotic All-Flora and Puritan's Pride Probiotic Acidophilus, the supplement is claimed to provide a variety of benefits related to unhealthy bacteria levels in your gut, including:
Repairs intestinal damage caused by gluten.
Flushes harmful toxins from your system.
Improves digestion and immune system response, and prevents gas-related bloating. In fact, PerfectBiotics claims to maintain an 85/15 ratio between good and bad bacteria in your intestines, which they claim ensures "your immune system is running at top speed."
Reduces muscle and joint pain.
Increases energy and reduces carbohydrate cravings.
Improves overall mood.
Reduces abdominal fat.
In addition, PerfectBiotics is claimed to feature a "proprietary natural fermentation process" that helps prevent the beneficial bacteria from being destroyed inside your stomach, which allows them to reach your intestines where they can begin working.
With this in mind, each dose of PerfectBiotics contains the following all-natural ingredients:
Filtered water
Humarian Proprietary Blend: Fermented probiotics, Benzoic acid, Tartaric acid, Nicotinamide, Pyridoxine, Thiamine, Calcium, Cobalt, Iron, Magnesium, Manganese, Selenium, Molybdenum, Potassium, Sodium
12 strain Pro-biotic mix: Lactobacillus Plantarum, Lactobacillus Rhamnosus, Bifidobacterium bifidum, Bifidobacterium infantis, Bifidobacterium longum, Enterococcus Faecium, Lactobacillus acidophilus, Lactobacillus Casei, Lactobacillus Helveticus, Lactobacillus Salivarius, Pediococcus Acidilactici, Streptococcus Thermophilus
Natural grape flavor
PerfectBiotics are claimed to be free of dairy, wheat, soy, and gluten.
According to the product's website, adults can take 4 drops of PerfectBiotics 2 times per day before meals, and can be used by anyone, side effect-free. With continual use, most individuals should begin experiencing reduced gas and bloating within the first week, while disease-related benefits can take as long as 2-4 weeks to manifest.
PerfectBiotics Pricing & Refund Policy
Each 0.5oz bottle of PerfectBiotics represents a 30-day supply, and is available in three purchasing options:
1 Bottle: $67
3 Bottles: $179
6 Bottles: $327
All Perfect Origins orders include free Express delivery, as well as a 60-day money back guarantee, less shipping and handling charges—even if opened or completely empty. In order to begin the refund process, you'll need to contact customer service at 800-815-6073.
What Do Other Consumers Have to Say About PerfectBiotics?
PerfectBiotics is manufactured by Perfect Origins, LLC based out of Carmel, IN. As we mentioned in our original review of the company, they appear to be very new, which could explain their absence from the BBB, as well as the low number of online customer reviews.
However, several Perfect Origins customers have taken the time to write their own HighYa reviews about the company, which appear to be mostly positive. However, it's important to keep in mind that these reviews referenced the company's LivLean supplement, not PerfectBiotics. With this in mind, one customer gave low marks for a fairly big billing error, while another claimed that their email address was compromised soon after placing their order.
Outside of HighYa, online customer reviews regarding PerfectBiotics are essentially non-existent, as well reviews regarding the company itself.
What's the Bottom Line About PerfectBiotics?
Now that you know a little more about PerfectBiotics, what's the bottom line: Does it work, and is it worth your hard-earned money? Let's take a look.
Most importantly, as we mentioned in our original Perfect Origins review, it's important to keep in mind that the company is relatively new, which has translated into almost zero online customer reviews. As such, it's difficult to gauge overall satisfaction levels. With this said, several HighYa readers have taken the time to write a review about the company, which appear to be primarily positive. Since PerfectBiotics is the newest addition to the Perfect Origins lineup, we were unable to locate any online customer reviews during our research. However, the most common complaints associated with probiotics in general include excess gas and bloating, and failure to work.
See Also: Everything You Wanted to Know About Probiotics, but Didn't Know to Ask
Another positive feature is that the Perfect Origins website does a fairly good job of providing detailed information about PerfectBiotics, including an ingredients list and citations for some of the clinical research supporting their claims. In addition, the company offers a 60-day guarantee on all their products and no autoship program, which goes a long way in showing how well they stand behind their products.
Bottom line: If you're looking for a unique probiotic to help with a wide variety of digestion-related issues, PerfectBiotics may be a good option. However, with the lack of online customer reviews, it's currently difficult to say with any certainty about the exact level of benefits you'll experience.
Beware of marketing deceptions

I have been taking probiotics for 11 years and sometimes changing over to a different brand can make a difference when new symptoms arise where the old brand does not seem to give the relief desired. I wished I had not changed because my major complaint was bloating. After using PerfectBiotics for two months, I have not received any relief from bloating, and I became worse off with constipation.

I called customer service, and I was advised that I should take PerfectBiotics 30 minutes prior to a meal twice a day. The instructions on the bottle do not say to take 30 minutes prior to a meal, but I usually do that anyway first thing in the morning. However, taking it twice a day will not last the full 30-day supply, which is their first deception. It will only last 15 days or less. I was out by the time I got my reorder taking it once a day.

Originally, I purchased a year's supply, but I read that it came with a 60-day money back guarantee. I immediately called customer service to cancel the year's supply order because I did not want to be left with only getting a two month's refund for a year supply if it did not work. I switched to a monthly automatic reorder with free shipping.

BEWARE: They will only refund the last bottle shipped, less shipping and handling. This is a rip off when PerfectBiotics is the most expensive probiotic that I know of. There are too many quality probiotics on the market far less in price with stronger guarantees than what is offered with PerfectBiotics.

Out of the 11 years, I have never taken a probiotic where I had a problem with constipation until now, so this is my first experience trying to get a refund. If the shipping is free, I don't understand how they can withhold shipping and handling charges when a refund is requested. By the time you pay to have an empty bottle shipped back to them, they deduct an unknown amount for shipping and handling charges, which leaves you wondering if you will get anything substantial for the high price paid for a product that did not work.

This is the first probiotic I have taken in a suspension, and I thought the bacteria would live longer than a capsule. I found that, thus far, the best probiotic comes in a bubble pack such as Dr. Cutler's Ultimate Probiotic Solution. The bonus to taking a capsule is that you do not have to deal with the awful grape flavor, which is probably unnecessary, that is found in PerfectBiotics.

Bottom Line: No, I would not recommend this to a friend

Sep 11, 2017

Hello Mr. William,

You original purchased a 12 month supply on June 3, 2017. You reached out to us on June 5, 2017, to cancel the order and switch it to an auto ship plan due to the 60-day money back. With the 60 day money back you can buy 12 bottles and still get covered by the 60-day money back as long as you follow the guidelines to the warranty. You can only use the bottles for adequate time passed allowed for a single customer to use. If used correctly we would still refund all 12 bottles of the order. www.perfectorigins.com/our-guarantee/

"Last but not least, empty product containers can only be returned if adequate time has passed that would allow a single customer to consume the product as directed. We want to be fair with you and hope you will be fair with us too."

We issued a refund for the large order that day and helped you place a new one for the auto ship program. We explained in detail how the autoship program worked including the terms and conditions that needed to be accepted by you before proceeding with your purchase as well as let you know we send you an email reminder 3 days before your next one bills. We also explained that you could cancel at any time via phone, email, or chat. On the packing slip you received and an email that was sent stated our guarantee with the auto ship: www.perfectorigins.com/our-guarantee/

"We offer our money back guarantee on your most recent Auto-Order for a single 30 day supply excluding Shipping & Handling."

You reached out to us on Aug. 15th, 2017 for the first time since June 5, 2017 for return info on your most recent auto order due to not seeing results. We suggested a few changes you could make to better suit the Perfect Biotic to you (one suggestion was to take it 15 mins before you eat or drink, which was on the insert that came in the box with the Perfect Biotics as well as the free digital book sent to your email). We provided you with return info and asked if you have any other questions or concerns. You then called back on Aug 16th, 2017 let us know the Perfect Biotics was not working for you and you wanted to return all 3 months of your auto order. We informed you that per our guarantee that we only refund the most recent order. After speaking with our customer service rep, I thought it was best to speak with you personally.

I spoke with you on Aug. 16th, 2017 where you first stated the product did not account for a 30 day supply. I explained that each bottle is measured to last 30 days when 4 drops, 2 times a day are taken as per directions and be sure not to take the dropper in full capacity just drops. In this conversation, you also informed me you were taken another probiotic (Dr. Cutler's Ultimate Probiotic Solution) and not taken ours as suggested.

As regards to us refunding all but shipping is if a customer decides to not go with the free standard shipping and upgrades for expedited shipping. You were never charged for shipping so that has no reflection on your refund. We also do not subtract shipping fees from your refund. If all terms and conditions are followed, then you will get refunded your purchase amount in original form of USD payment.

In regards to the bacteria being alive in the liquid form; instead of putting billions of probiotic bacteria into a pill and hoping some organisms make it to the intestines alive, we focus on getting the live organisms into the intestines safely and effectively. Perfect Biotics is saturated in a solution that places the individual live bacteria in a temporary static state and protects them against stomach acid and harsh stomach bile.

Similar to how a special coating process is used for many medications that prevent the drugs from being activated until they reach the small intestine, only after they reach the intestines do they become activated and provide their many health benefits. Once the organisms in this product reach the intestines, they awaken from their state of hibernation and multiply in number, proliferating throughout the entire intestinal tract. This process dramatically enhances the survival and growth of bacteria over traditional probiotic supplements, since ALL OTHER PROBIOTIC PRODUCTS RELY ON TRADITIONAL ENCAPSULATION AND NOT FERMENTATION. Therefore, Perfect Biotics is the first and only probiotic product of its kind.

We wish you the best in your healthy gut journey.

---

Short expiration date

By Laurie R

,

Lynnfield, MA

,

Dec 13, 2016
Verified Reviewer

I was taking this probiotic with good results for about a year. When I needed to replenish my supply I went online to order more of this product. I was offered a great deal, which was buy one, get one free. So I jumped on it and ordered 3 bottles which would give me 3 additional bottles for free. When I received them, I looked at the manufacturing date on the bottom of the bottle to check for freshness. The date of manufacture was December, 2015. I ordered these in July of 2016. The company guarantees freshness for up to a year from the manufacturing date. So by the time I was using the last two bottles, I would be very close to the expiration date. So essentially, they were trying to get rid of older product quickly which was why they were offering the buy one, get one free deal.

When it comes to probiotics, you want the freshest product available, not the product which has been manufactured 8 months prior to you purchasing it. I contacted the company and they told me to keep it and sent me out a new supply that they promised would be fresher. Upon receiving it, sadly it had the same expiration date. Let me say that every time I had ordered the product without a special deal pricing I would receive a product that had been manufactured only 3 months prior to when I received it, not 8 months prior.

Again, I contacted the company and they sent me a prepaid shipping label to return the product to them and refunded me my money. Their customer service was excellent, but with the trouble I was having in getting fresh product I stopped ordering from them altogether. This product did work well for me, but if you order it just make sure you check the manufacturing date on the bottom of the bottle to assure you are getting a product that is fresh.

Bottom Line: Yes, I would recommend this to a friend

---

Advertisement

---

Best probiotic I've tried!

I've tried several probiotics. I've tried Nature's Bounty Probiotic 10 from Costco, Phillips Colon Health, and a few others I can't recall. I have problems with recurrent diarrhea, as in several times a week. Perfect Biotics have cut it down to about once a month. My daughter-in-law has had excellent results too. I'll never stop taking this!

Bottom Line: Yes, I would recommend this to a friend

---

Perfect Solution!

By Mary Hoff

,

Omaha, NE

,

Jun 14, 2016
Verified Reviewer

I am 20 years old. After I had my first child at 18 my gallbladder stopped working. Since it didn't work it had to be removed. It was removed in March 2015 and up until about 2 months ago, I couldn't find anything to help with the abdominal pain which was affecting my daily performance at work. I was also overly tired, constantly getting bloated throughout the day. If I had one cookie or even a half can of pop I would be in the bathroom within minutes. I stopped eating just about everything because I was too scared to eat thinking that if I did my stomach would just start hurting and I would have to spend the rest of the day in pain on the couch.

Anyways, this was just miserable on a daily basis even after a year. My mom stumbled across them and let me try a 30-day supply. I have never felt better. I don't constantly feel sick anymore. No more constant trips to the bathroom, no more hours in pain, no more being overly tired. The surgeon told me there's no magic bullet pill for people who develop IBS after gallbladder removal or people with IBS in general. But I have found that Perfect Biotics is that magic bullet pill.

I don't care if I have to pay $70 a bottle in the future because I had some stomach problems before my gallbladder was removed and I have never felt this good in my entire life. I take it once a day and I have been able to eat whatever I want! I am so happy and I'd take this over the unhealthy medication with side effects that doesn't work any day!

Bottom Line: Yes, I would recommend this to a friend

---

Advertisement

---

Up in the air

By Tiffany

,

Jun 9, 2016
Verified Reviewer

I've been taking the supplement for two weeks. It worked immediately clearing my digestive issues but it did cause a lot of dizziness. Had to stop for a day. If the dizziness doesn't go away after a day of not taking it, I will stop taking it for good. They said no side effects. I wish I was aware of this before I started taking it!

Bottom Line: Yes, I would recommend this to a friend

---

Not consistent

By Isuy

,

Los Angeles, CA

,

Mar 28, 2016
Verified Reviewer

When I tried a first bottle, it was very effective. My bloating and diarrhea which I had for last two years stopped the next day. I was very satisfied. Then, a couple months later, I received an email saying that they have developed a more efficient probiotic and offered it to me at 40% discount. So, I ordered a set of three bottles and this was a mistake, because bloating and diarrhea came back and every time I eat something, I need to go to the bathroom.

I have contacted them via email for a refund for unopened bottles and they don't even respond.

Bottom Line: No, I would not recommend this to a friend

---

Not a scam!

By Pat

,

Blue Springs, MO

,

Mar 15, 2016
Verified Reviewer

I started Perfect Biotics five months ago (meaning I am on my 5th bottle, I bought 6 up front). I noticed a slight difference before I finished my first bottle. I have struggled with IBS for over 30 years. Nothing I ever tried (including medicines) worked to stop loose stools or an urgency to eliminate that got so bad I became somewhat of a recluse. I was afraid to go anywhere in the car knowing an urgency and diarrhea would hit me. Since taking this product, The urgency has completely went away, I have no more diarrhea, no more cramps or nausea AND I have become regular! For me, this product has been a God-send. I must add though, the Perfect Biotics I am taking says it contains 15 strains, not 12. It's a super product! It is too expensive in my opinion, however, to have my health back, I will pay it.

Bottom Line: Yes, I would recommend this to a friend

---

Good for regularity and improved resistance to ibuprofen-triggered IBS

I've been taking Perfect Biotics since late October. Here are the things I've noticed: 1) Vastly improved regularity. I take one pill at night before I go to bed, and b/w 8 and 9am the next morning, all good. 2) As a few others have mentioned, you will see a small increase in gas, 3) For several years, I have had flare ups of IBS, always triggered 1 or 2 days after taking ibuprofen for 2 days. After taking Perfect Biotics, I've been able to take ibuprofen for 4 days straight without IBS flare up. However, if I take ibuprofen for 5 or more days in a row, the flare-up occurs. From this, I conclude that Perfect Biotics provides me with some benefit in reducing the likelihood of IBS flare ups caused by ibuprofen, but only if my use of ibuprofen is 4 consecutive days or less.

Bottom Line: Yes, I would recommend this to a friend

---

So far so good.

By John Cummings

,

Las Vegas Nevada

,

Feb 14, 2016
Verified Reviewer

I have been using this product for about one month. My loose stool has become fairly normal, but I experience a little more gas, and sometimes it's a little difficult to go. I'm thinking the problems are just because of the change, and am hoping it will all normalize with continued use. So far, I am pleased with the results.

Bottom Line: Yes, I would recommend this to a friend

---

Finally

By Sherrie D.

,

Long Island, NY

,

Feb 10, 2016

PerfectBiotic is not even a close comparison to anything you would find in drugstores, when it comes to probiotics. I tried one bottle, and am now going to probably order another one. It works incredibly well. I am now regular, and no matter what I eat, it takes most of the intestinal bloating down, by losing waste my body did not need, nor want. Excellent.

Bottom Line: Yes, I would recommend this to a friend

---

Best Probiotic for Stomach Issues

By Cindy S.

,

Jan 24, 2016

I was diagnosed with SIBO (Small Intestinal Bacteria Overgrowth), I lost 30 lbs because I was not able to eat very much. I was prescribed antibiotics - which was worse than not taking anything. I began taking various types of probiotics on the market. Even the type from the Herbal Shop, including the type you refrigerate. They helped some, but still had issues. I found PerfectBiotics by accident online. Watched the video and thought why not try it. Within a month, I was able to eat most foods. I gained the weight back (LOL, not to happy about that part). However, I have my life back. There are some things that will cause a reaction, but those are known dietary foods that cause the bad bacteria to increase. I highly recommend this product. No, I am not related to the company and no one is paying me for my endorsement. I am the average person who has had stomach issues my whole life.

Bottom Line: Yes, I would recommend this to a friend

---