Personal Capital Reviews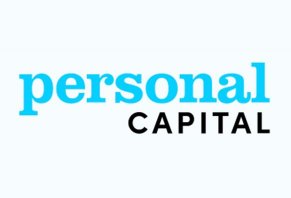 By combining a suite of free, in-depth tools with access to a professional advisor, Personal Capital claims to help you make smart choices about how to spend your money.
What Is Personal Capital?
As both a financial aggregator and a registered investment advisor, Personal Capital offers simple, free tools that can help you see all of your money and investments in one place, along with portfolio management that's tied to your lifestyle.
Together, they promise to help you make smart choices about how to spend your money.
This includes the ability to see your net worth, analyze your portfolio, and plan for retirement, which is why more than 1.3 million people currently use Personal Capital to track over $312 billion in assets.
If you have at least $25K to invest, Personal Capital will also provide you with a dedicated advisor, who will use investing methodology based on style weighting, risk minimization, and tax optimization. And if you invest $1 million or more, you'll gain access to even more perks with Personal Capital's Private Client Group.
After reading through the Personal Capital website, you might imagine yourself a couple of years from now, a smile on your face, with all your financial ducks in a row.
But is this what you'll really be able to achieve with Personal Capital's tools and investing assistance? Are they really "transforming digital wealth management"? Are they worth your time?
Let's start by taking a more in-depth look at the tools and services they provide.
Personal Capital's Tools & Wealth Management Services
Since you've likely already scoured the Personal Capital website, we won't go into excessive detail about the company's tools and services. But to make sure we're all on the same page, a quick, high-level overview is in order.
Which Financial Tools Does Personal Capital Offer?
At the core of Personal Capital's online tools is their financial dashboard, where you'll be able to gauge, monitor, optimize, and gain a real-time grasp of your financial holdings by linking your accounts. (According to the company, most U.S. financial institutions are supported.)
Then, you'll be able to log in from your desktop or mobile device and see things like:
Net worth
Cash flow
Portfolio balances and allocations
Spending by account and category
Investment returns and projected fees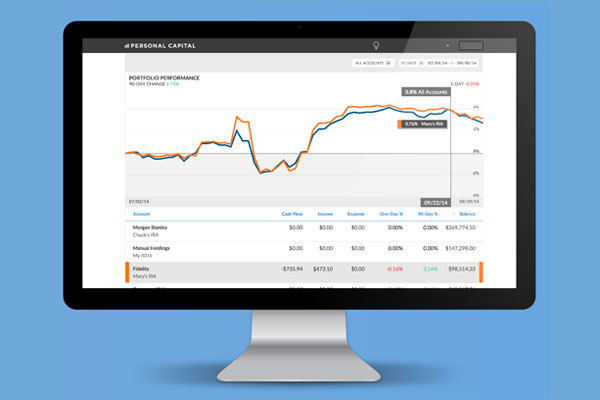 A screenshot of Personal Capital's dashboard, which can help you view all your investments and finances in one place. Image credit: Personal Capital Corporation
Now, the summarization of the information displayed on your dashboard is generated from five individual tools:
Fee Analyzer: According to Personal Capital, hidden fees (known as custodial fees, inactivity fees, or 12b-1 fees) could cost hundreds of thousands of dollars from your retirement savings, so their Fee Analyzer allows you to identify them.
Retirement Planner: Called the most sophisticated, realistic retirement planning calculator available today by the company, this tool promises to help you gauge how well you're on track to meet your retirement goals by automatically calculating your monthly income and projected Social Security distributions.
From there, you'll be able to evaluate your spending and savings habits, as well as make changes in real time (such as college, a baby, a renovation, or unexpected illness) and see how they might impact your retirement goals.
Cash Flow Analyzer: Personal Capital's cash flow analyzer can help you view your weekly, monthly, and yearly income and spending habits by category, merchant, or date. This way, you'll be able to follow your cash flow, set spending goals, stick to a budget, and make adjustments as needed.
Net Worth Calculator: Since all your financial accounts will be linked, including savings accounts, investment accounts, 401(k), IRA, mortgage, and credit cards, Personal Capital can provide a complete picture of your net worth at any time and from any device.
Investment Checkup: Finally, Personal Capital's Investment Checkup tool will analyze your portfolio and recommend allocation that can maximize your returns, while minimizing risk. You'll also be shown how to rebalance your portfolio for better results.
What Are the Details of Personal Capital's Wealth Management Services?
If you have at least $25K to invest, you can gain access to Personal Capital's Wealth Management services, which means you'll:
Be assigned a registered advisor,
Undergo an initial meeting to assess investing goals, risk tolerance, retirement, and planning, and
Obtain personalized wealth management and investment recommendations to help you meet your goals.
Clients investing more than $1 million also have access to Personal Capital's Private Client group, where members receive personal attention (direct access to a Certified Financial Planner), an even more personalized investment plan, and comprehensive wealth planning.
Regardless of which option suits you best, Personal Capital tells us that all their employees will act in your best financial interest.
And when combined with their unique tools, their application of Modern Portfolio Theory (MPT), and their "Smart Indexing" approach, they claim to optimize risk and return while facilitating tax optimization.
Does Personal Capital Offer Any Additional Services?
In addition to their free tools and fee-based wealth management services, Personal Capital also provides assistance with 401(k) fund allocation, insurance coverage, college savings (529 plans), retirement and estate planning, home purchases and refinancing, along with stock options and deferred compensation.
What Kind of Security Does Personal Capital Provide?
All data shared with Personal Capital is encrypted with AES-256 with multi-layer key management. In addition, your information and credentials are stored by Yodlee, and no individual at Personal Capital has access to your credentials.
How Much Does Personal Capital's Wealth Management Service Cost?
All of Personal Capital's financial tools, including the dashboard, are completely free to use.
While you're under no obligation to use their advisor service, if you choose to do so, they're different from much of the competition in that they only charge one all-inclusive fee—and nothing unexpected:
First $1M - 0.89%
First $3M - 0.79%
Next $2M - 0.69%
Next $5M - 0.59%
Over $10M - 0.49%
In order to utilize their wealth management services, Personal Capital requires that you have a minimum of $25,000 to invest.
If you have additional questions about fees or eligibility, Personal Capital customer support can be reached at (855) 855-8005.
Based on what you'll gain access to, whether it's free or based on a flat fee, are Personal Capital's customers pleased with their experiences?
What Are Clients Saying In Their Personal Capital Reviews?
Wherever we looked during our research, it seemed that Personal Capital received mostly favorable feedback.
InvestorJunkie signed up for a Personal Capital account and tracked all their finances through the company's free tools and dashboard, finding it was easy to use and provided great reporting.
In fact, they noted that Personal Capital's Retirement tool was one of the most comprehensive tools they've seen, whether free or paid. They even liked the service so much that they switched from Quicken to manage their finances.
However, they felt Personal Capital's budgeting tool needed improvement, and they wished they could've created customized categories. Also, by requiring a minimum $25K investment, they felt it's only targeted at high net worth clients.
The folks over at CashCowCouple shared many of these same compliments and even noted that they preferred Personal Capital's interface over Mint's online interface.
Quite simply, they claimed there's nothing currently on the market that offers a comparable value, including very good security, so "you won't be sorry if you sign up for a free account."
The one feature they felt was missing, though, was that you can't pay bills using Personal Capital's tools. You can track bills and payments, though.
From a company perspective, Personal Capital Corporation has been in business since 2009 and is based out of San Carlos, CA. It's headed by CEO Bill Harris, who previously worked as CEO for PassMark Security, Intuit, and PayPal.
What About Personal Capital's App?
Much of this favorable feedback also carried over to Personal Capital's app, where it had between 3.5 and 4.5 stars on iTunes, Google Play, and Amazon.
In a nutshell, most compliments seemed to revolve around ease of use and available information, while complaints often related to bugs and functionality issues. More than one reported that it provided too much information.
In fact, Personal Capital's app was rated best personal finance app by Investor Junkie.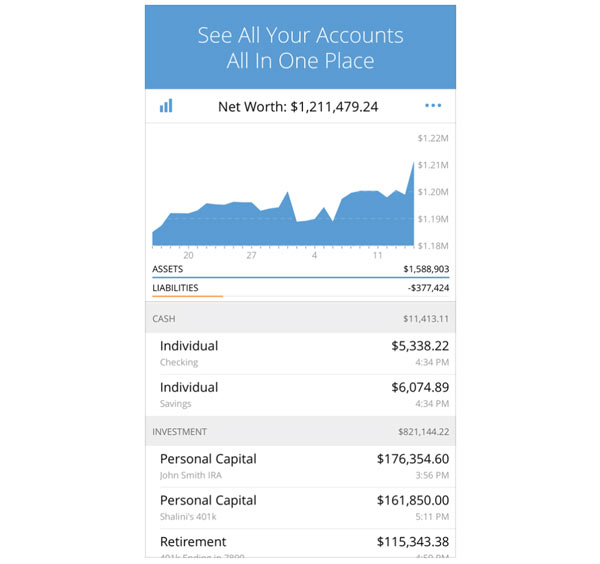 Like their PC-based tools, Personal Capital's app (this screenshot is from an iPhone) also gives users access a cash flow analyzer, net worth calculator, retirement planner, and dashboard. Image credit: Apple Corporation
While consumers and professionals alike seem to be singing Personal Capital's praises, how does it stack up against the competition?
Personal Capital vs. Mint, Quicken, & Other Robo-Advisors
Here's how Personal Capital's core specs compare to some of the more popular competitors:
Company
Fees/Price
Account Minimum
Access to Financial Advisor?
Target Audience
Personal Capital
0.49%-0.89%
$25K
Yes
Those who need help with investing
WealthFront
First $10K free. More is assessed monthly fee based on an annual rate of 0.25%
$5K
No
Minimal fees. Ideal for those who have high risk tolerance
Mint
None
None
No
Those looking for automated budgeting assistance
You Need a Budget (YNAB)
$5/mo, $50/yr
None
None
Budgeting
Betterment
Less than $100: $3/mo $100-$10K: 0.35% per month
$10K+: 0.25%
$100K+: 0.15%
No
No
Simple investors who want a hands-off approach
Quicken
$65
No
No
Budgeting, planning
What's the Bottom Line About Personal Capital?
Clearly, based on online feedback, Personal Capital certainly seems to have struck the right chord with consumers and professionals alike. As a result, whether you're looking to budget or get a better handle on your finances, it seems like it might fit the bill.
If you're also looking for wealth management assistance, their fees are much lower than the typical 1% to 2% charged by advisors. On the other hand, if you're focused solely on fees, other robo-advisors charge meaningfully less than Personal Capital, but without the access to a live professional.
Taken together, if you're a high-net-worth investor looking for lower fees, are a hands-off investor, or are someone looking for free financial tools, Personal Capital could be ideal. Because of its robust features, Personal Capital seems like it might also work well for a newbie—but only if you have at least $25K to invest.
And even if you're just looking to give them a try, it's difficult to beat free, with no obligation.
Before you go, be sure to get a jumpstart on your budgeting by reading How I Used a Budget to Get $22,000 Out of Debt, as well as learn whether an advisor, planner, or robo-advisor is best for your financial future.
Wolf in sheep's clothing

By John M.

,

Oregon

,

Oct 18, 2019
Verified Reviewer

I signed up and was wooed into providing a wealth of account information for their "free online services". I took advantage of the free investment call and was even romanced by the possibility of having a neutral financial advisor. But the services they offered came with high fees and low returns. When I tried to retract my position (I had transferred money into their PC Cash program), they squawked and became recalcitrant. While I have been able to recover most of my cash - it has taken almost a month - there remain are these small, nattering amounts that they won't relinquish. The "holding period" for transfers is 6 days and they claim it is a legal requirement...When I tried to delete my account, their "help" information was inaccurate and I'm still trying to figure it out. I haven't lost money with this company, but I have probably lost privacy. I do not trust this organization.

Bottom Line: No, I would not recommend this to a friend

---

Entrusting Personal Capital with our nest egg cost us years of retirement savings!

By Andreas Mai

,

Michigan

,

May 10, 2018
Verified Reviewer

You may say that it was our own fault not to catch Personal Capital's abysmal investment performance earlier. However, allow me to share our costly lessons to help prevent others from losing money with Personal Capital:

• Over the last 3 years, Personal Capital's "smart portfolio management strategy" performed 60% worse than market.

• Personal Capital's "tax optimization" produced higher returns on our taxed account and lower returns on our tax-deferred IRA account.

• Personal Capital's "lower fees" consumed 18% of the returns they delivered.

During a turbulent time of job changes, founding our own company and multiple family health emergencies, we decided to entrust Personal Capital to manage our money. Personal Capital advertised a good story with a convincing webpage: "We act in your best financial interest and optimize risk & return on your behalf. We do this through our smart portfolio management strategy and Smart Weighting™ approach."

Our experience was much different and cost us dearly. From 2015 until we canceled our accounts in 2018, the portfolio Personal Capital managed for us earned 4.9% annually. This is significantly lower than the risk-adjusted "moderate historic" ROI target of 8.3% Personal Capital advertised and even worse in one of the best bull markets for a long time that easily returned more than 12% each year during the same period.

When we confronted Personal Capital with this significant performance gap, they responded that our "claim was without merit: As written in our "Client Agreement" [..], it is explicitly stated that you understand that (a) investment results cannot be guaranteed, (b) past performance may not be indicative of future results, and (c) your investment decisions on my behalf may be different than I or other investment managers would have made under the circumstances."

The objective observer may realize the irony of this response in one of the most bullish markets we had in years.

In retrospect, we made another peculiar observation, the consequence of which we only now understand too well. Overall, Personal Capital has great analysis tools and a nice user interface. However, the key analysis tool that is standard with any other broker we worked with, is suspiciously missing on Personal Capital's webpage: The portfolio performance compared to generally accepted benchmarks.

After Personal Capital unduly delayed the immediate liquidation of our accounts we had requested, we transferred our accounts to another institution. As a result, we had to liquidate nearly 100 micro-positions ourselves, a time consuming and costly affair. Noteworthy, but in line with our overall experience, Personal Capital refused to reimburse us for the related transaction fees.

However, our losses with Personal Capital did not end there. Personal Capital claims: "Tax optimization – We do this by applying tax loss harvesting, reallocating assets to tax-deferred accounts, and helping you realize higher yields in your retirement account."

When we liquidated our underperforming IRA and taxed investment accounts, we realized that in addition to the abysmal underperformance, the gains had actually accumulated mostly on our taxed accounts, while the performance on the tax-deferred accounts was even worse. Hence, in addition to losing years of retirement savings, we now have to bear the cost of Personal Capital's failure to optimize and reduce tax.

Adding insult to injury, we paid Personal Capital sizable fees for their abysmal investment performance. Personal Capital advertises: "We have much lower fees than traditional brokers."

18 percent of the total return Personal Capital made for us was consumed by the fees Personal Capital charged us over the years. Bottom line, Personal Capital has a one-sided business model: They can invest their customer's money any way they like. They do not hold themselves accountable for their advertising and for the results of their investment strategy. They refuse and obfuscate any comparison of their investment performance with generally accepted investment benchmarks. Independent of investment performance, Personal Capital claims sizable service fees. Good deal for Personal Capital, an abysmally bad deal, at least for us!

Our recommendation: Check the performance of your holdings with Personal Capital against the relevant market benchmarks today! Otherwise, you may end up losing like us.

Bottom Line: No, I would not recommend this to a friend

---

Advertisement

---