PersonalLoans.com Reviews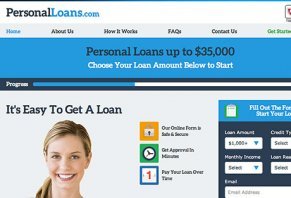 Through their lending network, PersonalLoans.com claims to provide fast, hassle-free financial assistance using personal installment and other types of loans.
About PersonalLoans.com
If you need cash quickly, PersonalLoans.com claims to be an easy and convenient way to find a lender that best matches your specific needs. In fact, with a 3-step application process and the ability to obtain approval in minutes, PersonalLoans.com claims to "have assembled the single largest network of responsible personal loan lenders available anywhere."
But should you take out personal loans like this in the first place, and if so, does PersonalLoans.com represent the best choice? Let's withdraw the facts and see what they have to say.
PersonalLoans.com Features & Details
Utilizing a network of lenders, PersonalLoans.com claims to provide access to fast, hassle-free loans ranging between $1K and $35K, depending on your credit score. According to the company's websites, the money your obtain from one of their lenders can be used for whatever you need, including emergencies, home renovations, debt consolidation, and more.
To accomplish this, PersonalLoans.com offers three different types of loans:
Peer-to-peer – Instead of borrowing from a bank, you'll be borrowing money from an investor. This loan type allows you to borrow anywhere from $4K to $35K, although you may be assessed an origination fee of anywhere between 1% and 5%.
Personal installment – Here, you can take out a loan of anywhere between $1K to $20K and deal directly with a bank, although the overall terms will be highly regulated by the state in which you live.
Bank personal loans – This type of loan is typically taken out through a local bank, although the application can usually be processed online. You may be awarded with amounts ranging between $1K and $35K, but you'll need to earn at least $3K per month in order to qualify.
In order to obtain a loan from one of PersonalLoan.com's lender, you'll need to go through a three-step application process:
First, you'll need to fill out PersonalLoan.com's short online loan request, which includes entering your personal information, requested loan amount, reason for requesting a loan, income, employment history, and more. Keep in mind that in order to apply for a loan through PersonalLoan.com, you'll need to be at least 18 years, have a regular source of income and an active bank account, as well as relatively good credit score.
Next, you'll be matched with the lender that can best meet your needs. Once this occurs, you'll be redirected to the lender's website to learn about your loan's details, as well as to provide any additional information they require.
Finally, once the process is complete, your money will be sent via ACH within 1-5 business days.
PersonalLoans.com Pricing
Using PersonalLoan.com's service is completely free, without hidden charges or fees.
However, your interest rate can vary greatly depending on a wide variety of factors such as your credit score, requested loan amount, the state in which you reside, and more. Your repayment terms will also vary, but will typically occur once every 2-4 weeks over the course of 6-72 months, which will be automatically withdrawn from your bank account.
With this said, according to PersonalLoans.com's Rates page, interest rates can range between 25% and 150%. Because of this, it's highly important that you thoroughly read through all your loan documentation prior to signing.
Is PersonalLoans.com Your Right Choice?
Similar to LendUp, CashAdvance.com, and others, PersonalLoans.com provides personal loans for individuals in need of quick cash. However, should you take out a personal loan in the first place, and if so, does PersonalLoans.com represent a good option? Possibly, but keep the following in mind:
High Interest Rates
PersonalLoans.com appears to have a mostly positive online reputation, with the most common compliments referencing ease of use, good customer service, and straightforward lending process. On the other, by far the most common customer complaint referenced high interest rates. In fact, you can expect to pay anywhere between 25% and 150% in interest, which can amount to almost as much as your original loan amount in some instances.
The Current Ownership
It appears that PersonalLoans.com is owned by Arrow Eagle LLC, who also owns other lending websites such as SignatureLoan.com and Low-Interest-Loan.com. Also, according to the PersonalLoan.com Terms of Use, "PersonalLoans.com is Arrow Eagle, LLC, which is a limited liability company chartered pursuant to the laws of the Ute Indian Tribe and is wholly owned by enrolled members of the Ute Indian Tribe. By your use of this website you consent to the laws and jurisdiction of the Ute Indian Tribe as it relates directly or indirectly to your use of this website. …You agree that any legal action brought against us shall be governed by the laws of the Ute Tribe of Utah, without regard to conflict of law principles. You agree that the sole jurisdiction and venue for any litigation arising from your use of or orders made on the Site shall be the tribal courts of the Ute Ouray Reservation of Utah."
Why is this important? Because this means that the company isn't regulated by the U.S. government, which may cause a significant problem if you were to ever become involved in litigation with them.
Bottom Line on PersonalLoans.com
While most financial professionals recommend that you abstain from taking high interest loans out in the first place, if you absolutely must, PersonalLoans.com appears to have a reputation for serving their customers well.
Pros
Claims to help you obtain personal loans ranging from $1K to $35K.
Claims to be able to provide decisions in minutes, and funds in your account within 1-5 business days.
Variety of interest rates and repayment terms available depending on your credit score and state of residency.
Cons
PersonalLoans.com does not provide you with a loan, but instead matches you with a lender.
Most personal loans come with very high interest rates, which in some instances, means that you'll pay almost as much (or even more) in interest than your original loan amount.
Operated under an American Indian tribe, which could limit the possibility of litigation should the need arise.
Waiting for a loan that I will never receive

By Richard Parker

,

Country Club Hills, IL

,

Apr 8, 2018
Verified Reviewer

Approximately on the 27th of March, I applied for a $2,500 loan, and I have paid $39.95 for the verification process. Plus I sent them $75 for an application fee. I have attempted to contact them via phone with no success. PersonalLoans and Credit is a complete ripoff. If you are a legitimate financial organization, then there should be a legitimate phone number.

Bottom Line: No, I would not recommend this to a friend

---

Simple site for an online loan

By Dave S

,

Pasadena, CA

,

Sep 10, 2016
Verified Reviewer

I was introduced by a friend and was able to find a loan in less than 48 hours. The form was easy to navigate and connected with a lender in less than an hour. Overall, it was a simple process and I didn't even have to leave my house!

Bottom Line: Yes, I would recommend this to a friend

---

Advertisement

---

Didn't Apply, but received call

By Tanisha

,

North Carolina

,

May 17, 2016
Verified Reviewer

I didn't apply for this, or anything and received both a call and email about being approved. When I asked about the origination of the request, the rep stated that she could not provide additional details. I'm investigating this.

Bottom Line: No, I would not recommend this to a friend

---

Sucks

By Jelia

,

Garland, TX

,

Feb 13, 2016
Verified Reviewer

I thought everything was legit until after a few hours when PersonalLoan.com called me and Mr. Number identify them as a scammer. I'm very disappointed because I released all my personal information to this company. Please do something about this

Bottom Line: No, I would not recommend this to a friend

---

Advertisement

---

Do not give them your information.

This is the biggest scam of all. Wow. When you give them your information, they pass it on to a credit repairing company and many others. Every time a company runs your credit, the score drops, and nobody will give you a loan. The government should investigate this website. Very dangerous.

Bottom Line: No, I would not recommend this to a friend

---

Bummer!

By Helen

,

California

,

Jan 29, 2016

I gave all my info and it said I may be approved for another amount. Sure enough nothing!.What a waste of time.

Bottom Line: No, I would not recommend this to a friend

---

Scam

By Dollyrose Villalon

,

Oct 21, 2015

Let me tell you, I did not even apply with this company. I filled out an application on 24/7 lending and I then got a barrage of emails and companies, claiming to be able to help me with a loan. Last straw is a phone call from an operator who wasted 30 minutes of my time. I called back to complain and got a number to an automated customer service line. Don't do it!

Bottom Line: No, I would not recommend this to a friend

---

Beware!

Supplied all my info including social security number, maybe you 0 seconds later "we can't match you, but give your bank routing #. What? Now I'm sure my info will be used in some unscrupulous fashion. I will be waiting and watching. Total waste of time!

Bottom Line: No, I would not recommend this to a friend

---

No good

By Melvin Olivieri

,

Cedar Creek, TX

,

Sep 9, 2015

First they said that I am qualified but I receive no approval. Then they keep sending me email to re-apply. This happened several times already. So I apply, but nothing. I wonder if this site is fake.

Bottom Line: No, I would not recommend this to a friend

---

PersonalLoans.com is a joke and no one should every go to this website. Conmen

By David Smith

,

CA

,

Jul 7, 2015

This is a joke. There are a bunch of these what appears to be lenders. You give them your info, however it's not submitted to anyone, they just find lenders who will not lend you money. In fact one of there phony websites submitted an inquiry and sent me to this trash website. Then they sell your info to anyone who pays them.

Bottom Line: No, I would not recommend this to a friend

---

This is a scam

By Janet

,

North Carolina

,

Jun 8, 2015

I have been receiving unsolicited emails from them saying I have applied for a loan and when I call the 800 number they list, I actually reach someone and when I tell them my problem they hang up on me. I have called several times and say please don't hang up on me and they do. THIS IS A SCAM!

Bottom Line: No, I would not recommend this to a friend

---