Persopo Reviews
Claimed This company has claimed this profile, is getting alerted on any new customer reviews entering this page, and may engage in dialogue with its customers to address their matters.

Companies cannot pay money or provide goods in order to remove or alter customer reviews.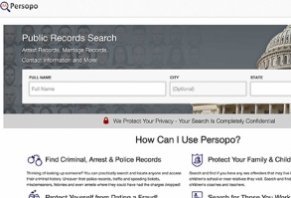 Persopo is an online search service that claims to aggregate public records data from all 50 states into easy-to-read reports that can help you stay informed.
About Persopo
Persopo is an online people search service that aggregates public records from federal, state, and county government agencies and delivers it to customers in a fast, safe, and affordable manner, so that they can make more informed decisions about new individuals they meet.
Persopo claims to make it easy to find detailed and important information about anyone using data from all 50 states, including criminal, arrest, and police records, marriage records, background details, and contact information.
This way, Persopo claims you can locate long lost friends and family, find out more about your neighbors, learn if sex offenders live near you, and even protect yourself from dating fraud.
How Does Persopo Work?
In order to begin using Persopo, you simply need to enter the person's full name, their city, as well as their state on the home page, and then press Search. According to the company, your query will always remain completely confidential, and their top-notch customer care team is always available to help if you have questions.
Once complete, Persopo will display matching results, including the person's name, age, location, and possible relatives. Then, once you click on the Access Report button, you'll need to answer three security questions to verify that:
You're 18 or over and a legal citizen of the U.S.
You agree not to use the information for employment decisions.
You agree not to use the information to blackmail anyone.
Finally, you'll be required to enter your email address and choose a membership package (more about this in the Pricing section) in order to view the report. Persopo claims that each of their membership options includes unlimited searches and comes with zero hidden fees.
Making personal connections with others is one of the biggest joys in life. But whether you're looking for someone with whom you lost contact long ago, or to check up on a new person you're dating, are Persopo's services worth your hard-earned money? Consider the following:
Where Does Persopo Pull Its Information From?
Similar to other people search companies such as Instant Checkmate, SpyFly, and BeenVerified, Persopo aggregates public records information and combines it into an easy to read report.
The information Persopo pulls includes documents or pieces of information that are not considered confidential, and are widely available to anyone with online access. In other words, you have the ability to find this information yourself elsewhere, for free.
With this said, the primary benefit that many people search companies claim to provide is saving you the time and hassle of visiting dozens of different state, county, and city websites, and scouring their databases for the exact information you need. Instead, they claim to provide the information you're looking for in seconds and to display it a simple report.
Is There Anything That Persopo Can't Be Used For?
Persopo is not classified as a Consumer Reporting Agency, which means the information you obtain from their site cannot be used for employment, credit or insurance eligibility (including student loans and/or scholarship eligibility), or tenancy.
Instead, if you need information related to any of these services, you'll have to use a reporting agency approved by the Consumer Financial Protection Bureau.
Are Customers Pleased with Persopo's Services?
On our website, most customer complaints appeared related to inaccurate or incomplete information in reports, along with recurring monthly charges after an initial trial.
The company had a similar rating on SiteJabber among nearly 100 customer reviews, many of which mirrored those found here on HighYa.
Despite this, Persopo had an A- rating with the Better Business Bureau, based on 46 reviews and nearly 70 closed complaints, as of 6/7/17.
With this in mind, it's important to note that most of the complaints listed against the company are nearly identical to the other people search companies we've written about, and aren't unique to Persopo.
It seems Persopo is focused on improving this type of feedback, though, as a representative we talked to stated:
"Persopo.com gathers records from federal, state, and county government agencies that hold public records. Unfortunately, we're not the source of the information, so we can't guarantee what will or will not be returned.
"We have not gone blind to the negative feedback and are improving customer relations all the time."
Pricing
Persopo's services are available through three different membership packages:
1 Month: $19.93/mo
3 Months: $14.93/mo, paid in full upfront at $44.79
6 Months: $9.93/mo, paid in full upfront at $59.58
All membership options include unlimited searches. Remember that your membership will automatically renew when the time comes, so you'll need to contact the company to cancel in order to prevent this from recurring.
Unlike many of the other people search companies we've reviewed, based on customer feedback, it doesn't appear that Persopo nickel-and-dimes you for anything beyond basic information.
However, many customers complained that their report took 72 hours (or longer) to be sent to them after performing their initial search. In fact, several customers complained that they never received their reports at all.
According to Persopo, they offer a guaranteed 100% no hassle and no haggle cancellation process. Regarding refunds, the company representative who reached out to us noted: "Each case is different, but the emphasis is always on making the customer happy."
In order to cancel your Persopo membership, you'll need to contact customer service at 866-371-2590 or support@persopo.com.
The Bottom Line
Since people search websites pull information from public sources, there are methods of obtaining much of the same information for free—although it might require more time and effort than offered by one of these reports.
Furthermore, it's been our experience, whether here on HighYa or elsewhere online, that the majority of customer responses to these services have been negative, with frequent complaints citing incomplete/incorrect information in reports and recurring monthly subscriptions.
When we reached out to Persopo for a comment about it, they noted that they're actively working on improving this customer dissatisfaction.
On top of this, it appears that Persopo is willing to offer refunds on a case-by-case basis, so you might not have much more to lose than a few minutes of your time by giving them a try.
---
Complaint

By Pamela

,

Little river south carolina

,

Aug 21, 2015
Verified Reviewer

Overall Experience:

I tried this Persopo to try to locate some info concerning finding my family and all I get is in accurate information, names and address are wrong. I even tried to find out my DMV records as well as marriage information, nothing. 72 hours they said nothing happened, I got the same old excuse about why I'm not getting information. Well you won't be fooling me anymore, you will never be getting another dime from me. I would never recommend you. You stink and you're thieves and liars. Don't anyone get fooled by any of these places about people, phones, address search, criminal records, what ever. They're all scams and they sell your information to other places like Spokeo, Instant Checkmate, Been Verified. Your info is exposed on all these sites, opening it up for identity theft. Close your account, then they can't get your money and they won't scam you. I have learned from this and you will too.

Bottom Line: No, I would not recommend this to a friend

---

They are scam artists...incorrect information

By RM

,

New York

,

Aug 24, 2015
Verified Reviewer

Overall Experience:

You cannot trust their search engine's results. They will tell you they have the info you are searching for, and then once you pay, there is nothing there. Do not give them your credit card number, they will bill you forever even after you cancel in writing.

If you want to loose money you will get better odds at the slot machines. I would never recommend them as the service is a waste of time and money.

Bottom Line: No, I would not recommend this to a friend

---

Advertisement

---

You can't believe reports!

By Paul Sweeney

,

Arlington, WA

,

Nov 17, 2015
Verified Reviewer

Overall Experience:

I was checking out someone I had just met. Then I decided to check out myself. It showed a lot of criminal activity and I've never been arrested for anything! At a closer look, I saw that the names matched but the birth dates didn't. Anyone who wanted to look me up would think I was a real scoundrel. Wow, I'm beyond mad!

Bottom Line: No, I would not recommend this to a friend

---

Overall Experience:

No information is provided except the persons name (which you already entered), previous addresses and a birth date. When questioned, customer service says the records of their information have to be digital to appear. Why wouldn't they tell you that BEFORE asking you to pay?

Bottom Line: No, I would not recommend this to a friend

---

Advertisement

---

Useless

By Joe

,

Ohio

,

May 5, 2016
Verified Reviewer

Overall Experience:

All you get is phone number and address. Then they tell you to wait up to you 72 hours. I got no more info than I get from my white page app. This isn't for me!

Bottom Line: No, I would not recommend this to a friend

---

Was looking for a marraige certificate

Overall Experience:

This site provide useless or no information, it is definitely a scam.

Bottom Line: No, I would not recommend this to a friend

---

Poor Results, poor customer service

By Tracy

,

Georgia

,

Sep 20, 2016
Verified Reviewer

Overall Experience:

The results were incomplete as compared to similar services. The customer service rep was rude and kept cutting me off when I tried to speak. Don't waste your money. ZERO STARS.

Bottom Line: No, I would not recommend this to a friend

---

Run away as fast as you can

Overall Experience:

I only wish I had looked up the reviews for Persopo before I subscribed. I learned a good lesson, that's for sure. As all reviews have commented, nothing is shown on this site that I could not have been found on a free site. Moreover, when I tried to sign in immediately after logging in, using my newly minted password and e-mail address, I was told that one or both were wrong. When attempting to contact the company by phone, no luck there.

Bottom Line: No, I would not recommend this to a friend

---

It's garbage.

By Janice Ross

,

California

,

Nov 24, 2016
Verified Reviewer

Overall Experience:

Do not waste your time or money. I needed some marriage date but it had none.

Bottom Line: No, I would not recommend this to a friend

---

Stay away!

By Jessica

,

Albany, NY

,

Jan 16, 2017
Verified Reviewer

Overall Experience:

Not only did their reports show misinformation and incomplete information, but they sold my email address. 12 hours after signing up I had received 32 spam emails, all similar in nature about loan services! Now almost 24 hours later, it's just gotten worse.

I've never seen such spam before. I called their "Customer Support, " and they told me they don't sell email address. Yeah, right!

Bottom Line: No, I would not recommend this to a friend

---

Scam

By Tom

,

Santa Clarita, CA

,

Feb 19, 2017
Verified Reviewer

Overall Experience:

They offered a "report" for a dollar as I was about to leave the website. I took the bait, and the search revealed my full name and phone number for one dollar. What a waste!

Then, they immediately charged me $29.95 on my credit card after promising a trial. They now have my credit card info, and I can't access it at their website, so I can't delete my account.

Bottom Line: No, I would not recommend this to a friend

---