Pet Command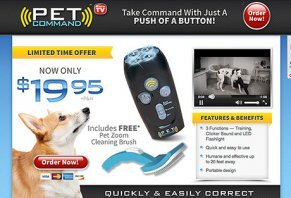 Pet Command by Pet Zoom is an "As Seen on TV" product that claims to use ultrasonic frequencies to help you gain control over your pet's bad behaviors.
Pet Command Review: Does It Help or Just Hype?
If you're frustrated by your pet's bad behaviors, Pet Command is an "As Seen on TV" device that claims to quickly and easily help you take command with just the push of a button. On top of this, Pet Command also claims to double as a training clicker, as well as an LED flashlight.
But considering Pet Command's "As Seen on TV" status, is it worth giving it a try, or does it just represent a waste of your money? We homed in on the facts, and here's what we found out.
How Pet Command Works
Unlike other products, which use citronella spray to correct your dog's barking, Pet Command claims to be a portable handheld device that features three different push button functions: It emits 2 ultrasonic frequencies and makes a clicking noise, which can be used to train your pet, and the LED flashlight claims to help you see at night while walking your dog. By combining all of these features, the Pet Command claims to be a quick and humane way to prevent barking, leash pulling, and other unwanted behaviors.
Pet Command is claimed to be effective up to 20 feet away (more about this in the Consumer Reviews section), and also to include a free training manual.
Pet Command Pricing and Refund Policy
Pet Command is currently priced at $19.95 plus $6.95 shipping and handling. As with most "As Seen on TV" products, with your order you can also obtain a self-cleaning Pet Zoom Cleaning Brush for an additional $6.95 S&H, bringing your total to $33.85.
Pet Command comes with a 30-day money back guarantee, less shipping and handling charges. In order to initiate the refund process, you'll need to contact customer service at 855-721-3338 (more about this in the Bottom Line section).
If you'd prefer to order from a third-party retailer, Pet Command is also available through Amazon.com, Walmart.com, Bed Bath & Beyond, Petco, and many others.
How Have Consumers Reviewed the Pet Command System So Far?
Overall, it appears that online reviews regarding Pet Command are mixed. Numerous customers seem to be pleased with their purchases, although some of the most common complaints cited:
That Pet Command did not work at all (e.g. dog completely ignores the ultrasonic signals).

Poor quality (e.g. doesn't work right out of the box, ceases to work after only a few uses, etc.),

That you have to be in very close proximity of your pet (5-10 feet), which is in direct contradiction to the manufacturer's claims that Pet Command is effective up to 20 feet away.

That the device works much more effectively on dogs with upright (e.g. non-floppy) ears.

If it does work, numerous customers complained that their dogs soon went back to their bad behaviors (see next section for additional information)
What's the Bottom Line About Pet Command?
Are you sick and tired of your pet's bad behaviors, and are looking for any way to make them stop? If so, does the Pet Command device represent an effective way of accomplishing this, and is it a good use of your money? Consider the following:
First and foremost, Pet Command is an "As Seen on TV," which often don't carry very high customer satisfaction ratings. This is typical because they fail to perform as well as advertised, and/or they are poorly constructed and feature inferior quality components. On top of this, "As Seen on TV" manufacturers tend to make the return process as difficult as possible, and any call you make to customer service will be filled with countless upsells.
On top of this, none of your shipping and handling charges are refundable, which means that if you're unhappy with your Pet Command (and also opted for the Cleaning Brush), you'll immediately be out $13.90. This is before calculating the shipping costs for sending the device back to the manufacturer. Also, according to the Pet Command's Terms & Conditions, your information may be shared with "reputable" organizations who will contact you in an attempt to sell you their products.
We also read several reviews during our research that claimed their dogs whimpered when the Pet Command's ultrasonic frequencies were used, which makes us wonder just how humane the device is. After doing some research, the reality is that in order to stop bad behaviors using devices like the Pet Command, it must cause at least some discomfort, so it's up to you how you feel about this.
While ultrasonic devices and collars have been shown to be effective tools against bad behaviors, you need to already have a good handle on best-practices related to training. In other words, in order to effectively stop your pet's unwanted actions, you'll need to know when to use Pet Command, and when not to, which is not something the company provides.
Between the mixed customer reviews and Pet Command's "As Seen on TV" status, you may want to purchase the device from a third-party retailer who could provide you with a much easier return process. Also, keep in mind that there are many similar devices available that are priced much lower than Pet Command.
3 out 5 people found this review helpful

Worked AWESOME on our King Shepherd.

By Kathy

,

Canada

,

Dec 1, 2015

I found this to be safe and to get his attention. Worked really well for training and unneeded barking. Yes, purchase this if you have a puppy that needs proper training. With firm NOs and this, they figure it out quick. 5 stars!

Bottom Line: Yes, I would recommend this to a friend

---

2 out 2 people found this review helpful

Pet Command

By Terry Hadwyn

,

Cobourg Ontario

,

Nov 30, 2015

Tried it but it quit working in a day. Too much money to return. Money lost I guess.

Bottom Line: No, I would not recommend this to a friend

---

Advertisement

---

4 out 4 people found this review helpful

What a crock!

By Bob Alberts

,

Pittsburgh, PA

,

Oct 17, 2015

This this is basically a $20.00 flashlight. That's the only thing that does work! This thing is useless. It ought to be banned for false advertising. Garbage, pure garbage.

Bottom Line: No, I would not recommend this to a friend

---

4 out 7 people found this review helpful

It was a average product

By Kayla

,

Royse City, TX

,

Aug 8, 2015

I can admit it helped me train my dog with sitting, laying, and tricks. The flashlight is also helpful but I can't get the barking to work. She stops for a minute and then begin yapping again. I was going to return it after a week but I decided to try it a little longer. As many may have been having trouble with it, I find that using different tones of voice for tricks and others help the dog to understand the command.

Bottom Line: Yes, I would recommend this to a friend

---

Advertisement

---

7 out 7 people found this review helpful

Quiet at last

By Jeri

,

Denver, CO

,

Jul 23, 2015
Verified Reviewer

We have a small dog and a Golden that won't stay off furniture or jumping on grandkids. Within just a few uses and a firm 'no' both behaviors stopped. If the barking starts up, all I have to do is pick it up and the barking stops. Best trainer/clicker we've ever used and we've tried many over the years. I must admit that when my husband brought it home I thought it was just another piece of junk we'd return. I was proven wrong.

Bottom Line: Yes, I would recommend this to a friend

---

6 out 6 people found this review helpful

Works for us

By Larry Bensette

,

Windsor, Ontario, Canada

,

Jul 13, 2015

Got this yesterday, kids came over for cards. Usually drives us crazy barking at company. Could not believe the difference after three uses he did not bark when they left. So far we like it.

Bottom Line: Yes, I would recommend this to a friend

---

7 out 10 people found this review helpful

Works for my rottie who was headed for death.

By Alissa Greene

,

Ontario, Canada

,

Jul 10, 2015

I have three dogs. One of them is mean, a bully, usually bites, and was getting ready to be put down. After Pet Command, he listens and isn't aggressive now and knows who the boss is. This saved his live.

Bottom Line: Yes, I would recommend this to a friend

---

19 out 19 people found this review helpful

Pet Command, not.

By Linda

,

Toronto, Canada

,

Jul 6, 2015

I purchased the pet command with high expectations. Every time I use it on my dogs to stop them from barking, they look at me as if to say "yeah right" and continue to bark. As the saying goes "If it seems too good to be true ".

Bottom Line: No, I would not recommend this to a friend

---

6 out 12 people found this review helpful

So far so good

By Melanie

,

Canada

,

Jul 6, 2015

I've been using it for a week and now I can even say "quiet" without pressing the button sometimes to my dog and the barking stops instantly. She is normally very yappy and doesn't stop unless we actually pick her up. I am very pleased with my first week with the pet command.

Bottom Line: Yes, I would recommend this to a friend

---

6 out 8 people found this review helpful

CAUGHT FIRE

By Destiny

,

Philadelphia, Pa

,

Apr 10, 2015

This is the first multi-use clicker I have bought and the worst I could ever have tried. This thing didn't work for even 5 minutes because it smoked and caught fire inside. I smelled smoke and I thought it was just where I was outside... Nope I saw smoke coming out of the buttons and the device got hot. I took the batteries out as fast as I could but it still caught fire inside. Now my clothes smell from it and I cannot believe what I saw.

Bottom Line: No, I would not recommend this to a friend

---

3 out 4 people found this review helpful

Quiet at last

By Rick

,

Sault Ste Marie, Canada

,

Jan 22, 2015

Our dogs would bark at anyone walking past the house not necessarily in our yard like we want them to. Tried numerous methods to keep the barking at bay to no avail. One day I tried handling my situation with this device and all I have to say there is no noise and they are quiet. It also helps with training as they both lay down and obey the next command. Wish the distance was 50' instead of 20' for our back yard. Would recommend to pet owners who have a pet who does not listen.

Bottom Line: Yes, I would recommend this to a friend

---