Pet Pain-Away Reviews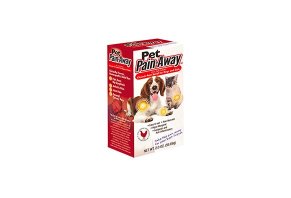 With naja naja venom as the only active ingredient, Pet Pain-Away claims to block acetylcholine from transmitting signals to the brain, reducing your dog or cat's pain.
About Pet Pain-Away
Pet Pain-Away is an all-natural, clinically proven homeopathic formulation that promises to provide relief from moderate to severe chronic pain in dogs and cats.
Specifically, the website tells us that Pet Pain-Away can help your best friend find relief from pain caused by hip dysplasia, arthritis, joint discomfort, and general pain, regardless of their age, size, and breed.
Just give them the formulation one to two times per day, and the non-toxic, non-narcotic chicken-flavored gel will build up in their system and provide relief.
Some research shows that when we look at our dogs and cats, it activates the same area of our brain as if we were looking at human family members. Given our close relationship, it's no surprise that we want to alleviate our pets' pain, especially as they grow older.
But you're here because you'd like to learn more about whether or not your pet will experience meaningful relief with Pet Pain-Away's ingredients, and whether or not it's a good use of your money.
Let's start by taking a look at pet pain in general.
What Are Common Causes of Chronic Pain in Cats and Dogs?
Just like in humans, pain in animals simply signals that something isn't right, but doesn't indicate exactly what's going on. Which is why it's important to visit the vet if you think your furry friend is in pain.
With this in mind, common causes of pain in our companion animals include tissue damage, injury, age-related degeneration (arthritis, hip dysplasia, etc.), and surgery or other medical treatments.
Unlike humans, though, cats and dogs might not express their pain (however severe) in immediately recognizable ways, like whimpering. They may simply vocalize more (in whatever form), excessively groom one area, change their sleeping, eating, and drinking habits, as well as their breathing; and even increase aggressiveness.
Regardless of its cause or form of expression, how does Pet Pain-Away promise to relieve your pet's pain?
How Does Pet Pain-Away Work?
Acetylcholine is a neurotransmitter (the first one to be discovered, in fact) that's responsible for muscle contraction (movement), initiating REM sleep, memory, cognition, motor control, and even parasympathetic nervous system function. It's also thought to regulate pain perception, although its mechanism of action isn't fully understood.
As a result, Pet Pain-Away tells us their all-natural, anti-inflammatory analgesic pain reliever contains a unique ingredient that blocks acetylcholine from transmitting pain to the brain.
In fat, the manufacturer tells us that Pet Pain-Away's ingredient is so effective that it "gave equivalent analgesic effects with doses 300 times less than aspirin and 30 times less than morphine." However, they note it may take a few days for your pet to feel the full effects.
The reality is that there are many different substances that can block acetylcholine from doing its different jobs, including atropine, some snake neurotoxins, beauty treatments like Botox, and prescription medications like ipratropium bromide and tiotropium.
Exactly what does this pet formulation use to accomplish these pain-blocking benefits?
How Effective Are Pet Pain-Away's Ingredients?
Here are the ingredients:
Active ingredients: Naja Naja venom paste (strength: 70 ug in 1 mL)
Inactive ingredients: Purified Water, Sorbitol USP, Sodium Carboxymethylcellulose, Natural Flavoring Agents
Depending on your pet's weight, you'll give them 1/8 to ¼ tsp of Pet Pain-Away one to two times per day.
Remember the snakes we just talked about? Naja Naja, also known as the Indian Cobra, injects a powerful neurotoxin into its victims that paralyze muscles—not to mention causing other less-than-savory side effects—by inhibiting acetylcholine.
According to Wikipedia, the lethal dose for naja naja venom is 0.45 mg/kg – 0.75 mg/kg in rats. This means that, at 70 ug (micrograms) per1 mL of Pain-Away, even if they accidentally consumed the whole thing, it probably wouldn't cause any severe ill effects in your cat or dog. But will it work to reduce pain?
According to WebMD, there is some preliminary research that black mamba venom might help relieve pain (as effectively as morphine, in some instances) in mice. There are also several dozen studies listed on NIH's PubMed.
However, nothing was referenced in these PubMed trials related to humans (or cats or dogs), or specifically related to Indian cobra venom.
Pet Pain-Away's website doesn't deliver any evidence back up the company's "clinically proven" claim, either.
What about potential side effects?
Will Pet Pain-Away Cause Any Side Effects in Your Cat or Dog?
Pet Pain-Away's FAQ indicates "there are very few side effects. If they occur, the side effects of oral administration are usually nausea and upset stomach."
We're even told that "High doses of Pet Pain-Away are not toxic nor life-threatening. However, excessive use of the formulation may induce nausea or upset stomach."
Finally, while there aren't any opiates contained in Pet Pain-Away, the manufacturer tells us that it might enhance their effects, so it's best if opiate use is reduced when administering the formulation.
According to the label listed on NIH's website linked above, additional possible side effects include itchiness or mild rash.
If these are the only side effects, what's up with the "this drug has not been found by the FDA to be safe and effective, and this labeling has not been approved by FDA" disclaimer at the top of the NIH page?
We'll dive into these details in a second, but let's quickly cover price first.
How Much Does Pet Pain-Away Cost?
A two-ounce bottle (30-day supply, if you use two drops per day) of Pet Pain-Away is priced at $19.95, plus $4.95 S&H.
All orders come with a 30-day return policy, less S&H. In order to request one, you'll need to contact customer support at 888-503-9838.
Now, back to that FDA disclaimer.
Are Homeopathic Remedies Like Pet Pain-Away Clinically Proven?
We took a look at the three foundational premises behind homeopathy and found that the clinical evidence supporting their efficacy in humans is largely lacking.
"Whether you want to attribute a patient's results to the placebo effect or something else, though, the reality is that you have to ignore reams of scientific evidence if you're going to put any stock in homeopathy," we concluded.
This is perhaps why Pet Pain-Away's NIH page categorizes it as an "unapproved homeopathic" remedy. What's this mean? According to the FDA:
"The FD&C Act defines "new animal drug" as a drug intended for use in animals that is not Generally Recognized As Safe and Effective (GRASE) by qualified experts for the uses listed on the label. For an animal drug to be GRASE, the experts must generally agree that, based on published studies, the drug is safe and effective for its intended uses."
Are There Any Pet Pain-Away Reviews or Other Products Like It?
This formulation was too new at the time of our research to have garnered any online customer feedback, although we learned that the supplement is manufactured by Nutra Pharma, a biotechnology company based out of Coral Springs, FL.
According to their website, they specialize "in the acquisition, licensing, and commercialization of pharmaceutical products and technologies for the management of neurological disorders, cancer, autoimmune, and infectious diseases." They had an A+ Better Business Bureau rating and no closed complaints as of 5/4/17.
In the world of natural and homeopathic pain relievers for pets, Pet Pain-Away seemed to be up against a meaningful amount of competition, which you could see for yourself by typing the phrase into your nearest search engine.
While none of these pet formulations contained naja naja (we found more than one topical analgesic for humans that contained the ingredient, though), popular competitors included:
| Product | Price | Active Ingredient(s) |
| --- | --- | --- |
| NutraMax Denosyl | $30 | S-Adenosylmethionine |
| Cosequin DS | $20 | Glucosamine Hydrochloride (HCl), Sodium Chondroitin Sulfate, Methylsulfonylmethane |
| NutraMax Welactin | $17 | EPA/DHA |
| Vet's Best Aches Chewables | $8 | Glucosamine HCl, Bromelain, Methylsulfonylmethane (MSM), White Willow Bark, Yucca |
| NaturVet Senior Care Tablets | $10 | Glucosamine HCl, Yucca Schidigera, White Willow Bark, Boswellia Serrata, L-Tryptophan, Superoxide Dismutase (S.O.D.) |
How can you compare? While none of these formulations specifically claimed to be homeopathic, you'll find that most are preventative in nature. For example, Denosyl is intended to prevent poor liver function, Cosequin DS less-than-stellar joint health, Welactin for overall wellness, and so forth.
In other words, these aren't reactive (intended to address an immediate condition) like pain and discomfort. How can you choose the best option for your four-legged friend, then?
WebMD tells us that when it comes to effectively addressing your dog or cat's pain, often times, nonsteroidal anti-inflammatory drugs (NSAIDs) like carprofen (Novox or Rimadyl), deracoxib, firocoxib (Previcox), and meloxicam could be your best options, although these will likely require a visit to your veterinarian.
If your vet approves, you might also be able to give them aspirin for a limited amount of time until your appointment rolls around.
Let's carry this thought over to the final section as we wrap things up.
The Bottom Line About Pet Pain-Away
There wasn't any clinical evidence available on Pet Pain Away—whether from the company or third-party sites like WebMD or the NIH—than the ultra-diluted Indian cobra venom contained in Pet Pain-Away will deliver meaningful pain relief for your dog or cat.
Yes, in sufficient quantities, this venom has been shown to inhibit acetylcholine function in the body, resulting in reduced motor and central nervous system function (which is physically how these snakes kill their prey), but nothing specifically related to pain relief in humans, cats, or dogs.
The FDA's classification of Pet Pain-Away as an "unapproved homeopathic" remedy speaks volumes about the level of efficacy you might realistically expect.
With this said, the manufacturer provides a 30-day refund policy on all Pet Pain-Away purchases, although you'll lose some of this in return shipping charges to the company if you end up dissatisfied.
Your pet's comfort is what matters the most. So, if they seem like they're in pain, the first person you should reach out to is your veterinarian, who can run tests and prescribe the appropriate medication to provide the most immediate relief, based on your pet's specific diagnosis.
And at that time, you can speak directly with them about Pet Pain-Away (or any other homeopathic remedy, for that matter), and whether or not it might represent an effective solution for your dog or cat.
» Recommended Reading: CBD Oil for Dogs: Benefits, Potential Side Effects and Research Studies
Pet Pain-Away works!

By Jane M.

,

Charlotte, NC

,

Aug 19, 2019
Verified Reviewer

It was a miracle for my 12-year-old Caucasian Ovcharka. He was nearing the end of his days and I was distraught. He had arthritis and cancer. I was deciding on euthanasia when the commercial came on. In desperation I bought it, gave it to my dog 2-3 times a day. And it was a miracle. I went from having to lift him to his feet to pee to him being able to take short walks in the neighborhood again. It gave me an additional blessed 6 months with him. It was truly a miracle. I am still getting it in autoship as I have 5 more senior pets.

Bottom Line: Yes, I would recommend this to a friend

---

Brought the puppy back in our 12-year-old Brittney Spaniel

By Nene M.

,

Georgia

,

Dec 29, 2018
Verified Reviewer

Our Brittney Spaniel, Belle, was run over by the postman when she was 10 years old. Hubby and I refused to put her down, instead, choosing to care for her around the clock ourselves with our Emt and Paramedic experience. It ran over her tail, hips, and spine. After 24-hour care, daily baths, and physical therapeutic exercising, etc., we did save her, and even though she walks with a small line, she is still active at 13 years old! Last winter, she really began suffering when we experienced cold, rainy weather like arthritic pain. I saw Pet Pain-Away advertised so I figured we would give it a try...Within a couple of days of giving it to her twice a day on a dog treat a dose the size of a dime, she began to show improvement and began running around and chasing the chickens like she did when she was just a pup. This is a true testament to the results of this formula. She never experienced any side effects either! She only needs it during inclement weather, but we see immediate relief when she ingests it. We have recommended this to numerous friends with aged or injured dogs who have also experienced similar results.

Bottom Line: Yes, I would recommend this to a friend

---

Advertisement

---

Pet Pain-Away works

By Vonda G.

,

Rocklin, CA

,

Sep 26, 2018
Verified Reviewer

I have a 9-year-old pitbull named Gracie. I've tried a lot of products that didn't work or were expensive and still had too many side effects. I first tried Pet Pain-Away in February 2017. And since then my girl feels like a puppy again, the only side effect she has had was an upset stomach if used two times a day like during the winter, so I give her Gas-X for that.

I've recommended this product to my friend, who now uses Pet Pain-Away. My dog isn't a mutt, she is a show dog, because she likes it that way, but after an injury when she was around 5, she started slowing down and was stiff and in pain in her left hip. X-rays show no damage, just real mild arthritis. I'm happy with this product and think all of you will not regret trying it. Some say if it didn't work, they should make sure they are giving the correct dose and allowing it several days to work. One time and my dog felt better. Blessings.

Bottom Line: Yes, I would recommend this to a friend

---

Doesn't work

By Lynette M.

,

Johnstown, CO

,

Sep 12, 2018
Verified Reviewer

I ordered the sample. I used it for over 30 days. My dog is a 15-year-old mutt. I had hoped he would be able to get upstairs and outside by himself. If anything, his inability to manage stairs worsened. We now have to assist him with going outside any navigating stars. His pain was not helped at all.

Bottom Line: No, I would not recommend this to a friend

---

Advertisement

---

It really works

By Rita Havey

,

USA

,

Mar 28, 2018
Verified Reviewer

I have a 189 lb Mastiff, and I thought I would have to put him down because he was in so much pain getting up and laying down. I ordered Pet Pain-Away and could not believe how well it worked. He can get up and lay down with no pain. Yes, I would recommend it to others!

Bottom Line: Yes, I would recommend this to a friend

---

Great product

I have been using Pet Pain-Away for over a month. My 15-year-old Sheltie showed relief within the first few days. He has very severe arthritis and has slowed down considerably. Since starting him on this product, I feel that his quality of life has been greatly improved. My brother saw this on TV and ordered a tube for us. He said we have nothing to lose if it didn't work, but if it did, then I could purchase more. I'm ordering another tube now!

Bottom Line: Yes, I would recommend this to a friend

---

Amazing product

My Lhasa Apso is 12 years old and has been having issues getting up in bed and chairs. After two doses of Pet Pain-Away, he jumps on the bed and chairs. I have been recommending this product to everyone. It has changed our lives because our animals are our babies. I thank you from our heart for this product.

Bottom Line: Yes, I would recommend this to a friend

---