Petal Card Reviews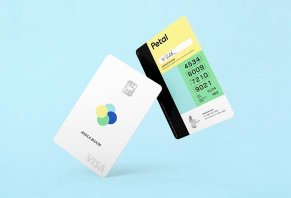 Consumers with no credit history or low scores are the prime candidates for the Petal Visa, a new credit card that has no fees, rewards or deposits and seeks to make credit accessible and easy to understand.
About Petal Card
The Petal Card is a soon-to-be-released Visa credit card that doesn't take credit scores into account and doesn't charge fees, making it a good fit for consumers who have low or no credit scores.
The company was launched in 2016 by four entrepreneurs who, according to Petal's website, wanted to create a credit card that solved the problems they were facing as consumers with credit cards.
Here's an excerpt from Petals' website: "Despite working and paying bills responsibly, members of our team had trouble qualifying for a decent credit card and establishing credit history. Others on our team struggled with credit card debt and fees..."
The card claims that its customers don't have to pay any fees and that it's a better choice over traditional credit cards and even cards designed for people with bad credit.
We wanted to make sure those claims were legit, so we did some pretty thorough research on the card and found pertinent information in the following areas:
Fees and rates
Benefits
Comparison to other cards
Public opinion
Before we jump into these topics, keep in mind that the card has yet to launch. While all the information we're going to analyze is accurate and will match what the card offers when it launches, some of the card's features, benefits or rates could change.
The Petal Visa's Fees and Rates
As we mentioned earlier, the Petal Visa has no fees. This is an anomaly in the credit card world, as nearly every credit card we've reviewed has fees associated with it: late fees, returned payment fees, cash advance fees, and balance transfer fees.
The motivation behind these fees, Petal claims, is to earn revenue. Their website says that credit card companies make money one of three ways: consumer fees, interest and merchant fees.
All three of these fees affect the consumer. Merchant fees are what companies pay every time someone uses a credit card, and those fees are incorporated into the company's prices.
According to Petal, they make their money through merchant fees and interest payments. Merchant fees are a pretty lucrative business. In 2016, the four biggest credit card networks (Visa/MasterCard, AmEx, Discover) made more than $55 billion from them.
As far as interest goes, the Petal Visa will have interest rates, at the time of publishing, of between 13.99% and 24.99%.
The card's credit limit will be between $500 and $10,000.
The low-end APR on this card is actually pretty great compared to some of the other options out there. Here's a quick chart of the low APRs on some of the bad-credit cards we've reviewed:
| Card Name | Lowest APR |
| --- | --- |
| Discover it Secured | 23.74% |
| Total Visa Unsecured | 29.99% |
| USAA Secured AmEx | 10.65% |
| Credit One Platinum | 16.15% |
| First Progress Platinum | 9.99% |
| Build Card | 29.99% |
As you can see, the Petal's low APR of 13.99% is among the lowest, but here's the catch: Petal offers a range of APR's unlike some of the cards on this list. So, if you have a poor or non-existent financial history, you'll probably get the highest APR of 24.99%.
Pro tip: The Petal has no annual fee.
The Petal Visa's Benefits
Based on our research, we'd say the main benefit of the Petal Visa is that they go beyond your credit scores to determine if you can get the card.
That's great news if you don't have a credit score or your scores are really low because you only have one or two borrowing accounts or you've made some financial mistakes that have dropped your scores.
How do they do it? According to Petal's website, they tap into alternative credit data: income and bill payment. This data is popular with alternative credit companies who work to get you credit based on bill payments and other factors rather than your credit scores.
So, if you have a consistent history of on-time payments and you have enough income to cover your monthly expenses, we'd say that you have a good chance of getting the Petal card. It's not a guarantee, though, so keep that in mind when you apply.
In addition to not taking your credit score into account, you also don't have to put down a deposit in order to get this card. Some credit cards require that you put down a certain amount of money – usually less than $500 – to open an account and your credit limit is equal to what you put down. These cards are known as "secured" cards because the bank issuing the card gets a security deposit from you.
Based on what we've learned about the Petal Visa, we think it has a strong set of benefits if you're struggling with low or no credit scores and you need a credit card without fees that can help you get back on your feet.
Comparing the Petal Visa to Other Credit Cards for People With Bad Credit Scores
While there's a lot of good things going on with the Petal Visa, there are some drawbacks when you compare the card to other cards in the bad-credit genre.
For example, the card doesn't offer rewards. Their explanation is that rewards can be confusing and that Petal will introduce some perks down the road. There are other bad-credit cards out there that have simple rewards programs. The Discover it Secured is a good example.
While you have to put a refundable deposit down, you do get 1% cash back on all your purchases. That cash back is automatically added to your rewards balance. You can redeem that balance as a statement credit. The Discover card charges late fees, but the first one is waived.
As far as APR goes, the USAA Secured Card from American Express has an interest rate a full 3% lower on the low end and around 4% lower on the high end. While the APR is lower, the card has a flaw: a $35 annual fee.
Another card that has a solid APR is the First Progress Platinum Prestige MasterCard, whose 9.99% interest rate is the best we've found among cards for people with bad credit. However, like the USAA card, this one's got an annual fee. Both cards also charge late fees.
Public Opinion of the Petal Visa
This credit card is part of a new movement of financial institutions who are trying to break the mold of previous products and taking a customer-first approach to the way they do business.
While Citi's Simplicity card has no annual fee or late fees, it doesn't focus on a bad-credit or no-credit customer based like the Petal. Based on that, we think the card does break the mold, and so do other websites and publications.
The New York Times wrote an article in 2017 titled "New Credit Card Option for Those With Scant Credit Histories," in which they elaborated on why the card's focus on consumers with low or no credit scores is unique.
Other sites who focus on credit cards noted that the Petal is a good choice for consumers with little or no credit history.
Our Final Thoughts on the Petal Visa
This credit card, as we noted, is part of a new generation of financial products. As with every new generation, there are a lot of claims about certain products being better than "the way things were done."
While it's easy to get caught up in trends and what's new, credit cards are the kind of thing that you have to analyze number by number because, as the old saying goes, the numbers never lie.
The Petal is, in our researched-based opinion, a one-of-a-kind card. Credit card companies usually give consumers with low or no scores really bad terms. There are annual fees, maintenance fees, and startup fees involved, all so that you can get a card with a low credit limit and high APR.
There is none of that with this card. Whether it's consumer-friendly or not, Petal says they'll make their money on merchant fees and interest payments so other fees aren't necessary.
If you've got no credit history or you've got low credit scores that keep you from getting credit cards with good terms, we believe that the Petal Visa could be a good fit for you. You don't have to make a deposit, there are no fees and the card functions just like a normal credit card.
Payment issues

By Dewayne H.

,

Nevada

,

Oct 18, 2019
Verified Reviewer

First of all, thank you Petal for approving me for your credit card! The issue I am having is that for 2 months I was making my payment and it was failing to go thru. The 3rd month after I'm 3 months late I find out you can't pay with prepaid debit card. So I mail a money order on 10/7/2019 with a full 3-month min payment, which is 7 business days to go from Las Vegas to Sacramento, CA. Well, I've called several times and they say still have not received my payment. I live on disability and can't afford for my money to be just floating around. I need to know where my payment is. Customer service was nice but I'm still stressing over my payment being late. Thank you.

Bottom Line: Yes, I would recommend this to a friend

---

Tried this out for my daughter who is a student with scant credit history

By Douglas C.

,

New Jersey

,

Sep 26, 2019
Verified Reviewer

This company lied! Said they are working with people with no credit history! They said not using credit scores! They lied, they used Experian! Forget them...they suck!

I thought this would be great for my kids to start a credit history with a small balance on a credit card...no, go! Unapproved for just that scant credit history!

Bottom Line: No, I would not recommend this to a friend

---

Advertisement

---

Highly deceptive practices and poor service

By Dave A.

,

California

,

Aug 30, 2019
Verified Reviewer

Petal engages in dangerously deceptive practices that are core to its business model. Customers should run for hills and apply for any card but this one.

In my second month of having Petal Card, a "freeze" was placed on the account due to "suspicious activity," even though there was no such activity and the company does not provide any explanation or details. The card had not been used in weeks. To unfreeze my account, Petal requested a selfie, a picture of a government-issued ID, THREE months of bank statements, and pay stubs or a W2. Unfortunately, this seems like a core business practice to gather data on customers. It is nefarious and they should not be allowed to operate given this level of deception. The issue I have with it is that it is asked for circuitously and veiled as client protection. It was not disclosed prior to applying and overall it is very underhanded.

Their customer service is also horrendous, and they significantly and purposefully delay posting payments so they can collect more interest. My most recent payment cleared my Chase account seven days ago, but my balance is the same.

Bottom Line: No, I would not recommend this to a friend

---

Scam company - AVOID!

I had high hopes of this card but I was leery - I should have trusted my instincts. From the begininng, their customer service was horrendously rude and unhelpful, but I somehow convinced myself often enough to worry, it will be fine. I continued to ignore the warning signs. Now that their scam has been revealed I obviously regret ever getting this card and would caution anyone to RUN AWAY!

This credit card is a scam and I expect to see lawsuits very soon and hopefully Petal is shutdown swiftly before they can harm anyone else.

Do not apply, there are reputable companies, Petal will only put your identity into jeopardy, give you frustration and HURT your credit.

Bottom Line: No, I would not recommend this to a friend

---

Advertisement

---

Horrible customer service

By Jay P.

,

Tecumseh, MI

,

Jul 25, 2019
Verified Reviewer

During the application process, there was an error and the site was unable to pull information from my credit union. I was automatically rejected due to the fact that my "cash flow information is insufficient." I tried multiple times to get help over the phone, explaining to them that I was rejected due to a failure on their end because there was an error in retrieving information from my bank. Unfortunately, it was difficult to communicate this to them because none of the representatives were fluent in English, and they were very rude as well. I was instructed to email them, and after several days, I finally received an email that stated I was not eligible to reapply because I was already rejected. I explained the situation again, and I was told that I cannot reapply regardless. I am extremely unhappy with this company's shortcomings and horrible customer service. Don't waste your time like I did.

Bottom Line: No, I would not recommend this to a friend

---

Petal is a shady business, DO NOT APPLY

By Riri R.

,

Los Angeles, CA

,

Jul 9, 2019
Verified Reviewer

Was given very good approval odds through Experian and Credit Karma, am new to credit, no credit cards, only installment loans. Thin file.

Was immediately pre-approved for the card, confident about applying, submitted the application, was emailed a notice that they needed more time to review the application and would contact me within two weeks.

Ok, that's cool, three days goes by I get a call from Petal, they want to verify my identity, went smooth as silk and was fully verified in less than three minutes and said they would email me a decision within 7-10 business days.

Thirty minutes later, I kid you not, got the approval notice email. Approved for $3.5k with a 665 FICO score. That's pretty sweet right, for a first-time credit cardholder. So I set up my account and download their app. Everything seems to be going smooth, received a friendly welcome email and other warm emails. Turns out they're generic. False kindness...

Anyways, fast forward four days, I get a text stating they noticed suspicious activity on my account and had blocked my card. That's weird, I haven't even received my card, let alone them ship it. Immediately call, the first rep tells me they have no idea what's happened but the account has been closed.

Whaaaat?! They offer to email their "back office" and they will "call back" to tell me the exact reasons, guess what, they didn't call back. I call back a 2nd time and get the rudest SOB I've ever had the displeasure of talking to and was informed the reason given after a gobful of attitude was "Experian closed the account." What utter garbage, and to "call Experian", I then ask to speak to the so-called "back office" that was supposed to call me back and he immediately put me on a 15-minute hold and comes back saying it's not possible, THEN the SOB hung up. Infuriated I called Experian, they laughed and said "they can't close accounts," so I'm livid and I call again to Petal asking for a supervisor who unfortunately also was moody, and after arguing back and forth for over 1 hour about the account closure, I finally speak to an account manager. She was slightly more helpful, but after a while of explaining everything in latent terms she got impatient and fobbed me off and basically gave me "there's nothing we can do" speech and evidently wouldn't give me the time of day because of their stupid terms and conditions policy, which by the way is in violation of so many credit law acts, quoted the fact they can do as they please. Again, persistently asked to speak to their "back office" and again refused, stating they couldn't tell me anything due to "limited" resources. Then proceeded to tell me they work directly with the back office. Ok, send them an email, "no, I see no reason to". So I'm teeming with rage but keep my composure and kindly ask they stop sending the automated emails as it's sickly sweet. To which they agreed I would be removed from the emails.

By law if an account is closed they must give a reason in writing if the consumer requests it, they have said they will not provide this, so I have reported them to CFPB and FDIC explaining that they closed my account on account of discriminatory reasons due to the fact that they would not give me a reason as stated by law and poor customer service. I will update in 30-60 days their response.

It has now been over 2 weeks and since then have received my card which I shredded immediately and emailed them with the picture captioned "so much for a customer". And still get the emails to activate my card, even though I asked them to stop sending me automated emails.

Do not apply with this company, they are nothing but LIARS AND POSSIBLY SCAM ARTISTS. READ THE REVIEWS!

Bottom Line: No, I would not recommend this to a friend

---

Petal Card is a scam

By Tia D.

,

Florida

,

Jun 21, 2019
Verified Reviewer

I received a text message before even receiving the card saying there was suspicious activity, a day later my card account was closed. Wasted inquiry, and to top it off, they called to verify if it was me before even approving the card.

Bottom Line: No, I would not recommend this to a friend

---

Serious payment issues!

By Dawn T.

,

Oregon

,

Apr 24, 2019
Verified Reviewer

My husband applied and was accepted for this card with a $4500 limit. After a couple of purchases, we have been trying to make a full payment of $130.00. They have our banking information but can't seem to process a payment online. He finally called them, gave them the EXACT information they already have and still the payment won't process even though the guy on the phone said it did. I finally did it through the bank's bill pay so we will see if that goes through. This has been going on for quite awhile and there will be hell to pay if we get a late fee! I've never had a company have so much trouble taking my money!

Bottom Line: No, I would not recommend this to a friend

---

New customer

By Paulette E.

,

Illinois

,

Apr 24, 2019
Verified Reviewer

I was shocked that I received an approval with a high credit limit of $5000, especially since I have other cards and my credit limits are fairly low. I pay all my cards off in full each month. So now I just received this card I'm trying to see what it's about. Thank you for giving me a chance.

Bottom Line: Yes, I would recommend this to a friend

---

I would not do it!

By Darryl C.

,

Indianapolis, IN

,

Apr 12, 2019
Verified Reviewer

I was approved and the customer service department will drive you crazy with their idiot ways, and I do mean their "backwards" ways of dealing with simple questions.

I have for the last 30 days made calls inquiring about the payment and link accounts and they say they cannot help me at this time and I will have to wait for the "proper" department to call me back...why have a customer service dept?

My head tells me that I have a probably made a BAD mistake and I am trying my best to get out of it as soon as possible!

Like the other reviews, go with the others who we are familiar with and wait a year or two to see if they will still be in business - my guess is, they will not!

Bottom Line: No, I would not recommend this to a friend

---

Perplexing

By Lisa G.

,

Zephyrhills, FL

,

Mar 18, 2019
Verified Reviewer

When the Petal Card showed up as a recommendation for me from Credit Karma, I loved their mission statement and their desire to help people who perhaps have experienced difficulties and the offer sounded almost too good to be true! No fees? No annual fee? Could have been a real game changer but alas, it was not.

Filling out the application on their site wasn't easy. They're were glitches upon glitches, and I had to put my information in numerous times, deal with screens that were cut off, missing borders, certain ones where numbers couldn't be put in, etc.

I fought the good battle though and made it through.

Now here's where it gets not only strange but highly disconcerting. It said I needed to link my bank account as the final step so I did and after saying it linked but was having trouble getting the appropriate data? Then it said "IF" I was approved, I'd receive a secure link. Needless to say, no link ever came. I then started to panic a bit with the realization that they were now linked to my bank account but apparently weren't going to issue me a card. Why link my bank account? That should not have been done until you were approved for the card! Now I'm all stressed out and panicking...especially after reading all their 1-star reviews. Not a good sign for a brand new company.

I guess all I can do now is vigilantly check my bank account for any suspicious activity and hope I wasn't just a victim of identity theft.

Bottom Line: No, I would not recommend this to a friend

---