Petplan Pet Insurance Reviews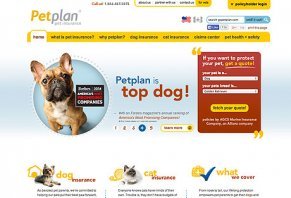 PetPlan provides health insurance coverage for your pets that can help you pay for unexpected veterinary care due to illnesses or accidents.
About Petplan Pet Insurance
If you're looking for simple and affordable pet insurance plans that can help you avoid unexpected veterinary bills, PetPlan claims to be the top choice available. In addition, PetPlan claims to make the filing process simple and easy, and to give you peace of mind about your four-legged companion.
But is PetPlan coverage really worth your hard-earned money? Let's collar the facts and see what they have to say.
PetPlan Pet Insurance Details
PetPlan provides coverage similar to Nationwide Pet Insurance, but only insures cats and dogs, not for exotic animals. However, PetPlan Pet Insurance does provide full coverage for hereditary and congenital conditions as a standard part of their policies, in addition to other accidents and illnesses—even alternative and holistic treatments.
With this in mind, PetPlan Pet Insurance offers three different coverage levels:
Bronze ($10K in annual coverage) – Covers exam fees, diagnostic treatments, surgery, prescription medications, cancer and dental treatments, behavioral therapies, and more.

Silver ($14K in annual coverage) – Includes everything found under the Bronze plan, with the addition of boarding kennel fees, loss due to theft or straying, and more.

Gold ($22K in annual coverage) – Includes everything found under the Bronze and Silver plans, in addition to death from illness or injury and vacation cancellation.
On top of this, PetPlan's Covered for Life™ guarantee means that as long as you continue renewing your policy before it expires, you'll never be canceled due to your pet's age.
PetPlan Pet Insurance Pricing and Refund Policy
PetPlan Pet Insurance pricing can vary widely depending on factors such as your pet's breed, age, the area in which you live, and deductible ($50, $100, and $200) and reimbursement (80%, 90%, and 100%) amounts. However, the company does provide free no-obligation quotes, and there are no enrollment fees.
PetPlan also claims that coverage is provided on an annual limit, not condition-specific limits, and your premiums will not increase due to the number of claims filed. With this in mind, the company claims that most policyholders are reimbursed for their claims with 5-14 business days.
Based on a few quick PetPlan Pet Insurance quotes we obtained during our research, there doesn't appear to be a great cost difference (about $20) between the different packages. However, where you'll really start seeing the prices creep up is by decreasing your deductible and increasing your reimbursement percentages.
Despite this, PetPlan provides numerous policy discounts, including multiple pets, veterinary professionals, strategic partners, and more.
What Do Other Consumers Have to Say About PetPlan Pet Insurance?
PetPlan USA is based out of Philadelphia, PA, claims to have been in business for more than 35 years, and to have ranked #46 on Forbe's annual list of America's Most Promising Companies.
All PetPlan policies are underwritten by AGCS Marine Insurance Company, a member of the Allianz Group, which as rated A+ by A.M. Best in 2013.
PetPlan Pet Insurance holds a B rating with the Better Business Bureau, despite having just under 50 closed complaints over the past three years, most of which appear to reference frequent (and often large) premium increases.
Outside of the BBB, most customer complaints cited that their claims were often denied due to "pre-existing conditions" (see more about this in the following section), long reimbursement times, and difficulty filing claims; specifically, that PetPlan will continuously request information that has already been provided to them on numerous occasions.
What's the Bottom Line About PetPlan Pet Insurance?
With all this information in mind, should you purchase an insurance plan through PetPlan Pet Insurance, and is it worth your hard-earned money?
As with any other type of pet insurance, PetPlan seems to offer a certain level of value, although there are a couple of important factors you should keep in mind.
First and foremost, while your initial premium may seem affordable, remember that this is likely the lowest amount you'll pay and that your premium will typically increase on an annual basis—sometimes by quite a bit.
In addition, unlike with human medical insurance, PetPlan will apply your deductible on a per-incident basis, not on an annual basis.
Next, one of the most common customer complaints we encountered about PetPlan Pet Insurance during our research cited claims that were denied due to "pre-existing conditions." However, PetPlan's definition of pre-existing condition might not mean what you think it does.
For example, one review cited that their dog was previously diagnosed with yeast buildup in their ear, which would cause them to excessively scratch it, even to the point of severe pain.
After this was cleared up, the dog came down with an unrelated skin infection in another part of his body that caused severe itchiness. After a claim was filed, PetPlan subsequently denied coverage for any of these scratching issues, even though they had nothing to do with yeast.
In fact, according to this same reviewer, PetPlan Pet Insurance considers only symptoms and not final diagnoses. Even after receiving several letters from their veterinarian stating that the two issues had absolutely nothing to do with one another, PetPlan continued to deny coverage.
Bottom line: While PetPlan Pet Insurance may end up saving you money from unexpected vet bills during the course of your pet's life, their policies appear to be more suited to smaller costs than larger medical bills.
Horrible, Petplan is a scam!

If I could rate your company it would be a zero! You have basically taken all of my payments but paid out absolutely nothing that you said you would. I would not recommend this company to anyone! And I will be posting throughout the entire social network and on Google. I was lied to when I signed up and ripped off from non-payments.

Bottom Line: No, I would not recommend this to a friend

---

Shame on Petplan!

By Stacy L.

,

Orange County, CA

,

Dec 24, 2019
Verified Reviewer

Petplan denied coverage for surgery for my dog, claiming he had a preexisting condition, which he did not. I've been paying for this policy for 7 years, and could have paid for his surgery 10 times over by now. When I called to try to get them to reconsider or file an appeal, they had nothing to offer me but the "opportunity" to change to a lower level of coverage. Ridiculous!

Do not use Petplan. They claim to care but absolutely do not. Check out their Facebook page - there is a reason why they don't have a Reviews section on their company page.

I have so many friends and family with pets, including some who work with and in dog rescues, and they'll all be hearing about this. Shame on you, Petplan!

Bottom Line: No, I would not recommend this to a friend

---

Advertisement

---

Annual checkups

By Loreen L.

,

Johnstown, CO

,

Jul 23, 2019
Verified Reviewer

I have had Petplan Pet Insurance since February 2016. I got the initial physical done required to start the insurance. Never was I ever reminded to get an annual physical to keep coverage. But they did send me an annual reminder that my monthly premium will be increased the coming year. Every year I got that...So after over 3 and 1/2 years of paying their premiums every month, my dog got sick, I took him in, had a pet bill, sent in the bill, was DENIED, because he did not have an annual physical. My dog was never sick, so I did not take him to the vet...for an annual physical. This would have been his FIRST CLAIM. DO NOT get Petplan Plan Insurance for your pet! In my opinion, they will figure out a way for you to be denied!

Bottom Line: No, I would not recommend this to a friend

---

Excellent coverage and service! Really a life-saver.

By Marie B.

,

Alexandria, VA

,

May 22, 2019
Verified Reviewer

I recently purchased pet insurance for my 2 cats. Unfortunately, just a few weeks after I made the purchase, I needed to use it for one of my cats. Their Customer Service Rep (Happiness Manager) could not have been more kind, understanding and helpful. She walked me through every step of the process and answered all of my (many!) questions. I felt good knowing that I could call and talk to someone 24/7. And rather than feeling like the company was trying not to reimburse me, I knew that they were behind me every step of the way, helping me and keeping in touch with me until I got my reimbursement just a few weeks after my cat got treatment. Happily, he is doing much better, and I could not be happier about the choice I made. There are many choices for Pet Insurance, but Petplan stands out as a company that treats people and pets with the care they deserve.

Bottom Line: Yes, I would recommend this to a friend

---

Advertisement

---

Petplan will not honor your claims

By Paul A.

,

California

,

Apr 1, 2019
Verified Reviewer

I have been paying 4 years of premiums for 2 cats I cant came down with bronchitis. I submitted a claim for $2k to Petplan. They denied the claim. I have no faith that Petplan will honor future claims or your claim.

Bottom Line: No, I would not recommend this to a friend

---

Petplan is a scam operation

By Elliot N.

,

Arizona

,

Nov 4, 2018
Verified Reviewer

They find all kinds of reasons to reject your claim. I had Petplan for ten years and when I went to file my first and only claim, a completely legitimate claim for a set of tests on a NON-PRE-EXISTING condition, verified by the vet, twice verified, they still rejected the claim. They will quickly take your money but then just as quickly find any spurious reasons to reject the claim. AVOID THIS COMPANY!

Bottom Line: No, I would not recommend this to a friend

---

Petplan, buyers beware

By David M.

,

Anderson, SC

,

Oct 20, 2018
Verified Reviewer

Read the reviews online. I became a victim of the unethical, deceptive trade practices and trickery. Petplan took my money and denied Sparkle, a sweet rescue dog, medical treatment and told me to go after Heartguard for damaging my dog. Are they serious? What a scam this company is. The online reviews are exactly what happened to me.

I feel sorry for all these poor people that give this corporate giant Petplan their money and having their poor pets denied.

I am lodging a complaint to all government agencies that regulate Petplan and also the Pet World and AARP, etc.

I am opening a GoFundMe account for Sparkle and will expose Petplan to the world.

Bottom Line: No, I would not recommend this to a friend

---

They never pay you and keep asking for more info

By Teresia B.

,

Little Rock, AR

,

Sep 11, 2018
Verified Reviewer

Worst company to deal with on claims. They continually reply they need more information and I provided everything along with my vet.

Don't waste your money on this company, they will never pay you!

Bottom Line: No, I would not recommend this to a friend

---

Wish I could rate them 0

I enrolled my tiny Maltipoo at eight weeks. At nine months she was found to have a liver shunt, which is congenital and is suppose to be covered. Because my vet said she was tiny, they denied surgery to save her life. My vet fought them to no avail. They're heartless and told me there was not anything they would do to save my puppy's life. My Maltipoo site raised $4,000 to save her life. This company is a scam!

Bottom Line: No, I would not recommend this to a friend

---

Unethical practices, all smoke and mirrors.

Dallas, TX

,

Sep 6, 2016
Verified Reviewer

Unethical practices, do not purchase a Petplan policy!

I purchased a Petplan insurance policy in February 2016 at the cost of $86.05 per month. I haven't needed to use it until August 2016 which means they have already collected $688.40 of my money for a policy that they haven't paid out a dime on.

My dog has an unidentified lump on her wrist which was noted by the vet prior to purchasing the Petplan policy. What this means is that the veterinarian noted in the patient log to have existed (one line), but it was never tested on or diagnosed to be a condition. Despite it not having gone undiagnosed Petplan chose to deny a pre-authorization to have the lump tested and removed. The reason for the denial was that it is considered a pre-existing condition simply because she was showing symptoms prior to purchasing the policy.

I spoke with a representative on the phone who explained a pre-existing condition to be "any condition that exists prior to purchasing the plan EXCEPT conditions in which the breed is genetically prone to getting (hereditary). For example, if a Daschund gets arthritis in its back they will cover the cost of treatment because the breed is prone to back arthritis." Upon explaining this to me I inquired about whether or not they would cover my English Bulldogs hip dysplasia because, as a breed, they are genetically prone to getting the condition and are known to have the highest rate of hip dysplasia among any breed. She told me that despite it being a hereditary condition, it would not be covered because it is a pre-existing condition.

In addition to the lump on her wrist I submitted an official claim in the amount of $325 (or $800) regarding a condition that my dog was in fact treated for. My Petplan policy comes with a $200 deductible PER CONDITION. Instead of paying the difference ($325 - $200 = $125) they separated the claim into 2 different conditions involving allergies thus 2x $200 deductibles, neither of which were met therefore they did not pay a dime. I called them to point out numerous errors that were made across BOTH of the new claims where the amount applied to the deductible was less than it should have been. There was also the issue that without the Banfield wellness plan that I'm paying an additional $40/month for, the visit would have cost nearly $800. The difference in cost is very clearly stated on the vet invoice that was submitted with the claim. In other words, I'm paying Banfield for a discount that Petplan is knowingly taking advantage of and then taking MORE of my money to do so.

Upon requesting that they cancel my policy and refund me for the full amount that I have already paid them they refused to do so, stating that I had been using their service and that I chose to have the Banfield wellness plan in addition to the Petplan. I'm sorry, but that doesn't make it ok for them to knowingly take advantage of people. Smoke and mirrors - knowingly stealing from me, extremely unethical.

Bottom Line: No, I would not recommend this to a friend

---