Phil Reviews
Claimed This company has claimed this profile, is getting alerted on any new customer reviews entering this page, and may engage in dialogue with its customers to address their matters.

Companies cannot pay money or provide goods in order to remove or alter customer reviews.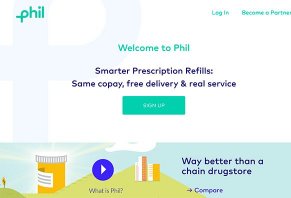 After signing up with Phil, you'll be partnered with a top-rated local pharmacy and receive your prescriptions through the mail each month, without paying more money.
About Phil
By partnering with top-rated, independent, locally owned pharmacies in all major states, Phil is an online prescription refill service that will fill and deliver medication right to your doorstep every month.
The Phil website tells us that delivery is free and you'll likely have the same copay as with your existing pharmacy. Just take 30 seconds to set up your account and add your existing prescriptions, after which your old pharmacy will be contacted, and all the paperwork will be handled for you.
Then, using the Phil app, you'll be able to schedule when your medications arrive (and track them), order vacation refills, etc. And if you have any questions during the process, your new pharmacist will answer them over the phone.
Never waiting in line again for a prescription? Certainly sounds appealing, doesn't it? Or, perhaps you're responsible for managing your family's medications, including for your aging parents, and are interested in Phil's convenience.
Whatever brought you here, you're looking to find out if Phil represents "smarter prescription refills," as claimed in the promo video. To start you on your journey, let's dive right in and take a closer look at how the service works.
How Does the Phil Delivery Service & App Work?
Signing up for Phil's prescription delivery service starts by entering your personal information and current pharmacy details (including special instructions or drug allergies) into the website, indicating whether or not insurance will pay for your medications, and then clicking Process order. You can add as many prescriptions as you like.
From there, Phil will assign you to a top-rated independent pharmacy by taking into consideration several factors such as:
Distance from your location,
Medication inventory
Volume of prescriptions filled by the pharmacy
Your new pharmacy will contact your doctor about your prescription, which will take about 1-2 hours. If your doctor needs to speak with you, the company will inform you immediately.
Once your prescription is received, you'll receive a notification to approve the copay (or the medication price if you're paying 100 percent out of pocket).
Then, your prescription will be shipped in discreet pharmacist-sealed packaging, without any visible personal or medical information, with an arrival time by the end of the next business day. No signature is required.
Once everything's up and running, your account can be entirely managed, including package tracking, through Phil's iOS and Android apps.
Phil's iOS app offers the ability to track individual medications, including the next refill date, price, status, and who the medication is for.
While the Phil website doesn't explicitly state which states the delivery service operates in, a recent Business Insider article indicated that the company is expanding rapidly: "In three months, the 25-employee company scaled from serving one state, California, with just a handful of pharmacy partners, to 18 states, covering two-thirds of the US population."
By the end of June 2017, the article states Phil will cover more than 90 percent of the national population.
Important note: In addition to where you live, another factor to consider is that Phil isn't able to fill prescriptions for any Schedule II to V substances (e.g. Adderall and Xanax), nor any Schedule II substances in the states of AZ, CA, FL, IL, IN, LA, MI, MO, NJ, NY, OH, PA, TX and WA.
They also can't fill specialty medications like "Egrifta, Humira, Serostim, and Reclast."
How Much Does the Phil Prescription Delivery Service Cost?
According to their website, Phil accepts most insurance plans (including Medicare Part D and Medi-Cal, although they can't accept closed network plans, such as Kaiser) and guarantees the exact same copay as your current pharmacy. In rare instances, this might not be the case, at which point they'll contact you for approval.
Partner pharmacies pay to use Phil's software, and they only charge exactly what your insurance company mandates.
If you don't have insurance, the company promises that they'll quote you the lowest price they're able to obtain.
From a payment perspective, any major credit card information entered on the Phil website is securely stored with Braintree, their payment provider. You can also pay using a flexible spending account (FSA).
It's illegal for Phil to accept returns on medications once they've left the pharmacy, although they can refund any orders you cancel beforehand. If you're not 100 percent happy with the service, Phil will transfer your prescriptions back to your old pharmacy.
If you have any questions, the company's licensed support team can be reached at 855-977-0975 or via the contact form on their website.
Are There Any Customer Reviews For Phil?
Between iTunes and Google Play, the Phil app had several dozen reviews and an average rating of about 3.7 stars at the time of our research. There, many seemed to appreciate the service's ease of use, convenience, and solid customer support.
On the other hand, most complaints referenced the service, and not necessarily the app, who often complained about mishaps (medications, insurance, etc.). When related to the app, most complaints revolved around general bugginess.
Obviously, we're only reporting the facts and not insinuating that you'll experience any of the same.
From a company perspective, Phil, Inc. is based out of San Francisco, CA and was founded in 2015 by CEO Deepak Thomas. According to their website, Phil was created out of the belief that "we should not have to suffer through an inconvenient, stressful and archaic experience to ensure a consistent supply of our medications."
The company held an A Better Business Bureau rating, with no closed complaints, as of 5/2/17.
Before founding Phil, Deepak worked as Head of Product & Mobile Growth for Shutterfly, General Manager for eBay, as well as Director of Mobile for Match.com.
Are There Other Medication Delivery Services Like Phil?
Getting prescriptions through the mail isn't exactly groundbreaking stuff. In fact, writing for GoodRx, Elizabeth David tells us that "More than one-third of respondents in a 2013 Consumer Reports survey got at least some of their prescriptions through a mail-order pharmacy during the previous year."
In other words, lots of patients are receiving their medications through the mail.
These include not only third-party businesses like Phil, OptumRx, PillPack, GetMyRx.com, and Express Scripts, either, but also traditional pharmacies like CVS and Walgreens home delivery.
In fact, many insurance companies offer some version of a mail service, such as United Healthcare, Aetna, and Humana. As a result, if you have health insurance, it might be worthwhile giving them a call to see what (if anything) they provide.
Potential Advantages & Disadvantages with Phil
Overall, you'll find that many of these services offer the same core features, including free, direct-to-door delivery, automatic refills, contacting your doctor when necessary, and trained support staff (including medication counseling).
Comparatively, perhaps the biggest advantage is that they'll work directly with your insurance company, although if this is your biggest concern, working directly through your carrier's prescription delivery service might be the most straightforward option.
On the other hand, we think one of Phil's biggest current disadvantages is the limited number of pharmacies they work with. As an example, GetMyRx.com (perhaps the closest rival) already operates in 3,000 zip codes across 35 states, so it seems they have some catching up to do.
Here Are Some Tips for Prescription Services
Regardless of the service you go through, just make sure that you communicate clearly, thoroughly, and frequently with the company, which can help reduce errors. After all, there are a lot of moving parts involved with prescription medications.
Another potential downside to prescription delivery services in general (not specifically to this service) is that patients no longer have a personal relationship with their pharmacist. Although, since Phil will be filling your prescriptions at a local independent pharmacy, getting the personal service you need could just be a phone call away.
And while the type of packaging used in prescription deliveries will help prevent most damage, keep in mind there's always a chance it could be lost or stolen, leaving you without your medication.
Finally, while many customers reported that they started using Phil with a single "test" prescription, if you find that the service works for you, it's a good idea to go ahead and transfer all your prescriptions over. This way, your new pharmacist can have all your information in one place and can advise of any potentially dangerous interactions.
Our Final Thoughts About Phil
Although they've been in business since 2015, Phil currently only serves a limited market, with swift expansion expected throughout 2017. But if you live in an area where the company offers their services, the fact that they assign you to a local independent pharmacy and deal with your insurance company seems to meaningfully differentiate them from much of the competition.
Does this necessarily mean they're right for you? As long as you don't take specialty medications or anything classified as Schedule II through V substance, the only way to find out for sure is by giving this service a try.
After all, they're completely free, and if they're not to your liking, the company claims they'll switch you back to your previous pharmacy immediately. So, you might not have much more to lose than some of your time for giving them a try.
What did you think about Phil's prescription delivery service? Did they provide convenience, or did you return to your traditional pharmacy? Help others make more informed decisions by writing a review below.
Very disappointed

By Jean Henry

,

Indiana

,

Aug 18, 2017
Verified Reviewer

This might be a matter of mismanagement and just choosing poor outsourcing, but the customer support is horrendous, and the service is questionable at best. Prescriptions were not delivered that they said were delivered in the quantity they noted. There were constant issues with customer support contact (e.g., hang ups, no answer), and the customer support in at least some instances simply dismissed the issues instead of addressing them to work toward resolution.

Bottom Line: No, I would not recommend this to a friend

Dec 6, 2017

Hi Jean,

We're sorry to hear about your experience using Phil. Getting our patients their medications on time and correctly is our first priority, and we are continuing to improve our processes to serve our customers in the best way possible. We appreciate your feedback, and please email us at hello@phil.us if you have any further questions or concerns. Thank you!

---

I was scammed.

In my opinion, this is a scam to get your credit card information. I used this service once and on the very first time I used it my credit card was charged repeatedly. What's worse is that I cannot delete my credit card from the app. I now have had to contact the credit card company to start my card from any future payments. My credit card company is also assisting me in trying to recoup the money that was taken out of my account without authorization.

Be very aware of what this company really is.

Bottom Line: No, I would not recommend this to a friend

---

Advertisement

---

Not a scam but I just quit Phil.

I joined about three months ago. I like the idea, and maybe it was just an issue with the insurance, because I understand that can be an issue.

Anyways, I have two prescriptions that I really needed. One is an anxiety medication, and I got plenty of that from Phil. The other is my birth control, and I never got that once. The website kept saying I would get it and I didn't get it for the first two months. I also couldn't get it from my local pharmacy because Phil had the prescription.

I called Phil, and they explained it was indeed an insurance problem and they could send it out in a few days. I never got it, and a month later I have quit.

Bottom Line: No, I would not recommend this to a friend

---

Do not use Phil!

By Louis Payton

,

Arlington, TX

,

Mar 28, 2018
Verified Reviewer

My wife and I switched all of our prescriptions from Walgreens to Phil because we were tired of the hassle we ran into with Walgreens never having everything ready at one time and needing to make several trips to get a month worth of medications.

At first, Phil seemed great! We did encounter a few problems, i.e., sending the wrong prescription, but I figured it was just growing pains with any new pharmacy. After a couple of months, things seemed to go smoothly, until the first of the year. My insurance changed through work, and it was as if the Phil pharmacist erased all of our data. It is now the end of March, and we have only received one month's supply of medication. We didn't receive anything in January, one prescription in February, and none in March (we are on 30-day supplies).

I have emailed Phil with no response and am now moving all of our prescriptions back to Walgreens, at least I can communicate with them. Although Walgreens is a hassle, I have experienced even greater problems with Phil.

Bottom Line: No, I would not recommend this to a friend

---

Advertisement

---

Convenient but poor customer service skills

By Kristy H

,

Gilbert, AZ

,

Apr 3, 2018
Verified Reviewer

I switched over several Rx since I have so many and it sounded great to be able to sit home and have them arrive and save gas money driving to the pharmacy. I got the first Rx, and it came on time and super easy, so I decided to continue. Then I approved my birth control to be sent, and the email where I approved it listed the brand name, which was what I am used to taking. For me, I must be on the name brand as I have had so many side effects when taking anything but this specific brand. I was not told they would be filling it with a generic, even though my brand name is covered 100% by my insurance until I saw the "out for delivery" message.

I immediately told them that I could not have the generic. I thought well, this is the first time I have had an issue, once we clear this up we should be good to go. They told me I had to pay $25 to get a replacement and because the doctor didn't put dispense as written, then it's not their fault, and too bad. When you go to the pharmacy, you have the option to see what they filled and tell them that this won't work for you, but they just fill and send without asking, and by the time you realize it, it's too bad for you.

As a new customer, you would think they would go out of their way to get it right so they can retain their service, but they definitely were not interested in eating the $25 to keep me, so instead I had all my Rx changed back to my pharmacy. It would be great if they did some more communication with their customers and were able to fix issues instead of just saying "it's not my fault." Poor customer service.

Bottom Line: No, I would not recommend this to a friend

---

Stuck in infinite loop on website

By S R

,

California

,

May 17, 2018
Verified Reviewer

My doctor decided to fill one of my prescriptions through Phil because of the $20 off promotion they have. I made an account through the site and received an email to complete the registration process. I clicked the link in the email, filled out the information, tried to submit, and was informed that my email address was already taken. You mean the email address I used to get that link in the first place? No kidding. So then I tried just logging in directly. The only thing that happened was that the "log in" link turned into a "log out" link. There is no dashboard, no account information. It's unclear what is supposed to have happened when I logged in. When I click "Add Prescription" I am once again instructed to fill out my information, and once again informed that my email address is taken.

I went through this Groundhog Day sequence of events several times before deciding that either I am a bigger idiot than I thought, or the website is broken. So then I emailed customer service. After a couple of days, they responded that my prescription had already been delivered. It had not.

So maybe Phil is fine for those not caught in the website vortex, but it appears I am stuck forever.

Bottom Line: No, I would not recommend this to a friend

---

Do not use! Very bad and unreliable liars!

By Kristy S.

,

Washington

,

Aug 13, 2018
Verified Reviewer

I never shipped on time and only provided tracking at first, then I was waiting a week for my pills every month, then finally they didn't come at all. Horrible customer service and liars! They kept telling me my pills had been delivered while sending me 6-week old tracking info from the previous delivery. Then they lied and said they sent a "new one" and said it had been delivered too. So annoying when you need to take your medicine every single day with no gaps. I had to switch to another pharmacy and ended up off my meds for 3/4 weeks dealing with this scam of a place.

Bottom Line: No, I would not recommend this to a friend

---

Started out great, ended terribly

By Dana Arnett

,

Los Angeles, CA

,

Oct 27, 2017
Verified Reviewer

I'm happy Phil is getting an injection of more money into its business ($10mil in August) as I hope it will solve the terrible (terrible) customer service. Wonderful service when setting up the account and automated delivery, but if there's an issue or a problem, customer service was appalling. Well, it would have been appalling if it existed. No honesty and no followup. Hopefully, all this will straighten out.

Bottom Line: No, I would not recommend this to a friend

Dec 6, 2017

Hi Dana,

We're sorry to hear about your experience using Phil. Helping our customers with their needs is a top priority of ours. We are constantly improving our processes to provide the best customer service possible and appreciate your feedback. Please email us at hello@phil.us if you have any further questions or concerns. Thank you!

---

Incompetent

Every single time I've interacted with customer service I have received different answers. Enough so that I directly asked them about automatic charges, as I don't always have funds in my account and they assured me I would have to ok every transaction before it happened. Then I received an automatic charge that almost cost me an overdraft.

When I again talked to customer service, they stated that's how it's always set up. Then when I mentioned the previous correspondence I get an an "Oh well" attitude, "sorry you were misinformed." After having my prescriptions sent back to my Safeway pharmacy I found that they are actually much cheaper than Phil. Less than half the price actually. Phil is nothing but an incompetent scam.

Bottom Line: No, I would not recommend this to a friend

Dec 6, 2017

Hi Travis,

We're sorry to hear about your experience using Phil. Getting our patients their medications on time and at the lowest price possible is a top priority. We apologize for not notifying you of each charge, instead of automatically charging you for your medications. We appreciate your feedback, and please email us at hello@phil.us if you have any further questions or concerns. Thank you!

---

Don't ship on time, don't let you know

I have been with Phil for a few months now. Everything was fine until this month. My migraine medication was supposed to ship on 12/19 and be delivered by 12/23. I was completely out of my medication, so I logged in to see what the problem was. It simply said the medication would ship on the 27th.

Odd, so I emailed. The woman said, "Oh, it will ship today and I'll get you tracking!" Nothing.

I logged in, and it says shipping on 12/30. If you have migraines, you understand this is not good. I emailed again and was told, "Looks like our pharmacy is slow because of the holidays. We'll ship it today." If you're slow because of the holidays, let people know! I can't be the only one waiting on medication.

I'll never order from them again.

Bottom Line: No, I would not recommend this to a friend

---

Dishonest company

By Patti Mazzei

,

Salinas, CA

,

Apr 10, 2018
Verified Reviewer

I have been working on a prescription to be filled for four days. I was told this morning everything was completely done, just waiting on insurance approval. Long story short, on this afternoon's phone call with them, they stated that at 2:00 pm they had just sent a request to doctor and not insurance until doctor approval. I know from talking to the doctor this morning that was done. I asked if the girl at Phil's this morning had lied, she said yes, I'm sorry ma'am. Disappointed is putting it mildly. I'm dealing with a serious illness and have been off meds for five days and will be for three more due to a company that just wants money. I will not risk my health with such people.

Bottom Line: No, I would not recommend this to a friend

---