PHYTO Phytophanere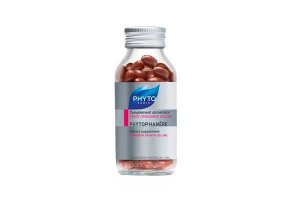 As PHYTO's number one selling product, the Phytophanere supplement uses a blend of 18 different ingredients to help improve the health of your hair, skin, and nails.
PHYTO Phytophanere Review - Improve Your Nails, Skin, and Hair?
PHYTO Phytophanere is a French dietary supplement that promises to help support fuller, thicker, shinier hair, promote radiant, glowing skin, and result in strong, beautiful nails from the inside out.
The website advertises that each easy-to-swallow tablet contains a high-potency blend of botanicals, and is formulated without parabens, sulfates, silicon, phthalates, petrochemicals, mineral oil, talc, or cruelty to animals. Just take two capsules per day, ideally during the Spring and Fall, "when hair grows slower because of changes in the seasons and weather."
The market for hair-related dietary supplements is crowded, but is there anything that necessarily distinguishes PHYTO's Phytophanere from the competition? What's your best course of action for achieving the most value for your money?
We'll help you find your own answers, starting with a few foundational principles.
The Basics of Unhealthy Hair
As we outline in Everything You Need to Know About Hair Supplements, unhealthy hair is a symptom of some other condition—not a condition in and of itself.
For example, there are perhaps thousands of different causes of unhealthy hair, including vitamin or mineral deficiencies, the natural aging process, excessive stress, less-than-stellar styling or personal hygiene habits, chemical processing, and medical conditions like diabetes, endocrine disorders, heart disease, and male or female pattern baldness, to name just a few.
Obviously, receiving a diagnosis from a healthcare professional regarding the underlying condition is the first actionable step toward correcting the situation. But, what about the ingredients found in PHYTO Phytophanere? Will they deliver meaningful results?
PHYTO Phytophanere's Ingredients
While no supplement facts label or corresponding dosages were listed on the PHYTO website at the time of our research, they indicated the following ingredients are found in Phytophanere (two calories per capsule):
Gelatin, Carrot Oil in Sunflower Oil, Acerola Extract, Glycerol, Borage Seed Oil 20% GLA, Hydrogenated Soybean Oil, Fish Oil, Rice Bran Oil, D, L Alpha Tocopherol Acetate, Brewer's Yeast, Wheat Germ Oil, Calcium Pantothenate, Soybean Lecithin, Oryzanol, Pyridoxine Chlorhydrate, Riboflavin, Biotin, Titanium Dioxide, FDC Yellow 6, FDC Red 40, FDC Blue 1, Ceral Flavor (Gluten)
According to sites like WebMD, the Natural Medicines Database, Examine.com, Paula's Choice, and EWG.org, fish oil contains high levels of omega-3 fatty acids, which are essential for human health. As such, if you're deficient, supplementing fish oil could help address side effects like thin, weak hair and nails.
Similarly, tocopherol (vitamin E), calcium, pyridoxine (vitamin B6), and riboflavin (vitamin B2) are essential for healthy skin, hair, and nails. So, if your doctor diagnoses you as deficient in these areas as well, supplementation could feasibly provide some real-world benefits.
With these details in mind, they report that the vast majority of ingredients found in Phytophanere don't have sufficient clinical evidence to support PHYTO's claims, for otherwise healthy individuals.
Potential Side Effects
These same sites report that all of Phytophanere's ingredients are 'possibly safe' when taken by mouth, and that if you experience any side effects at all, they likely won't be worse than mild, temporary digestive upset.
Still, they also point out that acerola can cause stomach cramps, sleepiness, and insomnia in some people (no dosages or other specifics provided), and that glycerol can lead to headaches, bloating, and thirst.
Pro tip: "Does Phytophanere cause weight gain" was a popular search topic at the time of our research, although several Amazon customers specifically reported that they did not experience this while taking the supplement, even over the course of a few months.
The bottom line is that avoiding potential side effects and medication interactions, whether related to Phytophanere or any other dietary supplement, could be as easy as having an in-depth conversation with your doctor prior to placing an order.
How Much Does PHYTO Phytophanere Cost & Where Can You Buy?
If purchased directly from PHYTO, Phytophanere is priced at $60 per bottle (120 tablets). Standard FedEx Ground shipping is $8, 2nd Day Air is $18, and Overnight is $24, although orders $75+ come with free Ground shipping.
We also found Phytophanere sold through several third-party retailers like Amazon, Anthropologie, DermStore.com, Nordstrom, SkinStore.com, Ulta, and MakeupAlley for about the same price.
Direct orders come with a 30-day refund policy, less S&H. According to the Refund Policy page on PHYTO's website, "We can not accept items that have been opened unless the product is damaged or defective."
To request one, you'll need to call 800-55-PHYTO (74986) or send an email to info@phyto.com.
A Brief Overview of PHYTO Phytophanere Customer Reviews
Between many of these same sites, we encountered more than 600 combined customer reviews for the Phytophanere supplement, who had given it an average rating of about 4.1 stars.
Compliments often related to effective results (healthier skin and nails, increased hair thickness and volume, boosted hair and nail growth, etc.) and ease of use, while complaints commonly cited high price and no results.
PHYTO Phytophanere vs. Other Hair, Skin, & Nail Supplements
Based on the number of options we've encountered over our years of research, there are perhaps thousands of different hair, skin, and nail supplements—whether they claim to address just one or all three—competing for your money. Here were some of the top results at the time of writing:
| | | |
| --- | --- | --- |
| Brand | Price | Formulation |
| PHYTO Phytophanere | $60 (2-month supply) | Gelatin, Carrot Oil in Sunflower Oil, Acerola Extract, Glycerol, Borage Seed Oil 20% GLA, Hydrogenated Soybean Oil, Fish Oil, Rice Bran Oil, D, L Alpha Tocopherol Acetate, Brewer's Yeast, Wheat Germ Oil, Calcium Pantothenate, Soybean Lecithin, Oryzanol, Pyridoxine Chlorhydrate, Riboflavin, Biotin, Titanium Dioxide, FDC Yellow 6, FDC Red 40, FDC Blue 1, Ceral Flavor (Gluten) |
| Viviscal | $49.99 (1-month supply) | Vitamin C, Niacin, Biotin, Calcium, Iron, Zinc, AminoMar Marine Complex, Horsetail Extract, Millet Seed Extract |
| Hair La Vie Revitalizing Hair Blend Vitamins | $48 (1-month supply) | Vitamins A, B1, B2, B3, B6, E, K. Zinc, Iron, Folic Acid, Biotin, Pantothenic Acid, MSM, Hydrolyzed Collagen, Kelp, Saw Palmetto, Horsetail, Bamboo, Flax Seed Oil, Borage Oil |
| SugarBearHair | $30 (1-month supply) | Vitamins A, C, D, E, B6, B12. Folic Acid, Biotin, Pantothenic Acid, Iodine, Zinc, Choline, Inositol |
| HUM Nutrition Red Carpet Skin | $25 (1-month supply) | Vitamin E, Black Currant Oil |
| Natural Factors BioSilSkin | $51 | Choline, Silicon |
As you can see, while many of the same ingredients make appearances in these different brands, there can be a vast difference in pricing, and the overall formulas included. Given this chasm, how can you make a more informed decision?
In Hair, Skin, and Nail Supplements: A Comprehensive Guide, we interviewed Dr. Neal Bhatia, Director of Clinical Dermatology at Therapeutics Clinical Research in Southern California. He advised, "the key to managing expectations for taking supplements is to ask patients what they have heard, what their goals are, and to make sure that the risk-benefit ratio is understood."
In other words (again), getting the most value means talking with your doctor in advance of any supplement purchase.
Patients should also keep in mind that, as we discussed at the beginning, many different factors can impact the skin to a greater degree than supplementation. These include avoiding lots of sugar and preservatives in your diet, drinking plenty of water, staying away from prolonged sun exposure, and getting plenty of sleep.
Finally, when it comes to specific ingredients. Dr. Bhatia recommends looking for:
A good multivitamin that can maintain good skin integrity
Antioxidants that can improve wound healing
Barrier protection like Selenium and Vitamin C and E
A supplement with iron/biotin for diseases of the hair and nails
Coenzyme Q, alpha-lipoic acid and topical retinol for photo-aging
Polypodium leucotomos extract for reducing the risk of sunburn
How does all of this stack up for PHYTO's Phytophanere supplement?
The Bottom Line – PHYTO Phytophanere
Dr. Bhatia noted in the article cited above that "the global beauty supplement market was worth about $3.5 billion in 2016 and is expected to reach $6.8 billion by the end of 2024." In other words, it's likely that your number of skin, hair, and nail supplement choices will only continue to increase for the foreseeable future.
The good news is that your healthcare professional can help you sort through this mind-boggling selection of supplements, by merely asking insightful questions, perhaps running some tests, and then making science-backed recommendations based on your diagnosis.
With these important caveats in mind, Phytophanere—while priced meaningfully higher than most of the competition—seems to come with almost wholly positive online customer feedback. PHYTO also stands behind it with a 30-day refund policy, although keep in mind that as soon as you open the bottle, you own it.
>> Read next: 6 Solutions for Thinning Hair & Hair Loss for Women