Pilates Pro Chair Max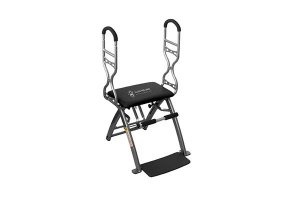 The Pilates Pro Chair Max can deliver all the standard benefits of Pilates, in addition to a cardiovascular component to maximize your fitness.
About Pilates Pro Chair Max
Created by the co-inventor of the Malibu Pilates Chair, the Pilates Pro Chair Max features a padded top, removable handles, and independent, adjustable, spring-loaded pedals that can help sculpt and deliver strength, while providing an intense cardiovascular workout.
And compared to the original version, it promises to deliver better ease of use, improved build quality, availability in more colors, and a lower price point. You'll also receive a series of step-by-step exercises and workouts on DVD.
Pilates is a proven method for improving fitness, but is the Pro Chair necessarily the right option for you? Even then, is it the only game in town, or should you consider the competition?
Give us a few minutes, and we'll help you make a more informed, empowered decision.
What Are Pilates & What Benefits Can They Provide?
Created by Joseph Pilates during the 1920s, the Mayo Clinic defines Pilates as "a method of exercise that consists of low-impact flexibility and muscular strength and endurance movements," which emphasizes "proper postural alignment, core strength and stability, and muscle balance, control, and endurance." Together, the approach can also help prevent and treat back pain.
Compared to many other forms of exercise, Pilates doesn't require specialized equipment, except for perhaps a mat, and can be utilized by everyone from beginners to professional athletes.
Pro tip: However, Pilates is considered strength training, and doesn't provide an aerobic workout (biking, running, swimming, walking, etc.). As such, you'll need to supplement your routine in order to meet the Department of Health and Human Services' minimum recommendations.
While the intensity can be adjusted based on an individual's fitness level and exercises can be modified for different conditions, Pilates might not be a good idea for those with unstable blood pressure, herniated discs, severe osteoporosis, or a risk of blood clots.
While you don't necessarily need any equipment to do these exercises, what benefits or other advantages might the Pilates Pro Chair have to offer?
Taking a Closer Look at How the Pilates Pro Chair Max Works
Joseph Pilates also invented several devices to help individuals perform these movements, including a box-like option called a Wunda Chair, with one side attached to springs for resistance, which can be moved up and down. Sometimes this lever is split into two individual pedals for independent functionality.
According to their website, the Pilates Pro Chair is a derivative of Joseph's original design and represents "a modern, sleek, portable, professional piece of equipment for the at-home user" that "took many years and multiple prototypes to perfect."
The Chair's upside-down V-shaped legs act as the structural support, with a padded cushion on top, sculpting handles on either side, and two spring-loaded steps in the middle (which can be joined together or used independently). The springs can also be adjusted to provide more or less resistance, depending on your fitness level.
When performed using quick, flowing motions, the Pro Chair is said to strengthen your core, while adding a cardio component missing from most Pilates exercises. At the same time, you'll be able to focus on the areas you want to work the most, while still strengthening your back and chiseling your shoulders and arms.
In other words, the company advertises, "your entire body will be engaged during each exercise."
Each Pilates Pro Chair comes in at about 40 pounds and measures 28" W x 32" L x 23" H without handles, and 53" H with handles. Both models can support up to 300 pounds.
David Krieff, the Pro Chair's inventor, is upfront when emphasizing that using the device isn't as simple as picking up a dumbbell and knowing what to do. Instead, it's "a serious piece of equipment that takes some time to get comfortable on," which is why it comes with a weeklong program to help get new users up to speed.
Next, let's take a look at what this entails.
Pilates Pro Chair's Exercises & DVD Workouts
Workouts You'll Complete During the Pilates Pro Chair Program
Pilates Basics (20 minutes) – Here, instructor Jennifer Galardi walks you through the Pro Chair's features, how to use it, and the concepts of body mechanics and functional movement.
Total Body Workout (48 minutes) – Uses the sculpting handles to help "work your chest, shoulders, arms, hips, thighs, and core like you've never experienced," in addition to provide support and balance, work your cardiovascular system, and improve your posture in the process.
Core, Buns, & Thighs Makeover Workout (37 minutes) – A series of exercises that is said to provide a "deeper balance challenge," while also elevating your heart rate and toning your thighs, buns, and core.
Total Dream Body Workout (57 minutes) – A circuit-style workout that uses "cardio blasts" to help you "chisel your abs, hips, thighs, butt, arms, and shoulders," and get rid of unwanted fat and inches.
Sculpt & Tone (32 minutes) – Intended for intermittent use as your skills grow, or when you need a light workout day, this is said to "combine highly effective sculpting moves with light cardio."
Susan Lucci's Favorite Moves (28 minutes) – From simple to intense, these are some of Susan's favorite workout moves that provide the biggest payoff, "whether it is a high-intensity fat burning experience, deep stretches, or fine muscle toning."
Pilates Pro Chair Exercises Examples
Footwork – Uses single and dual pedals (light or heavy spring tension, based on your preferences) to warm up your muscles and prepare your cardiovascular system for the workout.
Sitting on the front edge of the Pro Chair with your knees at a 90° angle and your hands in a 'genie' position, you'll start your first position by placing your feet on the edge of the pedals and pumping them up and down 20 times. Then, perform the same with the balls of your feet on the pedals and your toes wrapped around them, and then again with your heels on the pedal.
Finally, you'll switch to dual pedals and place the ball of each foot in the center, while resting your hands behind you on the edge of the Chair. Then, start pumping your feet rhythmically as if you were running for 20 pumps.
Running Up & Down – Dual pedals with heavy spring tension to help work the upper body, lower body, and cardiovascular system. Facing the chair and holding on to either side of the platform, place the balls of your feet in the pedals with your heels raised, pressing the pedals to the floor.
Then, lean forward and bring weight onto your arms, exhale, and pump your feet like you're running as you start 'levitating' above the floor. Inhale and move back toward the floor, and then exhale to 'run up' again. Complete 20 reps (one up and one down).
Leg Press Downs – Single pedal with light or heavy spring tension. Face the chair standing with your right foot on the pedal while reaching your arm forward just above your chest. Inhale and exhale while pressing the pedal to the floor, squeezing your thigh and buttocks, and then slowly raising the pedal a few inches off the ground.
With 20 presses on each leg, you'll tone your thighs, buttocks, hips, and deep abdominal muscles.
How Much Does the Pilates Pro Chair Cost & Where Can You Buy?
The Pilates Pro Chair Max is priced at $299 on the main company site. Additionally, it is available for purchase at the following retailers:
Amazon: $299
HSN: $229.95
Replacement parts (springs, sculpting handles) are priced between $59 and $79.
The specific refund policy will depend on the retailer you choose to purchase from, while the company backs all Pilates Pro Chairs with a six-month warranty against manufacturing defects in material and workmanship.
To request one, you'll have to call (310) 443-4271 or send a message through the company's website contact form.
What Can We Learn From Pilates Pro Chair Customer Reviews?
Between Amazon and QVC.com, we encountered more than 300 combined customer reviews for the Pilate Pro Chair, who had cumulatively given it an average rating of about 3.5 stars.
Common compliments seemed to revolve around ease of use, effective results (improved fitness, weight loss, etc.), and sturdy construction, while complaints frequently referenced less-than-stellar build quality and high price.
The Pilates Pro Chair is manufactured by Life's a Beach, Inc., who are based out of Los Angeles, CA and has been in business since 2010. The product was invented by President and CEO David Krieff, who also works as President and CEO of Destiny Productions, LLC.
Pilates Pro Chair vs. the Competition
Here were some of Pilate Pro Chair's closest competitors at the time of our research:
| Company | Price | Special Features |
| --- | --- | --- |
| Pilates Pro Chair Max | $299 | Metal construction, removable sculpting handles, single/split step functionality, includes 6 workout DVDs and movement poster |
| Malibu Pilates Chair | $400 | Metal construction, closest in design to Pilates Pro Chair (almost identical, except for labeling), 2 sets of springs, includes 3 DVDs guided by Carroll Krieff |
| Peak Pilates MVe Chair (Split Pedal) | $1,095 | Metal construction (anodized aluminum), wider pedal for increased range of motion, 14 spring resistance levels, easy pedal release lever, stackable (up to 5) |
| Balanced Body Wunda Chair | $1,045 | Wood construction w/double steel frame, available in a variety of finishes, quick spring change system, 10-year warranty |
| Merrithew Split-Pedal Stability Chair w/handles | $1,599 | Wood construction, fully adjustable handles and spring tension, available in a variety of upholstery colors, easy roll wheels, includes DVD |
How to choose which of these options—if any—is right for you?
According to Kim Pieper, GetHealthyU.com's Associate Fitness Editor, there are two ways to do Pilates: on a mat or on a machine. Either way, the goal is to develop stability during mobility, but using only a mat utilizes your own body weight to create resistance, while machines will use springs or other mechanical forms of resistance.
Which is the better way to go? If you're just starting out, it might be less intimidating to get an idea of what you'll be doing (and whether or not it's your cup of tea) by using just a mat. Then, you can progress to a machine once your skills advance.
After all, she emphasizes that "in Pilates, you must master the basics before you advance to engaging your deeper muscles. So, no matter how fit or athletic you might already be, humble yourself and learn and be a beginner as you learn." To help get you started, she even includes a handful of exercises you can complete right now using nothing more than a mat.
If you decide that a Pilates device, and specifically a chair, is a worthwhile investment, you'll want to focus on doing business with a company who stands behind their products with at least a 30-day refund policy, reasonable S&H charges, and no restocking fees. Also, take a look a consumer advocacy sites to figure out what others are saying about the company and their products.
Bottom Line
The Pilates Pro Chair comes from a company with years in business, who stands behind it with a six-month warranty, and the retailers it's sold through support it with at least 30-day refund policies. In addition, it seems to currently be the lowest priced Pilates chair on the market, if cost is one of your most important factors.
However, at about 40 pounds, keep in mind that it might not be inexpensive to ship back if you decide to request a refund.
» RELATED: 18 Best Exercises for Seniors: Safe Balance, Strength and Flexibility Routines