Piper Wireless Security System Reviews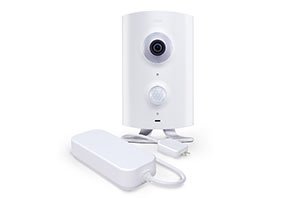 The Piper Wireless Security System promises to deliver "best in class" video quality, must-have security features, and app-based control and customization.
About Piper Wireless Security System
These days, there's no shortage of plug-and-play home security bundles, and the Piper Wireless Security System promises to differentiate itself by delivering "best in class" video quality—even night vision.
To accomplish this, each Piper base unit features a 180° view camera with pan/tilt/zoom capabilities, motion and sound detection, a built-in microphone for 2-way audio, a 105dB siren if security is breached, and much more. All of these features are controlled via an easy-to-use iOS or Android smartphone app, which is accessible without any kind of contract or monthly service fee.
According to the company, Piper Security Systems are simple to install in any home or business in minutes: simply download the app, plug in your Piper, and connect to your Wi-Fi. And with several different accessories like door and window sensors, smart dimmers and switches, and more, you'll be able to expand your system and control other home automation devices.
You're here because you're thinking about purchasing an all-in-one security system, and you want to know 1) how Piper stacks up to the competition and 2) if it's worth your hard-earned money. Let's dive right in and help you find some answers.
Piper Wireless Security System's Specifications
Together, Piper claims their system's features can help you keep your home safe, check up on those you care for (even your pets!), share control of your system with family members, and let you know when everyone gets home safely.
Similarly, we're told business owners can secure their valuable assets, know when employees come and go, remotely arm and disarm your system, and save energy with lighting and appliance control.
To accomplish this, there are two main components in every Piper Security System: the main unit, which houses the camera, and the companion smartphone app.
Piper Security System's Camera
Piper's main unit is approximately 6" x 3.5", with an 8' cord (6' for the NV version). This unit connects with your smartphone via Wi-Fi and with other home automation devices through Z-Wave, which we'll talk more about soon.
Piper's camera features a 180° field of view; the ability to pan, tilt, view, and even to split screens into four viewing zones. The camera will also automatically flip over to night vision once a room goes dark.
Interestingly, despite claiming to deliver "best in class" video quality, the company doesn't tell us what the video quality is.
Nonetheless, Piper records about 35 seconds of video when a security event occurs, and will also notify you via push messages, texts, emails, and even phone calls (or a combination of all four). You can watch up to 100 snippets of recorded events via Piper's cloud, or you can always watch live at any time via the app.
Piper features motion and sound detection using a precise motion sensor and high-quality microphone, both of which can be customized (if you have pets at home, for example). It also features a 105dB intruder deterrent siren, the ability to read environmental data from your home, two-way audio, expandable security hardware, and a library of supported Z-Wave home automation accessories.
If you lose power? Piper will send you an alert, while its 3 AA batteries will act as a backup to continue operating for 4-6 hours. Once your Wi-Fi's back online, the system will then make any video it recorded during that time available.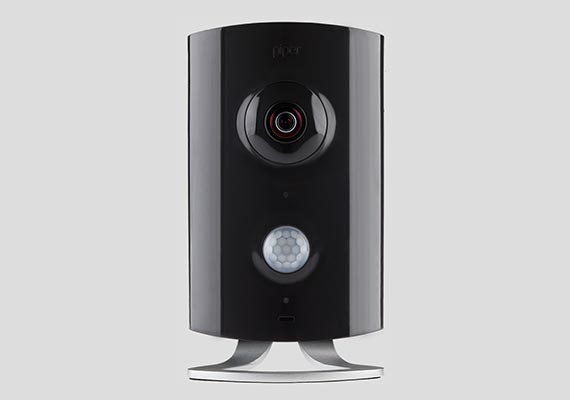 Piper's central unit, which features a built-in camera, two-way microphone, night vision, app connectivity, and more.
Piper Wireless Security System's Companion App
Using Piper's iOS or Android app, you'll be able to choose between three different modes:
Armed Away – If no one is home, this option monitors interior motion and other activities using 5 different built-in sensors, along with perimeter capabilities using external door and window sensors.
Armed Stay – This option sets up a security perimeter with door and window sensors, but excludes the motion feature while everyone's home (or in bed).
Disarmed – Here, you'll still be able to view live video, control accessories, review events, and receive notifications, but the system will not "enforce any security rules you've set."
Regardless of the mode, you can set up custom rules to meet your specific needs. Each app can also support up to five different Piper units on the same Wi-Fi network, which can be set up anywhere to give you complete home or business coverage. However, all Pipers under the same network will be subject to the same security rules.
As mentioned, if a security event occurs, such as opening a door, you'll be notified vial phone, text, email, or push message. You can also set up a Trusted Circle of contacts that allows other family members, friends, or neighbors to receive alerts as well.
All connections to and from Piper are encrypted and authenticated for security, which among other things, allows you to save and share video clips, which are generally around 3-5 MB.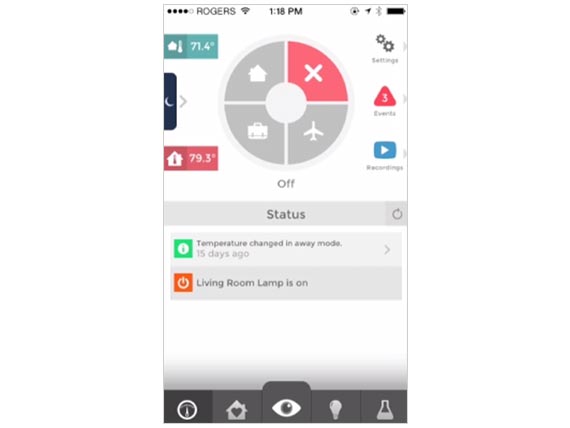 ​The home screen of Pipers smartphone app, where you can access settings, view events, watch recordings, keep tabs on temperature, and more.
A Quick Note About Piper's Z-Wave Automation
Z-Wave is a common technology that allows more than 325 different home automation products to communicate with one another. Now, you can add Piper to this list, giving you the ability to schedule and control lights and other appliances directly from Piper's app.
However, keep in mind that Piper doesn't work with existing Z-Wave controllers, although the company is "investigating" this for the future. This means you might run into some conflicts if your system already has a controller in place.
To see if your devices are compatible, be sure to read through Piper's list of Z-Wave enabled wireless accessory products.
Important note: Keep in mind that you'll likely need additional equipment in order to utilize this Z-Wave feature, including smart switches, dimmers, and more.
What's the Difference Between the Piper Classic & Piper NV?
Alright, so we've talked a lot about Piper's multitude of features, but before moving on, let's quickly go over which features come with which models.
Regardless of the model, your Piper Security System will include a 180° view camera with pan, tilt, zoom, and quad view capabilities; microphone, speaker, and siren. You'll also find five sensors inside: motion, temperature, humidity, light, and sound.
Main power comes through a 7.5W AC/DC wall adapter, with a 3 AAA battery backup.
The only meaningful differences between each model are that the Piper Classic comes with a 2-megapixel camera and a series 300 Z-Wave controller. On the other hand, the Piper NV features a 3.4 megapixel camera, night vision, and an "enhanced immersive video experience" (no additional details about this), along with a series 500 Z-Wave controller.
Pro tip: Here's some in-depth information about the differences between 300 and 500 series Z-Wave controllers.
Given all this technology, will a Piper Wireless Security System cost you an arm and a leg?
How Much Does a Piper Wireless Security System Cost?
Piper systems are priced as follows:
Piper Classic: $149.99
Piper NV: $279.99
This includes a power supply, aluminum stand, wall mount, 3 AA batteries, and a Quick Start guide. For $349, the Piper NV Security Bundle adds 3 door and window sensors.
You'll also be able to purchase a variety of accessories:
Door/Window Sensor: $39.95
LED Bulb: $29.95
Outdoor Smart Switch: $44.95
Range Extender: $24.95
Smart Dimmer: $44.95
Smart Switch: $44.95
Water Sensor: $39.95
All orders include free shipping, along with a 30-day money back guarantee (less S&H charges) and a 1-year limited warranty against defects in materials and workmanship.
If you prefer, Piper's security systems are also sold through a variety of third-party retailers like Amazon, Sears, Dell, and more.
Have questions? Customer service can be reached at 888-612-7688 or support@getpiper.com.
How do these prices compare to the competition?
Piper vs. Other Wireless Home Security Systems
As mentioned earlier, many plug-and-play security systems have entered the market over the last couple years, including Angee, Canary, SimpliSafe, BuddyGuard's FLARE, Blink HD Home Monitor, and many others. How does Piper stack up?
Of these, Angee and Canary are most similar to Piper, featuring central hubs with built-in high-quality cameras, cloud storage, customizable settings, app access, easy setup, and more. Angee also has "tags" that can be added to windows for intrusion monitoring, while Canary seems to be standalone.
As of writing, Angee is priced at $279 ($429 after release), while Canary's packages range between $199 and $379.
On the other hand, SimpliSafe offers more of a traditional home alarm setup—except that it's much easier to self-install, with third-party monitoring and standalone motion detectors and other sensors. Package prices range between $230 and $540 (you can even custom build your own package), and you'll also have to pay $14.99 per month for monitoring, with no contract.
Finally, FLARE and Blink are completely self-enclosed security units meant to hang on the wall. While they're the lowest priced options at $192 and $79 respectively, you won't be able to add extra sensors. On the upside, however, you can add more camera units with FLARE, which can also support home automation functions.
Given the level of competition, are Piper's customers finding that their security systems provide a solid level of value?
Piper Wireless Security System Reviews: Is It a Big Hit with Customers?
On Amazon, 580 reviewers gave Piper an average 3.8-star average rating. There, most customers seemed pleased with its ease of use, app functionality, the ability to control other devices via Z-Wave, attractive design, and lack of recurring fees or contracts.
On the other hand, most complaints seemed to revolve around poor video quality (especially compared to much of the competition) and functionality problems (doesn't turn on, repeatedly disarming itself, inability to connect, etc.). Also, more than one customer claimed that if your internet connection is lost, Piper may require a manual reset, which renders it useless until you return home.
CNET gave a glowing review for the Piper Security System, rating it 8.8 out of 10 stars and claiming, "For easy, seamless DIY home security and automation integration, look no further than the Piper NV." However, without an IFTTT channel or third-party brand partnerships, they noted that you'll be limited in regards to customization.
Similarly, PC Mag called Piper a "full home automation hub" with an "incredibly wide-angled lens," HD video stream, fast digital zoom, and ability to store video clips on a cloud. However, they didn't like that there isn't a way to store video locally, as well as the fact that Piper doesn't offer web access (app only).
As far as software, Piper's app had an average rating of 3.5 stars on Google Play, while the iOS version came in at about 1.5 stars. Most complaints revolved around functionality issues, such as frequent crashing and disconnection, poor video streaming/quality, and its less-than-stellar interface.
From a company perspective, Piper Security Systems are manufactured by Icontrol Networks based out of Ottawa, ON. Despite only 4 closed complaints with the Better Business Bureau (as of 8/11/16), Icontrol had an F rating. Most complaints seemed to reference problems getting technical issues resolved.
Is a Piper Wireless Security System Right for You?
As is the case with most plug-and-play home automation systems and mesh Wi-Fi networks, home security systems like Piper (at least based on customer reviews) tend to deliver ease of use, affordability, and in some instances, expansion capabilities.
However, the primary thing to keep in mind is that this focus on convenience often comes at a price—specifically, customization.
In other words, if you're intent on buying something that you can setup and forget about, then Piper might be right up your alley. It also seems like a solid option if you're looking to get the most functionality and expandability for your money, along with a 30-day refund policy if you're not satisfied.
But if you're fairly well-versed in home security and automation systems, the lack of IFTTT programmability could present a big stumbling block. (Note: A July 2016 review on iTunes indicated IFTTT compatibility, but this isn't confirmed anywhere by the company.) Based on customer feedback, it might not be your first choice if you're looking for the best video quality, either.
If this isn't important to you though, the Piper Wireless Security System seems to come with high marks from customers, and their 30-day refund policy means you won't be out more than S&H if you're not satisfied.
How did the Piper Wireless Security System work for you? Tell us all about it in your very own review below!