Plated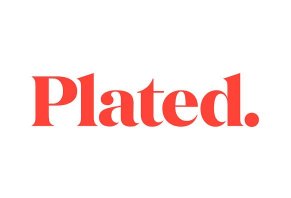 Plated is a subscription meal kit service that promises to offer you a wide selection of high-end meals that are convenient for home cooking, no matter your skill level.
Plated Review: Is This Meal Kit Really Worth It?
On the market since 2012, Plated is a New-York based meal kit subscription service that prioritizes offering high-end food and a generous selection of meal options.
Like other meal kit delivery services, Plated promises to make dinner easier each night by offering you carefully curated and pre-portioned meal options that can be cooked at home.
According to Business Insider, Plated began when founder Nick Taranto started to feel depressed and gain weight, partly due to his unhealthy diet. Deciding that it was time to make a change, Taranto left his job with Goldman Sachs to form Plated with his friend Josh Hix in 2012.
Despite a rocky start, the company has since raised more than $21 million from investors and offers deliveries across over 95 percent of the continental US.
Plated claims to be approachable enough for the amateur cook to take on without compromising on flavor or quality of ingredients. But does the company live up to these ideals? Let's look closer at the fine print to find out.
How Plated Works
Plated brands itself as a stress-free cooking solution by offering a rich menu filled with dishes that utilize fresh, natural ingredients and instructions that even inexperienced cooks can follow.
When you sign up for Plated, the first step is choosing your food plan. Plated keeps things straightforward by offering packaged pricing (more on the specifics later). You can decide how many meals you want to order (two through four) and the frequency of these meals (two, three, or four times a week).
These details can be updated on a weekly basis so that you can adjust your meal plan to fit your changing schedule. The Plated website tells us that it's possible to pause, modify or cancel your subscription at any point up to six days before the order is due to be sent out.
Notably, you won't be charged for the weeks you skip.
The Plated Meal Selection Process
Regarding meal selection, Plated tells us that they offer 20 dinner recipes and two desserts each week to choose from. Some are vegetarian-friendly, but unlike meal subscription services like Fresh Meal Plan, you won't need to select that preference when you first sign up for your plan. Every week you can choose any combination of the available meal options that you want.
Once you select the frequency of meals that makes sense for you, Plated will send you deliveries on a weekly basis that include the ingredients and instructions for all your chosen dishes. The website states that most meals are delivered between 5 pm and 8 pm on your delivery day, but this is subject to change in some instances.
To ensure your delivery stays safe to consume until you can get to it, Plated packages all their ingredients in insulated containers that keep them fresh until midnight. Everything within each package is pre-proportioned for the recipes you specified to keep things simple during the cooking process.
Once received, the company recommends that you cook seafood within two days and all other food within five days.
When it comes to cooking, each meal kit comes complete with a chef-designed recipe card that highlights the step-by-step instructions necessary to make your meal. While the box will contain all the primary ingredients that you need, some recipes require you to supplement with pantry staples like salt, pepper, olive oil, and eggs.
What Makes Plated Different from Other Meal Kits?
There are plenty of subscription meal plans available these days, so how can you decide which is best for you? Price is a good starting point.
From what we found on the company website, Plated costs about $10-12 per meal. This means that it is slightly more expensive than competition like Blue Apron (which usually comes to about $8.50 per meal), Home Chef (approximately $10 per meal), and HelloFresh ($11.50 per meal).
The branding for each of these meals plans is slightly different. For instance, Plated brands itself as a "high-end" meal option that offers gourmet quality foods to home chefs. Blue Apron, in contrast, is targeted more towards busy families who want to make dinner on a budget. The meals are designed to take less than 35 minutes, while some Plated meals may take over an hour to prepare.
Home Chef and HelloFresh fall more in the middle of the spectrum, though we found on LifeHacker that HelloFresh meals were "fairly basic and unsurprising," with "lots of pasta meals for the vegetarian options."
Also worth noting is that our testing of HelloFresh meals left us impressed with the steak quality, but disappointed that some of the fresh produce was spoiled, and a key ingredient was missing from the recipe.
Knowing this, how can you determine which meal plan makes the most sense for you? It's important to factor in both the price tag and your comfort level in the kitchen. Plated meals are designed to offer new culinary experiences for a reasonably seasoned chef, meaning that it might not be the best meal plan for someone who wants to put dinner on the table as quickly as possible.
If your goal instead is to save money, time, and mental space at mealtimes, you might be better off with a slightly more budget-friendly option like Blue Apron that offers simpler meals and requires less preparation time (on average).
Does Plated Offer High-Quality Ingredients?
Plated meals range in complexity from 20-minute recipes to hour-long "culinary adventures" that are designed to match the quality of classy restaurant meals.
The company states on their product website that their commitment to quality means that they seek out ingredients that are fresh, natural, and organic when possible. Fish used in the meals are sourced from sustainable fisheries, and all meat is 100% antibiotic-free.
We contacted the company through their website to learn more about the breakdown of organic ingredients and the variety of meal options. According to the representative that we spoke with, Plated doesn't have a set way to quantify the number of organic ingredients in their meals, as they source from different vendors depending on where they are in the country, and that these vendors can change on a weekly basis.
Regarding their meal selection, Plated monitors the popularity of their meals and strives to keep the fan favorites in the rotation more frequently. This means that they estimate that about half the meals offered in any given week are repeats, while half are either new or offered less frequently.
You can browse the Plated menu on their website. To make tracking deliveries and selecting meal options easier, Plated also has an iOS and Android app that is fully integrated with your subscription.
About Food Allergies and Meal Kits
Is Plated appropriate for people with allergies? The company states that their ingredients are processed in facilities that also handle milk, fish, eggs, shellfish, tree nuts, peanuts, wheat, soy, and other potential allergens.
To help you make the best decision for your situation, every recipe includes a comprehensive breakdown of its nutritional information and information about the presence of any of the eight allergens officially recognized by the FDA (milk, eggs, fish, shellfish, tree nuts, peanuts, wheat, and soybeans).
How Much Does Plated Cost?
As we previously stated, Plated costs slightly more than most meal prep kits. Below are the prices for different meal amounts and frequency as listed on the company website at the time of writing.
| | | |
| --- | --- | --- |
| 2 Servings Per Night | 3 Servings Per Night | 4 Servings Per Night |
| Price per servings: $11.95 | $9.95 | $9.95 |
| Weekly Plan starts at: $47.80 | $59.70 | $79.70 |
| First Week Price (with discount): $36.85 | $44.77 | $59.70 |
The website also states that shipping is free for all orders over $60. We found on several review sites like Business Insider and The Kitchn that many users upgraded their orders to include dessert (priced at $4 per serving) to get their order to qualify for free shipping.
Delaying or canceling your account can take place on the website's account page. Any boxes marked as "confirmed" when you cancel are already in process and will still be delivered, but all further meal requests will be withdrawn.
If you have any questions or concerns about your order, you can contact Plated directly at 855-525-2399 or through email at help@plated.com.
Is Plated Packaging Recyclable?
According to Wired, a significant concern with committing to a meal prep subscription is the amount of packaging that they contain. How does Plated stack up in regard to environmental sustainability?
The company website tells us that they work hard to ensure their packaging isn't damaging to the planet. They state that their cardboard suppliers are members of the Sustainable Forestry Initiative and that boxes are lined with either jute or denim insulin (depending on your location and the time of year).
The jute blend is compostable and can be used as a weed barrier in gardens, while the denim comes from recycled materials and can be reused, donated, or disposed of with minimal guilt. Likewise, the cooling gels packs are reusable, and their plastic casing can be recycled at #4 plastic facilities, along with all other plastic containers that come in the packaging.
Plated Reviews and Complaints
There's a lot of information online about past customers experience with Plated, so let's look at some of these accounts.
A review from The Kitchn notes that Plated meals were hearty and offered opportunities for leftovers- especially when dessert was added to the plan. Even so, the reviewer found the meals to be expensive, even compared to New York City food prices. Adding excessive packaging to the price point was a deal-breaker for her.
Money Under 30 praised Plated meals for their "inventive and unique" food quality, which they claimed beat out other meal kit companies. They appreciated the company's focus on sustainable, quality ingredients, and their attempts to make all the packaging as recyclable as possible.
Compared to other meal plans though, they found the cooking process involved, noting that some meals took over an hour to complete. While they noted that Plated was more expensive than other options, they thought it offered a unique "gourmet" option that many people would appreciate.
Business Insider matched these opinions, adding that Plated was an excellent introduction to healthy cooking for beginners and difficult to mess up.
When we looked through customer reviews of Plated on Influenster, we found a wider variety of opinions. Some people noted that the meals took numerous pots and pans to make, which created a lot of additional clean up that made cooking feel like a chore. Others mentioned that the included recipe cards weren't always clear and that they sometimes didn't specify how ingredients should be used.
In a few instances, people mentioned receiving spoiled vegetables or packages after they had suspended their account, but these were a relatively small proportion of overall reviews. Some also noted that they found it inconvenient that they had to supply extra ingredients at home for some of the meals, like oil and eggs.
Despite a few negative experiences, the reviews we looked at show a favorable opinion of Plated and its ability to make dinner easier and healthier.
The Bottom Line
From our summary of the plan's attributes and customer experiences, it's easy to see why so many people have a positive experience with Plated. This meal plan differentiates itself from the competition by providing innovative recipes and high-quality ingredients, and from what we've seen customers are willing to pay a relatively premium price for it.
As an added benefit, Plated is a convenient meal plan for those who travel or want to take frequent breaks, as you can pause or cancel your subscription at any time. Just make sure you make your request within the six-day timeframe.
Who is Plated best meant for? We think this meal plan is well-suited for those who enjoy thinking of food as an experience and regularly go to restaurants but are ready to start taking more control over their home meals.
Seasoned cooks might find the pre-set menu stifling, and budget shoppers will get far better deals by shopping for themselves, but Plated offers a unique opportunity for those who want to save time on meal planning while still eating fresh, quality foods that they've cooked from home.
Cooking with a meal kit service like Plated might not save you much time putting dinner on the table, but it will spare you the mental space of planning out a menu- and you'll certainly save time by skipping the shopping and prepping. For many people, that's well worth the price.
» Recommended Reading: Best Subscription Meal Kits of 2019