Platinum 20 Sec Reviews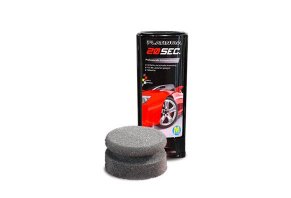 After rubbing Platinum 20 Sec onto your vehicle for only a short time, the manufacturer advertises it will immediately remove light scratches and add luster.
About Platinum 20 Sec
Based on three years of German engineering, Platinum 20 Sec promises to re-bind the color particles in each layer of your car's exterior finish, resulting in the almost immediate disappearance of scratches and scrapes.
The website explains that you just have to apply the liquid formula to the included applicator, rub it into the blemish for 20 seconds, and then buff it out. Not only will this quickly and easily deliver 'miraculous, incredible' scratch removal results, but we're also told the process will restore the luster of age-worn paint.
Combined, the manufacturer advertises that each bottle of Platinum 20 Sec can fix up to 100 scratches on any kind of vehicle, whether cars, cars, trucks, SUVs, motorcycles, or boats.
Once you've made a purchase and have the product in your home, can you expect it to deliver results like these? In other words, is Platinum 20 Sec—or its many competitors—really a professional, easy-to-use scratch remover that will make your car look like new, or should you seek other options?
Let's start answering these crucial questions by taking a look at the formula's method of action.
How Does Platinum 20 Sec Work?
The Basics Behind Automotive Paint
The Ultimate Finish Studio explains there are typically three layers in an automotive paint job, each of which is measured in microns (1 micron (µm) is equal to one one-thousandth of a millimeter). From top to bottom:
Clear Coat (38 - 102 µm) – A mostly protective layer designed to prevent oxidation and degradation caused by the sun's ultraviolet rays, as well as to mask light scratches.
Base Color Coat (13 - 38 µm) – The layer that gives the vehicle its final color.
Primer (8 - 38 µm) – Also commonly referred to as 'lacquer,' this thin layer goes directly on top of the bare metal and ensures a perfectly even surface for the coat above.
Now, let's link these details to the product in question.
The Ingredients Found in Platinum 20 Sec
There weren't any ingredients listed on the Platinum 20 Sec website, and none of the customer support representatives we spoke with were able to provide additional insight.
With this critical detail in mind, products like these typically feature a mild abrasive compound suspended in a liquid or paste-like solution. When rubbed onto a car's (as but one example) paint, this abrasiveness will ever-so-slightly decrease the thickness of the clear coat surrounding a light scratch, so that it's no longer as visible.
While it might appear that products like Platinum 20 Sec are filling in a scratch, they remove surrounding clear coat to reduce its visibility.
As a result, if a scratch on your vehicle has penetrated the top clear coat and moved into the color or primer coats, DIY rub-on abrasive liquids like these will not work, and you'll need to visit a professional auto body specialist.
Can Products Like Platinum 20 Sec Cause Side Effects?
Without knowing exactly which ingredients Platinum 20 Sec contains, there's no way to reliably discern what kinds of side effects you might experience.
However, the Westfalia UK website indicates that it may cause skin irritation and that the liquid is "harmful to aquatic life with long-lasting effects." As with any other paint-related product, though, you'll want to use it in a well-ventilated area and wear clothes that cover your skin, as well as eye protection, to maximize safety.
How Much Does Platinum 20 Sec Cost?
One bottle (no volume listed, and customer service couldn't offer insight) of Platinum 20 Sec is priced at $19.95, plus free S&H. During checkout, you can purchase a second bottle for an additional $6.95 fee.
All orders come with a 30-day refund policy, less S&H, which you can request by reaching out to customer support at 844-475-3592.
Are There Any Online Customer Reviews for Platinum 20 Sec?
Although Platinum 20 Sec appeared to have been newly released in the US at the time of our research, it seemed to have been available in the UK and Australia for some time.
On Ebay.com.au, 14 customers gave the scratch polish an average rating of 3.5 stars, with common compliments referencing ease of use and effective results. On the other hand, complaints frequently revolved around less-than-stellar results that didn't match the company's advertising claims.
Platinum 20 Sec vs. Other Liquid Paint Scratch Removers
As we alluded earlier, there are perhaps hundreds of different DIY scratch repair products and kits available from dozens of companies, whether liquids, pens, pastes, tapes, rubbing compounds—you name it.
Even focusing only on liquid compounds competing for the exact same customers as Platinum 20 Sec, we found the following top results on sites like Amazon, AutoZone, Napa Auto Parts, and Walmart (to name just a few):
| | | |
| --- | --- | --- |
| Brand | Price | Notes |
| Platinum 20 Sec | $20 (no volume listed) | Based on three years of German engineering, works in as little as 20 seconds |
| Scratch-dini | $13 | Works on any color paint |
| Meguiar's G10307 ScratchX 2.0 | $7 (7 oz) | Works on all paint finishes, can also be used with dual action polisher, no pad included |
| Turtle Wax Color Magic Liquid Automobile Polish | $12 (16 oz) | Includes chipstick to mask deep scratches and stone chips, no pad included |
| Formula 1 Scratch Out Liquid | $4 (7 oz) | Non-abrasive liquid formulation that won't scratch the clear coat |
| 3M Liquid Scratch Remover | $11 (8 oz) | Can be applied by hand or using a machine |
| Mother's California Gold Scratch Remover | $8 (8 oz) | Works with any finish although the manufacturer recommends following with a coat of wax |
| Nu Finish Scratch Doctor | $14 (6.5 oz) | Promises not to leave behind more scratches than it removes |
| Quixx System Paint Scratch Remover Kit | $13; Repair Polish (.88 oz.), Finish Polish (.88 oz.) | Includes repair polish, finish polish, 4X 2500 grit sandpaper, and 2X polishing cloths |
Like Platinum 20 Sec, none of these formulas' manufacturers provided much insight into the exact ingredients they contain. So, without directly testing any of these products, it's difficult to gauge their comparative effectiveness, outside of their advertising claims, most of which were identical.
With this said, based on customer feedback for each of the above liquid scratch removers above, it doesn't appear they report meaningful better results by paying a higher price.
Along these same lines, it's important to maintain realistic expectations about the results you're likely to achieve. In other words, if you're expecting to merely wipe these liquids on your car as you're headed out the door, you might be disappointed with their performance.
Related: Is Top-Tier Gas Worth It? Four Experts Say Top-Tier Gas Cleans the Engine and Saves You Money
Instead, keep in mind that it might require some trial and error before achieving ideal results, and most customers report maximizing their results with a coat of wax afterward. Also, since you're actually removing the clear coat, it's best to work it down a little at a time, instead of accidentally removing too much at once and leaving yourself worse off than before.
Finally, it's important to reiterate that these products are only intended to cover up shallow scratches, buff marks, and oxidation. If your damage has penetrated the clear coat, they won't work, and you'll need to seek professional assistance instead.
Should You Give Platinum 20 Sec a Try?
Platinum 20 Sec seemed to come with mostly positive online feedback from Australia and UK customers at the time of our research. The company also offers free initial shipping and a 30-day satisfaction guarantee, so you might not have much to lose (outside of return S&H and BOGO fees) if you give it a try and find that it doesn't meet your needs.
Just be sure to double check in advance that any imperfections you want to address haven't penetrated the clear coat. Also, that you take a 'less is more' approach when applying so that you don't leave yourself worse off by removing too much clear coat.
7 out 7 people found this review helpful

Didn't work

By Setsuko M.

,

Crescent City, CA

,

May 24, 2019
Verified Reviewer

I have a small scratch along the tailgate of my 2015, Black Chevy Colorado. I tried Platinum 20 Sec in an attempt to cover or remove the scratch. I tried it twice and found it made no difference at all. All I'm saying is this product didn't work for me.

We will include our "Order Number" with this review.

Bottom Line: No, I would not recommend this to a friend

---

47 out 48 people found this review helpful

What a load of "crapola!"

By Robin C.

,

Queensland, Australia

,

Aug 17, 2018
Verified Reviewer

I have a 1990 Mitsubishi TP Magna, well cared for, but with a number of chips and minor scratches that need some TLC. To cut a long story short, I used the product on an immaculately clean, dry surface of Duco. The result or effect was zero. Not a bit of an effect, or a reasonable result, but absolutely zero. I'm betting the stuff is designed for the el cheapo type paint that is used on vehicles these days; not for Duco that is really a good quality. What a load of "crapola!"

Bottom Line: No, I would not recommend this to a friend

---

Advertisement

---