Platinum TV Box Reviews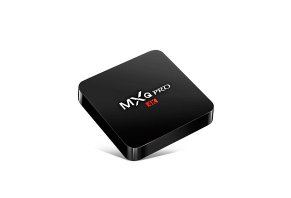 The MQX Platinum TV Box links with your Wi-Fi connection and claims to give you access to all the streaming content you can handle, completely for free.
About Platinum TV Box
According to the website, Platinum TV Box legally streams more than 3,000 Hollywood movies, 200+ live TV channels, and virtually any television show or live sporting event, without paying rental or subscription fees.
The device comes with apps already installed and all cables included—you just have to connect it to your TV using the included HDMI cable, press the power button, connect to a Wi-Fi signal, and you'll be up and running in minutes. No technical know-how needed.
In less than 10 seconds, the company tells us, you'll be able to tune into live HD television 24/7 with Platinum TV, watch almost every movie and TV series ever made (including episodes that just aired), and access movies that are still on demand. And it automatically adjusts to your download speed, so every kind of content can be watched immediately.
Is the Platinum TV box really a state-of-the-art, all-in-one entertainment device that will deliver just about any content you want, completely free of charge?
When it comes to spending your hard-earned money, the HighYa team believes that you should be as informed as possible, while always maintaining realistic expectations. So, let's dive right in and take a look at Platinum TV's functionality.
How Do Kodi Android Boxes Like Platinum TV Work?
Reporting for AndroidPCReview.com, Tim Wells writes that, whether you call it a "streaming media device, TV box, IPTV box, set top box, media streamer, HTPC, Kodi box, [or] Android TV box," they're "all basically the same type of device – something that gets content from your home network or the Internet to your television."
In the case of Platinum TV, here are the specifics:
Weight: 14 oz
Dimensions: 5" x 5" x 2"
Operating System: Android 6.0 (Marshmallow)
Connections: USB 2.0 (4 Slots available), SD/MCC card slot, HDMI
Details: 64 Bit CPU, Quad Core Processor, 8GB EMMC FLASH Storage, 1GB DDR3 SDRAM, 3D Graphics Acceleration, Wi-Fi (B/G) or Ethernet, Standard United States 110 AC Plug, 5V power adapter included
According to WirelessHack.org, because the Android operating system is flexible, it can be ideal for devices like Platinum TV. Not only can users add just about any app available on Google Play to their TV box, but the OS is also open source (anyone can gain access to and alter its code), and as a result, is very customizable.
After hooking up your set top box to your TV (typically via an HDMI cable) and connecting it to your Wi-Fi signal, you'll need to download different applications that will provide access to content. For example, popular streaming options include YouTube (and the more recent YouTube TV), Netflix, Hulu, HBONow, and Sling TV.
One of these apps is Kodi, which, like Android, is also free, open source software. But, instead of acting as an operating system, TechRadar tells us that it "can be used as a centralized media centre, letting you store all of your digital content in a single location and access it from virtually any device you like."
Now, the important thing to remember here is that most premium streaming services aren't free. As a result, in addition to the cost of a box like Platinum TV, you'd have to pay a monthly subscription fee to gain access to the content provided by these services (popular/new release movies, TV episodes/series, and so forth).
Bottom line: Can Android combining hardware like Platinum TV Box with downloadable Android apps help you gain access to tons of streaming content? Using a combination of free apps like SnagFilms, Crackle, Popcorn Flix, MovieBox, and TerrariumTV; yes, it's possible.
However, if you're expecting to gain access to all the same premium content provided by a traditional cable subscription, but without paying the associated fees, you might end up disappointed. For more, be sure to read Guide to Streaming Video Services: How to Find the Best Subscription.
Before continuing with our discussion of cost, let's quickly address the legality of these boxes.
Are Kodi Android Boxes Like Platinum TV Legal?
Coming back to the TechRadar link cited above, they emphasize that the Kodi software itself isn't illegal to use. "However," they report, "the software can be utilized in such a way as to perform illegal activities, such as accessing live, copyright-protected sports broadcasts, or watching pirated copies of Hollywood films or the latest can't-miss TV series without paying."
Basically, third-party companies load "the software onto dedicated hardware devices known as 'so-called Kodi boxes.' While Kodi doesn't make any such hardware itself, these boxes have become readily available, although online retailers, including Amazon and eBay."
While we're certainly not saying this is the case with the Platinum TV Box, based on our experience writing about several of these set top boxes, we think it's a potential red flag that the website advertises the device can "stream virtually any television show, Hollywood movie, or live sports event you want to watch, without having to worry about paying rental fees or monthly subscriptions."
How Much Does the MQX Platinum TV Box Cost?
You can purchase one Platinum TV box for $45, or two for $80, with free shipping and no ongoing fees. Each order includes:
Platinum TV Android 6.0 Streaming Device with Kodi 17.4
5V Power Adapter
Quick Setup Guide
Remote Control
HDMI Cable
Important note: Searching online for 'MQX Pro' returned several other retailers selling what appeared to be we didn't test these devices ourselves) the same Android box, but for as little as $10.
Nonetheless, MQX's Platinum TV Box comes with a 30-day no questions asked money back guarantee when ordered directly, along with a 12-month hardware warranty, less S&H. In order to request one, customer service can be reached at support@platinumtvbox.com.
What Can We Learn From Customer Reviews For the Platinum TV Box?
The only site where we encountered feedback for the MQX Pro Platinum Box at the time of our research was on Amazon, where dozens of third-party retailers were selling what appeared to be identical devices. Among more than 100 reviews, it had an average combined rating of about 3.5 stars.
There, many complimented its flexibility (lots of apps available, USB/HDMI ports), ease of use, and the ability to stream different content. On the other hand, frequent complaints seemed to revolve around less-than-stellar performance (slow speeds, low video quality (one claimed 1080p max)), and difficult functionality.
The Los Angeles-based company behind the Platinum TV Box of the same name held a B+ rating with the Better Business Bureau, based on one closed complaint as of 11/9/17. No details were available.
Are There Other Android/Kodi Set Top Boxes Competing With MQX Platinum TV?
Finding out how many devices are competing with Platinum TV Box is as easy as typing the phrase 'Kodi Android box' into your nearest search engine. At the time of our research, online marketplaces like Google Shopping and Amazon returned hundreds of results, most of which were priced somewhere between $20 and $50—putting Platinum TV at the upper end of the spectrum.
And as mentioned in the Pricing section, these same marketplaces also returned several MXQ Pro Platinum TV boxes through third-party retailers for as little as $10.
In other words, you have a lot of options to choose between. How can you make the best possible decision?
How to Choose an Android Kodi TV Box
Cameron Summerson of HowToGeek notes that "this is a really confusing landscape: there are a lot of "fake" Android TV boxes floating around out there, and only a handful of official boxes actually worth considering." Why?
Without going into unnecessary detail, Cameron explains that, "What these guys are doing is taking the original Android source code—the one that's meant for phones or tablets—and turning it into a sort of hackjob piece of software that will run on a box that plugs into your TV."
As a result, in a different AndroidPCReview article, the author advises only choosing Kodi TV boxes that come with a good support network (specifically, "an active forum network with both company representatives and end-users who will gladly help out other users who have issues"), including a warranty.
There should also be regular firmware updates, competitive pricing, and high-quality hardware, although you won't be able to learn about this last feature until after the device is in your hands. As such, many professionals recommend sticking only with well-known brands.
What does all of this mean for you and Platinum TV?
Our Final Thoughts About the MQX Pro Platinum TV Box
In 3 Easy Steps For Cutting the Cord & Saving Money, we outline there are three main things you'll need in order to (hopefully) find freedom from expensive cable bills: an Internet connection, hardware that streams content to a device (TV, smartphone, tablet, etc.), and a streaming service like Netflix, HULU, and so forth.
In the instance of Platinum TV, it represents the hardware in this equation (and perhaps the service side as well, depending on the specific apps it comes pre-installed with). But as we discussed earlier, if you're expecting it to essentially replace all your premium cable content with completely free services, then you're likely to end up disappointed.
Based on what we learned from AndroidPCReview earlier, the Platinum TV Box isn't priced outrageously high, and it also comes with a refund policy and warranty. However, the device seemed to come with a mixed online customer reputation, and the company doesn't provide any specifics about firmware updates.
As such, as consumers ourselves, we might recommend exploring all of your Kodi-based Android set top TV box options before making a decision. And if you ultimately decide to go with the MQX Pro Platinum route, keep in mind that some retailers offered the device for as little as $10 during our research.
Beware of Platinum TV Box

By Kenneth Ralls

,

Springfield, IL

,

Nov 15, 2017
Verified Reviewer

I am happy that some people seem to have gotten good merchandise. Beware though, mine didn't work at all!

These people will ignore your requests for your refund even after you return the product. I had to get my bank manager involved, and they still are ignoring all requests. Just beware when dealing with this company. They don't even offer a phone number that gets answered. You leave a message that is never returned.

I should have researched but was so excited about some reviews that I didn't.

You can't give zero stars in reviews here, but zero is my rating.

Bottom Line: No, I would not recommend this to a friend

---

Return

By Shawna

,

Tucson, AZ

,

Nov 20, 2017
Verified Reviewer

I just sent an email request for the return address because of my boxes (I bought 2, and they cost me $144 total, now I see they are advertising 2 for $80, no matter, I only want my money returned to my credit card). After sending the email I noticed the only other review was sent a few days ago and it sounds like we have the same issue. I will see how long this takes before I give them a better rating, but so far all they get is a 1 because I can't give a 0.

Bottom Line: No, I would not recommend this to a friend

---

Advertisement

---

Never got it

I ordered this box on 11/09/17. I received an email saying it would be shipped in 2 days. It is now 11/25/17, and I have no box and have received no further correspondence. I will be contacting my credit card company.

Bottom Line: No, I would not recommend this to a friend

---

They are a fraud.

They are a fraud. I ask for a refund, sent the box back as instructed, but have never gotten a refund. Don't get involved with this fraud company. I have the tracking number for the return shipment, and they received it on 11/8/17. However, I have not received a refund to my credit card as of this date.

Bottom Line: No, I would not recommend this to a friend

---

Advertisement

---

Company does not support its guarantee

I purchased two boxes in October. I received and tried connecting the box. It was easy to connect, but there is no technical support nor anyone onsite to answer your calls. I could not get the device to download as easy as it stated. Not at all.

I contacted Customer Support for refund/return. Returned as instructed. Tracked USPS shipment back to the company. It was received on November 9, 2017, and signed for. Received an email reflecting REFUND completed and ticket closed. No, it was not.

I have sent numerous emails regarding the information being incorrect. REFUND never issued. To date, 12/1/17, many more emails, and refund still not issued. I have begged, pleaded for assistance, only to receive emails with "Issues Resolved" and "Ticket Closed." I have spoken to Discover numerous times to see if the refund is pending or if received, only to be told that there had been no credit transaction from the company.

This company is not trustworthy nor honest. I will file a complaint with Discover. DO NOT PURCHASE THIS PRODUCT from this company. They do not live up to their guarantee nor bother to communicate, no matter how you request in writing to speak to a manager or to please send proof that the refund has been issued. I'm out $152.50 to a company that needs to be steered clear of. I hope this saves many of you the frustration I have been enduring for almost a month.

By the way, I returned both boxes the day after I received. No instructions, no tech adviser available, directions you need to make the Platinum TV Box. I bought directly from the company. Very sad to have to write this review. It could have been a positive solution had it been treated with the results of the return guarantee in a timely manner. I was willing to try it again, after searching YouTube for any type of assistance, but now, that trust and desire has been broken. Really sad for the lack of customer service and satisfaction.

Invoice received from Tiger Lot #5870 support@tigerlot.com then emails are from support@platinumbox.com, and suppprt@specialtvox.freshdesk.com. Ticket number assigned from the latter for the emails were tickets #13508, 14189. Both of these companies reply state #13508, and #14189 Tickets Resolved, REFUND.

No they have not. Next step is to file a claim with Discover for assistance.

Bottom Line: No, I would not recommend this to a friend

---

Platinum TV is a fraud!

I ordered two of these devices (I have two TVs). The first one stopped working after about an hour of trying to figure out how to configure and operate it. Instructions were printed on a scrap of paper and must have been written by a person who had only attended about 2 hours of ESL. Platinum emailed instructions the next day and advised that some other software needed to be ordered and installed (IPVANISH).

I got the second device working to discover that the user interface was abysmal. The remote mouse is actually a very cheap remote and to move the cursor on the TV screen to make selections the up/down/left/right buttons had to be depressed dozens of times. Some of the selections (like language) had to be made every time you used the device. To enter movie names, one had to move the cursor around on a keyboard on the TV screen.

After a few hours of using the device, a full-screen ad began appearing every time a choice was made, which required a fresh screen to be displayed. To get rid of the ad, the cursor had to be moved to the "X" in the upper right-hand corner. The choice of FOX News actually got the FOX regular programming. The device did get thousands of TV shows and movies streamed off the internet, but the time it took to make a selection rendered the thing as "next to useless."

I contacted Platinum via email (their website offers no phone number) and was given a return number. I packaged both devices and shipped them back to California. Platinum eventually sent an email saying I would be getting a refund via my credit card account. This was to be identified as return ticket #13060.

A couple of days later Tina Lee of Platinum advised me that the refund was resolved and the ticket would be closed. I told her the refund had not been received and she opened a new ticket #13781. Platinum again claimed the issue was resolved when it wasn't. I got my credit card company involved on November 20th. So far they haven't gotten Platinum to make the refund. This fiasco started on October 9th, and it is now December 5th as I write this complaint. By the way, IPVANIISH gave me a refund for their software immediately.

To close, Platinum TV is a fraud outfit, and I recommend everyone refrain from dealing with them!

Bottom Line: No, I would not recommend this to a friend

---

Sucks

No STARS, but it wouldn't let me post without at least one star.

I couldn't connect it, asked for help from the company, no phone number to get any help and all they do is email you the same set up instructions. No live person to speak to.

Their website states the following:

"Is There Any Warranty or Money Back Guarantee? Yes, we have a 30 day no questions money back guarantee and 12 months warranty on your box!"

I am still waiting for a refund over one month!

If you're not a techie, don't buy it. It's not that easy to set up as they say. And you wait and wait for your refund!

Bottom Line: No, I would not recommend this to a friend

---

Beware!

I purchased the Platinum TV Box back in October 2017. Upon trying the product, I decided that it was not functioning properly. The product was cheap and frustrating to use. I took advantage of the 30-day money back guarantee. I followed the procedures on the website for returns. I had a difficult time deciding who to contact since I purchased the product from PlatinumTVBox.com, received an invoice from tigerlot.com, and was actually charged by LIJO Entertainment. I started with support at Tiger Lot and was assigned an RA# for the product. I wrote that RA# on the outside of the return package as well as on a copy of the original invoice I included within. The package was mailed via USPS for about $10.

After waiting about three weeks, I contacted the company again (via email) and was told that the refund would be processed and in my account in 5-7 business days. After 13 days, I checked back in and was told there was a delay and that I would have my refund by the following day at 4 pm. Again, no refund.

This time I contacted support at PlatinumTVBox.com as well as tigerlot.com and was given approximately the same story from both: "there was a delay, and you will see the refund by the following Monday." You guessed it...nothing.

It has now been almost three months and nothing. I have tried calling the phone numbers listed on the invoice as well as the website and it goes directly to voicemail. I have left messages, but no return calls. I have filed a complaint with the FTC, but I assume it is probably low on their priority list since I was "only" scammed out of $75.

The product is very low quality and they do not refund your money! If you made the mistake of buying this TV Box, save your shipping costs and toss it out!

Bottom Line: No, I would not recommend this to a friend

---

Platinum TV Box rated disappointment

After trying many TV boxes offering various streaming channels and options for viewing content, we tried the Platinum TV Box. We were excited to try it, and looking forward to having new options for streaming TV, movies, and various content.

This box did not deliver. It was plagued with spam-like popup ads before any content could be viewed. After closing the spam popup ads, the content and channels did not stream. Keep in mind that this was tested using a 50-60 Megabit per second connection to the Internet.

Multiple channels were tried, and the same results, lots of ads popping up and no channel stream.

Save your money, buy a Roku and get Netflix and Amazon Prime.

Bottom Line: No, I would not recommend this to a friend

---

Platinum TV Boxes are a scam!

By Charlie

,

Canada

,

Jan 12, 2018
Verified Reviewer

This company is a joke. My mom ordered three boxes from this company for her kids (over 40) for Christmas 2017, and they are ALL junk. I have had several boxes before. I install my own add-ons and such, so I know what I'm doing. These boxes flat out do NOT work. ALL three boxes freeze up all the time. Even after turning them on, on the main home screen. Complete waste of money. And when I contacted them for my mom, they just blew me off.

Spend your money somewhere else. Buy from a reputable seller locally, or on Amazon or somewhere.

Bottom Line: No, I would not recommend this to a friend

---

Platinum TV Box

I purchased a Platinum TV Box some time in November. The charge was 77.00 bucks, paid in full at time of purchase. By December 4th I was wondering where my TV Box was at, so I emailed using their support at Platinum TV Box email address and told the young lady my story and asked where my box was at. She told me the delay was because of the fires in California.

So, it is now January 14th and no box. I have emailed several times and get the same B.S. I have emailed several times a day, every day, to the point they have asked me to stop the emails. That's not going to happen. Every day I will call their phone and leave a very lengthy message several times.

Bottom Line: No, I would not recommend this to a friend

---