PLAY! By Sephora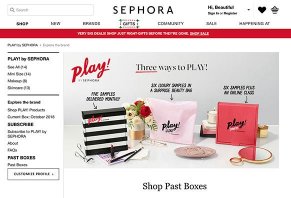 Play! By Sephora offers a sampling of six new and noteworthy Sephora products for subscribers to experiment with each month for just $10.
PLAY! By Sephora Review – A Great Beauty Box Subscription?
For those who can't get enough of the physical store, Play! By Sephora offers beauty enthusiasts a monthly subscription box of six deluxe-sized sample products for $10.
Each box contains products sold by Sephora, which provides subscribers with an opportunity to try out new items before committing to purchasing a full-sized product.
Along with popular beauty magazine Allure, PLAY! by Sephora is one of two popular beauty box subscriptions offered by major beauty brands.
In this review, we'll show you how Play! works, what it costs, what customers are saying about it and how it compares to other beauty box subscriptions.
How Does Play! By Sephora Work?
According to the company website, Play! By Sephora provides the opportunity to try new and noteworthy cosmetic products that range from makeup to skin and hair care.
While the brand sends the same items to each subscriber, you have the option to personalize the PLAY! Profile within your account to highlight your preferred colors for lipsticks, foundations, and other color-sensitive cosmetics.
Each subscription box will contain five deluxe-sized sample products (least three uses per sample), a reusable bag, and a 'beauty bonus' product that is usually a perfume sample. You will also receive a pass for 50 bonus 'Beauty Insider' points that can be redeemed if you make a purchase of at least $20 (more on the Beauty Insider program later).
The monthly boxes include a Play! booklet that illustrates how to use each product, and subscribers gain access to exclusive video demonstrations and tutorials.
All subscribers are also invited to 'Play! Dates', which are quarterly events held in Sephora stores where you can learn insider secrets for using their products.
This link will let you find and RSVP for Play! Date events in your region.
What Are Some Past Play! By Sephora Products?
Play! By Sephora subscription boxes offer a curated collection of cosmetics each month, meaning that you don't have much say over what you receive.
Some of the products offered in the three months before publication (October, September, and August 2018) included Clinique eyeliner, Bareminerals, and Nudestix lipsticks, and numerous brands of primers, skin serums, and face masks.
Most boxes also included a perfume sample from brands like Yves Saint Laurent or Viktor and Roft.
How Do I use a Sephora PLAY! Pass?
Each Play! By Sephora subscription box provides you with a Play! Pass for 50 'Beauty Insider' points that can be redeemed by making a Sephora purchase of at least $20. Each pass can only be used once, and they expire at the end of the following month.
Once redeemed, you can use Beauty Insider points in the Sephora Beauty Insider Rewards Bazaar. Products within the bazaar cost between 50 and 15,000 points and most are priced between 100 and 2,000. The company adds new rewards each Tuesday and Thursday at 9 am PT, so subscribers need to check back often to secure the best deals.
There are other ways to earn Sephora's Beauty Insider points. Every dollar spent either online or in the store is worth one point, and your points stay active so long as you've made a Sephora purchase in the past 18 months.
Understanding Play! By Sephora Pricing
At the time of writing, the only way to receive Play! By Sephora boxes is to sign up for a subscription. Each month's box costs $10, and subscribers are billed monthly. There's no additional charge for shipping, and the company website states that they distribute across the United States.
Because the contents in each box are selected to coordinate with specific months, the boxes aren't available for purchase at later dates. However, full-sized versions of each featured product can be purchased from Sephora either online or in store.
If you sign up for Play! By Sephora before the 15th of the month, you will receive that month's box. Later subscriptions will receive their first order the following month. Once you sign up for your first box, each month's box will arrive within three to five days of the 20th. Subscribers receive an email once their box ships so they can track its progress.
At the time of writing, Sephora boxes will only arrive monthly, and you don't have the option to skip months or pause your subscription without canceling it altogether.
How to Return or Cancel Subscriptions
Like many subscription companies, Play! By Sephora products can't be returned or refunded unless there is clear evidence that the products are missing or were damaged from shipping. It's best to direct all questions to Sephora customer service at 1-844-PLAY-HLP.
You can cancel your subscription at any time by following the instructions on your account subscription page. Cancelations must be made before the first day of the month to impact that month's order.
Looking at Play! By Sephora Reviews
We looked at reviews from My Beauty Subscription and Consumer Affairs to determine what the subscriber consensus for Play! By Sephora subscription boxes is.
Overall, we noticed varied perspectives about their value. In many instances, reviewers felt that the boxes' contents were hit or miss, but that the products they liked usually made them worthwhile.
Some reviewers stated that they weren't impressed with the product variation, as they received more skin creams and foundations than desired and that there was more repetition than they expected.
For instance, one user stated that she received five different shades of Make Up Forever HD foundation in less than a year of subscribing, and others noted that they received too many nude or red lipsticks and lots of generic hair care products.
Regarding customization, one subscriber mentioned that she preferred the shades she received after filling out the online beauty profile when compared to be before she filled it out. This showed that her results impacted the company's selection process.
till, lots of reviewers made it clear they wished there were more options for customizing each Play! By Sephora order.
Numerous reviewers mentioned how much they appreciated receiving a beauty box subscription from a brand that also had physical stores. We noticed several incidents where users stated that they purchased full-sized products based on their Play! samples and that the trial sizes gave them the confidence to go in new beauty directions.
Notably, we noticed few negative reviews about Sephora's customer service, which makes this brand stand out from other subscription beauty box companies. That's likely because Sephora allows you to buy your subscription on a month-to-month basis without being locked into a more extended service, which means you can cancel your order at any time without penalty.
What Brands are Similar to Play! By Sephora?
How does Play! By Sephora compare to the beauty box competition? To make a meaningful comparison to other subscription cosmetic services, we made this chart:
| | | | | | | |
| --- | --- | --- | --- | --- | --- | --- |
| | Play! By Sephora | Glossybox | Boxycharm | Ipsy | Birchbox | Allure Beauty Box |
| Cost Per Box (month to month) | $10 | $21 | $21 | $10 | $10 | $15 |
| Number of Items | 6 | 5 - 7 | 4 - 5 | 5 | 5 | 5 - 7 |
| Size of Items | Deluxe and sample | Deluxe and full | Full-size | Deluxe and full | Sample size | Deluxe and full |
| Preferences Allowed? | Yes (beauty profile) | Yes (beauty profile) | No | Yes (online quiz) | Yes (online quiz) | Yes (beauty profile) |
| Option to Upgrade? | No, but subscribers can redeem 'Beauty Insider Points' by purchasing full-size items | No | Yes (BoxyLuxe) | Yes (Plus version costs $35/ month, features five full-sized products) | Can buy full-sized products of samples from the website | No |
| Est. Value Per Box | $25 - $45 | Over $80 | Over $100 | $40 - $80 | $25 - $40 | $50 - 90 |
Diving in, it's clear that Sephora is one of the cheapest subscription box brands available. Each box costs just $10, and it comes with six deluxe-sized products (at least three uses each) and a reusable bag. That's a better deal than Birchbox, and comparable in value to Ipsy.
However, one of the best ways to make a comparison is to consider the value of a beauty box per dollar spent. Though Ipsy and Sephora offer similar-sized products, Ipsy estimates that the value of each box will fall between $40 - $80, or about $4 - $8 per dollar spent. Play! By Sephora, in contrast, comes in around $25 - $60 per box. That's just $2.5-$6 per dollar.
It's also worth mentioning that the other brands we looked at offered more options for customizing your order, with the exception of Boxycharm. Ipsy and Birchbox require subscribers to take an in-depth beauty quiz, and the beauty profile parameters were more detailed for Glossybox and Allure Beauty Box than Play! By Sephora.
Which brand is best? That depends on what you value most. Glossybox and Boxycharm are the brands most likely to provide you with full-sized products, but you'll pay more than twice as much per box than with Play! By Sephora. Other brands offer "premium" boxes that let you maximize the value per dollar spent, which you might find more appealing than the Sephora Insider Points system.
Overall, Play! By Sephora is a solid option for those who want an affordable beauty box subscription, value the ability to buy full-sized products from the same company, and don't mind receiving products that aren't always their preferred color or style. If this doesn't describe you, a different brand might be a better option.
Our View: Should You Try Play! By Sephora?
According to our research, Play! By Sephora is an impressive beauty box subscription that holds its own against the competition.
The brand provides you with six products and a reusable bag each month for $10, and they offer subscribers numerous options for learning about the products and how to use them.
Loyal Sephora shoppers will appreciate that this subscription helps them build up their Insider Points and that every sample product can be purchased full-size online or in the store.
One thing we like about Play! By Sephora is that the company only offers a month-to-month subscription with clear cancelation instructions. Other brands often offer auto-renewing annual subscriptions that customers often find themselves paying for far longer than they wanted the service.
Overall reviews of Play! By Sephora are positive, though many reviewers found the lack of personalization to be a drawback. Even so, many noted that their subscription let them try out products they wouldn't otherwise purchase, some of which became unexpected favorites.
If you're interested in diving into discovery commerce with a beauty subscription box, it's hard to go wrong with Play! By Sephora. If you try it for a few months and find it isn't for you, you can cancel the subscription without a penalty.
» Related: The Best Beauty Box Subscription Services for 2019