PlayBeatz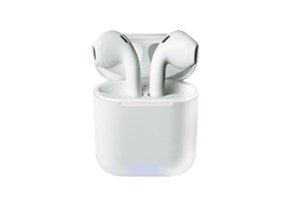 PlayBeatz wireless earbuds offer some of the same functions you'd get with AirPods for more than $100 less. Despite their AirPod aesthetic, though, the earbuds lack many of the features you'd get with an Apple product.
PlayBeatz Ear Buds Review - Legit or Hype?
PlayBeatz are wireless earbuds that look like Apple AirPods but cost a fraction of the price.
What makes these earbuds unique is that the marketing for the product mentions Apple's AirPods and insinuates that this product performs just as good as AirPods but without the $159 price tag.
In our review of this product, we'll examine how PlayBeatz work, talk about their pricing, then compare them to AirPods and conclude with a section about the earbuds' pros and cons and the bottom line.
How PlayBeatz Work
PlayBeatz earbuds are powered by 2.4 GHz Bluetooth and have a range of 33 feet. They can pair with any phone, tablet, desktop computers and laptops.
Each earbud has a button near the base that serves as the power button and the connection button. Each PlayBeatz earbud is equipped with a multi-function button and an LED light.
Connecting to Your Device
To connect your PlayBeatz to your phone, you'll press and hold the button on each earbud for five seconds until you see red and blue lights flashing on the earbuds.
Then press one of the two buttons for two seconds. You'll hear a beep when the earbuds are ready to pair. Go to your Bluetooth settings and connect to "i12."
At this point, the earbuds are ready to work with your phone just like any other Bluetooth earbuds or speaker.
If you want to connect just one earbud, you'll go through the same process with the earbud you want to use. This feature is helpful if you need to keep one ear free in situations where you're keeping tabs on your kids at home, listening for someone at the door or similar scenarios.
Managing Phone Calls and Music Volume
When calls come in, you'll do a short press on the multi-function button to answer the call and a long press to reject the call.
When you're listening to music, you'll do a quick double-press on one of the earbud's buttons to increase the volume and a double press on the other earbud to lower the volume.
You can skip to the next song or previous song by tapping the button three times.
Turning Off and Charging
If you need to turn the earbuds off, press one of the multi-function buttons for five seconds. A red light on the earbud will flash and, about five minutes after that, the earbuds will power down.
If your battery is running low, the earbuds will give you a voice reminder to charge them.
To charge them, place the earbuds in your charging dock and quick-press the button on the front of the dock. You'll know the dock is charging when its LED light turns blue. Your earbuds will flash blue when they're fully charged, which takes between 40 and 50 minutes.
One charge provides more than three hours of use or 72 hours of standby time.
PlayBeatz Pricing and Return Policy
You can purchase between one and five sets of PlayBeatz at the following prices:
$49.99 for one plus $8.95 shipping
$91.99 for two plus $9.95 shipping
$124.99 for three plus $10.95 shipping
$159.99 for four plus $11.95 shipping
$187.99 for five plus $12.95 shipping
You have 30 days from the day you receive your PlayBeatz to request a return. However, you're allowed to return your PLayBeatz only if they're new condition and in their original packaging.
If that is the case, notify PlayBeatz customer service that you want to make a return. You can reach them at support@getplaybeatz or call (855)815-1539.
Then, send the earbuds along with your name, phone number, email address and mailing address to:
13507 Van Nuys Blvd
P.O. Box #4701
Pacoima, CA 91333-7001
United States
PlayBeatz' fine print says that the company will make the final determination if they'll refund your money. Keep this in mind, as sending the earbuds back isn't a guarantee that you'll get your money back.
How PlayBeatz Compare to AirPods
It can be tempting to give in to PlayBeatz marketing and buy them because they seem like a cheaper version of Apple's AirPods. However, you need to know there are some significant differences between the two products.
Setup
First, the setup process with AirPods is much easier than PlayBeatz. Instead of going through multiple button presses, you place your AirPods dock with the earbuds inside next to your phone. Your iPhone will recognize the AirPods and all you have to do is tap the "Connect" button that pops up on your phone screen.
This is a huge benefit considering that your PlayBeatz will run into serious problems if one of the buttons breaks. Should you get a new phone or try to connect to a new device, you won't be able to connect both earbuds since you have to long-press the button on both to connect to a new device.
Double-tap Commands
Second, AirPods can sync seamlessly with Siri, which allows you to use voice commands to control the volume of your AirPods.
Also, you have the option to choose what the double-tap function does for each earbud. For example, you can set your left earbud to skip a track and your right earbud to turn play, pause and stop your content.
PlayBeatz has two default settings. First, double-tapping the button will raise and lower volume. Second, triple-tapping them will skip to the next song or play the previous song. You cannot customize what your button taps do.
Also, holding down either of the multi-function buttons will activate Siri, which gives you the ability to change your content.
Automatic Detection
Finally, your iPhone can detect when your AirPods are in and out of years and will pause or stop your content. Pairing your iPhone with PlayBeatz does not offer the same convenience.
Sound Quality
PCMag, TechRadar and Tom's Guide all praise the quality of sound you get from Apple AirPods. Meanwhile, PlayBeatz did not have any reviews in major tech publications at the time of publishing.
Pros
Good price, especially if you're on a budget
Double and triple tap commands allow you to navigate through songs and control volume with ease
Cons
Limited Battery Life
Lack of brand reputation. Unclear who the company behind these headphones is
Poor Refund policy - The company may choose not to refund you and issue you store credit instead.
Bottom Line
If your main goal is to buy a pair of earbuds that look like AirPods, then PlayBeatz is a viable option. However, if you're concerned about function, there's a good chance PlayBeatz won't live up to your expectations.
Due to a lack of reputation online on who the company is, consider from companies such as JBL, Bose, Apple, etc.
The earbuds have limited customizations when you pair them with iPhones. Also, at full charge, the earbuds last around three hours, which may not be suitable if you listen to music for more than three hours a day.
---
One angry person!

By Rosie O.

,

Oregon

,

Jun 30, 2020
Verified Reviewer

Overall Experience:

I too ordered the PlayBeatz earbuds a month ago and have not received them. My payment was made and I was emailed that they received my payment and was given a tracking number but there is no item with this tracking number. I also have emailed them many times with no response to any of my emails. I'm now going to report them as a scam and get my lawyer to check this scam out. I am so angry and will not ignore this. They either need to send the item that they took my money for or return my money. Tell anyone who wants these earbuds not to order them but go to the store to buy another brand that is good. This is a scam and too many of us have been ripped off.

Bottom Line: No, I would not recommend this to a friend

---

Never received my order

By Kanya R.

,

Boson, MA

,

Jun 29, 2020
Verified Reviewer

Overall Experience:

This place is horrible! They've STOLEN MONEY. No tracking number, no response. DO NOT GET ANYTHING THING FROM THESE SCAMMERS.

Pros and Cons:

No "pros" were specified in this review
Thieves

Bottom Line: No, I would not recommend this to a friend

---

No satisfaction

By Cheryl V.

,

Jurupa Valley, CA

,

Jun 27, 2020
Verified Reviewer

Overall Experience:

Same problems as others, no response to my emails. Only a recording when I call. I ordered earbuds on May 13th and have not received them.

Pros and Cons:

They said that the earbuds are good quality
The price was good
Haven't received my order
No response from your company

Bottom Line: No, I would not recommend this to a friend

---

Still waiting

By Mika M.

,

Port Hardy, British Columbia, Canada

,

Jun 26, 2020
Verified Reviewer

Overall Experience:

I ordered these in April, it's almost July, they finally sent a confirmation of shipping a week ago with a tracking number, but the tracking number does not track.

Also, I bought them for $49.00 but my Visa shows $89.00 and I still do not have them.

Pros and Cons:

Great marketing
That they do not get back to emails, quickly

Bottom Line: No, I would not recommend this to a friend

---

Advertisement

---

Buyer beware!

By Howard A.

,

Marianna, FL

,

Jun 25, 2020
Verified Reviewer

Overall Experience:

I have been waiting for 6 weeks for shipping info and still have not heard a word. Never received a reply from email support and customer service just gave me the runaround and then said it could be 8 weeks or more before shipping!

Would gladly write a review if I ever receive them.

Bottom Line: No, I would not recommend this to a friend

---

Scam

By Charlie E.

,

Ireland

,

Jun 23, 2020
Verified Reviewer

Overall Experience:

I ordered over a month ago and got nothing, not even a tracking number. I try their help line, which is a recorded message saying they're having technical difficulty.

Pros and Cons:

No "pros" were specified in this review
They stole my money
Sent me nothing
Won't answer my emails and help line just a recording

Bottom Line: No, I would not recommend this to a friend

---

Don't bother wasting your money

By Brian G.

,

Barnesville, MN

,

Jun 22, 2020
Verified Reviewer

Length of Use: Less than 3 months

Overall Experience:

Ordered in early May. They immediately charged my credit card. They sent an order confirmation that said to please allow 30 days for shipping. That should have been my first red flag. Well, it's now mid-June. No product. Got an email saying delayed due to virus. Good luck talking to a person at their customer service and they don't respond to emails.

Finally gave up on trying to reach them and called the credit card company to contest the charge.

Pros and Cons:

Slick advertising
Non-existent customer service

Bottom Line: No, I would not recommend this to a friend

---

Do not order...they will never be shipped, and the company will not respond!

By B K.

,

Hyde Park, NY

,

Jun 22, 2020
Verified Reviewer

Overall Experience:

Ordered on 5/05/20, received a text saying they got my order and they wanted to know if I wanted other services. No email confirmation until 5/25/20...still no ear buds...no response to email. Check their Facebook site!

Bottom Line: No, I would not recommend this to a friend

---

Do not purchase PlayBeatz special offers and think you're getting a deal

By Marilynn K.

,

Calgary, Alberta, Canada

,

Jun 17, 2020
Verified Reviewer

Overall Experience:

Do not purchase PlayBeatz special offers and think you are getting them. First they do not give you the discounts, and additionally, they neglect to tell you all is in US dollars. You end up with a bill 3x as expected with no response if you complain. Not only that they harass you via text and email. Have yet to receive the product.

Pros and Cons:

No "pros" were specified in this review
Did not warrant price promotion
Did not indicate price in US dollars
Overpriced on US dollar rate

Bottom Line: No, I would not recommend this to a friend

---

Never received the earbuds

By Phil W.

,

Arlington Heights, IL

,

Jun 17, 2020
Verified Reviewer

Overall Experience:

I have been chasing this order since late April and still do not have any answers or contact personally. They continued to claim that the pandemic was and is the problem. I am contacting my bank today to stop payment on the credit card.

Pros and Cons:

No "pros" were specified in this review
Does it exist?

Bottom Line: No, I would not recommend this to a friend

---

SUCKS!

By Akram H.

,

Ontario, Canada

,

Jun 16, 2020
Verified Reviewer

Length of Use: Less than 3 months

Overall Experience:

The worst pair of headphones I've bought. I bought them and it took more than a month to even come in. After it came in I used them for 2 weeks and then the charging case stopped working, basically means the headphones are useless. When I called them asking for a refund or exchange they said there was nothing they could do for me and I have to keep the headphones. Very bad customer service and very bad quality of headphones. Would definitely not recommend.

Pros and Cons:

No "pros" were specified in this review
Very bad customer service
Shipping takes way too long
Quality of product is very bad
Battery is very short

Bottom Line: No, I would not recommend this to a friend

---