PNC Private Student Loans Reviews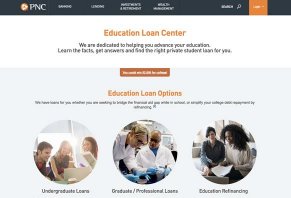 PNC is a private student loan lender with affordable loan options for students enrolled in undergraduate, graduate and professional programs. They also provide student loan refinancing.
About PNC Private Student Loans
PNC is a bank based in Pittsburgh who provides private student loans for graduate, undergraduate and professional students, as well as student loan refinancing for those looking to get lower interest rates for their existing student loans.
The company emerged in 1983 as the result of the merger of Pittsburgh National Corporation and Provident National Corporation. From there, they went on to expand by buying banks in other states.
The company provides student loans for undergrads, graduate students and students who are enrolled in professional programs. This trio of offerings is similar to other private student loan lenders offer.
Because you have multiple options for private student loans – Wells Fargo and Discover offer them, too – it's really important to understand why you're using one lender over another. What is it about their interest rates, repayment options and customer service record that makes PNC better or worse than a competing site?
In this review, we're going to analyze PNC's various types of student loans, providing you with the most important aspects of each type of loan.
We're also going to compare the rates and discounts PNC provides to the rates and discounts of competing private lenders as well as the government's federal student loans.
The Types of Student Loans That PNC Offers
As we mentioned earlier, PNC provides three types of student-loan products: undergraduate loans, graduate loans, and loan refinancing.
In this section, we will review the main characteristics of these three types of loans. Before we do that, though, we want to lay down some ground rules about private student loans.
First, the lenders will require a credit check to determine your interest rated. In our guide to Private vs. Federal Student Soans, we point this out as one of the main differentiators between the two types of loans.
Second, if you don't have a credit history or you have really low scores (use a free credit-score website to check them), then you may have to use a co-signer in order to get lower rates.
A co-signer is someone who (preferably) has really good credit scores and who signs to be responsible for your loans. In other words, if you don't pay your loans, your credit scores and their credit scores suffer and the lender can go after them just the same as you.
And, finally, whenever you get a student loan from PNC, AES will service the loan. That means that you'll set up an account on AES's website in order to make payments on your PNC student loan.
Undergraduate Loans
When you're borrowing from a private student loan lender, one of the most important things you can analyze is the interest rate. Also, you'll want to understand which discounts are available and how what, if any, limitations are placed on the loan.
Discounts
You can get a 0.25% discount for setting up automatic loan payments from your bank account and another 0.25% if you make the payments.
Interest Rates
Each undergrad loan PNC offers has two interest rates: variable and fixed.
Variable rates go up and down depending on the interest rates the government sets. Fixed rates have the same interest rate for the life of the loan.
Because variable rates have the potential to increase beyond what a fixed rate would be, they're seen as a gamble in certain situations.
Here are the rates for PNC undergrad loans with a 0.50% discount:
Variable: 4.53% to 10.73%
Fixed rate: 5.51% to 11.79%
Repayment
You have two options for repaying your PNC loans. You can do so immediately after you receive the loan, pay only the interest while you're in school or you can defer your payments until six months after you graduate or fall below half time. Your repayment length is, according to PNC, up to 15 years.
Graduate Loans
Private student loan lenders tend to provide slightly different interest rates and repayment terms for graduate loans, mainly because graduate school tends to be more expensive per year than undergraduate degree programs.
Also, the chances of getting a high-paying job are better with a graduate degree, which means that the lender may give you lower interest rates since your future financial stability is a little more secure because of your advanced degree.
These loans tend to be nuanced. They offer different graduate loans depending on the type of degree for which you're studying: graduate/professional, health and medical professions, health professions residency and the bar exam.
Interest Rates
Here are the interest rates for the four types of graduate loans that PNC offers:
Graduate & Professional, Health and Medical Professions, and Health Professions Residency:
Variable: 4.53% to 10.73%
Fixed rate: 5.51% to 11.79%
Bar Study:
Variable: 4.64% to 11.73%
Fixed: 5.67% to 11.79%
Repayment
All of these loans have up to a 15-year repayment plan. Also, if you make 48 consecutive payments and you used a co-signer, PNC will release your co-signer from responsibility.
These loans are only eligible for those who are within six months of graduating from an ABA-accredited law school, PNC's site says.
Student Loan Refinancing
The final option that PNC offers is the ability to refinance your existing student lines by consolidating into one monthly payment. Basically, PNC will bring all your loans under one interest rate and one payment, making life much easier for you.
Here are the rules for refinancing with them:
10- or 15-year repayments
Fixed APR's ranging from 5.39% to 7.59%
Variable rates ranging from 4.82% to 7.02%
Refinance amount between $10,000 and $75,000
Comparing PNC to Other Private Student Loan Lenders
The following chart will help you see the differences between the interest rates and discounts each lender offers. The interest rate you see is for a fixed-rate loan with the maximum discount percentage applied:
| | PNC Student Loans | SunTrust Union Federal | Wells Fargo | Discover | Federal Aid |
| --- | --- | --- | --- | --- | --- |
| Undergrad Loans | 5.51% - 11.79% | 5.417% - 12.206% | 5.94% - 12.15% | 5.99% - 12.99% | 5.05% |
| Graduate Loans | 5.51% - 11.79% | 5.417% - 12.206% | 6.84% - 11.17% | 5.99% - 13.99% | 6.6% |
| Law/MBA | 5.67% - 11.79% | 6.423% - 9.880% | 6.84% - 11.17% | 5.99% - 12.99% | 6.6% |
| Medical Doctorate | 5.51% - 11.79% | 6.423% - 9.880% | 6.66% - 9.68% | 5.99% - 11.24% | 6.6% |
| Max Discount | 0.50% | 0.75% | 0.50% | 0.60% | 0.25% |
PNC's rates are quite competitive for all their loans – their low APR is better than competing private student loan lenders in all graduate-degree scenarios except one. In terms of low APR for undergrad degrees, they're better than Wells Fargo and Discover. And, while they can't beat SunTrust's lowest undergrad and general grad loans, their high APR is better than SunTrust in those two categories.
Based on our research on loan rates, we believe PNC is the superior choice in almost every situation in which the borrower can achieve the bank's lowest APR's.
PNC's Customer Service Record
One of the important things about using a private or federal student loan lender or servicer is customer service. Student loans tend to involve tens of thousands of dollars and, when you're dealing with that much money, you want to be sure that the company who is helping you make your payments will actually be helpful.
In our research, we've found that Discover's customer service is among the best. When judging PNC, we turn to the customer complaints about AES, the loan servicer who works with you to set up your loan repayment and process your payments.
In our review of AES, we discovered that the number of customer complaints filed with the Consumer Financial Protection Bureau is average compared to the country's other major student loan servicers (Nelnet, Navient and Great Lakes).
Our Bottom Line on PNC Private Student Loans
Based on our research of the various private student loans that PNC offers, we believe the company's greatest strength is that its lowest APR available for undergrad, graduate and professional student loans are the best, except in a few situations in which SunTrust has better rates.
What makes them interesting is that PNC isn't going to handle the repayment of your loans, which could be a downside for someone who, say, is a long-time PNC customer and is assuming that they're going to be dealing with PNC for the life of their loan.