Pocket Hose Brass Bullet Reviews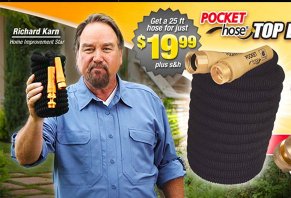 With a re-engineered inner rib cage, Micro-Mesh outer fabric, and solid brass connector, Pocket Hose Brass Bullet promises to expand and contract tougher than ever.
About Pocket Hose Brass Bullet
Home Improvement star Richard Karn endorses Pocket Hose Brass Bullet, a 3/4" hose that automatically expands and contracts when you turn the water on and off, potentially making it easier to transport and store. In fact, the company calls it the easiest, lightest, most convenient hose you'll ever use.
In addition to its re-engineered expandable inner rib cage, the hose also features an exclusive seamless Micro-Mesh biaxial braid fabric outer sleeve that won't tear, burst, tangle, or kink, along with an increased diameter for a more powerful spray.
And at the tip, you'll find an industrial-grade solid brass connector that won't leak.
Spring has sprung, so you're probably looking at your lawn and wondering how you can help it look its best. And obviously, much of this begins with the right garden hose.
But is the Pocket Hose Brass Bullet the right one for you? Can you expect it to work as well as it seems in the commercial? Will it provide a solid value for the money that can continue working, season after season?
Often, the best place to start when talking about value is money.
How Much Does Pocket Hose Brass Bullet Cost?
Pocket Hose Brass Bullet is available through two different offers, which might be a little confusing when you're checking out. Here's a simplified look at what you can expect to pay:
Main Offer
Includes one Top Brass Bullet and one Turbo Jet Nozzle, each.
25 ft: Single = $19.99 / Double + $12.99 fee (total of $32.98)
50 ft: $29.99 / Double + $16.99 fee (total of $46.98)
75 ft: $39.99 / Double + $29.99 fee (total of $69.98)
100 ft: $49.99 / Double + $36.99 fee (total of $86.98)
Deluxe Offer
Includes one Top Brass Bullet, one Turbo Jet Nozzle, and one Mighty Blaster Fireman Nozzle, each.
25 ft: Single = $32.98 / Double + $12.98 fee (total of $45.97)
50 ft: Single = $42.98 / Double + $16.99 fee (total of $59.97)
75 ft: Single = $52.98 / Double + $29.99 fee (total of $82.97)
100 ft: Single = $62.98 / Double + $36.99 fee (total of $99.97)
Whichever offer or quantity you choose, you'll pay an additional $7.99 S&H fee. During checkout, you can also add a Protective Holder to your order that promises to conveniently store your hose and protect it from UV rays for $14.99, plus $2.99 S&H.
Bulbhead, a division of ASOTV giant Telebrands, provides a 30-day refund policy on all Brass Bullet hoses, less S&H. Note: This also includes any fees associated with the BOGO offers above.
Refunds can be processed by calling customer support at 855-668-1655.
Based on these prices, are customers reporting decent results?
What Are Customers Saying About Products Like Pocket Hose Brass Bullet?
Brass Bullet was brand new at the time of our research, although it appeared to be the most recent version of Pocket Hose Ultra.
Here on HighYa, 70 readers had given the previous version an average rating of 1.4 stars. Overwhelmingly, this most often related to complaints about leaking, sometimes after just a couple uses, as well as ends blowing off.
Perhaps this is why the new Brass Bullet model promises to feature a re-engineered, thicker inner tube.
It's also important to note that until these blowouts occurred, most reported that the hose did expand and contract as advertised, making it easier to store.
Pro tip: More than one reviewer noted that these hoses are not for outside storage, and that they can tear easily if dragged over concrete or other rough surfaces.
Obviously, with its re-engineered design, we're certainly not saying you'll experience any of the same with Brass Bullet. But it's worth passing along in order to help paint a more complete picture of the overall situation.
How does Pocket Hose Brass Bullet's re-engineered design stack up to other expandable garden hoses?
Does Pocket Hose Brass Bullet Have Any Competition?
Expandable garden hoses are fairly popular these days and can be found not only online, but at many local retailers that feature home and garden sections.
In fact, even if you only stay within the As Seen on TV arena, we've written about the XHOSE, Flex-Able Hose, and Dap XHose Pro. Online, we found many other generic options (no brand name) ranging in length between 25 feet and 100 feet, priced between $15 and $50.
How to choose the right one? Consumer Reports tested three different popular expandable hose models (not Brass Bullet, since it's so new) and found some pretty cut-and-dry advantages and disadvantages, regardless of the brand:
Expandable Hose Pros
All weighed about a pound, as promised
Each one grew to about three times its original size when water was added
The water flow rate and volume were just as good as a regular garden hose
Testers were unable to make them kink
They all shrank right back down to their original shape when water turned off
Potential Expandable Hose Cons
If you use the hose when fully opened (such as filling up a kiddie pool), it may shrink quite a bit, since the water pressure drops
Could get messy when using with a sprinkler, since you'll have to put it in place when it's off (or, when the hose it at its smallest). This means you'd have to turn on the hose, grab the sprinkler, and then put it in place—all while trying to avoid getting wet
The host brought two hoses home and found that each one broke at the plastic fitting on the first day they were used
As on HighYa, the company also received many complaints from customers that these expandable hoses tended to leak and explode
In the end, Consumer Reports felt that these hoses seemed great. "but may not be rugged enough for our endorsement."
Let's continue this thought in the final section.
Our Bottom Line About Pocket Hose Brass Bullet
While neither us nor Consumer Reports tested the new Brass Bullet hose, with their redesigned thicker inner tube, larger overall diameter, Micro-Mesh biaxial braid fabric, and industrial-grade solid brass connector, it could be the case that this model will successfully address many of the common complaints associated with previous models—and even similar options from competitors.
At the very least, we think these upgrades indicate that Telebrands is listening to their customers and trying to provide a product that's more in line with their demands. We'll just have to wait until customer feedback starts flowing in (pun intended) to see whether or not they've successfully achieved it.
In the meantime, the manufacturer provides a 30-day refund policy on Brass Bullet, regardless of the length or offer you choose, which should be more than enough time to decide if it meets your needs. If not, just keep in mind you'll lose your original shipping, any additional fees associated with BOGO offers, along with the cost to ship your hoses back to the company.
Looking for more tips? Be sure to read 5 Tips For Achieving the Greenest Grass on the Block this Spring.
Before clicking away, be sure to quickly tell us about your Pocket Hose Brass Bullet experience by writing a review below!
No good

Nampa, ID

,

Aug 29, 2017
Verified Reviewer

I received it on Saturday and used it with the nozzle today, Wednesday, and the hose slit right down the center. It is not worth the money or time. Garbage. I am sorry I bought it and will not order or recommend it to anyone.

Bottom Line: Yes, I would recommend this to a friend

---

Worthless hose

I bought two 100-foot Brass Bullet Hoses before summer, cost close to $100, and now just a few months later both hoses have failed miserably and have sprung leaks. Although they say 100% satisfaction guarantee, they actually only have a 30-day money back guarantee.

What a terrible product. Hopefully, someone will contact me.

Bottom Line: No, I would not recommend this to a friend

---

Advertisement

---

Explosive leaks

By Laura Adair

,

Houston, TX

,

Apr 19, 2018
Verified Reviewer

I bought my 75-ft pocket hose from Home Depot for $39.99. The third time I used it, a major leak exploded. What a waste of money! There's a 100% money back guarantee, but you have to pay the shipping to ship it to the company for a refund. Not worth the headache.

Bottom Line: No, I would not recommend this to a friend

---

Crap

By Ruby

,

durango colored

,

May 1, 2018
Verified Reviewer

This product is a total scam. It leaked at the hose bib and at the nozzle the first time I tried it. In trying to make a return when you call there is no option for consumer dissatisfaction or return, even though they claim 100% satisfaction guaranteed. DON'T waste your money.

Bottom Line: No, I would not recommend this to a friend

---

Advertisement

---

Two defective hoses

By Bennie M.

,

Wills Point, TX

,

Jun 4, 2018
Verified Reviewer

I connected the new hose. It filled with water, but no water would ever come out. I removed the nozzle, but still, nothing. I returned it to the store and exchanged. I connected the second hose. It filled with water and worked fine for less than a minute before bursting. I am not happy.

Bottom Line: No, I would not recommend this to a friend

---

Junk

By Tricia P.

,

Concord, NC

,

Jun 15, 2018
Verified Reviewer

The hose exploded after owning it for a few weeks. I paid $40, and it was like throwing my money in the trash. Companies selling junk like this is wrong, and there are more scan companies every day. Maybe people don't have money to waste, and companies should sell quality products over their corporate greed.

Bottom Line: No, I would not recommend this to a friend

---

Junk

By Jeff K.

,

Hanover, PA

,

Jul 19, 2018
Verified Reviewer

I brought one of the hoses and used as soon as I got home. I lasted 5 minutes and then it exploded. I returned the item to the store, brought the second one home, and hooked up and used, it was fine. One week later while washing the car the second one blew apart. Of course, I didn't have the receipt. 31 bucks, what a waste.

Bottom Line: No, I would not recommend this to a friend

---

Don't buy it

By Daniel C.

,

Avon, IN

,

Sep 22, 2018
Verified Reviewer

This product is worthless. If it touches concrete, sidewalk or driveway, it blows up and leaks almost immediately. And how can you use a garden hose if you are not allowed to drag it across your driveway or sidewalk? Don't buy it. You'll be sorry if you do. And to Richard Karn, if you are reading this: Sir, you should hang your head in shame for promoting such an inferior product.

Bottom Line: No, I would not recommend this to a friend

---

Telebrands products, Pocket Hose.

By Paul P.

,

Boynton Beach, FL

,

Apr 8, 2019
Verified Reviewer

Like almost all Telebrand products, they are made to the absolute cheapest standards that China can come up with. And they break. Let's take the Pocket Hose, lately pushed by "Al Borland" from "Home Improvement" We love him right? He shows the hose being dragged across the sidewalk and driveway. He shows it being stored outside, he talks about a lifetime warranty. He even talks about "money back."

My neighbors and I have purchased a few of these Hoses. You cannot drag them across driveways and sidewalks. They will burst. You are told to store this wet object in the house or void the Warranty. They will burst or leak within a month in any case. Sending it back will cost you more than you paid. All the shipping and any accessories will not be covered. But all this doesn't really matter. Four people I know, plus myself have tried to return these defective hoses. Not one received a reply, a new hose, or a refund. Guess China doesn't really cover these.

I advise anyone interested to avoid this "Pocket Fisherman."

Bottom Line: No, I would not recommend this to a friend

---

Rose bush poked in hose

By Paul R.

,

Washington

,

Apr 23, 2019
Verified Reviewer

I liked the hose the first time I used it. The second time when I turned the water on, the hose got hung up on rose bushes and poked hole in the hose.

I like the idea of the hose. Just worried if I bought a new hose, I would have other problems.

Bottom Line: No, I would not recommend this to a friend

---

Garbage

By Robert B.

,

New York

,

Jul 13, 2019
Verified Reviewer

Advertised expanding on concrete by the pool. Mine expanded and didn't even last 5 minutes before it popped a leak! Spent $35.00 on a 75ft hose and once again got ripped off. But I'm sure the manufacturer doesn't give a crap! They got their money from me! So tired of getting ripped off! If seen on TV, leave on TV!

Bottom Line: No, I would not recommend this to a friend

---