Pocket Hose Silver Bullet Reviews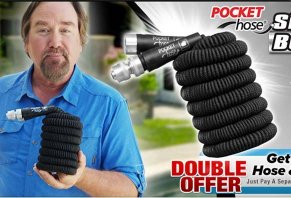 The Pocket Hose Silver Bullet, by BulbHead, is an aluminum-free lightweight water hose that expands to a full-size hose by turning on the water and retracts to its original size once the water is shut off.
What Is Pocket Hose Silver Bullet?
The Pocket Hose Silver Bullet is a "hassle-free," lightweight hose for gardening, RV's and/or boats that expands into a "super-size hose" as the water pressure increases, then puts itself away once the water gets shut off.
The outer casing is made of a flexible metal "bullet shell" for easy maneuverability to get around a garden or boat without catching on things, as is often the case with standard hoses. The aluminum connectors claim to make the Pocket Hose Silver Bullet sturdy and leak-proof.
The Silver Bullet is a newer hose from BulbHead, a more than 30-year-old company, under the larger Telebrands company. Founded by CEO A.J. Khubani, it has over 100,000 retail stores carrying the products it generates, ranging from home improvement to personal care and everything in between.
BulbHead claims to offer practical solutions for issues you may encounter every day, by showing how functional their products are.
Let's examine the claims of the Pocket Hose Silver Bullet in offering an effective alternative to a standard hose, if it endures the wear and tear of seasonal use, and how it compares to other flexible hoses.
How Pocket Hose Silver Bullet Works
The Pocket Hose Silver Bullet, by BulbHead, works much like a regular water hose, where you simply attach the connector to a water faucet and turn on the water. After the water is on, you have to wait for the hose to expand into its full size, at which point it uncoils itself on its own.
The hose's outer material is made of what the website calls a seamless "bullet case shell" that protects the hose from getting caught on anything, and prevents overall wear-and-tear. Also, the hose's inner tubing is designed to keep the hose from getting tangled.
The Pocket Hose has different lengths available for purchase, depending on your needs, starting with a 25-foot hose and up to a 100-foot hose.
Once the water is turned on you use the adjustable spray nozzle to direct either a stronger or lighter pressure of water onto any surface that needs it.
After you are finished cleaning up or watering your garden, you simply turn off the water source and the Pocket Hose Silver Bullet then retracts itself back into its original, easy-to-carry size. Make sure to drain out excess water from the hose before putting it away.
How Much Does The Pocket Hose Silver Bullet Cost and What Is the Return Policy?
The Pocket Hose Silver Bullet is available to purchase directly through their website, www.silverbullethose.com where the prices range from $19.99 to $49.99 for a single hose.
It is available online through Amazon, and also available from Ace Hardware, Home Depot and Target.
However, only the official website carries an additional discount if you want to purchase more than one hose. The pricing was as follows for a single Silver Bullet Hose:
$19.99 for a 25-foot hose
$29.99 for a 50-foot hose
$39.99 for a 75-foot hose
$49.99 for a 100-foot hose
If you buy one Silver Bullet Hose directly from the website, you get an exclusive discount on the second hose, up to 45% off, which comes to:
$12.99 for the 25-foot hose (35% discount)
$16.99 for the 50-foot hose (45% discount
$29.99 for the 75-foot hose (25% discount)
$36.99 for the 100-foot hose (25% discount)
Shipping & handling is $7.99.
BulbHead offers a 30-day return policy if you are not 100-percent satisfied with the product. There is a return address that comes with the packing slip, and it is recommended to return via UPS ground, FedEx ground or USPS Priority mail, so the package can be tracked.
There are also three steps that need to be followed when processing a return, which need to be sent in with the item(s):
Your order number and/or name and billing information
A statement for why you are returning the item
Your preference for either a refund or a replacement
When you order the Silver Bullet Hose it comes with a free bullseye turbo nozzle, which allows you to adjust the water pressure by twisting the nozzle and can be removed if needed.
How The Pocket Hose Silver Bullet Compares To Other Flexible Hoses
There are a few options when it comes to buying a retractable hose similar to the Pocket Hose.
One such hose is the Nifty Grower 100-ft. Garden Hose, an expanding and retracting, durable fabric hose which comes with a storage bag, for $56.99.
It has a double-latex core on the inside of the polyester fabric, which is tough and malleable, and prevents breaking, the company says.
The Nifty Grower also includes four brass fittings which help seal in the water and prevent leakage, and doesn't rust, it claims.
However, we spoke with a local Home Depot associate who said that "brass is a great metal" but that "it does eventually rust." Whereas, aluminum is, "rust-proof and always better."
On Amazon, the reviewers give it a 4.2-star rating, with common phrases being, an "easy to use" "high quality" hose that is "long enough," at 100 feet. It retracts to one-third of its size when the water is drained out of the hose.
Another option is the Flexi Hose Upgraded Expandable 50-foot garden hose which has a non-leaking, sturdy on/off valve, for $32.99. It starts off at 17 feet long and expands up to 50 feet.
Made from a material that keeps the kinks out of the hose, it can endure water pressure up to 12 bars, and high temperatures going up to 113 degrees Fahrenheit.
The reviews on Amazon give it a 4.4-star rating and say that it is a "lightweight" "easy to use," "great hose."
The Pocket Hose Silver Bullet is rated at 3.7 stars from Home Depot customers, with no reviews yet available on Amazon. Some positive feedback stated that the hose was easy to store and didn't take up a lot of space, and that it was convenient to use for simple tasks like watering flowers in the garden.
On the negative spectrum, consumers complained that the nozzle provided with the purchase didn't give sufficient pressure for bigger jobs like washing a car or the siding on a house.
Also, many customers reported that, under the exchange policy, they would receive multiple new hoses since the hose would not last a long time and would sometimes burst or develop a leak.
All these retractable hoses claim to be a great alternative to basic rubber hoses. They are lighter in weight and easy to maneuver around the outdoors, your boat or RV. The prices vary, but, overall, remain between $20-$60.
The Bottom Line
After examining the Pocket Hose Silver Bullet and its claim to be a flexible, sturdy and lightweight hose, we think it is a good option for lighter jobs like watering your garden.
The competing hoses we explored offered a good perspective on what is available, like the Flexi Hose Upgraded Expandable 50-foot garden hose and the Nifty Grower 100-foot Garden Hose. They both sold for around the same cost as the Pocket Hose and achieve a similar goal of an easily carried, multi-purpose retractable hose.
Some consumers seemed pleased overall with the Silver Bullet Hose, while others complained that it did not last long at all.
If you need a handy, easily stored hose, we recommend getting the Pocket Hose Silver Bullet and using it on uncomplicated jobs, like watering plants. If you need to tackle larger jobs, such as washing a car or cleaning your home's siding, we would advise looking at a hose that is more durable.
---
Still waiting for my order

By Ileana M.

,

Miami, FL

,

Aug 11, 2020
Verified Reviewer

Overall Experience:

Dear sir,

On July 6, 2020 I placed an order and paid for the hose (Confirmation No. 637296714582834869), and up to today, I am still waiting for my order.

Unless I hear from you I will cancel the payment.

Pros and Cons:

No "pros" were specified in this review
Still waiting for the order

Bottom Line: No, I would not recommend this to a friend

---

Two broke

By Lewis B.

,

Inwood, NY

,

Aug 9, 2020
Verified Reviewer

Length of Use: Less than 3 months

Overall Experience:

I purchased two 50' hoses, one broke after a week. It's been 6 weeks since I've spoken to someone. Never received a replacement. Since then the other broke and now no one answers the phone. This place is going out of business. It's a total scam, all they do is sell you the hose and once it breaks you will never get another one. There is no way to contact them anymore. No phone, no email. They just try to sell you more junk that will break!

Pros and Cons:

No "pros" were specified in this review
Never got replacement
They don't take phone calls anymore
Product is garbage

Bottom Line: No, I would not recommend this to a friend

---

Advertisement

---

Blow up

By Janet B.

,

Baytown, TX

,

Aug 8, 2020
Verified Reviewer

Length of Use: Less than 3 months

Overall Experience:

I connected it to the spigot and the end blew off. A big waste of money. I don't recommend this for anyone to buy. Made very very very cheap.

Pros and Cons:

No "pros" were specified in this review
No way to contact them

Bottom Line: No, I would not recommend this to a friend

---

Not the Silver but the Brass went bad under a year

By Vahe D.

,

Los Angeles, CA

,

Aug 8, 2020
Verified Reviewer

Length of Use: 6–12 months

Overall Experience:

This is for the Brass Bullet. Kinks, it gets a lot more tangled up than anything I have seen. The tube ruptured and the idea of using parts to cut and connect again makes no sense. Not worth the time to mess with it. I bought it from BulbHead? it's an online thing.

Bottom Line: No, I would not recommend this to a friend

---

Advertisement

---

Hose does spring a leak

By Bill B.

,

Bothell, WA

,

Aug 7, 2020
Verified Reviewer

Length of Use: Less than 3 months

Overall Experience:

Only used the hose for two months (June and July) and it already sprang a leak. Customer Service by phone is a computer that only takes orders by internet and does nothing at all. Do not purchase, if you do, you are stuck with a defective hose. Warranty is worthless if you cannot contact the company.

Pros and Cons:

No "pros" were specified in this review
Unable to contact

Bottom Line: No, I would not recommend this to a friend

---

Silver Bullet

By Josie B.

,

California

,

Aug 6, 2020
Verified Reviewer

Length of Use: Less than 3 months

Overall Experience:

I brought two Silver Bullets and they do not work like they say on TV - expands water pressure. I was going to buy another one for my RV, but I will not recommend.

Pros and Cons:

No "pros" were specified in this review
They don't really do what they say

Bottom Line: No, I would not recommend this to a friend

---

Wishing I would have started by looking here

By Mike P.

,

New York

,

Aug 3, 2020
Verified Reviewer

Overall Experience:

Just like the others, it's been over 2 months and still no hoses. No way to cancel the order? Called customer service to check on my order, could be 10 more weeks! I think BulbHead is a scam!

Pros and Cons:

No "pros" were specified in this review
Nothing tells you that you may be waiting 6 months
No way to cancel order
They charge you when you place your order

Bottom Line: No, I would not recommend this to a friend

---

DO NOT BUY THIS HOSE!

By Patricia B.

,

Mokena, IL

,

Jul 16, 2020
Verified Reviewer

Overall Experience:

I have purchase FOUR of these hoses. Took one back to Home Depot and had to go to Ace Hardware to find a replacement for it, which is the one I have left. I lost one last year and two this year. I called BulbHead customer service to complain and the girl told me no problem. Sent in a copy of the receipt from Ace Hardware with the photos and I would get a refund or replacement. I received an acknowledgment to my email but that was it. When I called back, the man said there was no way they would refund or replace. I would have to take it back to Ace Hardware. I asked to speak with a supervisor. I was on the phone for 34 minutes and no one called me back, even though I had given the customer service rep my phone number. I emptied the hoses after I used them (they are no for high impact use). These are terrible hoses in my experience.

Pros and Cons:

No "pros" were specified in this review
Bad product
Bad customer service

Bottom Line: No, I would not recommend this to a friend

---

Delivery

By Marcus L.

,

Frisco, TX

,

Jul 15, 2020
Verified Reviewer

Overall Experience:

Ordered on May 13, 2020 and have not received shipment yet. I received confirmation of the order. Website has ZERO contact information.

I have yet to receive shipment notification.

Begining to believe this is a ripoff.

Pros and Cons:

Product appearance is ads
Ease of order entry
Order confirmation
No shipment information
No receive expectations
60+ days no product

Bottom Line: No, I would not recommend this to a friend

---

Poor delivery performance

By Scott W.

,

Marinette, WI

,

Jul 15, 2020
Verified Reviewer

Overall Experience:

Just like everyone else writing the reviews, this company's delivery performance is terrible. Now 36 days after order and I still haven't received my product. I did the stupid thing and ordered two 75 foot hoses. So far I'm out $80.00. After reading other reviews, it also looks like I ordered a bunch of junk! I will never do business with MOJO or the manufactures of this product again.

Pros and Cons:

No "pros" were specified in this review
Poor delivery performance
Poor quality
No customer service

Bottom Line: No, I would not recommend this to a friend

---

Still waiting for my hoses

By Joseph S.

,

Las Vegas, NV

,

Jul 14, 2020
Verified Reviewer

Overall Experience:

Ordered my hoses in May. They say 3-6 weeks and I'm still waiting. They don't even have a customer service number on their website.

Pros and Cons:

Easy to order
No communications
No customer service number on website
Seems like a scam

Bottom Line: No, I would not recommend this to a friend

---