Pocket Mouse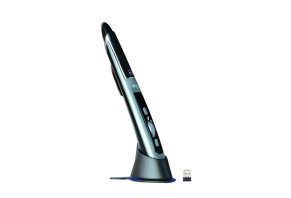 Manufactured by Spark Innovators, Pocket Mouse's pen-shaped design claims to deliver precise control, ease of use, and decreased pain associated with traditional options.
Pocket Mouse Review: Is It Worth It?
Using an ergonomic 2-in-1 pen design, Pocket Mouse is a wireless optical mouse that works on any surface from up to 30 feet away, and is compatible with all desktops, laptops, and tablets. Just like a standard mouse, it also allows you to click, swipe, or use its flying scroll wheel.
Since the device is held like a pen, though, we're told it delivers better control and pinpoint accuracy—so much so that you can even write with it. And because Pocket Mouse's receiver automatically connects to any PC or tablet by plugging it into a USB port, there's no software installation to deal with.
Whether you have arthritis or other causes of hand and wrist pain, require greater control and accuracy, or just want to try something new, what's the deal here? Should you go ahead and place an order for Pocket Mouse? Give us a few minutes as we quickly explore the possibilities.
How Does Pocket Mouse Work?
According to the website, you just have to insert one AAA battery into Pocket Mouse, stick the USB 2.0 receiver dongle into your computer or tablet, flip the on switch, and it will automatically pair via a 2.4GHz wireless connection.
It's said to work with most popular operating systems, including Android, Linux, MacOS, and Windows ME/NT/2000/XP/Vista/7/8/10. It also comes with three adjustable resolutions (800/1200/1600 DPI; 1200 is the default) and works from up to 10 meters (about 30 feet) away.
Once you're ready to use Pocket Mouse, you'll simply slide it over any horizontal or vertical surface to "scroll, draw, write, click, web browse, and swipe with ease." You can even flip it over and use the other end as a stylus, such as with a tablet.
After 10 minutes of inactivity, Pocket Mouse will go into "sleep" mode in order to conserve battery.
How Much Does Pocket Mouse Cost and Where Can You Buy?
If purchased from BuyPocketMouse.com, two devices will cost you $19.99, plus $13.98 S&H, bringing your total to $33.97. Each one includes a USB receiver and stand.
We also found Pocket Mouse sold through a variety of third-party online and brick-and-mortar retailers like Amazon ($39.99 for two), HSN ($34.95 for two), and Target ($19.99 for one).
Direct purchases come with a 30-day money back guarantee, less S&H, which could differ depending on the retailer you purchase from. You can reach Spark Innovators customer support at 800-882-1695 or sparkinnovators@customerstatus.com.
What Customers Are Saying About Pocket Mouse in Their Online Reviews
Among more than 100 reviews between sites like Amazon, HSN.com, and Target.com, customers had given Pocket Mouse an average rating of about 3.3 stars. Commonly, compliments referenced ease of use, lightweight design, added convenience, good quality, and competitive price.
Complaints frequently cited difficulty gripping, over-sensitivity (it has to be held just right to work correctly), awkwardness to use, and that it didn't function with a computer. Regarding the sensitivity aspect, one Amazon reviewer suggested:
"I find it a little easier to get used to using it when using a mouse pad with it. It helps reduce slight movements when pressing the click button, which can move your cursor a little."
More than reviewer mentioned that the battery cover is somewhat difficult to remove. Also, keep in mind that you can't reassign button functionality, which will cause the buttons to be backward if you're a lefty.
Although the Pocket Mouse website doesn't mention how long the battery will last, one user in the Amazon Q&A section reported: "If used properly and only when needed, the Pocket Mouse should last as long as any traditional AAA battery would in a wireless mouse."
Thinking about using Pocket Mouse for graphic design purposes? While it might allow more precise movements, another user reemphasized that this is a mouse, and does not function like a Wacom tablet and a stylus.
Pocket Mouse vs. the Competition
If you search online for the term 'wireless optical pen mouse,' you'll quickly find dozens of devices designed identically to Pocket Mouse. Here was just a handful we encountered during our research:
| Brand | Price |
| --- | --- |
| Pocket Mouse | $33.97 (for two) |
| Lcyyo Wireless Mouse Pen | $15 |
| Lychee Wireless Pen Mouse | $15.99 |
| Global-store 2.4GHz USB Wireless Optical Pen Mouse | $13.54 |
| NAMEO Pen Mouse | $13.99 |
Given their close similarities, choosing one might just come down to what you want to pay, as well as perhaps secondary criteria like the color (some are also available in gray, red, or blue).
But, just because Pocket Mouse is the most expensive competitor in the table above, does this mean you should go with a third-party brand? Let's wrap up next.
Is Pocket Mouse a Better Way to Use a Computer or Mobile Tablet?
Spark Innovators has been manufacturing As Seen on TV products since 2007 and held an A+ rating with the Better Business Bureau, as of 8/24/18. They also stand behind Pocket Mouse with a 30-day refund policy, and the device itself seems to come with a mostly positive (if not leaning toward middle-of-the-road) online customer reputation.
With these positives in mind, it's also important to emphasize that if you buy directly from the manufacturer, you'll lose nearly $14 in original S&H charges should you decide to request a refund. This is in addition to whatever it'll cost you to ship your Pocket Mouse back to the company. In a scenario like this, you might be lucky to break even in the whole transaction.
Also, while we didn't test any of these devices ourselves, we'd have to wonder how convenient Pocket Mouse would be to use if you have to put it down every time you want to type on a keyboard and then pick it up again to navigate around the screen.
On the other hand, if you require maximum fine control (such as when drawing and performing other graphic design-related tasks), we could certainly imagine Pocket Mouse's pen-shaped design could come in handy. But, if you're advanced enough that you'd need a tool like this, you probably already have a traditional Wacom tablet and stylus in place.
Given these thoughts, it seems like Pocket Mouse—and the many other functionally identical competitors—occupies a bit of a middle ground from a user perspective.
If you decide to find out if it meets your needs and preferences, though, we might recommend purchasing from a third-party retailer who charges more reasonable S&H charges that won't be lost if it doesn't work out.
» Read next: Computer Running Slow? Here's How to Clean Your PC to Make it Faster