PocketGuardian Reviews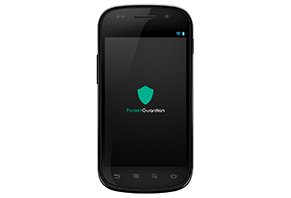 The PocketGuardian app, available for iOS and Android devices, can monitor your child's social accounts for sexting and cyberbullying and send notifications.
About PocketGuardian
PocketGuardian is an app built for iOS and Android that claims to use a constantly updated algorithm to look at the content—and context—of messages on your child's smartphone and social media accounts. Then, if PocketGuardian identifies sexually explicit messages or images, or any kind of bullying, parents are sent an immediate notification, along with resources that can help them start a conversation with their child.
​Being a parent is no easy job. Among other things, you need to constantly strike a balance between monitoring your child's online safety and maintaining their privacy. After all, any solid relationship is based on trust, and your young adult is no different. But how?
Unlike a lot of other apps though, PocketGuardian only tells parents 1) which classification the threat falls under (e.g. bullying) and 2) where the threat originated (e.g. SMS). This way, parents can "help prevent the devastating consequences of sexting and cyberbullying," while giving their child the privacy they deserve. Remember this, because we'll come back around to it shortly.
Since you're probably thinking about signing up for a PocketGuardian account, ask yourself this: When it comes to PocketGuardian, are you giving your child too much privacy? Just how useful will you find the app?
Let's kick things off by taking a look at how much you'll pay for PocketGuardian.
How Much Does PocketGuardian Cost? Which Apps Are Monitored?
When signing up for a PocketGuardian account, you'll have two different options:
Basic Plan: $9.99 per month. Provides automated monitoring and alert messages for iMessage, SMS, Facebook, Instagram, and Twitter.
Plus Plan: $12.99 per month. Includes everything in the Basic Plan, in addition to monitoring Kik, Line, ooVoo, Calculator%, Calculator Pro, Jott, Snapchat, Viber, WhatsApp, and Whisper apps.
Both PocketGuardian plans are recurring (they'll automatically renew each month until you cancel) and are fully earned. This means that, outside of the initial 7-day trial, no refunds are available.
What if you require monitoring on more than one device? According to PocketGuardian's FAQ: "The monthly subscription fee is per household, not per device. You can monitor as many devices and social media accounts as you wish for no additional cost."
After you've signed up and paid, how does PocketGuardian work?
How Can You Download the PocketGuardian App?
While we searched online for PocketGuardian reviews, we thought it was odd no results popped up for the app on iTunes or Google Play. Only after digging through the company's FAQ did we learn:
"PocketGuardian is not in the iTunes or Play store. Once you register with our site you will be able to enroll your child's mobile devices with us. For Android devices you will download our Android app from our website. For iOS devices PocketGuardian works as a cloud service that does not require an app to download nor to function."
We also learned that the PocketGuardian app will only work on Android smartphones running version 4.3 and above, and iOS devices (iPhone, iPad and iPod Touch) running iOS version 5-9.
We reached out to the company to see if we could gain access to a "dummy" version of the download/cloud section of their website, and we'll be sure to update this review as soon as we receive a response.
Who Created PocketGuardian? How Is It Different?
PocketGuardian was developed by two Maryland dads, James Ryan and Jason France, who wanted to help parents keep up with all the new technology used by kids today, but without violating childrens' privacy (we'll dig into this topic in greater detail next).
In fact, the company claims this is one of the biggest differences between PocketGuardian; instead of violating trust, it opens up lines of communication, promotes awareness, and acts as a conversation starter.
In addition, PocketGuardian doesn't just look at keywords, it also looks at the context of these keywords to identify cyberbullying or sexually explicit images. Again, returning to PocketGuardian's FAQ:
"Instead our proprietary software determines the statistical probability that content in a given context is inappropriate. By learning the latest nuances in speech PocketGuardian is able to keep up with the changing terms that teens use."
But, will PocketGuardian provide adequate information for parents to make wise choices, or just enough worry them half to death?
Are PocketGuardian's Notifications Useful?
In our opinion, we think it's pretty cool that PocketGuardian allows parents to monitor their children's smartphones and social media accounts without necessarily violating their privacy. But, we have to wonder: In order to strike this fine balance, just how useful will you find these notifications?
As you can see from the screenshot below (take directly from PocketGuardian's website), any alert you receive will contain four basic pieces of information:
The device that triggered the alert
The alert type
The name of the app where the incident occurred
Relevant resources to help you start a conversation with your child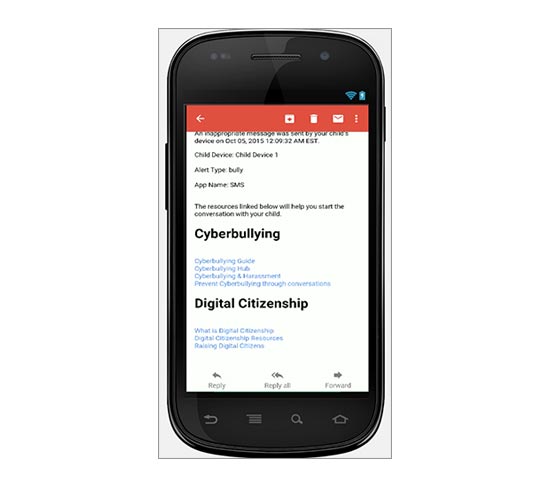 Each PocketGuardian alert contains 4 pieces of basic information, but you won't know any details about the actual content.
Pro tip: There wasn't any information directly on the PocketGuardian website, although according to a post on their Facebook page, it appears the app can be disabled by the child, and parents will simply receive another notification.
Although most parents would find this information helpful, you won't find any more details about the flagged content in your notification. Why? As we outlined above, the company doesn't want to help you spy on your child; only to help keep them safe. Instead, it's up to you to decide whether or not to reach out to your child.
Have you ever Googled some type of symptom you're experiencing, and things quickly escalated from a simple sore throat to the absolutely certainty you were dying? This is an admittedly exaggerated example, but it outlines a key point here: without proper context, it might be difficult for a parent to understand exactly what these PocketGuardian notifications signify. Is it something they should freak out about and immediately address with their child, or is it something much less serious that should only be monitored from afar?
Before wrapping up, let's quickly talk about PocketGuardian's competition:
PocketGuardian vs. Other Child Monitoring Apps
Whether you refer to them as child monitoring apps (or the less flattering, spy apps), parental control apps, or anything else, if you're looking to monitor your child's smartphone usage, there are tons of options. Some of these work in the background without your child knowing, while others (like PocketGuardian) are completely visible and can be disabled. There are even cloud-based programs like TeenSafe.
Some of these apps only monitor your child's location or limit access to certain apps (you can even download one that tells you how fast your teen is driving!), while others provide a whole host of information, such as who they're calling/texting, which apps they're using, and more.
From this perspective, it seems like PocketGuardian is one of the few (if not the only) apps that purposely attempts to strike a balance between providing parents with alerts, while helping children maintain their independence and privacy.
Is PocketGuardian Your New Cyber Angel?
As we detailed in Stranger Danger: Protecting Your Children from Cyber Bullying, Sexting, & Social Media, kids spend a big proportion of their day on the phones (some parents might say the whole day!). And in a lot of cases, without much time on the planet, they might not yet understand how to rationally deal with cyberbullying and sexting when—not if—they happen, without putting themselves in danger.
Fortunately, there are hundreds of apps that can help you keep an eye on the situation, although there doesn't seem to be anything exactly like PocketGuardian on the market; something that gives parents a heads up, without violating their child's privacy.
Ultimately though, you'll have to decide whether or not it's worth rolling the dice, and just how useful these alerts will be. After all, although PocketGuardian's been available since September 21, 2015, there weren't any online customer reviews at the time of our research. On top of this, we're not sure:
If PocketGuardian can also monitor videos (in top of text and pictures), or
If the iOS service can be disabled by a child (since it's cloud-based, unlike the Android service, which is app-based).
For additional insight, we emailed the company these questions, and also asked their opinion about how parents can discern when to interpret notifications as something that should be addressed immediately, versus something that should be monitored from a distance. We'll be sure to update this review as soon as we hear back.
In the mean time, did you give the PocketGuardian app a try? Tell the world about your experience by writing a review below!
4 out 4 people found this review helpful

Just throw it away!

By Carmen B.

,

Texas

,

Dec 29, 2018
Verified Reviewer

HAH! The only guarantee is "You will receive your shipment soon."

Good for the company, because this Pocket Alarm is not worth the price, the audible is like a ringtone on your phone.

I plan to throw mine away and write reviews to alert others NOT TO PURCHASE - you can find a better ringtone on your phone!

Bottom Line: No, I would not recommend this to a friend

---

4 out 4 people found this review helpful

No communication

I can't talk or communicate with anyone. Last update on my child's phone was back in February 2018. I am getting ready to cancel. I ordered this for my family in August 2017, and I'm pulling my hair out trying to get her phone updated. It's a new phone.

Bottom Line: No, I would not recommend this to a friend

---

Advertisement

---