Polar Pooch Reviews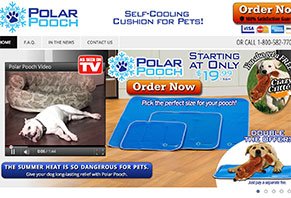 Polar Pooch claims to contain self-cooling gel that activates as soon as your dog lays down, which can help keep them cool throughout the hot summer months.
About Polar Pooch
Polar Pooch is a pressure activated gel pad that's claimed to begin cooling as soon as your dog lies down and their weight is applied to the surface. Because Polar Pooch also features durable construction, it simply wipes clean, and its portability means you can bring it with you in the car, on walks, to the park, or wherever your four-legged friend needs to keep cool.
According to the manufacturer, Polar Pooch is different than other cooling pads because it doesn't require batteries, electricity, or refrigeration, while its cooling power lasts 3 hours and only requires 15 minutes to recharge. Even when your dog is laying on it, Polar Pooch is claimed to reactivate every time they shift their weight or change position.
You definitely wouldn't leave your dog locked in a hot car, but the reality is that when you're out and about with them, hot summertime temperatures can be just as dangerous. But is Polar Pooch the solution you've been looking for, or just a cheap gimmick that you'll regret?
To answer these important questions, let's first take a look at why hot temperatures can be dangerous for your dog.
Why Dogs Get Hot
As humans, when we become overheated, one of our body's first responses is to begin sweating, which cools us down using moisture to change our skin's ambient temperature, while helping to decrease our core temperature through evaporation.
However, except for small sections of their paws, dogs don't have sweat glands. Instead, the primary methods their bodies use to release extra heat is panting and vasodilation (blood vessel dilation). As such, your dog's built-in cooling mechanisms are thought to be less efficient than a human's, so they might overheat even if you think the temperature is relatively comfortable.
Because of this concern, it's generally a good idea to help your dog stay cool as much as possible during the hot summer months, especially when you're out and about. But can Polar Pooch's gel help you accomplish this?
How Does Polar Pooch's Cooling Gel Work?
Although Polar Pooch's manufacturer might want you to think that the gel it contains is revolutionary, the fact of the matter is that it's a widely used substance called a phase change material, found in everything from dog pads and cooling vests for people, all the way to mattress toppers.
While the complicated definition is "a substance with a high heat of fusion which, melting and solidifying at a certain temperature, is capable of storing and releasing large amounts of energy," in layman's terms, this term simply references something that changes phases, or states (such as going from a "solid" to a "liquid"), at a certain temperature.
For example: The gel contained in Polar pooch might remain in one phase when stored at room temperature, but will change phases when your dog lays on it (dogs have a higher normal temperature of about 102 degrees) by releasing energy.
For a fairly in-depth look at this phenomenon, we'd recommend reading through this Instructables thread. You can also see a cross section of a similar product named the Green Pet Cooling Pad in their patent application.
Similar Options to Polar Pooch
Speaking of similar products, there are a whole lot of cooling pads for dogs out there, so you have hundreds and hundreds of products from which to choose. This not only includes self-cooling gel pads like Polar Pooch, but also options that use water, ice, or a small electrical current to cool your dog.
Granted, some of these may be more expensive than Polar Pooch (many are not) and may be less convenient, but they also might be more effective, especially if you live in a hotter climate.
On top of this, these types of cooling pads are so popular that you'll almost certainly be able to find one at your local pet store or big box retailer, which might help you save a decent chunk of change on lost S&H charges (we'll talk more about this in the Pricing section).
Before we do though, let's talk about the company behind Polar Pooch.
Who Makes Polar Pooch?
Polar Pooch is manufactured by "As Seen on TV" giant Telebrands, who have been in business for decades and made some very popular ASOTV products, most recently the Hurricane 360 Spin Mop, Mighty Blaster, Light Angel, and many more.
At the time of our research, these products had an average rating of 2 stars here on HighYa, based on common complaints of failure to work, poor quality, and difficulty with customer service personnel. Certainly, this doesn't mean this is what you can expect with Polar Pooch, although it's certainly noteworthy.
Telebrands also had a D- rating with the Better Business Bureau (up from an F a couple months ago) based on 1,216 closed complaints, most of which referenced the same concerns above. Telebrands was also investigated by the NJ Attorney General's office for allegedly violating the Consumer Fraud Act in 2014.
Polar Pooch Pricing and Refund Policy
Editor's note: At the time of our last update of this page on 7/5/19, it appears that the ASOTV offer is no longer active but the product is still being sold on Amazon and Walmart.
One small Polar Pooch cooling pad is priced at $19.99 plus $7.99 S&H, medium is priced at $29.99 plus $8.99 S&H, and the large version at $29.99 plus $9.99 S&H.
At checkout, you can also purchase a second small, medium or large pad for an additional $12.99, $14.99, or $17.99 S&H charge, respectively.
Regardless of the size you choose, you order will also include a free Crazy Critter no-stuffing toy.
All Polar Pooch purchases come with a 30-day refund policy, less S&H charges. This means that if you take advantage of the BOGO offer, you'll lose more in S&H charges than you'll ultimately receive as a refund.
In order to request a refund, you'll need to contact customer service at 855-668-1655.
Is Polar Pooch a Good Dog-Cooling Solution?
Although we're not informed exactly about the self-cooling gel it contains, there are dozens of similar products to Polar Pooch out there, whether online or at local retailers. And based on feedback, it seems like most customers are pleased with their purchases, so you probably can't go wrong.
However, considering Polar Pooch's high, non-refundable S&H charges, we'd recommend exploring some of these local options before placing your order. After all, the money you save could be spent on an extra toy for your four-legged sidekick!
1 out 1 people found this review helpful

158lbs Rottweiler absolutely loves his Polar Pooch

By Stormy F.

,

Lansing, MI

,

Jan 22, 2019
Verified Reviewer

I purchased my first Polar Pooch at Websters flea market in Florida for my obese Rottweiler who is constantly miserable from the hot weather. I bought a large one for $19.99 at the As Seen On TV vendor. Looking past the German Shepard laying on the large pad with plenty of room, obviously, photoshopped to fit the pad. The pad works amazing for my dog. No, he doesn't fit on the pad like the picture shows, so I would recommend getting two if you have a large dog like mine. The pads don't slide so they fit nicely together and gives him plenty of room to lay flat on his side.

It didn't take much persuading to get him to lay on it. Seriously one time and he figured it out. I lay the pads beside my computer during the day because he likes to be right next to me. At night I take them to the bedroom and lay them beside my bed where he sleeps on them. I take them in my truck which makes traveling much more pleasant for him so he doesn't overheat in the back seat where the air conditioning doesn't reach as well. Honestly, I was skeptical at first, but $20 isn't a lot to try something out, especially if it makes him happier.

As far as the amount of time it works, I can't say as I've never seen a change in how it feels to the touch or him moving off it because it wasn't cool enough. No matter where I place the pads, he will wander over to them and lay down. He never took to a doggy bed, so I know it's not considered his bed. He loves the coolness of it. So much so that I'm going back and getting two more so I don't have to move them as much. The way I see it, my Rottie is as loved and as important as a child to me. I want him to be happy, healthy, and comfortable. Anything I come across that makes this possible, I'll buy. Polar Pooch has made his life much cooler and better. Definitely worth trying.

Bottom Line: Yes, I would recommend this to a friend

---

Polar Pooch cooling pad WORKS!

By Vicki S.

,

Missouri

,

Oct 18, 2018
Verified Reviewer

These cooling pads are wonderful! And reasonably priced, well worth the money! I have a German Shepherd/Husky mix who stays outside because we live on a farm. He keeps the coyotes at bay. I bought the Polar Pooch for him and he loves it! It really works! All I had to do was sit on it with him and he felt the cool surface. He sleeps on it in his dog house, no problems. I highly recommend it!

Bottom Line: Yes, I would recommend this to a friend

---

Advertisement

---

2 out 2 people found this review helpful

My Jack Russell LOVES it!

By Dave C.

,

Bear, DE

,

Sep 14, 2018
Verified Reviewer

I have a long-haired Jack who always pants. I bought three Polar Pooch and he is always laying on one of them! Stepson wants a queen size one for his bed. He has no dog, but maybe some of the women he dates qualify for that title! Lol.

Bottom Line: Yes, I would recommend this to a friend

---

0 out 1 people found this review helpful

Gel bunches up in one corner

By Edith O.

,

Michigan

,

Aug 15, 2018
Verified Reviewer

The gel inside bunched up in one corner and I cannot get it to smooth out. How can it cool when it is all in ONE corner. Bad buy. I was fooled by all the great reviews. Maybe if they get spread evenly on the mat, it would be better.

Bottom Line: No, I would not recommend this to a friend

---

Advertisement

---

2 out 2 people found this review helpful

My dog loves her Polar Pooch!

By Lesley P.

,

Missoula, MT

,

Jun 9, 2018
Verified Reviewer

My dog Mocha, a Shih Tzu, tends to get hot fairly easily and quickly. My boyfriend got her the Polar Pooch pad to try out. She absolutely loves laying on it! She sits on my lap in the car, and the other day we were on a 1.5-hour drive. She wouldn't settle for the first 45 minutes, and as soon as I put the Polar Pooch pad down to try to get her to calm down, she did! She didn't move for the rest of the car ride. This product is definitely worth trying! I hope your dog loves it as much as mine!

Bottom Line: Yes, I would recommend this to a friend

---

5 out 7 people found this review helpful

Wasted money

By Dana

,

Indiana

,

Mar 15, 2017
Verified Reviewer

We had this for one hour before my dog tore it by walking on it, and now it leaks some unknown substance.

Bottom Line: No, I would not recommend this to a friend

---

4 out 4 people found this review helpful

Absolutely LOVE!

By Shelly

,

Ohio

,

Feb 12, 2017
Verified Reviewer

This is an incredible comfort to our home. Not only for my wonderful Brin, but also for me and my hot flashes! Seriously, it is worth it. Peace.

Bottom Line: Yes, I would recommend this to a friend

---

6 out 6 people found this review helpful

My dog loves this cool mat

I purchased this in a store, not online, but it is the "Polar Pooch" as seen on TV. My dog is a Bichon mix and has long ears and tail with thick hair. He was always panting, but as soon as I opened this up, he runs to it constantly. He falls asleep like a little baby on it. I actually bought two, one for up and one for downstairs. Yes, it is slippery so you need to put it on the side of couch or in back of a recliner like I do or on the side of your bed, out of the way, where the dog can rest comfortably. I would love to have about 4 more, one for each car and one in each bedroom. I think they are great.

Bottom Line: Yes, I would recommend this to a friend

---

6 out 7 people found this review helpful

My dogs love this!

By Kendall

,

Florida

,

Jul 4, 2016
Verified Reviewer

I bought this product hoping it would work for my 2 dogs. They love to sit outside and often come in hot and panting. Well, this has worked far better than I ever expected. They now come in and look for their mat. I can move it from their beds to the couch and even the car. I am very, very pleased and would highly recommend this product.

Bottom Line: Yes, I would recommend this to a friend

---

8 out 8 people found this review helpful

Great product

By Jennifer

,

Washington

,

Jun 16, 2016
Verified Reviewer

This product is awesome. I bought one for my 60 plus pound Pit bull King, and he loves it. I have to buy another one for his son Prince who now wants to share the mat with his dad.

I also stepped on the side of the mad and almost broke my neck but common sense told me to move it out of traffic areas in the house and that it was gel, so I had to be cautious of stepping on it. I would highly recommend this product my guys love it!

Bottom Line: Yes, I would recommend this to a friend

---

11 out 12 people found this review helpful

Great product

By Ann

,

HI

,

May 28, 2016
Verified Reviewer

My dog loves this product. Since I live on an island the humidity gets pretty bad and my dog gets really hot. I put it on either his mesh bed while I'm home or on my bed when I leave home and he's always on it. He doesn't pant as much as he used to since I've bought this mat. I've bought a few of them for other people and would highly recommend buying it. I'm not sure how durable it is if a dog chewed on it but my dogs don't do that, so luckily I didn't have to worry about that. But it does what it says and I'm happy with it.

Bottom Line: Yes, I would recommend this to a friend

---