PolicyGenius Reviews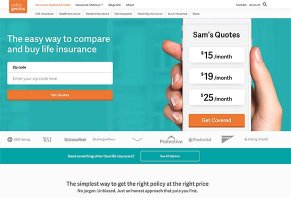 PolicyGenius is an online broker that offers access to a wide range of personal insurance options, including life, health, renters, pet, disability, and vision.
About PolicyGenius
Advertised as the simplest way to get the right insurance policy at the right price, PolicyGenius promises to take an honest, simple approach to helping every type of consumer compare unbiased quotes from hundreds of America's top companies, without any jargon.
This way, the company claims, they can make it easier for you to find the protection you need in all 50 states and Washington, DC. Simply enter your information, compare side-by-side quotes and when you're ready, you can apply for coverage and purchase a policy all at the same time.
If you need help at any point, a licensed, certified, U.S.-based advisor is on standby, who is salaried, not commissioned, so you won't have to worry about high-pressure sales tactics. Together, this is why we're told the company has helped millions of people shop for insurance.
Compared to the competition, PolicyGenius claims you can shop anonymously on their website, and that their hassle-free, one-stop-shop approach to insurance can help inspire confidence and save you time and money. But, are they really the easiest way to get insurance, as claimed on their website?
Here, we'll take an in-depth look at the company, how they compare, and how you can decide which online insurance agency or broker (if any) is right for you.
What's the Difference Between an Insurance Agent & a Broker?
Writing for The Balance, Marianne Bonner notes that both brokers and agents act as intermediaries between consumers and insurance companies.
They both have "a legal duty to help you obtain appropriate coverage at a reasonable price," must be licensed to sell a specific type of insurance, and adhere to the "regulations enforced by your state insurance department." Most also earn a commission from the insurer for each policy they sell.
The biggest difference is that agents represent the insurance companies with whom they're appointed, while brokers represent the insurance buyer. In other words, agents are appointed directly with insurance companies, while brokers are not.
This means that some agents can bind (give approval for) certain types of coverage, while brokers cannot—they must wait for an insurer to issue a policy before coverage is in force.
Of these two, PolicyGenius works as a broker. Exactly how can you obtain coverage through them, though?
How Does the PolicyGenius Process Work?
What Types of Insurance Does PolicyGenius Provide?
The PolicyGenius website offers access to the following policy types:
Life – Term, whole, no-medical exam, return of premium
Health – HMO, PPO, EPO plans (many including dental)
Auto – Non-owner, gap, ride-share, rental car insurance
Homeowners – Protects your home against perils like fire, windstorm, theft, and other disasters
Vision – Eye exams, contacts, glasses, etc.
Critical Illness – Cancer, heart attack, stroke, kidney failure, heart surgery, major organ transplant
Pet – Cats and dogs, accidental and preventative
Disability – Long-term, short-term, supplemental, mortgage disability
Renters – Replacement cost, actual cash value (ACV)
Long-term Care – Eldercare, in-home nursing, nursing home care, respite care, memory facilities
Jewelry – Standalone or scheduled coverage that protects engagement rings, watches, etc.
Identity Theft – Helps you recover your good name and credit
Travel – Protects against financial loss caused by delays, lost documents, illness and injury, lost baggage, and inclement weather
According to their website, PolicyGenius only works with insurance carriers who hold at least an A- financial rating, and the company places a great deal of emphasis on educating customers about different aspects of insurance, including basic coverage details, shopping advice, and guides.
Their five-minute Insurance Checkup feature can also help you decide which types of insurance you need, and how much.
The PolicyGenius Quoting Process
How to obtain a PolicyGenius quote? This largely depends on the type of insurance you're interested in.
For example, life insurance quotes start by choosing the appropriate coverage limits and term (again, if you're not sure how much you need, you can use the Insurance Checkup tool), and then clicking on the Get Quotes button.
As promised on their homepage, PolicyGenius doesn't require you to hand over any personal information, although you will need to enter your first name, gender, age, height, weight, if you've ever used tobacco products, other medical issues (high blood pressure, depression, high cholesterol, etc.), license revocations/tickets/accidents, and citizenship status.
Finally, all your matches will appear, at which point you can save your progress (enter email address), and adjust coverage, term, policy types, and how the premium is displayed (monthly or annually).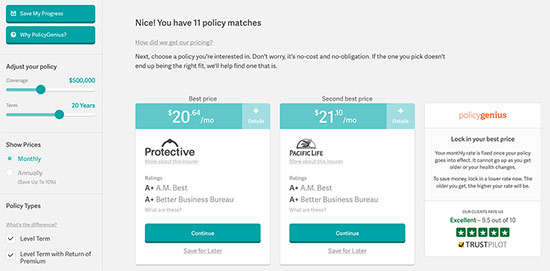 After entering all the relevant details, PolicyGenius will display life insurance providers, including price, company ratings, and Better Business Bureau ratings. Image credit: PolicyGenius, Inc.
We found PolicyGenius' health insurance quoting system a little more involved. In addition to regular details like zip code, email address, DOB, gender, and if you've used tobacco products, you'll also need to enter spouse/child details, household income, monthly budget, upfront costs/deductibles, and so forth.
Finally, you'll rank your different factors as 'must-haves' or 'nice to haves,' and all relevant quotes will be displayed.
Not only is PolicyGenius' health insurance quoting process a bit more involved, but users can also display results as a list or a graph, sorted by price and color-coded based on priorities. Image credit: PolicyGenius, Inc.
If you're ready to sign up, the company has partnered with HealthSherpa to help customers enroll in a plan.
However, for auto quotes, PolicyGenius only offered the ability to visit an insurer's website (or an auto comparison engine) directly, which didn't provide the same side-by-side results we encountered with the life and health insurance systems.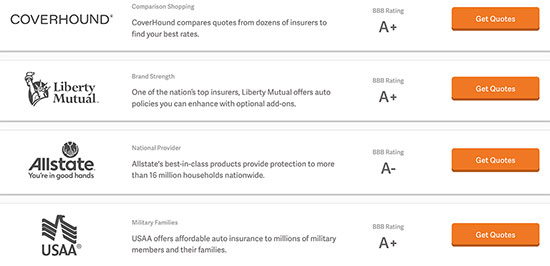 Other than providing a link to an auto insurance comparison site, as well as a handful of insurer's websites, PolicyGenius' system didn't seem to add much convenience to the process for those seeking car insurance. Image credit: PolicyGenius, Inc.
How Much Does PolicyGenius Cost?
We discussed earlier that most insurance brokers earn money by receiving a commission on each policy they sell, directly from the insurer. As such, PolicyGenius' FAQ notes that, "Like traditional brokers, we get commissions for policies we sell. The commissions are part of the price, so you don't pay more to use our service."
Have additional questions or concerns? A licensed PolicyGenius team member can be reached at 855-695-2255 or team@policygenius.com.
What Can We Learn From PolicyGenius Reviews?
Although PolicyGenius had been in business more than four years at the time of our research, the only direct online customer feedback we encountered was on TrustPilot, where 329 reviewers had given them an average rating of five stars (Excellent).
There, most compliments appeared to revolve around ease of use, competitive prices, and solid customer support. What few complaints there were referenced higher prices than quoted and inefficient completion process, although a representative responded in each instance.
From a company perspective, PolicyGenius Inc. is based out of New York, New York and has been in business since 2014. The company was co-founded by CEO Jennifer Fitzgerald and chief of marketing Francois de Lame.
Previously, Jennifer worked as Associate Principal and Francois a Senior Associate at McKinsey & Company.
Are There Other Online Insurance Brokers Like PolicyGenius?
If you're looking for personal insurance coverage, there are thousands of companies competing for your business.
These include local agents and brokers, as well as online life insurance quote engines like SelectQuote; auto agencies and comparison sites like Compare.com, The Zebra, and Insurify, as well as full-service online agencies like CoverHound that offer both personal and business insurance.
Granted, we didn't encounter any competitors like PolicyGenius that also offered the ability to quote anonymously, was licensed in all 50 states, and provided access to a broad range of insurance policies. So, if this specific combination is important to you, then they were the only game in town at the time of our research.
If not, though, what are some actionable factors you can use to make a more empowered decision?
According to the non-profit advocacy group United Policyholders, whether you're looking for an agent, broker, or standalone insurance carrier, one of the first things you should do is ask friends and family for recommendations. Seek out friendly professionals who are willing to answer questions and are willing to take the time to ensure you're adequately covered.
From an online perspective, they also recommend seeking out feedback from those you don't know (such as on consumer advocacy sites like HighYa), visiting the state insurance regulator's website so you can "check an agent or broker's license status, inquire about any complaints or disciplinary action, see how long the agent or broker has been in business, etc."
Finally, when you're talking with them over the phone or in person, ask the agent/broker how long they've been in business, how many companies they represent, how they earn their money, and if there are any penalties associated with early cancellations.
Does all of this bode well for PolicyGenius?
Our Final Thoughts About PolicyGenius
In the end, we found the PolicyGenius website easy to use and quickly allowed us to acquire ballpark quotes. We also found their extensive learning archive a huge benefit for anyone looking to learn more about different types of personal insurance.
Furthermore, the company has been in business several years, holds a high Better Business Bureau rating with few complaints, and a mostly positive online customer reputation. To boot, their services are completely free, so even if they don't have a policy match that fits your needs, you likely won't have wasted much more than a few minutes of your time.
With all of this said, if you're looking to obtain an auto quote, then you'll have to use the CoverHound comparison engine linked to from the PolicyGenius site, or visit any carrier's websites you're interested in, and then manually obtain quotes from there.
In other words, PolicyGenius might not be your most convenient option if you need as many auto quotes as possible, while only entering your information once.
Similarly, while PolicyGenius offered renter's quotes at the time of our research, they didn't offer homeowner's. As such, you'll need to visit another online broker or agency if this is among your needs.
Still waiting for an answer.

By David M.

,

Saint Petersburg, FL

,

Jan 15, 2020
Verified Reviewer

Have been waiting for five months to either be approved or disapproved with a company through PolicyGenius. I would have thought that they could obtain any and all information from my doctor's office long before now. I signed off on the permission for this within one month.

I also would have expected PolicyGenius to look into another company after two months of delays. My patience is just about worn out. I will probably give them two more weeks and then look for another company.

I think five months is long enough for anyone to wait for any company.

Bottom Line: No, I would not recommend this to a friend

---

Advertisement

---