Poo-Pourri Reviews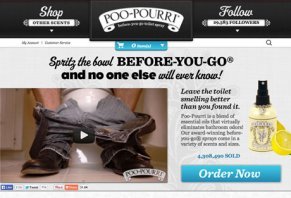 Poo-Pourri is an aromatherapy-based spritzer that's claimed to use essential oils and natural aromas to prevent unwanted odors from escaping your toilet.
About Poo-Pourri
Developed by Suzy Batiz after 9 months of trial-and-error research, Poo-Pourri is a super concentrated proprietary formula that's claimed to form a "protective layer of essential oils," other natural compounds, and pleasant aromas over the water before you go, which prevent odors from rising and causing a stink.
Because of this, Poo-Pourri's slogan is "Spritz the bowl before you go and no one else will ever know."
Using aromatherapy, Poo-Pourri is claimed to be "scientifically proven to work" over 2 steps:
Spritz 4-6 sprays of Poo-Pourri into the commode and onto the water's surface.
Do your business.
Despite its effectiveness, Poo-Pourri is claimed to be made in the USA, environmentally friendly—as it's made without parabens, phthalates, aerosol, or other harsh chemicals—and to never be tested on animals. On top of this, Poo-Pourri claims to be no worse for your waste water system (including septic) than natural shampoos and conditioners.
But when it comes down to it (no pun intended), is Poo-Pourri really a "classy, sassy, ultra effective way to leave the bathroom smelling better than you found it," or just a dud with some great marketing? Consider the following:
Is Poo-Pourri a "Proven Barrier?"
When reading through the Poo-Pourri website, one of the first questions we asked ourselves was, "Does Poo-Pourri actually prevent odors from rising, or just mask them?" After all, it is claimed to be "scientifically proven."
To provide some clarification, Poo-Pourri's FAQ states:
"Based on aromatherapy principles, a few squirts into the bowl before-you-go forms a protective layer of essential oils that prevent stinky bathroom odors from showing up in the first place."

"As floaters penetrate the film, they're coated with Poo-Pourri, stopping their air assault before it starts."
Unfortunately, the website doesn't provide any references for this proof, nor any additional information about the ingredients contained in their spritzes.
However, a quick online search will reveal hundreds of customer conversations about the effectiveness of essential oils (especially eucalyptus) for trapping (not just covering up) unwanted bathroom odors. And while there weren't any readily available scientific studies to explain why this occurs, it really does seem to work out in the field, so to speak.
Similar Options to Poo-Pourri
What this means though, is that many essential oils will work just as well as Poo-Pourri, but at a much lower price.
We read one article claiming that doTerra oils work very well, but the reality is that you have dozens of other options, which you can quickly uncover in an online search.
Online Customer Reviews for Poo-Pourri
Since writing our original Poo-Pourri review, 1 customer has provided their feedback here on HighYa and rated it 3 stars, based on the fact that it worked well but came with a very strong smell.
More than 6,000 Amazon reviews for Poo-Pourri were available at the time of our research, with an average rating of 4.7 stars. There, common compliments referenced that it effectively covers up unwanted odors. On the other hand—although few and far between—some customers complained of allergic reactions on their backsides, harsh smell, and high price (as we noted above, many claimed that any essential oil will do the same job at a lower price).
Similarly, Poo-Pourri had a 4.6-star rating on Drugstore.com, with many of the same compliments and complaints found elsewhere online.
From a company perspective, Poo-Pourri is manufactured by Scentsible, LLC based out of Addison, TX. At the time of our research (6/8/15), the company had a B+ rating with the Better Business Bureau despite only having 2 complaints, neither of which the company responded to.
Poo-Pourri Pricing & Refund Policy
Poo-Pourri spritzers are available in the following packages:
New to Poo Package: $9.95. Good for 100 uses. Includes original Bergamot, Lemongrass, and Grapefruit scents, as well as a "free mystery tester."
Flushionista Gift Set: $20.95. Includes 2oz Poo-Pourri Original Before-You-Go Toilet Spray and a 2oz Call of the Wild Before-You-Go Toilet Spray.
Potty Box Gift Set (available in Original, Men's, and Women's versions): $24.95. Includes a 4oz and 10oz bottles, as well as a 4ml tester.*
Getting to Know Poo Package: $24.95. Good for 300 uses. Includes original Bergamot, Lemongrass, and Grapefruit scents, newer Eucalyptus and Spearmint scents, as well as 2 "free mystery testers."
Tried & True Poo Package: $44.95. Enough for 400 uses. Includes:

Original Bergamot, Lemongrass, and Grapefruit scents, newer Eucalyptus, White Flowers, Citrus, Spearmint, and Spicy Orange scents, as well as 2 "free mystery testers."
*Several other gift sets are available.
Individual Poo-Pourri bottles are priced at $6.95 for 1oz, $9.95 for 2oz, $14.95 for 4oz, $24.95 for 8oz, and $29.95 for 16oz.
Regardless of the option you choose, Poo-Pourri ships anywhere in the world, with the exception of Russia, and rates are based on your location. Free shipping is available on orders totaling $50 or more.
Note: According to Poo-Pourri's FAQ, an Auto-Ship Subscription Service is available, which will send you regular shipments and charge your credit card accordingly. However, we weren't presented with this option when attempting to check out, and no details were provided in the Terms of Use.
All Poo-Pourri products come with a 30-Day Money Back Stink-Free Guarantee, although this only applies to unused merchandise in resellable condition, less S&H charges and a possible 25% restocking fee.
With this in mind, in order to request a refund or cancel your autoship enrollment, you'll need to contact customer service at 972-818-8200.
Finally, keep in mind that Poo-Pourri might be available locally, which could save you some cash on S&H charges. To find out, you can search Poo-Pourri's Store Locator Map.
Is Poo-Pourri a Solution To Your Stinkin' Problem?
Chopping to the point: There's no doubt that Poo-Pourri has a great marketing team behind them and a great product, it's no surprise that it became a household name by now.
Because of this, it seems likely you'll be pleased by Poo-Pourri's stink-eliminating powers. We were satisfied with our regular usage of Poo-Pourri.
While pun may be intended in its name, the product is truly remarkable. It's also great to travel with it, for obvious reasons.
Best ever

By Gareth M.

,

Toronto, Canada

,

Jul 13, 2018
Verified Reviewer

I had over 95% of my large bowel due to cancer. So I to go A LOT and it's bad. With this stuff, it was a game changer. I could have a poo at work and not offend everyone. Awesome stuff.

Bottom Line: Yes, I would recommend this to a friend

---

I have had a total Gastrectomy which makes your poo absolutely stink.

By Julie Reid

,

Rutherford, New South Wales, Australia

,

Jul 28, 2017
Verified Reviewer

This has to be the best thing ever invented. Without a stomach, it was almost impossible to go to the toilet when not at home as the smell is horrendous. Now with this product, I can go anyway and "go anywhere" without any fear of leaving a huge smell behind. I love this product and thank you for it.

Bottom Line: Yes, I would recommend this to a friend

---

Advertisement

---

Wonderful!

I got my free sample, and it's AWESOME! I got the citrus one. Even better, it works great for an air freshener when the boyfriend lets out his "deadly bombs." Thank you for making this!

Bottom Line: Yes, I would recommend this to a friend

---

Love

By Kim Davis

,

Vanceburg, KY

,

Apr 27, 2017
Verified Reviewer

I'm in love with Poo-Pourri! I purchased three bottles, one for home, one for on the go, and one for WORK. Work was much needed as not only once but twice after going poo, someone was wanting to call an exterminator or plumber thinking something was dead somewhere or the toilet needed fixing!

So I got my shipment and was eager to try it out. Oh, my how this stuff works! I also had a co-worker see if she could smell any horrid smells and to her surprise, she smelt no horrifying odor and only fresh scents! Hooray! I can now take a poo at the office without worrying if someone will want to call an exterminator. I will definitely be ordering more and putting this on my Christmas, birthday and holiday list.

Bottom Line: Yes, I would recommend this to a friend

---

Advertisement

---

I'm obsessed

By Karlie

,

Utah

,

Mar 21, 2017
Verified Reviewer

The office I work in is a big upstairs space with one bathroom and six male coworkers. Too often I'd walk upstairs, open the door and if anyone had gone "#2," the entire office stunk for the rest of the day. We had air fresheners that they'd spray after, but that didn't really help much.

So, when I saw that Poo-Pourri was offering free samples online, I thought it wouldn't hurt to try. We haven't been without a bottle since! It helps so much. Our office is no longer plagued with poop smells. I highly recommend this product!

Bottom Line: Yes, I would recommend this to a friend

---

Game Changer!

By CS123

,

Washington

,

Oct 25, 2016
Verified Reviewer

I take supplements and meds that make my poop smell HORRIBLE! This product is strong but absolutely works! Most of the time all you smell is the product, unless you don't spray enough on the water. Otherwise, someone can walk in the room and just smell the spray.

Bottom Line: Yes, I would recommend this to a friend

---

Finding an order for Poo-Pourri

By Viva

,

Los Angeles

,

Jan 24, 2016

I have just found an order for this product in my inbox which I never made, consciously at least. Are others finding orders for a Poo-Pourri product around $7 which they did not make? I must have clicked on something, but what? I certainly never gave them access to my account. Good product or not, I don't like this and will report it if Poo-Pourri doesn't clear this up. Help!

Bottom Line: No, I would not recommend this to a friend

---

Strong but effective

By Chronia

,

Victoria, British Columbia, Canada

,

Aug 7, 2015

I used to sell this product at my previous place of employment and we had a bottle of it in our staff washroom. It has a very strong lemony fragrance, and all it takes is one to two sprays, you really don't need more. Unlike other air fresheners for the washroom, you spray this one in the toilet before you use it. The oils in the spray lock any nasty smells under the surface of the water, and you flush it all down the drain leaving behind only the fragrance of the spray. as mentioned the scent is very strong so you don't want to use much of it, but it really does work, as there is no trace of any nasty smell. We were told by product suppliers that they give this to the stars in Hollywood to hide the fact they had a bowel movement. It's like the bottle says "Spray before you go, and no one will ever no".

Bottom Line: Yes, I would recommend this to a friend

---