Porch.com Reviews
Claimed This company has claimed this profile, is getting alerted on any new customer reviews entering this page, and may engage in dialogue with its customers to address their matters.

Companies cannot pay money or provide goods in order to remove or alter customer reviews.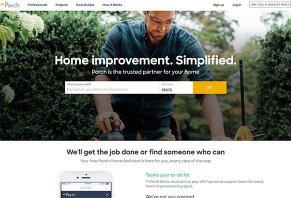 Porch.com is among the most popular websites for finding a contractor to work on your home. The site's strengths are the property and quality guarantees you get when you book a contractor through their site.
About Porch.com
Porch is an online marketplace for homeowners where you can post projects for the purpose of getting bids from contractors or hiring a Porch Service pro to perform work at your house.
The company is based in Seattle and was founded in 2012, then launched in 2013. The company's two founders are Matt Ehrlichman and Ronnie Castro.
Ehrlichman, the company's CEO spent around five years at ACTIVE Network, a marketplace for activities and events. Castro, the company's VP or Customer Operations, previously worked at Google, Expedia and Wild Tangent before helping found Porch.
The hallmarks of Porch's website is a combination of their Porch Pro contractors and Porch Services, along with a pair of guarantees that, in qualifying situations, can protect you in the event that your contractor doesn't follow through on their work or your home is damaged during the project.
Over the course of this review, we'll provide you our insights about the various features of the website, as well as talk about some of the fine print we think you should know when you head to their site to find a contractor.
We'll also do a quick comparison of what Porch and other homeowner-focused contracting sites so that you can get an idea of how the site fares against the competition.
At the end of our review, we'll wrap up with our thoughts on Porch.com's strengths and weaknesses.
Porch.com's Contractor Options: Porch Pros and Porch Services
As we mentioned in the introduction of this review, Porch provides two main types of contractors: Porch Services and Porch Pro.
Porch Services
This part of the website is dedicated to handyman services and contractors who come to your home to perform work.
What makes these contractors different than Porch Pro contractors is that you can schedule, book and pay for their services through Porch.com, whereas with Porch Pros you post a project on the site, get bids from contractors and then book and pay for those contractors on your own, away from Porch.com.
At the time of publishing, Porch Services offered handyman and contractor help in 40 different areas, with each of those areas featuring its own subset of different jobs and projects.
We wanted to get a sense of what the Porch Services booking engine was like, so we gave it a test run. After entering our area code, we said we needed cabinet installation. Porch quickly gave us a quote: $249 for cabinet installation.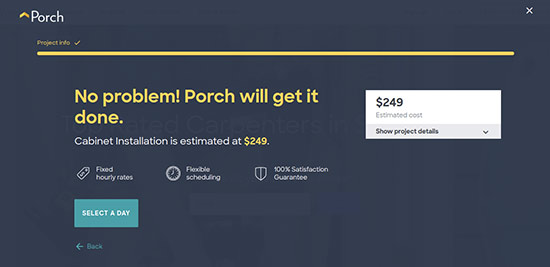 Porch Quote. Credit: Porch.com
From there, Porch asked us to pick a time and date for the service and then requested our address and contact information.
Once you finish this process, a Home Assistant from Porch will contact you to finalize the details of your appointment. Their booking engine's fine print notes that your Porch Services Pro will contact you the day of your appointment to confirm that they're on their way.
Important Reminders About Porch Services
Booking your appointment is a simple process. There are, however, a few things you need to remember as you prepare to have your Porch Services pro come to your home.
First, you can cancel your appointment for free as long as you do it at least 24 hours before the time at which the contractor was supposed to arrive.
If, for some reason, the job takes longer than Porch estimated, their fine print says that you'll be charged an hourly fixed rate for the additional time it took.
Background Checks
All professionals who participate in the Porch Services program are background-checked and, according to a Porch rep with whom we spoke, agree to "carry the licensing and insurance applicable to the service and location."
The Porch Services Satisfaction Promise
One of the advantages of using Porch Services is that contractors hired through this program are backed by a property protection guarantee and a quality guarantee ("Satisfaction Promise").
This is a key factor because competing sites Thumbtack and HomeAdvisor offer a property protection guarantee (more on that later) but don't cover the quality of the work performed by contractors you hire via listings on their site.
Now, in order to properly file a claim through the Satisfaction Promise program, you need to do a couple of things ahead of time.
First, you have to file a claim within 15 days of the work being completed. The claim needs to include three important pieces of information, a Porch representative told us:
A written statement detailing which parts of the completed work you aren't happy with
Photos of the unsatisfactory work
A statement telling Porch how you want the situation resolved
Porch notes that their goal is to have the same contractor come back and do the job right, so handle your claim with tact. You don't want to burn your bridges with the contractor before he or she has a chance to return to your home and correct the mistake(s) .
If it's not possible to send out the original contractor, Porch will provide you with a replacement professional to fix the mistakes.
Another important factor here is that Porch will only cover work that was paid for by debit or credit card through their site. Additional services performed by the contractor that you pay for in cash aren't covered.
Porch's fine print also states that you can ask for a reimbursement of your original payment if the redone job still doesn't satisfy you.
The work done by the Porch Services pro is also covered by the site's Property Protection, which we'll address in the next section.
Porch Pros
The second way to book contractors via Porch is through Porch Pros. This portal differs from Porch Services because you aren't booking and paying for services through Porch.
Rather, you post a project that you need done in your home and contractors who've signed up with Porch will send you quotes for the work that you describe.
While the profiles of these professionals may list licenses, it's important that you verify that the contractor is licensed because Porch does not check the backgrounds of Porch Pros.
When you've looked through the quotes and decided on a contractor, all booking and payments take place outside of Porch. Porch Services, on the other hand, is an in-house service.
Because of this, the work that's done on your home isn't covered by the aforementioned Satisfaction Promise.
Porch Property Protection
However, you do get the site's Property Protection, which is a program that's designed to reimburse you up to $1,000 for any major damage done to your home at the hands of the contractor you hire.
Like the Satisfaction Promise, there are certain things you have to do to file your claim. First, Porch says that you'll have to try and resolve the situation on your own before coming to them.
If that fails to resolve the problem, then you can file a claim as long as you meet the following criteria:
Pro was booked via your project page
You marked the pro "hired" on your project page
You file your claim within 15 days of the completion of the job
You'll have to provide proof of the damage – photos work – as well as "documentation showing the value of the damaged property," their site says.
Things that aren't covered by property protection are:
Poor work quality
Payment issues
Damage done that was part of work done that wasn't included in your original project posting
Porch.com's Better Business Bureau Ratings
Porch gets an A+ grade from the BBB, a ranking that reflects 13 different aspects ranging from how the company interacts with the BBB and how it handles complaints from customers.
At the time of publishing, Porch received an average customer review of 4.2 stars, which is better than HomeAdvisor, Houzz, Angie's List and Thumbtack.
Complaints about the company focused on Porch Pros who didn't live up to their original agreement with the customer either because they charged more than they quoted or they didn't do the work well.
How Porch.com Compares to Other Contractor Websites
We've compared five of the most popular sites for finding a contractor, – Porch included – and find that there are some distinct differences between Porch and its competitors.
First, Porch's Better Business Bureau page has a higher average star-rating than HomeAdvisor, Angie's List, Thumbtack and Houzz.
Second, Porch and Angie's List are the only two sites that provide a guarantee for work quality. Angie's List's guarantee, however, is only available to users who pay for a yearly membership on the site.
Porch is the only site of the five who provides a free quality guarantee, although it's important to note the guarantee is only valid for Porch Services and not Porch Pros.
As for background checks, based on our research we believe that homeowners will probably be most satisfied with HomeAdvisor because they run each contractor through two license verifications, sex offender registries, a national criminal registry and the court system.
While Porch, Thumbtack and Angie's List's background checks aren't as extensive as HomeAdvisor's, they do check the area that is critical to work quality: licensing.
You don't want a contractor who doesn't have a license. For all you know, they could be a random person pretending to be a contractor who will take your money and run.
When it comes to background checks, it's important for you to do research on your own, though. Porch notes that even though they do license checks on their Porch Services contractors, homeowners should verify the validity of the contractor's license.
Call your local government office to find out how to verify a license and check criminal backgrounds. Your state's sex offender search can be found with a quick google search.
Another important thing to remember is that the background checks these sites do are only administered to the owner of the contracting business.
The owner's employees and/or subcontractors are not checked. So, be sure to ask the contractor who is doing the work and if they are licensed. Feel free to inquire about criminal records, too.
Whichever the case, the general rule of thumb is that the homeowner should do research on their own to confirm that their contractor is licensed and has no criminal or sex offender history.
» For Further Reading: Finding a Home Contractor: A Guide to the Five Best Websites
The Final Word: Pros and Cons of Porch.com
Based on our research, we believe Porch's greatest strengths are that it offers a double guarantee on work performed by contractors booked through Porch Services.
Your property is protected up to $1,000 for damages caused by the contractor and, in the event that he or she did a poor job, you have several options for making sure the job is done right.
Homeowners who've endured poor contracting jobs will most likely find this double protection to be a big relief.
The downside of the site are that they don't perform background checks on contractors who bid on the projects you post. You'll have to do the legwork of checking that their license is up-to-date and valid for the type of work they're doing, as well as running their name through a background check, if you choose to do so.
Overall, we think Porch is among the best sites to find a contractor and that, based on our research, the best-case scenario for homeowners is to work through their Porch Services option to find a contractor that's been vetted and whose work comes with a quality guarantee.
---
This company is actively collecting reviews from its customers. All reviews submitted are subject to moderation and approval to ensure they meet our

Review Guidelines

.

Deck estimate

By Jon S.

,

Beckley, WV

,

Jul 8, 2020
Verified Reviewer

Length of Use: Less than 3 months

Overall Experience:

Extremely quick response time. Thorough estimate of plans and respectful of our creativity. Highly recommend! Family owned and operated business. Local and fair market value estimate.

Pros and Cons:

Quick response time
Follow-through of estimate
Respectful of our creativity
Unknown to us before Porch

Bottom Line: Yes, I would recommend this to a friend

---

Updated review

Updated

By Valette F.

,

Clovis, CA

,

Jul 1, 2020
Verified Reviewer

Length of Use: Less than 3 months

Overall Experience:

No one has ever returned my call and the problem grew bigger.

Bottom Line: No, I would not recommend this to a friend

Previous review
May 27, 2020

Very disappointed

I had a work order to mount and unmount 2 TVs. I was given a price and a time for 2 TVs. There was a slight complication and only 1 TV got installed with a short period of time. So, I called Moses/the office and left a message in the general mailbox. No one has returned my call to discuss the problem nor to offer a solution. I would like someone to call me back to fix my problem.

Since there wasn't a problem when trying to set up in confirming the initial appointment.

Jun 17, 2020

We want to apologize for this experience - we missed the mark on communication here. Thank you for this valuable feedback, as we are always working to improve our customer experience.

(

read more

read less

...)

---

Advertisement

---

Not very professional

By Carol S.

,

Scottsdale, AZ

,

Jun 26, 2020
Verified Reviewer

Length of Use: Less than 3 months

Overall Experience:

After purchasing a new electric wall oven, I contacted an installer recommended by the retailer and set up a date/time for service. They canceled at the last minute so I searched online and located Porch. I submitted a work request detailing that I needed a 27" electric wall oven removed and a new 27" electric wall oven installed in the same spot - no alterations necessary. I was quoted a price and it was scheduled for 9:30 am today.

At 9:00 I received a call from the installer saying he was leaving and would be here at the appointed time. He then asked what kind of electrical work would he be doing? I explained what I had submitted in the work request since he had no idea what he was coming for. At 9:45 I received another call from the installer saying he was on the freeway with a flat tire and was awaiting road service. Finally at 11:45 he showed up to start the job - not wearing a mask, gloves, or shoe protectors. When I asked if he had a mask, he replied, "I'm not sick - are you?" I live in a downtown area in a city which is a hotbed for new COVID cases and which has mandated face coverings when in public and not eating/drinking. My husband and I are 83/73 respectively - he is recovering from eye surgery and I am a 10-year cancer patient - definitely high-risk categories who didn't appreciate the cavalier attitude toward our health and safety.

The job was completed in one hour and after a little prompting (I brought out the vacuum and left it) everything was cleaned up. I was told only a credit card payment was accepted and I would have a receipt in my email (not yet received 30 minutes later). My oven is now in the wall and hooked up, but I had been hoping for a better experience.

Pros and Cons:

Responded promptly to my work request
Set up a definite date/time for work to be done
Not good about being on time
No protective equipment
No receipt when paid

Bottom Line: No, I would not recommend this to a friend

---

Klein Electrical is great

By Bruce S.

,

Grantville, GA

,

Jun 23, 2020
Verified Reviewer

Length of Use: Less than 3 months

Overall Experience:

Klein Electrical contacted me about my project very quickly.

I needed an electrical run for my Hot Tub.

He came out quickly to give an estimate and inform me of what materials he would need.

We determined a good day for him to do the work.

He arrived on time. Completed the work and cleaned up the work area.

I would recommend and use him again.

Pros and Cons:

Quick response
Polite and professional
Good prices
No "cons" were specified in this review

Bottom Line: Yes, I would recommend this to a friend

---

Advertisement

---

The right folk to hire.

By Skip H.

,

Reno, NV

,

Jun 10, 2020
Verified Reviewer

Overall Experience:

On time. Good work. Checked everything.

Made a roofing material status report.

Left every cleaned up.

Good attentive prod.

Pros and Cons:

Knowledge.
Professional work.
On time. I was having a virtual meeting at the time and they were very cautious not to cause any interruptions.
No "cons" were specified in this review

Bottom Line: Yes, I would recommend this to a friend

---

Recommend this professional

By Sandy N.

,

Chicago, IL

,

Jun 8, 2020
Verified Reviewer

Length of Use: Less than 3 months

Overall Experience:

Tom responded quickly then came out the next day, was on time, professional, very nice, did a great job on my garage at a reasonable price. Would highly recommend him to anyone needing siding or gutter repair.

Pros and Cons:

Quick response
Great value
Excellent work
No "cons" were specified in this review

Bottom Line: Yes, I would recommend this to a friend

---

Cabinets repaired

By Josephine R.

,

Barnegat, NJ

,

Jun 5, 2020
Verified Reviewer

Overall Experience:

I was a little worried at first about using the site, but am so far very happy with the workmen and how hard they work.

Baldwin Home Improvement will get 10 stars from me.

Pros and Cons:

How fast they get back to you
How understanding to the problem
Willing to help seniors
No "cons" were specified in this review

Bottom Line: Yes, I would recommend this to a friend

---

Home Inspection recommendation

By Margaret H.

,

Panama City Beach, Fl

,

Jun 3, 2020
Verified Reviewer

Length of Use: Less than 3 months

Overall Experience:

There were several names/companies that came up as recommended and upon reading reviews selected Tyson Scott based on the positive feedback. He was excellent and very flexible to meet on our schedule for a Saturday inspection.

Pros and Cons:

Good reviews posted to make decisions on who to use
Fast responses from various individuals
No hassels
No "cons" were specified in this review

Bottom Line: Yes, I would recommend this to a friend

---

Good work

By L O.

,

Las Vegas, NV

,

May 31, 2020
Verified Reviewer

Length of Use: Less than 3 months

Overall Experience:

On time. Completed all work in a timely manner. Cleaned up after work complete. Very friendly. Will use their services again.

Pros and Cons:

Good work
Cleaned up
Overall knowledge
No "cons" were specified in this review

Bottom Line: Yes, I would recommend this to a friend

---

GFI OUTLETS and installation of smoke detectors

By Cheryl U.

,

Rutland, VT

,

May 26, 2020
Verified Reviewer

Overall Experience:

Frank was prompt and his installation was fine. He is a little "different" and talks to anyone around, including himself. His work is good and priced well. If you can overlook his oddities, he's worth it.

Bottom Line: Yes, I would recommend this to a friend

---

Ojha Lansdscaping and Cooper Paving

By Tonya R.

,

New Jersey

,

May 20, 2020
Verified Reviewer

Overall Experience:

Ohja Landscaping service is a very professional business. The owner, Charly Ojha, explained in detail the service necessary to get the lawn looking presentable, wrote up a contract and quoted price. He is also very knowledgeable.

Mr. Cooper of Washington Paving Company sent a contract, a text the day before, and also did a very professional job of repaving the driveway.

I recommend both companies. If you value honesty and quality work, these are 2 companies that will deliver!

Bottom Line: Yes, I would recommend this to a friend

---