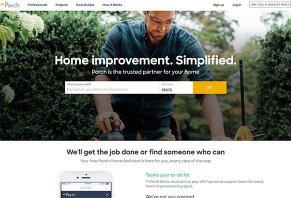 Porch.com is a home improvement network that aims to be the partner for the home, informing and inspiring homeowners and connecting them with professional contractors in their area.
About Porch.com
By providing design and remodel ideas and inspiration, residential construction costs, as well as a way for local contractors to connect with customers, Porch.com calls themselves the leading home improvement network. Porch's vision is "to realize the potential of every home" and their mission is "every project done, every customer satisfied."
When it comes down to it, is Porch.com really a one-stop shop for home improvement ideas, and is it a good method of reaching your customers? We performed some research and here's what we learned.
How Porch.com Works
Matt Ehrlichman states he came up with the idea for Porch after he began building his Seattle home, but couldn't find a website that provided inspiration, access to professionals, and customer reviews all in one place. As such, at its most basic, Porch.com is a home improvement network that uses public and private data to showcase featured projects and related professionals in your area, in addition to real reviews from other customers who've used these same contractors.
Professionals
With this in mind, Porch features more than 3 million professionals across 250 categories that you can search for based on a variety of criteria, including those used in your area, project and cost history, as well as your personal preferences (e.g. contractor expertise, licensing, credentials, etc.). In order to locate a professional using Porch.com, you'll simply need to enter the type of contractor you're looking for (e.g. carpenter, electrician, etc.) and your city, and then press the "Go" button.
Inspiration & Advice
When browsing Porch's website for inspiration, you can find a variety of helpful articles, photos, and videos. Articles can be filtered by topic, whether it is the type of project or more general homeowner information. Videos also provide guidance on typical homeowner questions or give DIY advice. These resources help homeowners make informed decisions about their home improvement projects.Data
Next, Porch.com provides insights on over 130 million projects across the U.S. through expert advice, cost calculators, maintenance reminders and the ability to view your home's past projects. On top of this, you can also view professionals in your area and look through their reviews, past projects and photos of their work.
Porch Pro
In addition to the consumer-focused features noted above, Porch.com also offers a Pro version, which is intended for use by businesses looking for customers. Using the Pro feature, businesses can create free profiles that become available when local customers search for contractors in their industry, who can then rank their experience and thereby build a word-of-mouth reputation.
Porch Pricing & Refund Policy
In order to sign up for a free Porch.com homeowner account, you can do so through either Facebook or email.
Pros can sign up with Porch either through a pay as you go model or a subscription. Porch offers credit back on your account if you receive a poor quality lead.
What's the Bottom Line About Porch?
Porch states that they have been matching homeowners and home improvement professionals since 2013. They appear to continually be improving their matchmaking platform and expanding the services they offer.
Based on customer reviews and feedback, it seems as if the most important factor to having a positive experience is the pro a homeowner ultimately hires. Porch says that they perform background checks on professionals, and gives consumers a platform to review their previous work. But this alone cannot ensure a positive result with every project. Porch claims to attempt to remedy any negative experiences and backs up their work with the Porch Guarantee. Despite these assurances, homeowners should understand that there will always be some risk involved.
Editor's Note: It is our understanding that this company has been asking its customers to leave feedback on HighYa. We assure you that each of these reviews has still been subjected to the same verification & vetting process that all submitted reviews go through.

Deck repair

By

Mark R.

,

Westerville, OH

,

May 25, 2018
Verified Reviewer

I have started using Porch and cannot believe the service, professionalism and affordability of this service.

I only wish I knew about this service earlier. Great job! I would highly recommend.

Bottom Line: Yes, I would recommend this to a friend

---

0 out 1 people found this review helpful

No shows, full of excuses

By

Sarah W.

,

Dallas, TX

,

May 24, 2018
Verified Reviewer

I scheduled a service through Porch, confirmed it several times, and then the handyman completely no-showed. When I called to see what the issue was, they had no idea why and had to track down the project coordinator for an answer. Eventually, they ended up telling me that though I had confirmed the appointment originally, since I didn't call Ian back when he called and didn't leave a message, that my appointment had been canceled. It doesn't show anything canceled in my account. They're just disorganized and won't take responsibility. Do NOT use this service!

Bottom Line: No, I would not recommend this to a friend

View all 1 comments

Hide comments

May 25, 2018

Sarah,

We're sorry to hear about your experience. We missed the mark on communication here and we apologize for any inconvenience. If you still need help with your project, we would greatly appreciate the opportunity to work with you again and make it right.

---

Advertisement

---

1 out 1 people found this review helpful

Don't waste your time

By

Felicia A.

,

Garner, NC

,

May 23, 2018
Verified Reviewer

The only reason this gets one star from me is because they were quick to schedule me for a paint job and connect me with a contractor.

I made arrangements with my job to be home for the painter on a Thursday and the day of, the painter cancels, due to one of the helpers having bad allergies. I call to see if another painter is available to come the same day or even that Saturday, but to no avail. The coordinator/manager calls back to say that he can get someone to come out on Mother's Day. Uummmm, no thanks, I'm spending that day with my mother. He says, "Oh yeah, it is Mother's Day." So, I told him it would have to be the following Saturday after 1 pm and he said ok and indicated that he was scheduling me for that day.

I had not heard anything all week, so I called the Friday before I was supposed to be scheduled. The coordinator states that he doesn't have a tech available and they are booked up right now. There was never an apology nor did he try to work out another day/time. He just left it at that they are all booked so I told him not to bother and he said ok, and the call was ended.

Bottom Line: No, I would not recommend this to a friend

View all 1 comments

Hide comments

May 25, 2018

Felicia,

We apologize for this experience. We aim to provide homeowners with an easy, straightforward process from booking through project completion. We missed the mark on communication here and we apologize for any inconvenience.

---

1 out 1 people found this review helpful

Perfection

By

Sharon M.

,

Birmingham, AL

,

May 22, 2018
Verified Reviewer

Thanks to Porch and Cory Tucker, the satellite dish is gone and I am no longer in danger of it falling off the roof. Cory knew exactly what I wanted him to do and he was precise and thorough in the removal and filling in the holes so that my roof would not leak.

Thank you, thank you, thank you.

Bottom Line: Yes, I would recommend this to a friend

---

Advertisement

---

Handyman services for 98-year-old mom. Superb!

The service was excellent. He put up two curtain rods and then offered to do more things because he had more time. So he fixed a door, toilet paper holder, etc. He was efficient, professional, and proficient. Booking the service and paying for it was totally smooth. I am going to recommend them to everyone in my Mother's retirement community here. You were a Godsend...a definite A+++. Thank you!

Bottom Line: Yes, I would recommend this to a friend

---

3 out 3 people found this review helpful

Do not get involved with them

After fooling with the worthless leads for a year, I am trying to disconnect from this bunch. They have kept the money posted on my account. They have blocked the contact number, going straight to voicemail. I am waiting on the class action lawsuit against them and their parent company Lowe's. Do not get involved with this criminal enterprise. I gave one star because they don't offer zero.

Bottom Line: No, I would not recommend this to a friend

View all 1 comments

Hide comments

May 25, 2018

Gerry,

We're sorry to hear about your experience. Sending pros quality leads, and crediting leads when they are invalid is something we care deeply about, and we'd be happy to discuss any issues you may have had with lead quality in the past. You can reach our support team here: https://porch.com/pro/support.

---

1 out 1 people found this review helpful

Useless service - cannot believe that Lowe's recommended

We had some doors installed four years ago by Lowe's. Last week a contractor took one of the doors off to repair some woodwork. He wasn't able to reinstall. So I called Lowe's to see if we could pay to have someone reinstall. They referred us to Porch.com.

This service has been useless to start. I called because my service category was not listed. The person on the phone was helpful enough. However, I was supposed to receive a follow-up call, and that doesn't happen. So I went online and tried to set up service. I even scheduled an appointment for today at 9:30 am. Someone texted me and said that they would call. Never happened. I tried calling the number on the text. No one answers, but they do text back. Even though I requested a time today and took time off to meet the contractor, no one is coming. The person that texts basically said that they would call to get "more info." Didn't I do that when I called the first time?

Useless service. Do not waste your time.

Bottom Line: No, I would not recommend this to a friend

View all 1 comments

Hide comments

May 25, 2018

Catina,

We are sorry to hear about this experience. We aim to provide homeowners with an easy, straightforward process from booking through project completion. We missed the mark on communication here and we apologize for any inconvenience.

---

1 out 2 people found this review helpful

Waste of time and money

This company wants to charge $560 per day for a handyman! Seriously, a skilled carpenter gets $200, why should these "handymen" charge $560? What planet are they on that they dwarf most other paid tradesmen? Avoid at all costs! These guys are astronomically expensive! Putting on a nice telephone polite voice does not forgive the charges, you should be wearing masks, after all, it's a ROBBERY charging these prices.

Bottom Line: No, I would not recommend this to a friend

---

2 out 3 people found this review helpful

Timely and efficient service

Tehachapi, CA

,

May 4, 2018
Verified Reviewer

Within a couple of days, I had calls/communications from service providers. I am very pleased with the professionalism and quality of work done. I will definitely use this service again and recommend it.

Bottom Line: Yes, I would recommend this to a friend

---

1 out 2 people found this review helpful

Porch painted

By

Tim Mays

,

Texas

,

May 4, 2018
Verified Reviewer

We were searching for someone reputable in our community and at the same time reasonable and ran across this site. It was just a matter of minutes, and we were acknowledged, and the company that contacted us was polite, courteous and did a fantastic job. I would recommend this site to anyone in need of a reputable company.

Bottom Line: Yes, I would recommend this to a friend

---

1 out 2 people found this review helpful

Awesome recommendation

Austin, TX

,

May 4, 2018
Verified Reviewer

I received a call less than 5 minutes of placing a request via Porch. Michael contacted me, I told him my issue, and he offered to come the next day to take a look at my blown and broken fence. He did a fantastic job of fixing it and also ensuring the entire fence was fixed in great condition.

I also managed to get some other stuff not planned as I just like the way he works and commitment to his work and his charges are pretty reasonable too.

Bottom Line: Yes, I would recommend this to a friend

---