Porch.com Reviews
Claimed This company has claimed this profile, is getting alerted on any new customer reviews entering this page, and may engage in dialogue with its customers to address their matters.

Companies cannot pay money or provide goods in order to remove or alter customer reviews.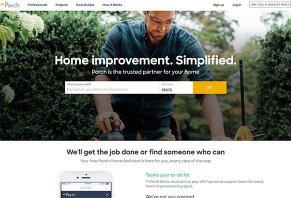 Porch.com is among the most popular websites for finding a contractor to work on your home. The site's strengths are the property and quality guarantees you get when you book a contractor through their site.
---
This company is actively collecting reviews from its customers. All reviews submitted are subject to moderation and approval to ensure they meet our

Review Guidelines

.

Boston Home Services

By Lois Rarden

,

Brooksville, Florida

,

Feb 11, 2017
Verified Reviewer

Overall Experience:

We used Porch.com to hire Joe and Julie, the owners and operators of Boston Home Services, who are very professional, knowledgeable, and trustworthy people. They came in and asked my husband and I questions until they gathered all the information they needed to understand exactly what we wanted. They took care of the entire project, materials, other contractors, etc.

The stairs turned out beautiful due to Joe's perfectionism and workmanship. Joe wasn't just concerned with the project, but because he is so people-oriented, he was also very tuned to any safety concerns and the inconvenience the family endured due to living in a construction zone. He was so considerate of everyone in the household. By the end of the job, they were invited to barbecues at our house. We got a beautiful staircase at a very reasonable price and two good friends.

Bottom Line: Yes, I would recommend this to a friend

---

Scam

By Jim

,

Lansdale, PA

,

Feb 7, 2017
Verified Reviewer

Overall Experience:

This program is terrible. They have no customer service, and they provide no good leads. If you are a contractor stay away because it is a total rip off.

Bottom Line: No, I would not recommend this to a friend

---

Advertisement

---

Overall Experience:

I have used the services of Mike from MHT Home Services (from Porch.com) twice now. Each time he arrived at the designated time, ready to work. He had all his tools with him, so there was no downtime. He completed the work in a timely and professional way. He also took the time to explain to me each thing he was doing and why. I was very happy with his work and will be using him again in the future.

Bottom Line: Yes, I would recommend this to a friend

---

Great review for Jose's siding work

Overall Experience:

I used Porch. com to get Orange County Electrical and Siding out of Stanton, California. Jose and his group of guys are great, and they did a beautiful job on my back house siding. They worked in the rain, were always on time, and did a beautiful job. I would recommend them to anyone. Every time I call they text back or call immediately. They're very neat, hard-working and efficient. I found them on the Porch.com site and am so happy with them.

Bottom Line: Yes, I would recommend this to a friend

---

Advertisement

---

Rip off leads

By Joseph Moise

,

Pennsylvania

,

Jan 31, 2017
Verified Reviewer

Overall Experience:

I purchased a lead for $35.00 to build a deck. I then received the homeowner's information, and when I contacted the homeowner about giving an estimate, the homeowner said she already contracted with someone.

I tried to reach Porch.com to request a refund, but there is no phone number for contractors to speak with someone. I then went to the review section of the lead to enter the reason I requested a refund and entered that the homeowner already contracted with someone. I was never reimbursed the $ 35.00.

To make a long story short, stay away from Porch.com, they are a fake lead service and only want to take your money for fake leads!

Bottom Line: No, I would not recommend this to a friend

---

Research/untruthful posts & reviews, and lack of professionalism and customer service

Chattanooga, TN

,

Jan 21, 2017
Verified Reviewer

Overall Experience:

Porch.com is far from "professional." They allow non-customers of local businesses to make false and inaccurate reviews of businesses and business owners that the individual has never met, conversed, emailed, nor worked with.

I would never use this horrendous website for reviews on businesses, nor would I ever recommend this site.

I would use reputable websites such as the state website, Secretary of State website, and local civil courts (all records in civil court are available to the public free of charge).

Bottom Line: No, I would not recommend this to a friend

---

Thanks for the warning

By David

,

Lawrenceville, GA

,

Jan 21, 2017
Verified Reviewer

Overall Experience:

I was wanting to increase my leads to keep the pipeline full and thought I would try Porch.com out. I checked out other contractor reviews, and am glad I did. I canceled the card that they could charge and called and canceled with them as well. I was only one day into it and out $100, but we will see if I get that back.

Porch.com told me they started doing things differently, starting about six months ago, because it was not working for contractors. But I read reviews as recent as this past November, and to be fair, if any contractor is happy with them, write a review and let people know it could be a good thing.

Thanks for the warning for those who did a review.

Bottom Line: No, I would not recommend this to a friend

---

Thinking bid requests are fake

By Robert

,

St. Louis, MO

,

Jan 19, 2017
Verified Reviewer

Overall Experience:

I signed up with Porch.com over two years ago, yet I have never received a customer call back. Ever. Every customer I call has a "voicemail that has not been set up yet, goodbye" or never answers. I have never talked to a customer directly. Ever. Never received a message back from a customer on site.

Every other source of work I receive is a steady flow of business, and I sign about 75% of all bids. This is the one and only source where it really just seems the people don't even exist. I filed for a refund for the last two dead bids I paid for and am waiting to see if they even do that. I see no need to spend any more money with Porch.com, it never pays off.

Bottom Line: No, I would not recommend this to a friend

---

Base board

By Blake

,

Ohio

,

Jan 11, 2017
Verified Reviewer

Overall Experience:

Porch.com put me in touch with two quality homes out of Waynesville, Ohio. He did a fantastic job, and we are now hiring him to redo both bathrooms.

Bottom Line: Yes, I would recommend this to a friend

---

Bad experience with Porch.com

Lexington, KY

,

Jan 10, 2017
Verified Reviewer

Overall Experience:

I have been a handyman contractor for over 40 years, and my experience with Porch.com was bad.

They furnish bad leads and their refund policy is a joke, if you even get a refund it takes forever. They take your money out of your bank account but won't put it back in your bank account after a refund, but will instead give you a credit on their website.

It's the quality of the leads that is the problem, and their website interface is primitive and confusing. It's just not worth the hassle of dealing with these people.

Bottom Line: No, I would not recommend this to a friend

---

Overall Experience:

All the hype, and time wasted filling out project forms and I got 2, and only 2, responses for 4 projects. Total waste of my time and won't recommend or use them again. Would give a zero star if I could.

Bottom Line: No, I would not recommend this to a friend

---