Poshmark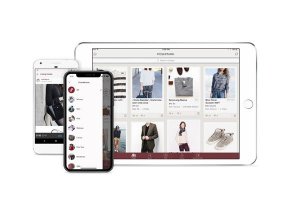 Poshmark is a leading online platform for buying and selling new and gently-used clothing and apparel.
Poshmark Review: Important Things to Consider
Poshmark is an online platform for buying and selling used clothes.
The company boasts more than two million "Seller Stylists" and millions of shoppers, and they claim to bring together a community of clothing enthusiasts. The site works like a clothing social media platform, meaning that shoppers can follow sellers with styles they love to buy hard-to-find designer goods and gently used apparel.
The business brands itself as a way to fill out your wardrobe and make money, but does it live up to the hype? We looked at the facts to help you decide whether a Poshmark account belongs in your future.
How Does Poshmark Work?
Poshmark's fashion social marketplace that lets you buy or sell clothing, handbags, shoes, jewelry, makeup, and accessories for men, women, and children from thousands of brands.
While Poshmark sells all types of used clothing, the company puts the emphasis on high-end brand names. Some brands that were trending at the time of writing included Soma, Chaco, Smashbox, Rebecca Taylor, Billabong and more.
The Poshmark platform lets sellers create an account and set their prices for each item they sell, and the brand takes a percentage from every sale. This mobile-friendly business boasts an app that makes it possible to post your clothes for sale in just minutes.
Interested buyers can browse by apparel category or follow their preferred seller, and they are encouraged to comment on clothing items they are interested in to learn more about them.
When a piece gets purchased, the seller can print off Poshmark's pre-paid shipping label and send it out. They will get paid once the product arrives at its intended destination (typically within two days of shipping).
What Is a Posh Party?
Poshmark's business model is based on fostering positive social interactions between buyers and sellers on their platform that they facilitate through Posh Parties.
These are real-time, virtual shopping events that allow Posh shoppers to meet up through the app to shop and sell clothing and accessories.
At the time of writing, Poshmark hosted four parties per day, each with a different theme:
9 a.m. PST: Community-favorite brands are highlighted, including Fendi, Gucci, Tory Burch, and Louis Vuitton.

12 p.m. PST: Parties are focused around fashion categories, such as handbags, boots, and jewelry.

4 p.m. PST: Each party focuses on a Poshmark fashion department, including Men, Kids, and Maternity.

7 p.m. PST: These parties are themed around styles and trends like "Total Trendsetter," "Street Style," and "Daytime to Date Night."
Poshmark Costs
While sellers get to choose their prices for the products they sell, Poshmark states that most items on the site scheduled up to 70% off retail price. What does that mean in reality? Let's look at the platforms pricing structure.
Poshmark states that they provide a straightforward fee structure for sellers on their platform. The brand takes a flat fee of $2.95 for all sales under $15 and 20% for all orders over $15. The company processes each order once it arrives and is approved by the receiver, and it's possible to spend your earnings as in-app credit or withdrawal it at any time.
Regarding shipping, Poshmark provides a pre-paid, pre-addressed label to the seller for every processed order. All the seller needs to do is package the apparel or accessory and drop it off at a USPS mailbox.
All buyers pay for the shipping costs, which are $6.49 per item.
What Is Posh Authenticate?
The Poshmark website offers a premium service called Posh Authenticate that provides an extra level of verification for all luxury purchases. They price this service at $39 per item, but the brand includes it free for all items sold for $500 or more. It also includes free shipping.
This means that each eligible product is shipped directly to Poshmark, where a team of luxury experts verifies and authenticates the item before shipping it out to the purchaser.
The process typically takes 24-48 hours once the company receives the product. If the item's authenticity isn't verified, Poshmark will immediately refund your purchase price.
Poshmark Return Policy
According to the company FAQ, all sales are final on Poshmark. That being said, the company states that they take an active role in each purchase to ensure that both buyers and sellers are satisfied. This means that buyers have the option to open a case if they don't receive an item or believe it is a different quality level than what was advertised in the listing.
This return policy covers problems like undisclosed damage, missing items, items not as described, and inauthentic branding. It doesn't include purchases that don't fit or buyers who change their minds about a purchase.
Buyers have three days after receiving an item to report to Poshmark whether they want to open a case for it. They will need to upload pictures of the product and describe in detail why it didn't match their expectations. In the instances when returns are verified, Poshmark assists buyers in returning the item so that they can receive a full refund.
The Posh return policy doesn't cover trades or transactions completed off the company platform, meaning that buyers take on all risk in these transactions.
You can direct further questions about the company's return policy to their support page.
Analysis of Poshmarl Customer Reviews and Complaints
Poshmark is primarily a social e-commerce platform, so what do customers think of the service? According to the reviews we read, the results are mixed.
Trustpilot users awarded the site just one star out of five after over 400 reviews. We looked through dozens of comments from unhappy customers. Many reported that the site favored buyers over sellers because it was too easy for buyers to complain about the quality of an article and receive a refund.
For example, a reviewer reported that when they tried to sell a Michael Kors wallet on Poshmark, buyer complaints caused the site to demand a purchase receipt and wouldn't accept an emailed proof of purchase from the physical store they bought it from.
In other instances, customers complained that the items they received were clear fakes or in far worse condition than what was advertised. A few mentioned that refunds took weeks to be processed and that the website offered few options for leaving negative reviews on sellers or buyers.
Influenster told a different story about Poshmark -- the brand averaged four stars out of five on this platform.
We read numerous reviews from people who stated that the app let them secure great deals on clothing, though they thought that shipping costs seemed high per item. A few others also thought that the app took too much money from sellers to make the platform worthwhile.
Overall, we noticed that both buyers and sellers seemed to agree that Poshmark worked best for high-end items because they offered the best deals and biggest take-home pay for sellers. An important drawback, though, is that any discounts used by buyers get passed down to sellers, meaning that they can make up to 20% less per item sold.
Even so, we noticed positive comments from both buyers and sellers that appreciated the app's intuitive search interface.
Are There Similar Services to Poshmark?
The options for selling used clothing online have exploded in recent years. The chart below will show you how a few other options stack up against Poshmark.
| | Poshmark | thredUP | Swap.com |
| --- | --- | --- | --- |
| Buying Setup | Users set up a profile and sell clothing to each other, platform takes a cut from every sale | Users can send clothing to thredUP for the company to purchase directly or sell on consignment, shoppers browse the platform and buy directly from thredUP. | Users ship gently used clothes and accessories to Swap, which the company can accept to sell. If a piece is bought the donator earns a percentage. |
| Company Cut | $2.95 for sales under $15, 20% for purchases over $15. | Between 5%-90% of their listed selling price for clothing they accept to sell. | Between 20%–70% of the price of each item sold, depending on the listing price. |
| Option to Sell? | Yes, users sell their clothing directly | Yes, users send clothing to thredUp and get a percentage of the price for all accepted pieces. | Yes, users send clothing to Swap and get a percentage of the price for all accepted pieces. |
| Shipping Costs | $6.49 per item | $5.99 flat rate for orders under $79 | $5.99 no-rush shipping, all orders over $60 ship fee. |
| Returns Allowed? | Only if a seller misrepresents the product (wrong size, brand, etc.) | Returns accepted, minus $1.99 restocking fee | All returns for items you don't like qualify for store credit. |
Interpreting these results, Poshmark is the only platform we looked at where you have the option to sell your clothing directly to other people. This can be an advantage because you don't need to ship your apparel to the company ahead of time and have more control over your pricing.
However, this adds some liability for shoppers because a middleman hasn't inspected the clothing you buy. This makes it slightly riskier to purchase products on the site because you have less guarantee of its overall quality (though Poshmark stands behind all purchases).
One drawback of selling your clothes through thredUP or Swap is that you lose a lot of control over what happens once you send them in. Neither site is likely to accept everything you submit, and Swap even charges a $5–$10 fee if they don't accept at least 60% of the clothing you donate. However, these sites take control over the marketing, selling, and shipping process, so you don't have to deal with the details.
Another option you might want to consider for buying and selling used clothes is Facebook Marketplace. This extension of the popular social media website lets you list and sell any item you want without cost. The biggest drawback to this platform is that searches are based on location, so it's difficult to sell to people beyond driving distance.
The Bottom Line: Should You Try Poshmark?
Taking this research into account, what's our overall view about Poshmark? We think this app offers an adequate social platform for buying and selling clothes. The company boasts an intuitive interface and millions of products for sale from thousands of brands.
You'll pay for this convenience with Poshmark's fee structure, as the app takes about 20% from sellers and charges $6.49 from buyers for shipping for each item. For many reviewers, this made the company make less sense than buying the same products at retail pricing.
We also noticed some complaints from Poshmark customers about the quality of the items they received compared to how they were advertised. Since the platform doesn't sell products directly, quality control seems to be a concern.
Overall, we think there's a good chance that you can score from great deals on Poshmark, provided you buy from a reputable seller, carefully read listing details and ask questions about the product quality. As the company doesn't offer refunds for pieces that don't fit you or your style preferences, it pays to be careful before purchasing.
In the same way, we believe sellers will do best by selling high-quality items, displaying detailed information about them along with pictures that highlight the condition, and factor in the Poshmark fees with your pricing. It's also a smart idea to include the original retail listing for extra detail.
So long as you do your research keep your expectations realistic, there's a good chance that using Poshmark can help you bring your closet to the next level, either by selling what doesn't match your style or by sourcing new pieces that you love.