Posit Science Reviews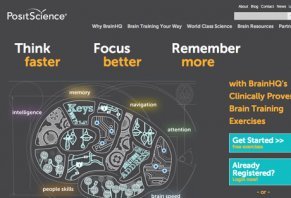 About Posit Science
Looking to improve your mind? If so, BrainHQ by Posit Science claims to help you accomplish this using a series of clinically-tested brain training exercises that are claimed to help you think faster, focus better, and remember more.
In addition, the company claims that these exercises not only help improve your skills, but may also actually improve your brain's overall health.
When it comes down to it though, is there any logic behind these claims? Let's take a closer look.
Quick Facts About Posit Science
Similar to Lumosity, which claims to have been built by a team of top neuroscientists, Posit Science claims to take advantage of your brain's neuroplasticity—that is, its ability to adapt and to learn new things—to help you experience real-world benefits. As such, the company uses a series of brain-building exercises to provide a wide range of benefits, including faster thinking, better memory, sharper listening skills, improved vision, quicker reaction time, boosted self-confidence, elevated mood, and more.
In other words, unlike similar companies, Posit Science doesn't just focus on memory, but instead claims to take a "root-up" approach to improving brain function, which entails focusing on six primary areas:
Brightness (e.g. mental clarity)
Improved processing speed
Increased accuracy
Boosted recognition and understanding
Increased clarity
Improved recording (e.g. better ability to learn)
With this in mind, Posit Science claims to feature six categories of BrainHQ exercises:
Attention
Memory
Brain Speed
Intelligence
People Skills
Navigation
In addition, Posit Science also features Brain-a-Thon challenges that are claimed to help you meet specific brain goals, while also giving you the ability to interact with other users. In fact, you can even keep track of your progress by comparing your results with others, and by monitoring your test scores and overall performance.
Posit Science Pricing & Refund Policy
While Posit Science provides the ability to try some of their brain exercises for free, you'll need to sign up for a subscription plan in order to access the full site. As such, you'll have two options:
Monthly subscription: $14 per month
Yearly subscription: $96 (works out to $8 per month)
Whichever option you choose, keep in mind that your subscription will automatically renew until you request a cancellation.
If you cancel your membership mid-term, it will automatically expire at the following renewal (monthly or yearly). However, no refunds are available.
What Do Other Consumers Have to Say About Posit Science?
Posit Science was founded in 2002 and is based out of San Francisco, CA. Despite this, the company is not rated with the Better Business Bureau, although they do have three closed complaints within the past three years.
Online reviews from individual Posit Science users are relatively few and far between, although the ones that are available appear to be positive. With this said, the most common complaints appear to reference a failure to experience any results, and high price. However, professional reviews have not been so favorable, as we'll explore next.
What's the Bottom Line About Posit Science?
While online customer reviews regarding Posit Science seem to be fairly positive, professional reviews seem to be less so. For example:
According to this Scientific American article, "The market for brain-training software continues to grow, but evidence of the programs' ability to boost memory or intelligence in a broadly applicable way (rather than simply making people better at the task they are practicing) remains scarce. New studies offer a tantalizing suggestion that certain programs may work—but the bulk of the research is murky." With this in mind, although Posit Science was among the top programs researchers reviewed during the course of the eight-week study referenced in this article, participants saw only a 4 percent increase in overall memory.
Furthermore, according to this study featured in Nature, "Although improvements were observed in every one of the cognitive tasks that were trained, no evidence was found for transfer effects to untrained tasks, even when those tasks were cognitively closely related." In layman's terms, this means that the more you complete a brain-training task, the better you'll become at the task itself. However, it doesn't necessarily mean that you'll improve your overall mental abilities outside of the task.
So what does this all mean? While you may improve task-specific performance using exercises from companies like Posit Science, there is very little concrete evidence showing that this performance increase will extend to other areas of brain function and/or performance. As such, you may want to sign up for a monthly Posit Science membership to begin with, which will give you plenty of time to figure out whether or not the program's working for you.
3 out 3 people found this review helpful

Good luck in contacting Posit Science

By Constance C.

,

Richmond, VA

,

Dec 27, 2018
Verified Reviewer

The product was fine. I have no complaints there. I gave them a poor rating due to the difficulty in contacting them to cancel my annual renewal. I was canceling due to lack of usage on my part.

Bottom Line: No, I would not recommend this to a friend

---

6 out 8 people found this review helpful

Posit Science brain training program

By Andre Cliche

,

Sutton, Quebec, Canada

,

Dec 30, 2017
Verified Reviewer

I bought the Brain Fitness program 8 years ago for $400. They sent me the disk and docs with the activation number. I went into the whole training and then put it aside.

Now, I want to retrain with the same program, but it does not work because it needs to connect to Posit Science for the program to load. (Posit Science does not answer to the connection request).

I contacted support and I was told that they don't support the Brain Fitness Program anymore and that I have to buy into their new offerings. Hey, I paid $400 for this thing so it should be MINE! Who are they to rob me of something that I paid for?

I'm not going to buy into their new programs because I lost confidence in their business practices. My opinion is that if they are dishonest in their business practices, they are probably also dishonest in their claims about the scientific validity of their brain training products.

Bottom Line: No, I would not recommend this to a friend

---

Advertisement

---

10 out 11 people found this review helpful

Renewal scam!

I've belonged to Posit Science in the past and I find the games to be tedious. Maybe it works, however, since I'm apparently on an automatic renewal program which I did not approve.

The last time they renewed my subscription (without my permission) I emailed them and was unsubscribed right away and, of course, thought I was done with it. But maybe they're hoping that by this time I have Alzheimer's and won't notice they've renewed my subscription a second time, again without my permission. I seem to be on the quarterly dishonest renewal plan because I canceled the subscription in September and this is December.

They sent the renewal email over the weekend (great timing considering I can't contact them because it's a weekend.) I have to wait until Monday to contact them and tell them that they need to delete my credit card number. If a company has your credit card number there is a lot of opportunity for dishonest profit.

Bottom Line: No, I would not recommend this to a friend

---