Postmates Reviews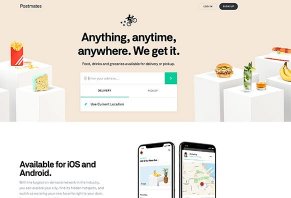 In business since 2012, Postmates is an on-demand delivery service that allows you to order online or via their app, and have food, groceries, and alcohol conveniently delivered right to your door.
About Postmates
With more than 25,000 partner merchants, Postmates advertises themselves as the largest, most reliable on-demand delivery and pickup network in the industry, who can get you "anything from anywhere," including food, groceries, and alcohol, in under an hour.
Whether using their website or free iOS or Android app, customers enter their address, find something they like from a local store or restaurant, add the items to their cart, input their payment and contact information, and click the Get It Now button.
From there, Postmates will forward your payment to the store, and their Urban Logistics platform will connect your order with a local courier who will deliver it directly to your door. While in transit, you can even watch your delivery in real-time as it makes its way to you.
Together, the company claims they're "transforming the way goods move around cities." But, considering all of the company's competition, does all of this necessarily mean that Postmates is the best service for you?
That's the central question we'll focus on in this brief article.
How Does the Postmates Website & App Work?
Available in most U.S. metro markets, Postmates can deliver just about anything, except for controlled substances, live animals, and gift cards. If you're ordering something from Craigslist, couriers cannot pay sellers in cash, although they can deliver items if you've already made alternative payment arrangements.
After signing up for an account, either via email or your Facebook credentials, you'll simply choose a store or restaurant from the website or app's home screen. If you're looking for something specific, you can also search by keyword.
If you click on a restaurant listing, you'll be taken to the main page where you can view approximate delivery times, popular menu items, as well as any other options available. Each menu item will list a brief description and price, and clicking the '+' icon will add it to your cart.
Placing an order through a big box store involves a similar process. However, you'll have to manually enter the details of any item(s) you're looking for, and the price will be listed as 'to be determined' until acquired and processed.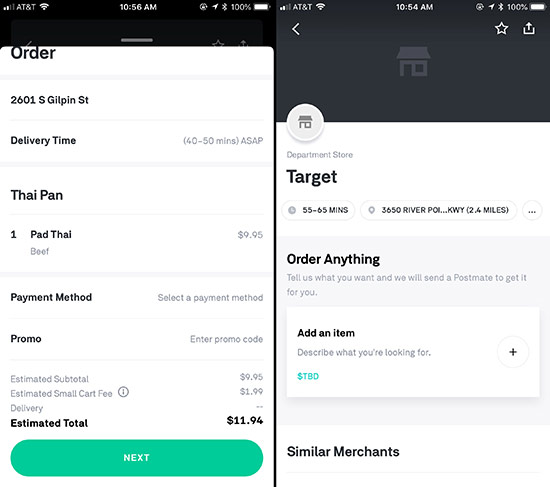 Compared to ordering directly from a restaurant (left), the Postmates system allows you to request items from other retailers, with a TBD price (right) until everything is processed. Credit: Postmates Inc.
Once you're ready to proceed, you'll complete the order by entering your name and address and adding payment details.
Postmates also offers pickup services in all markets where they operate, where you can order ahead and skip the lines, without any associated fees. They'll simply let you know when you order is ready and where to pick it up inside the store or restaurant.
On the other hand, choosing the standard delivery option will display an Estimated Delivery Time, which the company explains is "a calculation of when the platform anticipates your delivery to arrive at your drop-off address." Note: You cannot change a delivery order to pick up (or vice versa) without canceling your existing order and placing a new one. If your order has already been accepted, you may be subject to a cancellation charge.
Postmates emphasizes, however, that this time is based on a number of factors and variables, such as "food preparation time, Postmate location, your distance from the pickup location, traffic," and so forth. You can also schedule delivery in advance by choosing from 30-minute time slots up to seven days in advance.
Once your order has been picked up, and your Postmate is on their way to your location, you'll be able to track their location on a map via the website or app. If necessary, you can tap the Help button on the tracking screen to contact them and let them know any special instructions (such as an access code).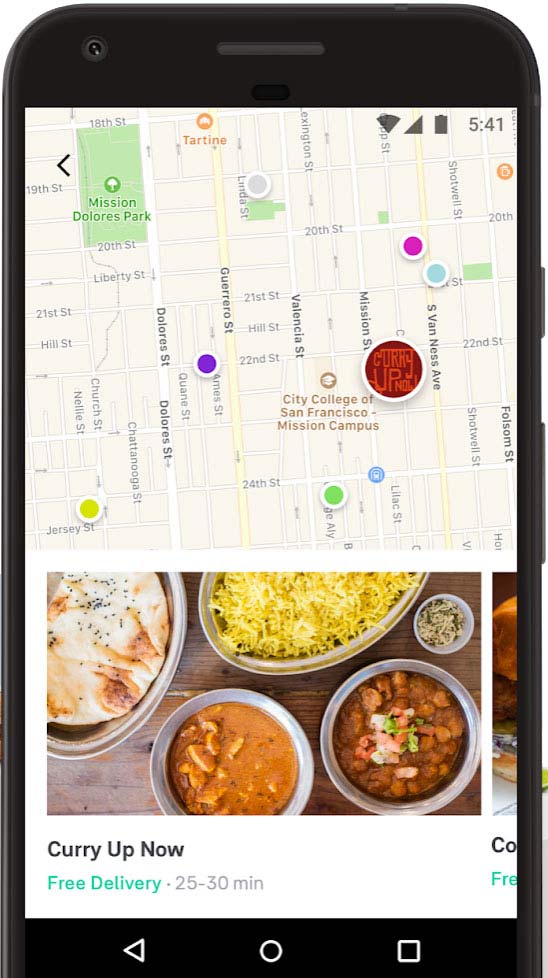 Postmates' mapping feature allows you to track your delivery in real-time. Alternately, this is where you'll find pickup directions and locations for in-store pickup. Credit: Postmates Inc.
Once they arrive, the Postmate will follow any instructions provided by you and will send you a text message or give you a call if they encounter any difficulties. If alcohol is part of your order, you'll need to have a valid photo ID that indicates you're at least 21 years of age.
If they're unable to reach you after five minutes, or if they can't verify your age for alcohol-related purchases, they'll move on to their next delivery, and you may be charged a cancelation fee.
In select markets (San Francisco, Los Angeles, and New York), the Postmates Fresh service allows customers to "order high-quality, locally-sourced groceries to be delivered within 30 minutes on average."
How Much Do Postmates' Fees Cost?
In addition to a variable percentage-based service fee applied to the purchase price of your items, Postmates also charges a $3.99 delivery fee for their Partner Merchants, while the fee for all other merchants ranges between $5.99 and $9.99. Both of these will be clearly displayed on the checkout screen.
If your order is less than $12 ($10 in Los Angeles), Postmates will also charge a small cart fee of $1.99. Additionally, Surge (or Blitz) pricing may kick in during peak times, which will also be clearly displayed prior to payment.
If you feel that your delivery warrants, you can tip your Postmate using the digital tipping feature on the website or in the app.
For $7.99 per month, billed annually (or $9.99 per month upon renewal), customers can sign up for the company's Unlimited program, which offers free delivery on all orders over $20 (or over $15 in LA). You also won't have to worry about minimum basket fees or Blitz pricing.
If you need to cancel an order after a restaurant has started preparing your food or your Postmate has already begun shopping (or can't find you and abandons the delivery), you will incur a cancelation fee and will be charged the full amount of your order (including delivery fee). No refunds are available in these instances.
Once you've signed up for an Unlimited membership, no refunds are available, although you'll have full access to your account until the annual renewal date.
What Are Postmates Customers Saying in Their Reviews?
Between sites like TrustPilot and SiteJabber, nearly 300 Postmates customers had given the service an average rating of about one star at the time of our research. Complaints commonly cited outdated menus on their site, incorrect orders, long wait times, less-than-stellar customer support, and high fees.
On the other hand, among more than 54,000 combined customer reviews across iTunes and Google Play, the Postmates app held a meaningful higher average rating of about four stars. While the relatively few complaints typically mirrored those above, compliments often referenced ease of use, professional couriers, friendly support staff, and reasonable fees compared to the competition.
Postmates vs. Competing On-Demand Delivery Services
In The Pros & Cons of Grocery Delivery Services, we explain that these services offer several key potential benefits, including saving time, allowing you to shop whenever's convenient, avoiding impulse purchases, and even cutting emissions by 80-90% when compared to individual trips to the store.
However, these services aren't perfect. You'll often pay a premium on the items themselves (not to mention encounter a generally limited selection), along with delivery fees, surge pricing fees, and small cart fees (when applicable). If they do a good job, you might also want to tip your delivery person.
With these details in mind, there are several other highly popular on-demand delivery companies offering many of the same services as Postmates, including:
| | | | |
| --- | --- | --- | --- |
| Company | Fees | Availability | Services |
| Postmates | Delivery: $3.99 for Partner Merchants; 5.99 - $9.99 for others Small cart: $1.99 Unlimited subscription: $9.99/mo (billed annually) | Most major metro regions in the US | Food, groceries, alcohol, even Craigslist purchases if alternative payment is made |
| DoorDash | Delivery & Service: Varies by region and restaurant | Many major metro regions in the US and Canada | Restaurants only |
| Uber Eats | Surcharge on menu items; delivery fees will vary | Many major cities across North America, South America, Australia & New Zealand, Asia, and Africa | Restaurants only |
| GrubHub | Delivery: Varies (set by the restaurant) | More than 1,600 US cities, as well as London | Restaurants only |
| Instacart | Delivery: $5.99 - $11.99 Express membership: $149/yr | Most cities across the country | Groceries only from 150+ retailers |
In our comparison article, we point out that choosing the best option is primarily going to revolve around the one that offers a combination of availability in your area, the service you need (e.g., food delivery, in-store shopping, alcohol, etc.), and the price you're comfortable paying.
For example, if you're looking for food, GrubHub ensures that all of their partner restaurants charge the same prices shown on their menus. On the other hand, every other service in the table above charges some type of pricing premium, although most seem to provide broader availability than GrubHub.
Postmates is the only option in the table that offers a combination of food, grocery, alcohol, and even Craigslist deliveries. But, depending on your order total, the time you place your order, and the retailer or restaurant you order from, you could be subjected to a bevy of fees and upcharges.
Where does all of this leave you?
Is Postmates Your Best On-Demand Delivery Service?
Postmates has been in business since 2012, and they held an A rating with the Better Business Bureau, based on more than 1,520 closed complaints, as of 3/5/20. They also seemed to come with a mostly positive online customer reputation across tens of thousands of reviews on sites like iTunes and Google Play.
Additionally, they offer one of the broadest services ranges among much of the competition, are one of the few options where you can have alcohol delivered directly to your door, and also give you the ability to save on delivery fees by picking up pre-paid orders yourself.
With so many variables at play, though, finding out if they're your top pick could mainly come down to placing an order and experiencing a delivery firsthand. Just keep in mind that regardless of the service you ultimately decide to go with, you'll always pay a premium for the convenience, which could quickly add up depending on the frequency.
>> Read next: How to Eat Healthy on a Budget: Simple, Money-Saving Tips
Do not ever ever use this company

By Hidi B.

,

Oklahoma City, OK

,

Oct 19, 2019
Verified Reviewer

Do not ever ever use this service ever. We ordered from a restaurant in Mustang. We ordered $48.00 which $20.00 of it was a steak. My steak did not arrive, nor did the gravy for my mashed potatoes or two rolls. Somewhere the driver is eating my steak, gravy, and rolls. And when I call Postmates they conveniently did not have my order information. Do not ever ever ever use this service. Postmates took no responsibility. Do not use them. I hope that the driver enjoyed my steak.

Bottom Line: No, I would not recommend this to a friend

---

LIES

By Diane F.

,

Los Angeles, CA

,

Oct 3, 2019
Verified Reviewer

I'm 62 years old, disabled, living on a limited income, and have spent the past few months eating bland food in a nursing facility recovering from emergency surgery. I had been dreaming of treating myself with a meal from a favorite restaurant on my birthday, so contacted Postmates to make the order to be delivered to me at the nursing home several hours later. Meal (sort of) arrived, missing things. Postmates driver promised to return with the rest of the order, but never came back. In waiting for the food I had got cold and inedible, and although I tried, I couldn't choke any of it down. It ended up in the trash. I had no way to heat it so I was out of luck...

I notified Postmates of my severe disappointment, and asked for a full refund because their driver LIED. What I got was $15 off a $25 order, so I paid $10 for their driver's LIE and for food I could not eat.

They charged me $10 without my permission, and refuse to explain their reasons why. They apparently seem to feel I should be grateful for their $15 discount on my order, and expect to be delighted to be given another chance to STEAL MY MONEY!

Their driver LIED and ruined my birthday "party" - I have no one, so I tried to give myself a treat. What a joke.

Postmates deserves no respect.

Bottom Line: No, I would not recommend this to a friend

---

Advertisement

---

Horrible

By Dascia W.

,

Oklahoma

,

Aug 20, 2019
Verified Reviewer

Never ever again will I use them for ANYTHING. I ordered a small order, a burrito, and chips with the last of my paycheck. They canceled my order 3 times. The last attempt it accepted, and the charge for the order went through. I waited for 30 minutes, and it never arrived. So I check my app, it has once again been canceled. I call "customer support," and he's like sorry, nothing I can do, you'll get your money back in 3 days. In the background it sounds like a party. People laughing extremely loud, and he's not even listening to me. He gave me the most insincere apology. I asked for a manager and he said his manager wouldn't deal with such a small problem. If my problem is so small THEN WHY CAN'T YOU DO YOUR JOB AND FIX IT. He said I can wait 3 days and get my money and TRY AGAIN. I said IF I HAD THE TIME AND MONEY TO WAIT 3 DAYS DO YOU THINK I WOULD BE USING THIS DELIVERY APP? I am so angry and he made me feel so insignificant. I will never support this app and I will bash it at every available opportunity.

Bottom Line: No, I would not recommend this to a friend

---

Postmates suck! Don't use them.

By Star R.

,

Charlotte, NC

,

Jul 19, 2019
Verified Reviewer

God forbid you have an issue with an order, they bounce you around and tell you to call the merchant! For such high fees, this is the worst customer service. Don't ever use them. I rather walk to get my own food next time.

Bottom Line: No, I would not recommend this to a friend

---

Advertisement

---

Don't let them blame it on the restaurant, it's them.

By Mike L.

,

Ft lauderdale

,

Mar 28, 2019
Verified Reviewer

Waste of money. Don't expect to get what you ordered, don't expect anyone to take care of any issues. I called the restaurant and they said they don't even get a copy of the order, just a phone call - other companies don't do that, only Postmates.

Bottom Line: No, I would not recommend this to a friend

---