Posture Doctor Reviews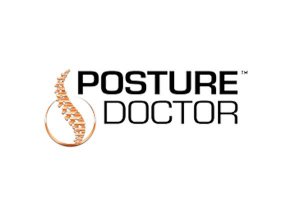 The Posture Doctor brace from OnTel Products promises to pull your shoulders back, align your neck and spine, improve your posture, and relieve back pain.
What Is Posture Doctor?
Posture Doctor is a lightweight, breathable, and flexible posture corrector the company advertises will instantly straighten your back and neck, reduce strain, align your shoulders, ensure stability, and decompress your spine.
Simply slip its "invisible" design over or under your clothes and adjust the straps to your body type, whether you're at home, in the car, or at the office or job site, while its copper stitching actively reduces odors. Unlike a traditional back brace, it won't restrict your movement, either.
When worn daily, the website indicates Posture Doctor builds muscle memory that can help you sit and stand up straight, look and feel more confident, and experience instant relief from neck and back pain.
The company tells us that Posture Doctor is an innovative new way to help men and women stand up straight and feel great. But, does that mean it will deliver relief for you? And are there other posture correctors you should consider?
Let's kick things off by zooming in and taking a closer look at its functionality.
How Does Posture Doctor Work to Build Muscle Memory?
WebMD reports that if you suffer from back pain, "how you sit, stand, move, and sleep can make a difference." In other words, "good posture is kind to your back," they emphasize.
Therefore, it seems reasonable that Posture Doctor's figure-eight design could help improve your posture by pulling back your shoulders and correcting the position of your back, straightening your neck, and decompressing your spine. And, this could potentially deliver reduced discomfort, as advertised.
But, is this how you can expect it to work in the real world?
Chris Mabry from Ability Chiropractic says he discourages his patients from using postural figure eight-type braces that pull back their shoulders.
Chris uses a leg cast as a common example: If you leave it on for too long, your calf muscle could atrophy from disuse and weaken as a result.
Similarly, if your rhomboid muscles—ones that extend from your neck down to your shoulder blades—will weaken after overusing a figure-eight brace, thereby losing their ability to hold your shoulders straight and worsen your posture as a result.
Bottom line? Charlotte Campbell, a physical therapist with more than 20 years of experience treating back and neck pain, advises that these braces could be useful to help gently remind you of what correct posture feels like. But, only when limited to an hour or so, and no more frequently than several days per week.
Like Mabry, though, she emphasizes it's important to build endurance in your postural muscles if you want to achieve better posture, without permanently relying on a brace.
How Much Does Posture Doctor Cost?
One Posture Doctor posture corrector costs $19.99 and comes with free shipping. A second unit will come with your order for an additional $9.99 fee, bringing your total to $29.98 plus any applicable sales tax.
The Posture Doctor is also available on Amazon for $19.88
All Posture Doctor orders come with a 60-day "healthy posture" money back guarantee, less return shipping and the fee for the second brace. You can call OnTel Products Corp customer support at 888-406-2721 to initiate the process.
How to Choose Between Posture Doctor & Other Posture-Correcting Devices
There are a lot of adjustable posture braces made from lightweight, breathable materials competing for the same customers as Posture Doctor.
And like the product in question, most also promise to align your shoulders and neck, reduce pain and discomfort, and straighten posture and increase confidence, along with discreet designs that you can wear over or under your clothes.
To outline this, here are just a handful of some of the most popular competing braces on Amazon at the time of our research:
| | | | |
| --- | --- | --- | --- |
| Brand | Price | Average Amazon Rating | Notable Features |
| Posture Doctor | $19.99 | 3.5 stars | One-size-fits-all design, get second brace for $9.99, 60-day refund policy |
| Inspiratek Posture Corrector | $21.95 | 4.3 stars, 562 reviews | Metal connections, suitable for 20" to 49" chests, armpit pads, includes exercise guide, 30-day refund policy |
| Ariella Posture Corrector | $18.97 | 4.7 stars, 425 reviews | PU leather in back, detachable armpit pads, one size fits all |
| Gearari Posture Corrector | $15.99 | 4.3 stars, 641 reviews | Thick upper straps, arm straps only (no center chest strap), one size fits all |
| VIBO Care Posture Corrector | $26.97 | 4.3 stars, 1,116 reviews | Fits chest sizes 35" to 41", arm straps only (no center chest strap), 60-day refund policy |
What's the best way to choose between these similar options? First, as outlined earlier, it's essential to understand what functions these types of devices can and can't do for your body.
Based on what we learned from Mabry and Campbell, as long as you don't wear them too often, these mostly work to provide gentle reminders that you're not sitting or standing properly, at which point you can self-correct by moving your shoulders and neck into alignment. If your back pain and discomfort is caused by poor posture, this may provide some measure of relief.
From there, it's mainly a matter of which factors you emphasize. For example, if price is your main concern, the Gearari Posture Corrector comes with the lowest upfront cost. However, if you opt to double your Posture Doctor order during checkout, this will bring your per-brace cost to $14.99.
It's important to point out that we're told the fewest specifications about Posture Doctor (e.g., brace and buckle materials, whether or not it features padding, etc.), so it's difficult to discern exactly how it stacks up to the very close competitors above.
We reached out to customer support searching for additional insight, although they didn't have anything available. They instructed us to email our questions to posturedoctor@rephelpdesk.com. No response was received.
At the very least, though, we can say that Posture Doctor's design doesn't appear to be as innovative as the manufacturer advertises on their website and in their commercial.
As a new As Seen on TV product, Posture Doctor also doesn't currently come with any online customer feedback. On the other hand, competing options above come with mostly positive responses and average ratings between 4.3 and 4.7 stars.
A single Posture Doctor order comes with a middle-of-the-road price, although purchasing a second at a reduced cost during checkout makes the per-brace price the cheapest on the list.
However, the additional $9.99 fee is non-refundable if you find these braces don't meet your needs, and there are currently no online reviews you can use to gauge overall customer satisfaction.
Bottom Line: Should You Order Posture Doctor?
Even if you take Mabry and Campbell's advice out of the equation regarding a figure-eight brace's ability to support proper posture and reduce related discomfort, we think there's a higher inherent risk when it comes to Posture Doctor compared to competitors.
It's a brand-new product without any online customer feedback, which is a critical component when making the most informed purchase possible. And even though it features a middle-of-the-road price, we don't think the minimal difference between it and the lowest-cost option in our chart makes up for the added risk of making a "blind" online purchase.
The good news is there are several movements you can perform at work free of charge to help address posture-related discomfort, including sitting on the bones of your butt, manually bringing your shoulder blades together, tucking your chin, and properly adjusting your workstation. You can even set manual reminders on your smartphone to perform these at different intervals throughout the day.
SCAM! Changed name from Posture Pillow.

By Daniel D.

,

Washington

,

Feb 14, 2020
Verified Reviewer

I've written over 14 email requests for return and refund and nobody EVER replies to my emails. Now the POSTUREPILLOW website has been RENAMED "POSTURE DOCTOR" and has all the same products, false claims, promises to be satisfied or your money back. THIS WEBSITE AND THE PRODUCTS THEY SELL ARE A SCAM!

Below is a copy of the requests sent with no response or reply.

"I purchased the Posture Pillow, (Order Number:#49501) and it was delivered.

Wed, Jan 15, 2020 at 9:10 AM .

After the first week my neck actually felt very sore and stiff in the morning. I assumed it was likely part of the normal break-in process, but after almost 2 weeks I'm finding I can't sleep well unless I use a standard pillow.

After using the pillow for 13 days, nothing has changed, and my neck still feels sore and therefore I feel it just isn't right for me.

I've been trying to reach your customer service department and have requested instructions how to return it but nobody will reply to my requests.

Please advise how and where to return it for a refund.

Kind Regards,

Daniel D"

Bottom Line: No, I would not recommend this to a friend

---

It is a very bad product. Stop selling it.

By Virginia P.

,

California

,

Dec 17, 2019
Verified Reviewer

This product is a piece of garbage, is good for nothing. Selling is the same as stealing your money. Please do not purchase that trash because it does not work, it's a stupid design.

Bottom Line: No, I would not recommend this to a friend

---

Advertisement

---

Would work with some modification

By Glenda K.

,

Bossier City, LA

,

Sep 16, 2019
Verified Reviewer

If you made a way to connect to the waist instead of under the arms, it would more comfortable, and if it was around the waist it would not pull up around the neck, try it.

I am going to return it, doesn't work for me, my arms are sore. With it modified, I would love it, but it rubs under arms and limits movement.

Bottom Line: No, I would not recommend this to a friend

---