Power Air Fryer Oven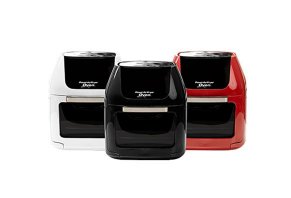 Power Air Fryer Oven features essential features like a large touchscreen, multiple accessories, and Rapid Air technology to deliver guilt-free fried food.
Power Air Fryer Oven Review: Is It Worth It?
With eight one-touch presets and turbo cyclonic Rapid Air technology that surrounds your food, Power Air Fryer Oven is an all-in-one device that promises to air fry, roast, grill, and bake, with little or no oil.
It also includes rotisserie and dehydrator settings that can preserve fresh fruits, veggies, and other foods.
Using its digital touchscreen panel, the website indicates you only have to set the time and temperature, and the device will "virtually eliminate oil from the process," while reducing potential mess.
During the process, Power Oven's airflow racks will allow the hot air to circulate 360° around your food for crisp, golden results, while the drip tray catches the extra fat, for meals with fewer calories than traditional frying.
With three levels of cooking surfaces, the manufacturer claims you can cook an entire family meal with just one device, while keeping an eye on the whole process through its crystal clear, extra-large window.
When you're finished, the Rotating Mesh Basket and other accessories are made of durable stainless steel, so they're dishwasher safe for fast, easy cleanup.
Has Tristar hit another home run with Power Air Fryer Oven? Can you expect it to take the guesswork out of cooking, while also delivering delicious fried food without the fat or calories? Let's start by comparing its core functionality to conventional methods.
How Does Traditional Frying Compare to Power Air Fryer Oven's Rapid Air Technology?
With traditional frying, battered food is immersed in oil that's heated to between 350° and 375°. This quickly seals the exterior, creates a golden-brown Maillard reaction (one of the main reasons fried foods are so delicious), and evenly cooks the food inside, while retaining moisture.
Despite its great taste, though, WebMD reports that fried food is typically loaded with fat, calories, and sodium, too much of which can lead to side effects like heart disease, type 2 diabetes, and obesity.
Instead, the Rapid Air Technology in Power Oven heats its internal air to between 150° F and 400° F (depending on the setting chosen) and then uses a fan to quickly circulate it.
As a result, the manufacturer claims this can provide much of the same crisp, delicious browning as traditional frying, without the unhealthy oil.
But will it deliver in this regard? First, we need to discuss features.
Taking a Closer Look at How Power Air Fryer Oven Works
We'll talk about important aspects to consider when purchasing an Air Fryer in a moment, but one frequently mentioned by consumers is capacity—in other words, the larger, the better.
And while no capacity is specifically mentioned, the FAQ indicates it's large enough to hold "a 9" round pizza or cake, a 9 x 5" loaf pan, or a 5 lb. chicken."
Important: Although The Air Fryer Oven website and commercial promote a five-pound weight limit for chickens, the device's user manual recommends not exceeding 3.5-four pounds.
On the inside, you can choose between using air flow racks (ideal for dehydration, as well as crispy heating), or the rotating mesh basket (for fries and roasting nuts). If you're in the mood, the rotisserie shaft, forks, and set screws can be used to cook roasts and whole chicken.
Then, you'll use the included Fetch Tool to gently extract them, without burning your hands. And regardless of what you're cooking, its Drip Tray promises to catch fat and make for easy cleanups.
Once your food and appropriate accessories are in place, you'll use the digital numeric interface to get started. The Oven's power button doubles as a start/stop button, and you'll use the temperature control to adjust between 150° and 400°, in 5° increments.
The time control buttons allow you to select cooking times between one and 60 minutes, except for dehydration mode, which defaults to 30-minute intervals between two and 24 hours.
On this panel, you'll also find an internal light button that allows you to check progress during operation, a rotation button for use during any mode (not just rotisserie), and eight cooking preset buttons.
By default, selecting any of these will set the time and temperature based on that particular food, although this can be overridden by manually pressing the time and temperature buttons.
Keep in mind that, according to the site's FAQ, some foods will have to be flipped mid-cooking, the device can never be used to cook or reheat liquids, and you'll need to add three minutes to your cooking time when starting cold.
Regardless of the mode or manual setting you choose, the Power Oven's built-in shut-off mode will automatically turn the device off once the timer reaches zero. From there, the fan will continue running for 20 seconds to help cool the device down.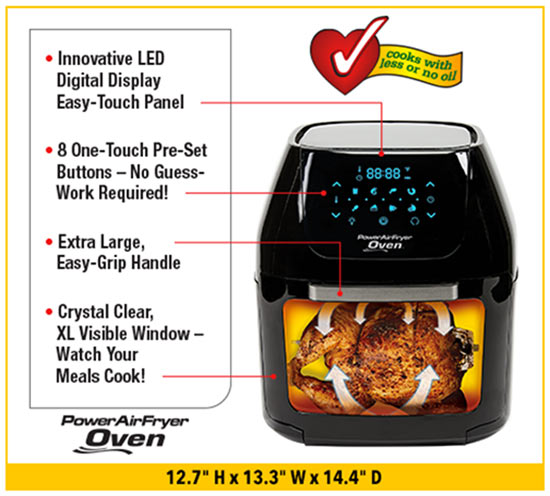 With 1,700 watts of power, Power Air Fryer Oven's superheated cyclonic air claims to deliver the same taste as fried foods, but without the oil, fat, or calories. Image credit: Tristar Products, Inc.
How Much Does the Power Air Fryer (CM001) Oven Cost?
Available in white, black, or red, the Power Air Fryer Oven is priced at four payments of $39.99 plus free shipping, or a single payment of $159.96. For this price, you'll receive:
AirFryer Unit
10 Stainless Skewers
Rotating Mesh Basket
Rotating Rotisserie Spit
3 Air Flow Racks
Oil Drip Tray
3 Recipe Books
Grocery Coupons
During checkout, you can add the Accessory Kit (Rotisserie Carving Stand and 6-Quart Basket w/removable handle) for an additional $39.96, a six-year warranty for $29.96, and a Copper Chef fry pan set (11-inch family size and a 9.5-inch square fry pan) for $29.96.
We also found the device sold through Amazon for $179.99, plus free shipping.
All direct purchases come with a 60-day refund policy and a 60-day limited warranty against defects in materials workmanship, less S&H charges.
In order to request a refund or file a warranty claim, you'll need to reach out to Tristar Products' customer support line at 973-287-5197.
Are There Any Online Customer Reviews for the Power Air Fryer Oven?
The only website where we encountered any customer feedback for the Power Air Fryer Oven was on Amazon, when two reviewers had given the device an average rating of three stars.
One (five stars) reported that it delivered great results, cooked without using oil, and worked as well as a traditional oven. On the other hand, the one-star reviewer reported that it featured less-than-stellar functionality.
From a company perspective, Tristar is the second largest manufacturer in the As Seen on TV industry and has been in business for more than 30 years.
Recent standout releases include Clear TV, the Copper Chef lineup, as well as other products bearing the Power Air Fryer brand name.
In fact, since they use the same Rapid Air cyclonic technology and pre-set functionality, it's worth pointing out that we performed an in-depth review of the Air Fryer, which could help provide some meaningful insight into some of what you might expect:
Tristar held an A+ rating with the Better Business Bureau, based on 17 reviews (100 percent of which were negative) and nearly 750 closed complaints, as of 10/30/17.
Where details were available, most of these appeared to revolve around lower quality than expected and customer service difficulties. In each instance, a company representative responded with a proposed solution.
Power Air Fryer Oven vs. Power Air Fryer XL: What's the Difference?
Functionally, both the Power Air Fryer XL and Oven (shown side-by-side below) feature the same Rapid Air cyclonic technology, digital panels, dishwasher-safe parts, vented air chambers, and temperature settings between 150° and 400°.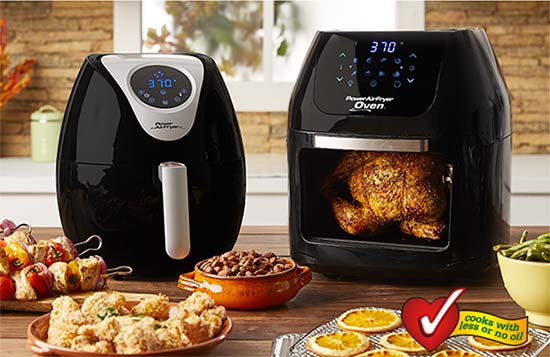 The Power Air Fryer Oven (right) appears to provide a larger cooking chamber than the previous XL version (left), although support couldn't provide any specifications. Image credit: Tristar Products, Inc.
As such, their biggest differences seem to be mostly related to design, as the Oven is meaningfully larger than XL, with a more substantial touchscreen. So, if you have vision or mobility issues, this might be a meaningful value-add.
There are some other differences worth noting:
| Features | Power Air Fryer Oven | Power Air Fryer XL |
| --- | --- | --- |
| Number of Pre-sets | 8 | 7 |
| Capcity | 3.4 quarts | Listed as large enough for a 5lb. chicken, though no specifics provided. Customer support didn't have additional details. |
| Heating Increments | 5° | 10° |
| Basket Adjustability | No | Yes |
While these are two popular models from a well-known manufacturer, they're not your only air fryer options, by any measure. Other top Google and Amazon marketplace search results at the time of our research included:
Philips HD9240 High Capacity Digital Airfryer ($300)
NuWave Brio ($100)
Farberware Air Fryer ($70)
Cook's Essentials Digital Air Fryer ($100)
Dash Compact Air Fryer ($50)
Given the variety of manufacturers, styles, and price points, what's the best method of deciding which air fryer is right for you?
The HighYa team has reviewed several of the most popular air fryers over the years.
And during our research, we've learned that capacity (cooks greater amounts of food), the wattage (cooks faster and more evenly), and the number of available features (adds convenience) often have the biggest impact on customer satisfaction, according to their online reviews.
To this extent, it's our opinion that a good place to start is by selecting one (or perhaps even two) of these factors to focus on, and then moving from there.
Just keep in mind that if you place more emphasis on one aspect, you might need to make accommodation in another.
For example, the Philips model featured the highest wattage of the above bunch but was also priced the highest.
But if capacity and price are your main focus, the largest option was Cook's Essentials at 5.3 quarts, which also featured a competitive price along with a total of 10 total functions.
Our Final Thoughts About the Power Air Fryer Oven
Can the Power Air Fryer Oven help you enjoy guilt-free fried food, as claimed on the website? Based on what we've read from consumer feedback for many popular air fryer models, this certainly could be the case, especially related to pre-fried foods like french fries, chicken strips, fish and cheese sticks, and so forth.
Writing for The Alternative Daily, Krista Hillis reports that in a 2015 study published in the International Food Research Journal, researchers cooked potato strips at 180 degrees Celsius (356 degrees Fahrenheit) for 40 minutes, using both air fryers and traditional oil-based methods. They found:
"… air frying significantly reduced moisture and oil uptake. In terms of free fatty acids, peroxide values and other physicochemical changes, researchers reported greater changes in the oil extracted from traditional frying methods, in comparison to air frying. Overall, researchers concluded that using an air-fryer is, in fact, a healthier technique."
However, one of the most common complaints we've encountered among consumers in general is that, if you're planning on using an air fryer to completely replace a traditional deep fryer for more robust, freshly-made foods like fried chicken or dumplings—and you're expecting the exact same taste in all instances—you might be disappointed by their performance.
While maintaining realistic expectations, it's also important to point out that pre-fried frozen foods are often loaded with salt, preservatives, oils, and fat that could outweigh any health benefits you might achieve from the Oven's little-to-no-oil operation.
Finally, with a meaningfully larger size than the previous XL model, Power Oven isn't exactly a small appliance, so make sure you have enough cabinet or drawer space in your kitchen.
The user manual also emphasizes that you'll need at least five inches of free space at the back, sides, and above the appliance, so you'll need a fair amount of counter room while it's in use.
With all of this in mind, Power Air Fryer Oven seems to deliver a lot of convenient features and a large capacity, and at a very competitive price. And if it doesn't meet your expectations, Tristar provides a 30-day refund policy.
Just remember that based on the device's size, it might not be exactly inexpensive to ship it back to the manufacturer, depending on your location.
Not worth a single penny

By Gary H.

,

Texas

,

Feb 21, 2020
Verified Reviewer

I purchased the Power Air Fryer XL for my wife. We had it a total of maybe 2 months and only used it maybe 5 times and it went out. I reached out numerous times and got no response. Finally, after a nasty email to customer service, they just sent a return packet. We returned it in mid-December and have never got it back or a replacement and of course, I still don't have my $200 plus back. I can't put my order number below because I can't find it anymore but I do have the emails I sent them.

Bottom Line: No, I would not recommend this to a friend

---

DON'T WASTE YOUR MONEY! Only 60-day warranty.

By Dianna H.

,

California

,

Jan 29, 2020
Verified Reviewer

I love the idea of an air fryer, I even enjoyed using it while it worked. But, the fan just stopped working. I never moved it from the countertop, it has plenty of space around the vents, I kept it clean, expecting it to last a long time. The power still works, the light and heat work fine, but not the fan. I have emails from Tristar, who just don't care that the product has a very short life. I asked for repair service or parts ordering, but they replied: "We do not offer the repair or replacement parts for the Power Air Fryer Oven." An only 60-day warranty is a good indicator that the company doesn't have confidence in its own product. We took it apart to see if the fan is easily replaceable and found that one of the screws for the power housing was screwed THROUGH the main red braided power wire! The braiding is in the screw hole and the wire is frayed. I have photos for anyone who wants proof. We just tossed it out. What a waste of money.

Bottom Line: No, I would not recommend this to a friend

---

Good for a little while

By Sharon H.

,

Oklahoma City, OK

,

Jan 23, 2020
Verified Reviewer

Was given the larger of Power Air Fryer Oven Pro and we loved it until shortly the light up numbers quit working. Was able to send it back and got a new one. Been using it for about a year and it quit working due to the door not sealing. Took the door completely apart and cleaned it. The oven began working like new, for a week or so. Now it will stop working in the middle of cooking food, like it was overheated (it is pulled out from under counter and plenty of air around it). Not worth the money!

Bottom Line: No, I would not recommend this to a friend

---

Door handle

By Armando V.

,

Homestead, FL

,

Jan 2, 2020
Verified Reviewer

The door handle on these units are very, very installed. With use, the heat will crack the plastic that holds the door handle and the handle comes off. They need to place some sort of rubber gasket between the screw and the door to avoid that. Now I'm stuck with a Power Air Fryer that works but, cannot use because of the faulty condition. I emailed them but, I was never contacted back. They certainly need to place more emphasis on taking care of the customers. They are not "for the Lone Ranger" and I would not recommend them based on the experience.

Bottom Line: No, I would not recommend this to a friend

---

Advertisement

---

Worst product ever

By Beatriz A.

,

Alpharetta, GA

,

Dec 17, 2019
Verified Reviewer

Less than a month after purchase the light stopped working. Got a new oven from the manufacturer. Less than 90 days after that, the rotisserie stopped working. Now they are telling me that they cannot do anything. No new oven, no refund, no repair. This is a very expensive scum. Buy this product and you will be spending money on a very expensive piece of plastic, cheaply made that will stink up your kitchen and break before you know it.

Bottom Line: No, I would not recommend this to a friend

---

Rotisserie spit length on 6 quart model

By Paul T.

,

Palatka, FL

,

Dec 16, 2019
Verified Reviewer

Ordered unit. Upon arrival, everything looks great. First did jerky with great success. Then tried to do a rotisserie roast, that's when I found spit length is too short by at least 1/4 of an inch. I have notified them, they have sent a return label and said upon receiving it would send me a new one. I can only hope it is the right length as I have measured the old one with a Starrett Caliper used when I ran a CNC lathe, a very accurate measuring device, not just a rule or tape measure. If it's the same length as the old one will be sending the entire unit back.

Bottom Line: No, I would not recommend this to a friend

---

Great oven until the fan died and the fire started

By Charyle S.

,

Apple Valley, MN

,

Nov 5, 2019
Verified Reviewer

Bought this little gem 15 months ago, hubby used it to make bacon in it, which turned out perfect, every time. We used this little oven for all sorts of food, then one day the fan did not come on, when we started the unit up, within a couple of seconds we had ourselves a fire. Unplugged it ASAP, then moved it outside. So, considering we paid $160 for the unit and it only lasted 15 months, it's a bit on the pricey side for a short shelf life. Works great, till it doesn't, I would have rated it a 5-star unit, if it didn't catch fire and because of that, I can't recommend this oven either.

Bottom Line: No, I would not recommend this to a friend

---

Waste

By Debbe B.

,

Kansas

,

Oct 17, 2019
Verified Reviewer

Hello, we recently purchased the "Power Air Fryer Oven". Ordered 9/4/2019. We had previously purchased the Power Air Fryer XL, and absolutely LOVE it. It was definitely our main cooking choice. Our latest purchase of the "Power Air Fryer Oven" had us super excited! It all seemed amazing, until it came time to clean it.

After 1st time use, and cleaning, our opinion was dashed. We both figured it was something we had missed in the instructions. However, nothing got better. It appears the front door (where glass is) does not seal. We have tried everything to figure it out. My husband was planning on taking the door apart (there are small screws), but we decided if that is what it takes, we are not interested. Sadly, we definitely want to return it.

Bottom Line: No, I would not recommend this to a friend

---

DO NOT BUY Power Air Fryer Oven CM-001

By Darlene F.

,

North Carolina

,

Oct 16, 2019
Verified Reviewer

Do not buy this Tristar, it is a hot mess. I barely used this oven to heat up a few small personal size pizzas about 10 minutes each. Then the fan stopped working. Nothing I did would get it moving. I called Tristar. All they did was raise my blood pressure. Because I did not purchase it directly from them and get the extended warranty, they would do nothing. Could not even give me a name of a place to get it repaired. I am on SS and not much money, this was a major purchase for me. Now I am out $130.00. At least Bed Bath & Beyond are trying to help, but not holding out much hope.

Bottom Line: No, I would not recommend this to a friend

---

Do not buy this

By Wendy H.

,

Virginia

,

Oct 11, 2019
Verified Reviewer

I bought two. I thought maybe because I dehydrated two batches in a row that it was my fault the first one broke. And because my dear husband didn't know to buy a warranty with it - for my Christmas gift (first purchase off Facebook), the company did nothing to help remedy the situation. I threw a tantrum and for 3 months decided I didn't want another one. Then I finally broke down, because I do like air fried foods, and bought the same one (second purchase at Sam's Club). Had it 6 months and it's now broken. I'm so aggravated with this particular air fryer. This air fryer oven pro is the worst purchase I have ever made. Twice. Please do not waste your money on this product. Look into other products. I will be looking for reviews on other products.

Bottom Line: No, I would not recommend this to a friend

---

Love it!

By Deb W.

,

Fremont, NE

,

Oct 1, 2019
Verified Reviewer

I don't know how I went without this. Yes, it does take a little longer, but last night I made baked potatoes and they were awesome! Had that crispiness outside and perfectly done on the inside. Granted it took about 40 minutes but they were very good. I have use this alot from making a cherry pie to chicken nuggets and fries and so on. The only con I found was it seems like it takes a long time for homemade fries. With frozen fries, it's half the time so I think we will stay with them and you can't put very many in the basket. It's just my husband and I so I make small portions. I made minute steaks and steak fries on the racks, they turned out so tender and no grease! The best thing about this is I have had nothing fail and it's so easy to use and clean. It may wear out before the warranty is up, lol, I use this almost every day. Tomorrow I am making an apple pie. I have also made an apple crisp that was really good. All in all, I love my air fryer and until it quits I will never stop using it. I think it should get a better rating but that's my own opinion. This is genius what you can do with it. I wish I had one a long time ago. I give it a 5. Thank you!

Bottom Line: Yes, I would recommend this to a friend

---