Power AirFryer 360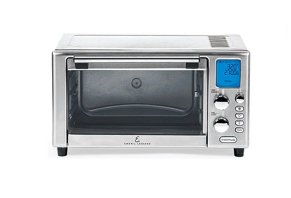 Summary
The Power AirFryer 360 is an all-in-one air fryer that promises to help you cook your favorite fried foods with up to 70% fewer calories. Is is it right for you?
Power AirFryer 360 Review: Is It Worth It?
The Power AirFryer 360 is a combination cooking device that promises to replace all sorts of tools in your kitchen, from your microwave to your air fryer, toaster, slow cooker, convection oven, pizza oven, dehydrator, and more. With 12 pre-programmed settings in all, this all-in-one unit has a lot going for it on the surface.
According to the product's website, the Power AirFryer 360 has a capacity of 930 cubic inches, which is enough space to hold a 12" pizza or a 10 pound whole chicken. The full dimensions of the brushed stainless steel device are 19" x 15" x 9.5", and it features a total power output of 1500 watts.
The Power AirFryer 360 has a slew of helpful functions designed to make cooking easier and more intuitive, including custom toasting settings to refine your desired level of doneness, memory features to save your last-used settings, and several trays and accessories for cooking different types of food on the fly.
In order to determine if the Power AirFryer 360 delivers on the promise of being an all-in-one kitchen powerhouse, let's next delve into how the product actually works in practice. From there, we'll take a look at the various functions included, and why you might use each of them.
How The Power AirFryer 360 Works
According to the product's commercial, the Power AirFryer 360's highly versatile range of functions are made possible by its "Quick Cook Turbo Heat Technology," which the manufacturer claims can cook food with a gust of heated air. In addition, the company says that foods cooked with the product's five core heating elements have up to 70% less calories from fat compared to deep fried fast food.
Essentially, when using the Power AirFryer 360, you'll select an option using the built-in LCD screen on the device itself. In total, there are 12 different functions to choose from:
Air fry
Reheat
Toast
Bake
Rotisserie
Dehydrate
Roast
Broil
Bagel
Pizza
Slow Cook
Warm
Each of these modes are designed for a specific purpose, and some require the use of various included accessories such as the drip tray, rotisserie spit, baking pan, pizza rack, and crisper tray.
Having the ability to toast, bake, dehydrate, and slow cook foods all in the same device is convenient to say the least, but it's clear that the air frying function takes center stage here. Again, the company claims that the Power AirFryer 360 is capable of producing classic fried foods that contain up to 70% less calories than if they were made in a conventional deep fryer, but is this what you can really expect in practice? Let's briefly explore the health implications of using an air fryer below.
Is Cooking With An Air Fryer Healthier Than Oil Frying?
Cooking foods with an air fryer may indeed be healthier than using a deep fryer in several different ways. Essentially, the idea is that while a conventional fryer requires up to 3 cups of oil depending upon the recipe, air fryers commonly need as little as a single tablespoon. That's 50 times less oil on average, and several studies have linked vegetable oils to a wide variety of adverse health conditions.
To hammer home the point, a comparative study was done which centered around french fries cooked in both an air fryer and a conventional deep fryer. The study concluded that the final product from the air fryer contained significantly less fat but retained most of its color and moisture.
So, it seems likely based on the evidence that using an air fryer may be healthier overall than other methods of frying your favorite foods. Despite this, it's important to keep in mind that fried foods are still fried foods at the end of the day. Eating these sorts of foods in general has been linked to increased health risks, including serious issues such as heart failure. A policy of eating fried foods in moderation only may end up being the healthiest decision overall for you and your family.
Power AirFryer 360 Pricing and Return Policy Details
As of this writing, you have several options for ordering the Power AirFryer 360. You can place an order both over the phone and through the main product website. Whichever you choose, you'll have two payment methods to choose from; a one-time purchase of $199.96, or four equal payments of $49.99.
In addition, there are two optional purchases that you can choose from; an accessory kit and an extended 6-year warranty. The accessory kit will cost you an additional $39.96 and includes the following:
1 Rotisserie Carving Stand
2 Additional Crisper Trays
1 Additional Pizza Rack
As for the extended warranty, it will cost $30, and covers all of the following:
Accidental damage
Power surges
General wear and tear
The unit also comes in an XL Family size for $239.96 or four payments of $59.99
Apart from this premium option, the standard warranty included with the Power AirFryer 360 offers a 60-day money back guarantee, minus any shipping and handling fees involved with sending the product back.
Power AirFryer 360 Alternatives
Taken at face value, the Power AirFryer 360 seems to have an edge over many other products in that it consolidates so many different functions into one compact design. That said, are there any other devices like it on the market today?
Based on our research, it looks as though there are in fact a multitude of air fryer products that also include a slew of secondary functions. A quick search on Google or Amazon reveals many such products–some at similar price points to the Power AirFryer 360, and some that can be found for cheaper overall.
From what we encountered during our search, the Power AirFryer 360's most unique selling point is its highly versatile and spacious design. Many of the competing air fryer products we found did not include the space or ability to slow cook or dehydrate foods.
That said, because we encountered such a wide variety of different products, all with unique functions and designs, we'd recommend taking your time and reviewing all of the options before making a final decision on which model is right for you.
The Bottom Line
We've learned the Power AirFryer 360 includes a wide variety of functions geared toward making it a one-stop-shop for your cooking needs. The device has enough space to fit a meal for the entire family, and includes an assortment of accessories designed to help enhance your experience and ease the process of making your favorite fried foods at home.
We've also learned that, as the manufacturer claimed, cooking food using an air fryer can indeed be a healthier option for your family than conventional deep frying–to a point. Taken together, it would seem that the Power AirFryer 360 represents a solid choice for those looking for a flexible, all-in-one frying device for their home.
With that said, we also found that there are many different devices with similar functions available online. Ultimately, it will likely come down to choosing the product that includes the most features relevant to your needs, as well as considering the amount of space you have to spare in your kitchen. If you decide to give the Power AirFryer 360 a go, keep in mind that you have 60 days to decide if it's right for you or not.
Have you used the Power AirFryer 360? Let us know your thoughts on it below!
Customer Reviews
Posted on Oct 9, 2020
Leaks oil
Used the rotisserie. Leaked oil all over my counter, did not overflow, not sure where the oil is going besides the bottom but my tray was not full. Decided to write to them. She proceeded to tell me it is leaking because the food I cooked was oily. So I said "I can't use it for oily food then, is that what you're saying?" She said "no, you can," so basically, I have to deal with the machine leaking oil all over the counter. So to clarify, it is not defective, if you decide you want to rotisserie a chicken, be prepared to have large amounts of oil all underneath.
They never responded after that.
Length of Use: 3–6 months
Bottom Line: No, I would not recommend this to a friend
Pros and Cons
No "pros" were specified in this review
Leaks oil
Bad costumer service
Smokes up your house
Posted on Aug 21, 2020
Fire hazard!
We purchased our new Emeril Power 360 off TV. The chief sounded so convincing. We had an egg shaped one with one basket but this had three tiers to work with.
After using it around the 2nd or 3rd time I made bacon. I cleaned my oven after each use and when I lifted it up, a large puddle of grease was under it. How did it get there when the inside was very clean? Obviously it leaks.
I joined the Emeril Facebook group and some others had commented on this and the smoke. One person said her's exploded.
On 8/8/2020 at around 12ish am I woke to smelling smoke. I went out into the one living room and noticed it was so smokey I couldn't see the TV, which is a 60 inch. I walked the hose but didn't see a fire.
I walked past the Emeril 360 and it was very hot. I had used it at around 8:30 the prior evening but it was shut off. I'm 100% it was off.
After discovering it was the Emeril 360 I hit the cancel button three times as this could cancel any actions. I was half asleep and wasn't thinking, plus the smoke gave me brain fog. The machine wasn't running at all. It's loud and I would have heard it.
I went back to bed not realizing how in much danger we were in. The smoke got worse. I went out and unplugged it and went back to bed.
The next am I got up and checked the air fryer and that is when I saw the whole interior was burned to a crisp! We could have died! This is a fire hazard as far as I'm concerned. Shame on this guy for putting his name on a poorly produced product that is unsafe.
After contacting Tristar, the maker of this, many times they finally sent me shipping label. Our air fryer is only 5 months old.
Never ever buy this product. I called the local news and they came right away and did an interview because I don't want to see this happen to any one else. We were lucky and didn't die because I woke up.
Length of Use: 3–6 months
Bottom Line: No, I would not recommend this to a friend
Pros and Cons
Shipping the product was in a good time frame
Poor quality junk air fryer
Fire hazard and I think they knew it
Customer service
Posted on Aug 18, 2020
Love my Power AirFryer 360
Just got it and wow, it's amazing. Yes, it's lightweight, but I think that's a good thing. The food comes out tasting great, meats are juicy, and no greasy food anymore. Told my husband, this was definitely worth buying.
Length of Use: Less than 3 months
Bottom Line: Yes, I would recommend this to a friend
Pros and Cons
You can make payments
The free extras
The TV advertising on products
No "cons" were specified in this review
Posted on Jul 12, 2020
Very loud
I used this for the first time yesterday to bake a meatloaf.
It was so loud I was concerned that something was wrong. It did cook the meatloaf fine, but why the noise?
Seems very cheaply made.
Length of Use: Less than 3 months
Bottom Line: No, I would not recommend this to a friend
Posted on May 5, 2020
Too hot, burns the food
Recipe called for 400 degrees F for apple pie, it was burning at 15 minutes, turned down to 350. At 30 minutes it looked good but apples didn't cook properly. Junk! Would not recommend to anyone who was considering to buy.
Bottom Line: No, I would not recommend this to a friend
Posted on Feb 27, 2020
Do not buy! Cheap and sorry return policy!
I was so disappointed with this product, that Emeril puts his name on his is a Big Negative. I will never buy another Emeril product.
I am an older person, who had trouble because of arthritis taking anything out of the oven because of the weight, so I purchased this product thinking I could bake, roast, fry, etc. on it since it would be eye level. First thing that happened is I couldn't see the writing on the LED panel, I had to have my cell phone flashlight on very close just to see the cooking settings on the blue side. Then once I did the settings, I had to use the flashlight just to see the minutes, etc. on the orange side. I used several of the recipes for 2 weeks, 2 times a day, and my food NEVER came out looking like the pictures in the book or on the infomercial. The food tasted ok or good, but it looked awful.
I attempted to make fried chicken a couple of times, the batter didn't stick. I tried broiling small steaks, steaks were gray looking. The french fries were droopy. The cake never cooked right. Tried to make rice, was soggy, even though I followed the recipe faithfully. Even though the LED panel light didn't work I would have kept it if it had worked, it didn't and even though it had cheap aluminum drip tray that stained really bad; baking tray. The only saving grace was the basket. Really nice and sturdy.
When I called customer service, the lady immediately offered me $30.00 off to keep the unit. Really, trying to give me a discount for a machine that didn't work properly? The second and third lady had to go through the whole explanation again. The last one, I asked her why she needed the information since I had already given it 3 other times. She said it was to verify my story and make sure nothing had changed. Really, like I am going to make up a story about a faulty product? As soon as my social security check came in I put it on my rolling walker and took it to the UPS and FedEx store, but they wanted over $100.00 to ship it "slow boat to a faraway land", so I took it to USPS and thank goodness a young man was coming out and offered to take into the post office for me. The first amount I was quoted was $75.86 going by the dimensions; told her that was too much - so she tried using the weight of 19 lbs. 14.4 oz. I was able to pay "only" $62.50. I returned it on 02/19/2020 and it is expected to be delivered to them on 02/25/2020. Six days to get to them because I returned it back the cheapest way possible. It was half of my grocery money for the month! I am so upset with this experience that I will never anything Tristar Products is selling.
Bottom Line: No, I would not recommend this to a friend
Posted on Feb 5, 2020
Huge disappointment
I purchased this air fryer in the summer as I was downsizing and moving...started using it a couple of months ago and I wish I had started using it sooner so I could return within 60 days. There is nothing to like about this model and it is a nightmare to keep clean. It does not fit baking dishes or pizza pan or pie plate...I bought it because of its size and it is very limited and using for a toaster takes 6 minutes to toast 2 slices of bread. But my biggest complaint is in the inability to clean it, impossible to get under the bottom coils.
Bottom Line: No, I would not recommend this to a friend
Posted on Dec 31, 2019
Leaks
No matter where I put this stinking drip tray, this thing leaks, and I can't seem to see how it's leaking, it just runs out the front and I have grease all over my counter. I got the XL model for family cooking, paid $400+ for it and the darn thing leaks. I bought a rotisserie baking oven at Walmart a few years ago and it never leaked, I still have and it's about to come out of the storage room and take place of this piece of crap.
Bottom Line: No, I would not recommend this to a friend
Posted on Dec 17, 2019
Emeril shame on you!
I hate this product. It was difficult to use, too small and did not cook the way Emeril said it would. You can only cook one portion at a time. Instructions were not clear. The machine is really large and takes up a lot of counter space. Returns are costly! I paid as much to return it almost as much as I paid for it and returns were not easy. DO NOT BUY IT!
Bottom Line: No, I would not recommend this to a friend
Posted on Dec 16, 2019
Letters disappear
Have only used the oven maybe 4 times and the cancel button letters have completely come off. When I called Customer Service they said I had to box up and return to Sam's. This is a huge inconvenience for me because of the distance to Sam's. I would not recommend this oven.
Bottom Line: No, I would not recommend this to a friend
Posted on Dec 9, 2019
Smoke it up!
The Emeril's Power AirFryer 360 works as it says, HOWEVER, the rotisserie chicken was a nightmare...The taste was great but it smokes so bad that I opened 2 doors and ran a fan and still set off the smoke alarms! After 25 minutes it seemed to stop smoking.
Bottom Line: Yes, I would recommend this to a friend
Our Promise to You
In order to safeguard you and ensure helpfulness and relevance, our compliance team manually assess every customer review before it goes live.
We have a zero-tolerance policy for fake reviews, and companies cannot control or alter any reviews at any time.