Power Air Fryer XL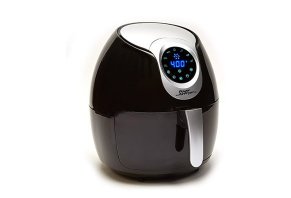 We were impressed with the Power Air Fryer XL right from the start, but after we spent some time testing it more extensively, we've come to the conclusion that it's nothing more than a small oven.
Power Air Fryer XL Test
We thoroughly tested the Power Air Fryer XL to see if it delivers on its promises. Here is our analysis:
For more product tests and shopping tips: Click here to subscribe to HighYa's YouTube channel.
Initial Impressions
The Power Air Fryer XL consists of three main parts: the large outer shell, an outer fryer basket, and an inner fry basket.
During our first few attempts, we found it difficult to press the red button that releases the fry basket from the outer assembly. However, this seemed to loosen and become much more manageable after a few tries.
Speaking of which, keep in mind that only the inner basket is dishwasher safe, while the outer basket must be washed by hand.
Also, we found that the steam release vent in the back of each XL unit could potentially burn you if you're not paying attention. You'll also need to make sure that it's not obstructed and always kept open.
Functions and Operation
Overall, we found the menu display was pretty straightforward to operate with four main option buttons:
The power button in the center,
The preset button directly below it,
The time control button to the left, and,
The temperature control button to the right.
The preset button gives you access to seven different preprogrammed settings: Fries, pork chops, shrimp, baked goods, chicken, steak, and fish. Even after selecting a preset, you can adjust time and temperature manually, if needed.
Remember earlier when we called customer service and asked some important questions? Well, based on our testing, it appears you actually can adjust the time and temperature on the Power Air Fryer XL.
However, XL's temperature maxes out at 400°, although it does come with a handy automatic shutoff timer.
Heats up quickly
Easy to use
Easy cleanup
The 3.4qt model is too small for larger meals
Doesn't truly deliver on all 6 cooking methods claimed by the manufacturer
Temperature doesn't exceed 400°
Test #1: French Fries
When cooking French fries from scratch, the included recipe book recommends opening XL's basket about halfway through and shaking the fries to ensure even cooking.
When we did this, we were pleasantly surprised to find that it doesn't affect the temperature, and the timer picks right back up where it left off.
After cooking for a few minutes, we thought the fries looked appetizing and we liked that all of the oil was collected at the bottom of the basket, not soaked into our food.
In the end, we found that the Power Air Fryer XL's french fries didn't have a crispy, deep-fried taste, but they were still very good.
Test #2: Grilled Rib Eye
Before cooking steak, the recipe book recommends preheating the XL by turning it on for 4 minutes. And like the French fries, we also had to open the basket and turn the meat halfway through the cooking process.
The rib eye was finished after 14 minutes and didn't have any grill marks (of course), but it did have a nice color, a medium-well texture, and tasted fairly good.
Now, if you prefer your steaks on the rarer side, you can definitely adjust the time manually to achieve your desired results. Just keep in mind that your steak might end up looking more boiled than grilled.
Test #3: Roasted Chicken
For this test, we added a 5-pound, non-frozen, whole chicken (which barely fit in the XL's 3.4qt basket) that was seasoned and lightly drizzled with oil.
After 20 minutes, we found that the top of chicken was cooked really well (almost too well, since the top surface is closer to the heating element and cooks and browns so much faster), so we turned it over and cooked it for another 20 minutes.
At this point, we tested the chicken's core temperature and found that it only registered at 124 degrees, which is well below the recommended 160 degrees.
As a result, we put the chicken in for an additional 15 minutes, after which the core reached 160 degrees, although, at that point, parts of the skin looked almost burned.
Despite this burned appearance, most of the meat was fairly juicy and tasted well. Parts closer to the bone, however, probably should have been cooked a few more minutes.
Test #4: Steamed Vegetables
According to the images on the Power Air Fryer XL website, the device can also steam vegetables, although there wasn't an accompanying recipe in the book.
So we decided to improvise by seasoning our veggies and lightly drizzling them in oil, placing them in the basket, and cooking them for 10 minutes at 370 degrees.
When we opened the basket, we found that the vegetables looked more roasted than anything else, and looked nothing close to steamed.
The problem? Obviously, you need water in order to create steam, but the XL's instructions explicitly state that you shouldn't add any kind of liquids to the outer basket. Can you overcome this?
In the Air Fryer XL commercial, a separate pan is shown in the basket that could be filled with water, without adding liquids directly to the basket.
Clearly, this is something you'd need to purchase in order to actually steam vegetables (see the Pricing section for more details).
Test #5: Sautéed Fish Fillet
Another function indicated on Power Air Fryer XL's website is the ability to sauté fish—but again, there wasn't a recipe in the included book, so you're left on your own to figure it out.
Based on what we experienced with the whole chicken, we decided to place the salmon filet skin-side up, since it seemed reasonable that it would probably get the most heat and color.
After 10 minutes of cooking, we noticed that the fillet didn't get the nice crispy skin like the chicken, and we felt that parts of the meat could have used a couple more minutes inside the XL.
However, for the most part, the fish looked great, was juicy, and had a really good flavor.
Just for the sake of experimentation, we placed our fillet back into the Power Air Fryer XL for another 4–5 minutes, which in hindsight may have been a bit too long.
Despite this, the results remained juicy and we thoroughly enjoyed the finished product.
Test #6: Baked Mini Pies
After lining a basic 9" foil pan with pie crust and learning that XL's basket isn't large enough, we decided to make individual mini pies in small ramekins. Still, the basket was only large enough for three ramekins at a time.
After cooking the dough for about 5 minutes on the bake setting, we added our fruit filling and put our mini pies back in for another 15 minutes at 310 degrees.
While the XL did a great job baking the pies and they tasted delicious, even in a best-case scenario, its basket can only hold 3 mini pies at a time, which is hardly a time saver.
Cleaning Up the Power Air Fryer XL
Throughout our testing, we found that cleaning the XL was fairly painless and took only a couple minutes to wash and dry the baskets by hand.
Our Conclusion
We were thoroughly impressed with the Power Air Fryer XL right from the start, but after we spent some time testing it more extensively, we've come to the conclusion that it's nothing more than a small oven.
In other words, it doesn't seem to do anything that a traditional convection oven can't.
Yes, you won't need to use much (or in some cases, any) oil when cooking with the countertop appliance, but this is also true for the same recipes you would make in your convection oven. What does this mean for you?
Based on our test, it ultimately comes down to whether or not you need to spend $100 on another bulky kitchen appliance that can accomplish slightly less than what a traditional convection oven can.
In our case, we don't feel that the Power Air Fryer XL would make our life any easier, speed up our cooking time, or change the way we approach our meals.
On top of this, we found some pretty big editing oversights in XL's recipe book, such as using the word turkey in one of the chicken recipes and not including units of measurement for some of the ingredients.
---
This unit is horrible! Don't buy it.

By Mike W.

,

Lockport, NY

,

Jul 28, 2020
Verified Reviewer

Length of Use: 3–6 months

Overall Experience:

I loved the way it cooked, I used it 8 times over 4 months. It then failed to operate. I am an appliance technician, troubleshot the unit and found the non-resettable high temperature limit thermostat opened. I bypassed it, reassembled the unit, and proceeded to test it. It overheated so badly that the coating on the inside of the door started to peel.

60-day warranty was long over and I threw it out. I would not buy anything they make or market, their products are junk.

Pros and Cons:

No "pros" were specified in this review
Warranty is worthless
Machines they sell are junk
It took seeing that annoying salesman and shill in an infomercial made me angry

Bottom Line: No, I would not recommend this to a friend

---

A mess to clean up after cooking fried chicken...

By Robert Z.

,

Belleville, MI

,

Jun 17, 2020
Verified Reviewer

Length of Use: Less than 3 months

Overall Experience:

The first time I used the PowerXL turbo air fryer it was to make fried chicken using the recipe that came in the included cook book, page 17. I followed the recipe exactly to the letter and had a huge mess to clean up afterward. The breading on the chicken stuck to the wire mesh racks. It took an hour of soaking the wire racks in soapy water and scrubbing them with a stiff nylon brush to get all of the breading off of the wire mesh racks. I'm sending the unit back for a refund after one use.

Pros and Cons:

Fast delivery of the air fryer
The fried chicken recipe left a mess to clean up afterward

Bottom Line: No, I would not recommend this to a friend

---

Basket defective

By Peter S.

,

Long Island, NY

,

Apr 1, 2020
Verified Reviewer

Overall Experience:

I absolutely love my air fryer but be extremely careful, they tell you to shake the basket between cooking times but make sure you separate the basket from the tray. My tray separated on its own and burned my leg and all got dented when it hit the ground. Tray won't properly fit anymore and won't turn on. They only offer a 60-day guarantee and it's over 90 days. It's a shame because I really loved using it. It should have lasted longer. 60-day warranty makes me believe it's made of junk.

Bottom Line: No, I would not recommend this to a friend

---

Not worth the money.

By Judy B.

,

Texas

,

Feb 14, 2020
Verified Reviewer

Overall Experience:

We bought the Power XL Air Fryer on October 18, 2019. Now almost 4 months and it has quit heating and of course, the 60-day warranty has expired. For the price we paid, this unit should last more than 4 months, especially no more than it was used. Will never purchase another Power XL product.

Bottom Line: No, I would not recommend this to a friend

---

Advertisement

---

Not worth the money, bad return policy

By Kathy S.

,

Shepherdstown, WV

,

Jan 20, 2020
Verified Reviewer

Overall Experience:

It looked so good on TV, I ordered two. One for me and a gift for someone else. They advertised doing a 4lb chicken on the rotisserie but it couldn't even handle a single cornish game hen (about 1 lb). I emailed them about the rotisserie and they just said to send it back, didn't offer any way to fix the problem. I have to send it back at my own expense (read the tiny writing, which I never saw when ordering by phone!). So it will probably cost me $50-60 to return the two (one which was never even opened) and then wait and see if they refund me. Notice it says minus shipping and handling, which could mean they will deduct even more for sending it to me! I will be in touch with my credit card company as well for a dispute.

Bottom Line: No, I would not recommend this to a friend

---

Not even 3 uses.

By Raymond K.

,

Florida

,

Jan 16, 2020
Verified Reviewer

Overall Experience:

I was waiting in anticipation to use this after purchasing it online. It worked great the first time. On the second use, the light came on but nothing else worked. The door is VERY POORLY designed. I've researched the problem and found a ton of complaints of owners having the exact same issue. It's 100% garbage. Stay away from this brand.

Bottom Line: No, I would not recommend this to a friend

---

Overall Experience:

The last few times I have used my air fryer it smokes up the house from grease getting on the griddle on top. I have tried to wipe the piece off but still the same. What I cook is chicken 4 pieces. If I could get under the burner and wipe the fan and other parts, but you can't.

Bottom Line: Yes, I would recommend this to a friend

---

Faulty product with terrible customer service

By Mandy E.

,

St. Louis, MO

,

Aug 19, 2019
Verified Reviewer

Overall Experience:

What a disappointment for a company. After less than a year of owning the Power AirFryer XL, the paint on the interior basket peeled off onto our food. As it was a gift, I contacted Customer Service to see if they could send a replacement as clearly this product was faulty. I spoke to "Victor" who told me I was welcome to buy a new basket. Well, for only having owned the product 8 months, I didn't find this was an acceptable answer and asked to please be escalated. At this point, I was put on hold for approximately two minutes before "Victor" answered again and told me he was "also a supervisor". What a sham.

Bottom Line: No, I would not recommend this to a friend

---

I can no longer use my Air Fryer XL 5.0

By Wanda B.

,

Florida

,

Jul 27, 2019
Verified Reviewer

Overall Experience:

I bought my Air Fryer XL 5.0 as seen on TV in November of 2018. Loved using it. I went to wash it the other day and when I was drying it the coating came off on the towel. Now I can't use it. I feel like it should have at least a year warranty. I purchased mine in Tallahassee, Florida at Kohls.

Bottom Line: Yes, I would recommend this to a friend

---

Don't bother, product breaks and it's a hassle to finally get it replaced.

By Phillip R.

,

Lafayette, IN

,

May 1, 2019
Verified Reviewer

Overall Experience:

So excited to receive this air fryer and it worked great for 2 weeks until the glass in the door just shattered while in use. I emailed the company and got a return label immediately. Printed the return label and shipped back the broken product immediately. After one week, we had to call the company to ask them why it had been five days since they received our broken unit and our replacement had not been shipped out. They insured me the product had shipped and that we would receive it the following Wednesday. The following Wednesday we received a 6-quart quick pot instead of our replacement air fryer. 45 minutes of time spent speaking on the phone with customer service later, we were promised that the replacement what shipping and that we would receive it in two weeks. In short, we've ordered this thing and paid for in full and had it for two weeks out of two months. Spend a little extra on a professional air fryer that is not offered by a company that is looking to make it difficult to impossible for you to get the product for which you've paid.

Bottom Line: No, I would not recommend this to a friend

---

Defective

By Paulette S.

,

Tacoma, WA

,

Apr 29, 2019
Verified Reviewer

Overall Experience:

Overall the fryer is ok - not worth the hype. My biggest zero would be the bottom tray is rusting and the paint is peeling. Also, food sticks to the racks - and no amount of spray will stop this. I too called customer service and no reply. I like the concept of this, but the NUWAVE works way better and no problems...not worth what they charge for these.

Bottom Line: No, I would not recommend this to a friend

---