Contour Power Bed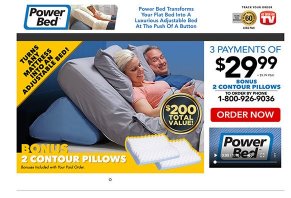 Contour Power Bed uses a three-button remote control and an inflatable chamber to elevate your head or legs up to 26 inches, which they claim will relieve snoring, pain, and poor sleep.
Contour Power Bed - Get a Perfect Sleep or Hype?
Contour Power Bed is a two-part bed accessory that adjusts the height of your mattress and promises to help alleviate neck aches, back pain, snoring, sinus pressure, colds, heartburn, and restless sleep.
The system accomplishes this by fitting underneath your mattress and inflating or deflating based on your needs and preferences.
This way, the company tells us the system can turn any mattress into a luxurious adjustable bed at the push of a button and at a fraction of the cost of traditional adjustable beds.
There's no doubt that Power Bed is less expensive than a traditional adjustable bed. But, will it deliver the same level of value, based on your needs? Let's start with the price.
How Power Bed Works
Based on what we learned from the system's website and commercial, Power Bed is easy to set up and use, and seems to operate a lot like a basic traditional adjustable bed.
First, you'll lift the head or foot of your mattress and place the deflated triangular air chamber underneath. You don't need to remove any bedding in the process.
Next, the three-button remote allows you to inflate and deflate (or quickly flatten) Power Bed's air chamber and adjust its height up to 26 inches, based on your preferences. The remote also glows in the dark for easy locating during nighttime.
How Much Does Power Bed Cost?
Power Bed is priced at three payments of $29.99, plus $9.99 shipping, bringing the total to $99.96. Each system includes two bonus contour pillows.
All orders come with a 60-day money back guarantee, less return shipping, which you can request by calling Tristar Products at 973-287-5168.
Comparatively, searching sites like Amazon and Google Shopping, among the least expensive adjustable beds we encountered during our research hovered around $300, while luxury models exceeded $2,000.
Regardless of what you pay for an adjustable bed system, though, what kinds of real-world benefits might you expect?
Which Conditions Can Be Treated Using an Adjustable Bed?
From a high-level perspective, the reality is that sleeping in an improper position can aggravate existing conditions like fatigue, headaches, and back pain. And the "wrong" position is different for everyone, based on a combination of ailments and personal preferences.
Still, the National Sleep Foundation tells us that elevating the head is especially helpful for reducing instances of snoring, since it "helps to take pressure off your airway so that it's easier to breathe while you sleep."
Important: Do you have sleep apnea? If so, WebMD points out that you'll want to avoid sleeping with your head elevated. Instead, lay on your side.
Elevating the upper half of your body while sleeping could also help reduce acid reflux, while raising your feet could help boost circulation in your legs and relieve pressure on veins.
Given all of these details, by offering remote control operation, the ability to raise your head or your feet, as well as height customization, it seems like Power Bed might deliver some level of relief from snoring and acid reflux.
Whether it will alleviate neck aches, back pain, colds, and restless sleep, as advertised on their website, will largely depend on your specific condition.
This is where consulting with your doctor before making a purchase can really pay off in the value department.
Speaking of which, are there other inflatable systems like Power Bed?
Power Bed vs. Mattress Genie Adjustable Bed Wedge
Based on what we surmised from online pictures and item descriptions, Power Bed seems functionally identical to Mattress Genie, which has been on the market for quite some time.
Like the product in question, Mattress Genie also promises to elevate any mattress up to 26 inches comes with a three-button (raise, lower, flat) remote, is easy to set up, and works with any brand or thickness of mattress.
As far as specifications, Mattress Genie comes with a one-year manufacturer warranty, supports up to 620 pounds, and measures 21 inches long by 56 inches wide and 16 inches high. At $130, it also comes in meaningfully higher than Power Bed's cost.
Comparatively, we're left with a lot of unanswered questions about Power Bed's functionality and details, including:
Is there a weight limit?
Is it battery operated, or do you have to plug it in?
What's the noise level?
How long does it take to inflate?
Will it slowly deflate while you sleep, thereby losing any advantages of elevating your head or legs?
We spoke with several Tristar service reps searching for additional insight, although none provided anything more than what was listed on Power Bed's website.
So, while Mattress Genie is more expensive than Power Bed, the former also includes important buying details, as well as a one-year warranty should something go wrong.
What about products with different designs?
Power Bed vs. Other Inflatable Mattress Wedges
Searching Amazon and Google Shopping, we encountered dozens of inflatable mattress wedges priced as low as $30, although they didn't include a remote and had to be manually inflated.
Still, these might be viable options if you're looking to spend as little money as possible while you figure out what will—and won't—address your specific concerns.
Along these same lines, many wedges feature designs with a longer, more gradual slopes, compared to Power Bed's more drastic triangular design that will likely elevate higher and more steeply.
Given this steep angle, stiffer mattresses such as those featuring built-in coils, might not bend as readily as those made from solid foam, memory foam, or solid latex. Not only could this impact the level of relief you achieve, but repeated up-and-down motions could actually damage your mattress.
As a result, we'd strongly recommend contacting your mattress manufacturer and verifying that an inflatable sleep system won't void the warranty before making a purchase.
Other low-cost options that you might consider include bed risers, books, or even a rolled-up blanket.
However, if your goal is to reduce snoring, the National Sleep Foundation emphasizes that you need to "prop up your whole upper body since lifting just your head can actually have the opposite effect" and increase your snoring.
The Bottom Line
Whether you're looking to address snoring, acid reflux, pain and discomfort, or anything else, Power Bed seems like an inexpensive way to elevate your head or feet while you sleep. It's also meaningfully less expensive than Mattress Genie, a functionally identical competitor.
Power Bed also comes from a manufacturer with decades in business and who stands behind the inflatable sleep system with a 60-day refund policy, which should be plenty of time to see if it meets your needs.
Helps alleviate acid reflux

By Cornelia F.

,

Lynnwood, WA

,

Dec 18, 2019
Verified Reviewer

Overall Experience:

After receiving my airbed and having slept on it for the last month, I can honestly say it was more than I had hoped for. I was skeptical when I first read about the airbed. But my curiosity got the better of me. I have GIRD so my acid reflux gets pretty bad. Sleeping with the Power Bed, my acid reflux has improved and I'm spending less nights being up half the night not being able to sleep because of bad teflux, and my significant other has told me he gets more sleep since having the Power Bed because I'm not snoring as frequently as I used to do.

All in all, I would recommend the airbed to someone with acid reflux problems or snoring problems. However, there is one thing I do not like about the airbed, and that is because it is kind of loud when you inflate, and my significant other has to sleep elevated whether he wants to or not because both sides of the king bed elevate because they are not independent of each other. But that's something for mattress manufacturers to figure out. I give it a thumbs up.

Bottom Line: Yes, I would recommend this to a friend

---

Advertisement

---