Power Pressure Cooker XL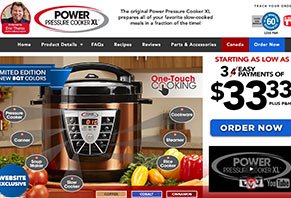 The Power Pressure Cooker XL is a digital pressure cooker that claims to help you slow-cook meals your family will love up to 70% faster than other methods.
Power Pressure Cooker XL Review: Features, Test, and More
The Power Pressure Cooker XL is a digital pressure cooker that claims to be a "one button, one pot kitchen miracle" assisting you in preparing all of your favorite slow-cooked meals in a fraction of the time.
Because of this, this As Seen on TV Power Pressure Cooker XL is claimed to help you create succulent, wholesome meals with one touch of a button and up to 70% faster than conventional methods, saving you time, energy, and money.
Admittedly, the Power Pressure Cooker XL's advertising raises some interesting selling points. After all, who wouldn't want to be able to create delicious, home-cooked meals in minutes as the manufacturer claims? The commercial is definitely compelling and you've come to the right place to learn more about the Pressure Cooker XL.
Since writing our original review, more than 500 HighYa readers have chimed in about their experiences with the Power Pressure Cooker XL, which has given us much better insight into the slow cooker's performance. So how do these experiences match up with the product's claims? Let's find out.
Understanding How the Power Pressure Cooker XL Works
Using Flavor Infusion technology that traps super-heated steam inside the pot, which forces liquid and moisture into your food and locks in intense flavor and nutrients, in addition to its intelligent one-touch settings, the Power Pressure Cooker XL is claimed to be ideal for cooking all you favorite foods, including meat, fish, vegetables, beans, rice, soup, stews, and much more.
In addition, according to the Power Pressure Cooker XL website, this "As Seen on TV" slow cooker is claimed to save you prep time by allowing you to put all your ingredients into one pot (including un-defrosted frozen foods), and its one-touch pre-set operation means that you simply turn it on, choose your setting, and walk away. On top of this, because you'll only be using one appliance, the manufacturer claims that the Power Pressure Cooker XL can help conserve energy and keep your kitchen cooler.
Also, you can adjust the pressure of your Power Pressure Cooker XL between 10-80 kPa, which means that you'll be able to brown and sauté your food, as well as can your choice of fruits and vegetables. Other features of the Power Pressure Cooker XL include a 6, 8, or 10-quart capacity, stainless steel housing, digital display panel, safe lock lid, reinforced, and built-in steam ledge.
Once your food is finished cooking, the Power Pressure Cooker XL is claimed to automatically change to "Keep Warm" mode, which, as it sounds, will keep your food warm until you're ready to enjoy it. Afterward, the manufacturer claims that cleanup is a breeze, thanks to the Power Pressure Cooker XL's removable, non-stick inner pot that is dishwasher safe (see more about this in the Bottom Line section).
Power Pressure Cooker XL Pricing and Refund Policy
If purchased directly through the company, the Power Pressure Cooker XL is priced as follows:
6 Quart: $99.99 or three payments of $33.33
8 Quart: $129.96 or three payments of $43.32
8 Quart Deluxe (adds a canning lid, steaming rack, and copper, cobalt, and cinnamon colors): $159.93 or three payments of $53.31
10 Quart: $159.93 or three payments of $53.31
Regardless of which option you choose, you'll be charged $29.99 S&H. A power chopper, power cooker, and power canning recipe books are included.
The Power Pressure Cooker XL comes with a 60-day money-back guarantee, less S&H charges, as well as a 60-day limited warranty against defects in materials and workmanship. However, you can also add a 3-year warranty for an additional $15, and a 6-year warranty for $30 at checkout.
In order to initiate a warranty claim or to begin the refund process, you'll need to contact customer service at (973) 287-5159.
Where Can You Buy a Power Pressure Cooker XL?
The Power Pressure Cooker XL has become a runaway hit for the company, so it's also available through dozens of third-party retailers (both online and off).
These include JCPenny, Bed Bath & Beyond, Walmart, Home Depot, Target, Kohl's, Macy's, Sears, Fry's Electronics, Amazon.com, Newegg.com, QVC.com, and more.
A Look at Power Pressure Cooker XL Customer Reviews
Based on 500+ HighYa reader reviews, the Power Pressure Cooker XL has an average rating of 2.0 stars. Below, we've broken down some of the most consistent complaints that consumers are citing:
Problem #1: Long Shipping Times
By far the most common complaint HighYa readers referenced is very long shipping times. Although it appears that most customers experienced delivery times within the 4-6 week range, some were as long as 4 months. In fact, one reader claimed that it took 137 days to receive their Power Pressure Cooker XL.
On top of this, numerous HighYa readers claimed to have received the Power Cooker Pro instead of the XL model. And even though these instances appear to have been the company's fault, customers were required to pay for shipping back to the manufacturer, and were then charged another $29.99 S&H for the company to send them the model they originally ordered.
Note: Most of the reviews referencing shipping problems are older, so the company may have addressed the root of the problem.
Problem #2: Poor Customer Service
A very close second in regards to the most popular complaints from HighYa reader was poor customer service. These included representatives who were unable to answer questions about the product, difficulty processing returns (several customers even claimed they had to dispute the charges with their credit card company in order to avoid being charged), long hold times/frequent transfers, difficulty understanding representatives, duplicate/fraudulent charges, and no response to repeated emails.
Problem #3: Poor Quality/ Doesn't Work as Advertised
Like many other As Seen on TV products, many customers appear to have been dissatisfied with how the Power Pressure Cooker XL performed and/or its overall quality. As such, numerous HighYa readers claimed that the Power Pressure Cooker XL won't maintain adequate pressure, that it burns food on the inner pot and is almost impossible to clean, and comes with vague directions. Additional complaints referenced that the timer doesn't work, the unit takes 20 minutes to pressurize before you can begin cooking, and that canning does not work 2000 feet above sea level. Even for those below 2,000 feet in elevation, some readers claimed that the Power Pressure Cooker XL has a tendency to break jars.
Also, it's interesting to note that one of the Power Pressure Cooker XL's promotional videos shows pulled pork is slow cooked over the course of 10 hours. However, most pressure cooker recipes recommend between 50 minutes and 1 hour 15 minutes (see here and here as examples) to cook pulled pork, which means that the device may not always cook food 70% faster as the manufacturer claims.
In fact, this is something we learned in our testing, which is what we'll discuss next.
Our Test: Does Power Pressure Cooker XL Really Work?
As we just saw, there are a lot of polarizing reviews for the Power Pressure Cooker XL, so we decided to test it and see if it delivers on its promises:
For more product tests and shopping tips: Click here to subscribe to HighYa's YouTube channel.
During our testing, we cooked four different dishes listed in the included recipe book:
Pot Roast Recipe
We were instructed to sauté vegetables directly in the cooker, but the recipe book provided no direction on exactly how to do this. We ended up choosing the chicken or meat program, waiting for the inner pot to heat up, and sautéed our veggies reasonably well.
After cooking was complete, we found that the flavor was good, but definitely not perfect. The vegetables were a little overcooked and the meat a bit undercooked (it didn't fall apart like most pot roasts should).
5 lb Frozen Chicken
Our frozen chicken ended up looking more boiled than roasted, and not very appetizing in appearance. After cutting into the chicken, we found the meat closer to the bone was completely raw, so we put it in for another 20 minutes.
It turned out this was probably too long, as the chicken came out dry and didn't taste all that great. Despite this, it still wasn't roasted.
Creme Brulee Recipe
The results were fairly impressive and tasted very good. However, although crème brulee might cook a little faster in the Power Pressure Cooker XL, you're limited to cooking only 3-4 servings at a time, depending on the size of your ramekins, compared to an oven where space isn't a concern.
Cooking Rice in the Power Pressure Cooker XL
Now that we figured out how to sauté in the XL, cooking the onions before adding the rice was a snap. After 6 minutes (in addition to the time to reach pressure, of course), the rice had good flavor with no sticking or burning—unlike what many HighYa readers have reported—but was a little underdone.
Our Takeaways Regarding the Power Pressure Cooker XL
Overall, based on our testing, we came away with the following:
It takes 17-20 minutes for the Power Pressure Cooker XL to come to pressure before the cooking begins, so be sure to factor this into your overall preparation time.

We found that it can be confusing (even a bit counterintuitive) as to which settings you should use for which dishes. For example, sautéing something required the chicken or meat setting, while cooking the frozen chicken used the vegetable and the stew setting. So, if you're cooking a recipe not found in the included book, you'll probably have to experiment a lot to see which functions work best for different foods.

We didn't encounter any burning or sticking during our testing, although the inner pot does become stained fairly easily.

Speaking of which, the inner pot and lid really hold on to some of the more flavorful smells, even after repeated washing, scrubbing, and thoroughly airing them out. We found that soaking them in warm water for a couple of hours seemed to work best.
In the end, based on our experience, we think the Power Pressure Cooker XL might help you save some time on certain dishes—as long as you're already fairly comfortable using pressure cookers. If not, the pressure cooker seems to have quite a bit of a learning curve, and it'll probably take a lot of experimentation before you feel fully comfortable.
Also, we didn't find the Power Pressure Cooker XL to be universal or one-touch, and when cooking, it wasn't always "up to 70% faster."
Is the Power Pressure Cooker XL Safe?
One additional thing we experienced during testing: We found that XL's pressure seal/vent valve was really loose and moved with even just the slightest touch of a finger. As a result, it doesn't always stay in the position you set it in, which can quickly become frustrating.
Not only this but since the valve quickly releases hot steam, it could potentially be dangerous if your skin (especially your face) is over the vent when you accidentally touch it—or even just lightly bump the pressure cooker itself.
For these reasons, perhaps more than anything else, we found this to be Power Pressure Cooker XL's biggest design flaw. Perhaps in future updates, the company will implement a design that locks this vent more firmly into place.
Where Can You Find the Power Pressure XL Manual?
What happens if you lose your manual? How can you become comfortable with your Power Pressure Cooker XL?
Under their Customer Service page, the manufacturer provides complete documentation for each of their different Power Pressure XL models and sizes. Here, you'll find quick start guides that can get you up and running as quickly as possible, as well as more in-depth manuals that can help you can learn about features, program settings, and more:
Power Pressure XL Recipes
What happens if you lose your original Power Pressure Cooker XL recipe book? You can download a digital copy here and find many of these same recipes in video here.
Looking to move outside of these limited options? We also found 29 Pinterest Recipes for Power Pressure Cooker XL, which appear to be meaningfully different than those provided by the company. Here are some additional video recipes:
Need even more? Try searching for "Power Pressure Cooker XL recipes" on YouTube. In addition to the company's own recipes—many of which are duplicated in their guide—you'll find enough to keep you busy for weeks.
Now, if you're on the hunt for electric pressure cooker recipes in general (not related specifically to the XL), you have hundreds of other options, including popular sites like AllRecipes.com, Food.com, Pinterest, PressureCookingToday.com, and many more.
Again, just to reiterate: You'll likely have to do some experimenting in order to "translate" these recipes from traditional pressure cookers and to get acceptable results with the XL since it operates meaningfully different than many other electric pressure cookers.
Can You Cook a Roasted Chicken with Power Pressure Cooker XL?
As we can see in the previous section, there are many different ways to cook chicken in the Power Pressure Cooker XL, although this typically constitutes cut or shredded chicken. You'll even find recipes for braised and BBQ chicken directly on the product's website.
However, during our testing, we found that the Power Pressure Cooker XL didn't provide great results when trying to "roast" a whole frozen 5 lb chicken, which was completely raw close to the bone after following directions. Even after cooking it an extra 20 minutes, the chicken didn't taste very good and was quite dry.
With some experimentation, we (and anyone else attempting the recipe) might be able to get better results, although even under the best circumstances, we don't think the XL will deliver a true roasted chicken.
Bottom Line: Is the Power Pressure Cooker XL Worth Your Money?
Despite how attractive the Power Pressure Cooker XL infomercial and TV commercials make it seem, can it really help you cook more delicious meals with less effort? Perhaps, but in order to avoid some of the potential issues HighYa reviewers claimed to have experienced in their reviews, including excessive shipping times, very high S&H charges, and poor customer service, you'll likely want to purchase the pressure cooker from a local retailer, such as Walmart. However, even by doing so, most HighYa readers appear to have been dissatisfied with the Power Pressure Cooker XL's overall performance.
With this said, it's important to note that many consumers were pleased with the XL's performance, and in response to other negative reviews, they stated that the bad experiences may be partly due to unfamiliarity using a pressure cooker from any manufacturer. Also, while some reviewers claimed that the Power Pressure Cooker XL often burned their food, this may be simple to avoid by reading the instructions and not over-cooking your food. As such, this specific complaint may not be directly related to the Power Pressure Cooker itself.
» Related: A Complete Guide to Buying Multi-Cookers
Problems

By John O.

,

Idaho Falls, ID

,

Jan 10, 2020
Verified Reviewer

The first Power Pressure Cooker XL I bought stopped pressurizing after the second use. Took it back to the store and got another one. The second one lasted a bit longer but now has the same problem. It doesn't pressurize and burns the food on the bottom. Not happy with this product.

Bottom Line: No, I would not recommend this to a friend

---

Can't get parts for product

I got this item for Christmas last year, used a couple of times and now it won't pressurize anymore. Called the manufacturer and they were not able to replace just the inner bowl that looks to be bent. What a waste, kids bought me a new one this year but I'm taking it back to the store, they were not helpful at all. I don't want their product, in the few times I did used it I also had to replace the gaskets. Not worth it.

Bottom Line: No, I would not recommend this to a friend

---

Advertisement

---

Power Pot, Pressure Cooker XL

By Naomi I.

,

Sinclair, Manitoba, Canada

,

Aug 12, 2019
Verified Reviewer

A very handy kitchen tool. Makes very good soups and stews in a very short time.

However, any canning I've tried is not impressive! Fruits are way overcooked to mush! A boiling water bath is all that is required to can fruit so it's really no wonder when the canning setting is pressurized in this pot. It comes with canning instructions but ignore them and consult reputable canning books or university extension web sites for much better advice.

I would recommend it for anything but canning.

Bottom Line: Yes, I would recommend this to a friend

---

Don't waste your money

By Nickol B.

,

Warren, MI

,

Jul 26, 2019
Verified Reviewer

Buyers beware! I absolutely loved my PPC XL and used it daily until one day my electricity blinked due to weather, my unit fried even though it was plugged into an outlet with an RFI and now it won't even turn on anymore. Then to make matters worse I called customer service who conveniently "couldn't find" my purchase anymore and refused to replace the unit. My advice, don't even buy one unless you are prepared to fork out the cash for another one when something goes wrong.

Oh and what everyone, literally EVERYONE says about the Teflon coating is very true, it started coming off like the third time I used it, I was just willing to deal with it.

Bottom Line: No, I would not recommend this to a friend

---

Advertisement

---

Just stopped working - very disappointed!

By Sherri G.

,

Nova Scotia, Canada

,

Jul 24, 2019
Verified Reviewer

I've had my cooker for 3 years but just started using it more in the last 6 months. Had it full of food the other day and could not get it to start heating up, no matter what I tried, it was getting power but nothing was happening. A very expensive unit to just get 10 uses! Now it's garbage.

Bottom Line: No, I would not recommend this to a friend

---

Never worked

By Misty C.

,

Nevada

,

Mar 23, 2019
Verified Reviewer

I have many products from Eric Theiss that I have purchased and loved them all. This one is the worst! I still have yet to make a meal in this.

1. Lid was very hard to get on.

2. Had the error message E3 several times, called customer service.

3. Steam was leaking from the sides.

4. The cycle would go on and reach pressure (as so I thought) went through the cooking cycle for 30 minutes and went to release the steam and nothing. Pot roast was then put into a pot to finish cooking.

5. Customer service recommended a new seal which I purchased.

6. Put the new seal on and decided to make soup . Now the lid is stuck on with my soup inside. Called customer service again and they will send me a new one but I will have to pay the shipping for the new one at $24.99 and send the old one back which will probably be the same price. Effectively, I can get a new one for $50.00. But WAIT, I can't send it back because there is liquid soup trapped inside and I can't open the LID!

ABSOLUTELY WORTHLESS PIECE OF JUNK. I will rethink about buying another Eric Theiss product.

I went out and bought an Instant Pot. VERY DISAPPOINTED AND FRUSTRATED.

Bottom Line: No, I would not recommend this to a friend

---

Terrible Pressure Cooker

By Melissa L.

,

Lexington, NC

,

Mar 17, 2019
Verified Reviewer

I bought mine from QVC back in July 2017. I only used it once a week. The coating in the pot started coming off, so I called the companies customer service number. I explained to the girl what happened and she said it would cost me $29.99. I got free shipping and no taxes, wow right. I ordered the new February 6th and found out it is out of stock. I will never buy anything from this company again.

Bottom Line: No, I would not recommend this to a friend

---

Buy another brand, Pressure Cooker XL stinks!

By Melissa C.

,

Denver, CO

,

Mar 15, 2019
Verified Reviewer

The company does not stand behind its product. I called to get a new inner pot (they were going to send me the same poorly designed one that is in the trash, don't like eating Teflon) and they later told me they don't have the inner pot to match my model but that they would send me an ENTIRE NEW UNIT. Great! Then I find out they want a $25 check to ship it to me!? In addition to the $20, to send it to them with tracking. So the customer is expected to pay $50 to replace a less than year old item - and pay this to a company that doesn't stand behind its products...no thanks. Buy another brand with a thick bottom stainless steel liner.

Bottom Line: No, I would not recommend this to a friend

---

Save your hard earned money

By Frank P.

,

Canton, OH

,

Mar 5, 2019
Verified Reviewer

This pot is terrible! First time used, just ok, now as it builds pressure and starts the count down, the valve blows off and I can't get it to stop, resulting in terrible meals. I called the company, explained the problem, they said the steam valve was bad. Charged me for the new valve, same problem. Out of warranty and if I send the valve back that they said was bad, I have to pay the shipping - right, shove that valve where the sun don't shine. They can't even diagnose their one junk pot, how many more parts are not needed, that they will suggest, stay away from power pressure piece of JUNK. If they would pay the shipping, I send the junk back to them and call it even.

Bottom Line: No, I would not recommend this to a friend

---

This thing is a piece of junk!

By Melissa S.

,

Illinois

,

Feb 5, 2019
Verified Reviewer

I have had this Power Pressure Cooker for about one year and I have had to replace it three times. It is a piece of junk! The non-stick is about as thick as a light layer of Pam. It rubs right off with just the sponge side of a sponge. It burns food to the bottom every single time I cook in it. Now it will not come to pressure to cook. If you contact the company they tell you to return it to the store you bought it from. Do not be fooled by the price, it is not worth even a dollar!

Bottom Line: No, I would not recommend this to a friend

---

I don't know what's worse, the customer service or the product

By Julie M.

,

323 Wheatsheaf Drive

,

Feb 5, 2019
Verified Reviewer

I used the product one time and the metal piece came out when I took the liner out to clean it a. I called customer service and the first person who I spoke with name Renaldo told me to take it back where I purchased it and I told him that was unacceptable and he hung on me.

I called back and the next person I spoke to would not give me her name, and then she told me the piece was there, I told her it wasn't and asked for a supervisor. The supervisor came on the line and told me I can purchase the washer to hold the valve in place but I have purchased it. And I was told that it was $9, I told her that was unacceptable. Supervisor asked me to hold and then came back on the line and told me I can get a Walmart gift card and she would have to transfer me and I told her I was not about to do a survey. The supervisor told me that's the only way I can get the gift card because that is the only program they are offering right now. I thanked her and I told her I will leave a review. Don't purchase anything from this company.

Bottom Line: No, I would not recommend this to a friend

---