Power Pressure Cooker XL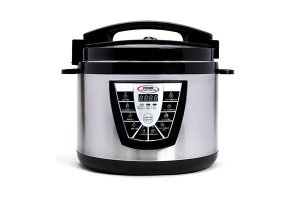 The Power Pressure Cooker XL is a digital pressure cooker that claims to help you slow-cook meals your family will love up to 70% faster than other methods.
Power Pressure Cooker XL Test
For more product tests and shopping tips: Click here to subscribe to HighYa's YouTube channel.
During our testing, we cooked four different dishes listed in the included recipe book:
Pot Roast Recipe
We were instructed to sauté vegetables directly in the cooker, but the recipe book provided no direction on exactly how to do this. We ended up choosing the chicken or meat program, waiting for the inner pot to heat up, and sautéed our veggies reasonably well.
After the cooking was complete, we found that the flavor was good, but definitely not perfect. The vegetables were a little overcooked and the meat a bit undercooked (it didn't fall apart like most pot roasts should).
5 lb Frozen Chicken
Our frozen chicken ended up looking more boiled than roasted, and not very appetizing in appearance. After cutting into the chicken, we found the meat closer to the bone was completely raw, so we put it in for another 20 minutes.
It turned out this was probably too long, as the chicken came out dry and didn't taste all that great. Despite this, it still wasn't roasted.
Creme Brulee Recipe
The results were fairly impressive and tasted very good. However, although crème brulee might cook a little faster in the Power Pressure Cooker XL, you're limited to cooking only 3-4 servings at a time, depending on the size of your ramekins, compared to an oven where space isn't a concern.
Cooking Rice in the Power Pressure Cooker XL
Now that we figured out how to sauté in the XL, cooking the onions before adding the rice was a snap. After 6 minutes (in addition to the time to reach pressure, of course), the rice had good flavor with no sticking or burning—unlike what many HighYa readers have reported—but was a little underdone.
Our Takeaways
Overall, based on our testing, we came away with the following:
It takes 17–20 minutes for the Power Pressure Cooker XL to come to pressure before the cooking begins, so be sure to factor this into your overall preparation time.

We found that it can be confusing (even a bit counterintuitive) as to which settings you should use for which dishes. For example, sautéing something required the chicken or meat setting, while cooking the frozen chicken used the vegetable and the stew setting. So, if you're cooking a recipe not found in the included book, you'll probably have to experiment a lot to see which functions work best for different foods.

We didn't encounter any burning or sticking during our testing, although the inner pot does become stained fairly easily.

Speaking of which, the inner pot and lid really hold on to some of the more flavorful smells, even after repeated washing, scrubbing, and thoroughly airing them out. We found that soaking them in warm water for a couple of hours seemed to work best.
In the end, based on our experience, we think the Power Pressure Cooker XL might help you save some time on certain dishes—as long as you're already fairly comfortable using pressure cookers. If not, the pressure cooker seems to have quite a bit of a learning curve, and it'll probably take a lot of experimentation before you feel fully comfortable.
Also, we didn't find the Power Pressure Cooker XL to be universal or one-touch, and when cooking, it wasn't always "up to 70% faster."
One additional thing we experienced during testing: We found that XL's pressure seal/vent valve was really loose and moved with even just the slightest touch of a finger. As a result, it doesn't always stay in the position you set it in, which can quickly become frustrating.
Not only this but since the valve quickly releases hot steam, it could potentially be dangerous if your skin (especially your face) is over the vent when you accidentally touch it—or even just lightly bump the pressure cooker itself.
For these reasons, perhaps more than anything else, we found this to be Power Pressure Cooker XL's biggest design flaw. Perhaps in future updates, the company will implement a design that locks this vent more firmly into place.
---
Canning book

By Bonnie F.

,

Belton, MO

,

Sep 23, 2020
Verified Reviewer

Overall Experience:

I have a Power Pressure Cooker XL that I love but I'm trying to get a canning book to know how long to set it for canning and to use that one, but I can't find it anywhere, so if someone can tell where to get it, please help.

Pros and Cons:

I like all the settings
I like all the different recipes
And I like that they come out great
I can't find a canning box so I can do that also

Bottom Line: Yes, I would recommend this to a friend

---

Teflon pealing off after first use

By Taylor H.

,

Dallas, TX

,

Sep 8, 2020
Verified Reviewer

Length of Use: 3–6 months

Overall Experience:

After the first use, we noticed black flakes stuck to the food. We called Tristar and they said they would send us another inner pot. That was a couple of months ago. We have called several times and all they can tell us is the inner pot is on backorder and they have no idea if or when they will get any in. They also are unwilling to send us a new pressure cooker since we told them just the pot was bad. Tristar company does not stand behind their products. But they are quick to take your money. A bit fraudulent in my opinion. Do yourself a favor and stay away from all Tristar products!

Pros and Cons:

No "pros" were specified in this review
Sell faulty products
They don't stand behind their products
Unwilling to help in any way

Bottom Line: No, I would not recommend this to a friend

---

The container inside

By Trudy W.

,

Alberta, Canada

,

Apr 11, 2020
Verified Reviewer

Overall Experience:

I've had my machine for about 5 years now. Have not had ANY problems with it, EXCEPT for the inside of the container, where all the coating is coming off, which is not healthy for people to eat. I'd like another inside-cooker part, but do not know where to get one. Any suggestions?

Bottom Line: Yes, I would recommend this to a friend

---

Problems

By John O.

,

Idaho Falls, ID

,

Jan 10, 2020
Verified Reviewer

Overall Experience:

The first Power Pressure Cooker XL I bought stopped pressurizing after the second use. Took it back to the store and got another one. The second one lasted a bit longer but now has the same problem. It doesn't pressurize and burns the food on the bottom. Not happy with this product.

Bottom Line: No, I would not recommend this to a friend

---

Advertisement

---

Can't get parts for product

Overall Experience:

I got this item for Christmas last year, used a couple of times and now it won't pressurize anymore. Called the manufacturer and they were not able to replace just the inner bowl that looks to be bent. What a waste, kids bought me a new one this year but I'm taking it back to the store, they were not helpful at all. I don't want their product, in the few times I did used it I also had to replace the gaskets. Not worth it.

Bottom Line: No, I would not recommend this to a friend

---

Power Pot, Pressure Cooker XL

By Naomi I.

,

Sinclair, Manitoba, Canada

,

Aug 12, 2019
Verified Reviewer

Overall Experience:

A very handy kitchen tool. Makes very good soups and stews in a very short time.

However, any canning I've tried is not impressive! Fruits are way overcooked to mush! A boiling water bath is all that is required to can fruit so it's really no wonder when the canning setting is pressurized in this pot. It comes with canning instructions but ignore them and consult reputable canning books or university extension web sites for much better advice.

I would recommend it for anything but canning.

Bottom Line: Yes, I would recommend this to a friend

---

Don't waste your money

By Nickol B.

,

Warren, MI

,

Jul 26, 2019
Verified Reviewer

Overall Experience:

Buyers beware! I absolutely loved my PPC XL and used it daily until one day my electricity blinked due to weather, my unit fried even though it was plugged into an outlet with an RFI and now it won't even turn on anymore. Then to make matters worse I called customer service who conveniently "couldn't find" my purchase anymore and refused to replace the unit. My advice, don't even buy one unless you are prepared to fork out the cash for another one when something goes wrong.

Oh and what everyone, literally EVERYONE says about the Teflon coating is very true, it started coming off like the third time I used it, I was just willing to deal with it.

Bottom Line: No, I would not recommend this to a friend

---

Just stopped working - very disappointed!

By Sherri G.

,

Nova Scotia, Canada

,

Jul 24, 2019
Verified Reviewer

Overall Experience:

I've had my cooker for 3 years but just started using it more in the last 6 months. Had it full of food the other day and could not get it to start heating up, no matter what I tried, it was getting power but nothing was happening. A very expensive unit to just get 10 uses! Now it's garbage.

Bottom Line: No, I would not recommend this to a friend

---

Never worked

By Misty C.

,

Nevada

,

Mar 23, 2019
Verified Reviewer

Overall Experience:

I have many products from Eric Theiss that I have purchased and loved them all. This one is the worst! I still have yet to make a meal in this.

1. Lid was very hard to get on.

2. Had the error message E3 several times, called customer service.

3. Steam was leaking from the sides.

4. The cycle would go on and reach pressure (as so I thought) went through the cooking cycle for 30 minutes and went to release the steam and nothing. Pot roast was then put into a pot to finish cooking.

5. Customer service recommended a new seal which I purchased.

6. Put the new seal on and decided to make soup . Now the lid is stuck on with my soup inside. Called customer service again and they will send me a new one but I will have to pay the shipping for the new one at $24.99 and send the old one back which will probably be the same price. Effectively, I can get a new one for $50.00. But WAIT, I can't send it back because there is liquid soup trapped inside and I can't open the LID!

ABSOLUTELY WORTHLESS PIECE OF JUNK. I will rethink about buying another Eric Theiss product.

I went out and bought an Instant Pot. VERY DISAPPOINTED AND FRUSTRATED.

Bottom Line: No, I would not recommend this to a friend

---

Terrible Pressure Cooker

By Melissa L.

,

Lexington, NC

,

Mar 17, 2019
Verified Reviewer

Overall Experience:

I bought mine from QVC back in July 2017. I only used it once a week. The coating in the pot started coming off, so I called the companies customer service number. I explained to the girl what happened and she said it would cost me $29.99. I got free shipping and no taxes, wow right. I ordered the new February 6th and found out it is out of stock. I will never buy anything from this company again.

Bottom Line: No, I would not recommend this to a friend

---

Buy another brand, Pressure Cooker XL stinks!

By Melissa C.

,

Denver, CO

,

Mar 15, 2019
Verified Reviewer

Overall Experience:

The company does not stand behind its product. I called to get a new inner pot (they were going to send me the same poorly designed one that is in the trash, don't like eating Teflon) and they later told me they don't have the inner pot to match my model but that they would send me an ENTIRE NEW UNIT. Great! Then I find out they want a $25 check to ship it to me!? In addition to the $20, to send it to them with tracking. So the customer is expected to pay $50 to replace a less than year old item - and pay this to a company that doesn't stand behind its products...no thanks. Buy another brand with a thick bottom stainless steel liner.

Bottom Line: No, I would not recommend this to a friend

---