Power Quick Pot Reviews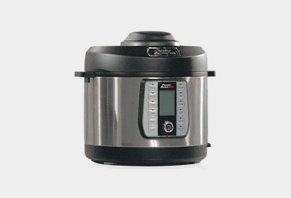 The Power Quick Pot multi-cooker features 32 preset programs, Cook IQ Technology to automatically calibrate the perfect cooking time, pressure, and temperature, and eight-in-one functionality to deliver ease of use and savory flavor.
About Power Quick Pot
Power Quick Pot is an eight-in-one multi-cooker that helps cook homemade meals by combining a pressure cooker, slow cooker, sous vide device, stove top and rice cooker, steamer, canner, and yogurt maker.
And with its 32 pre-set programs and Cook IQ Technology—which automatically calibrates the perfect time, pressure, and temperature—the website advertises it works up to 70 percent faster and delivers foods that's full of moisture, flavor, and nutrients, with just one push of a button.
Other useful features include an ergonomically designed easy-lift lid, large LCD display with dial-based navigation, a stainless steel inner pot that's PFOA/PTFE free and dishwasher safe, 50 percent faster pre-heating times, an automatic 'keep warm' function, and a no-mess splatter guard.
Once you have Power Quick Pot in your home, will it live up to all the advertising promises made in the commercial? Should you place an order in the first place, or consider one of the competitors?
Give us a few minutes of your time, and we'll help you find some answers—starting with basic functionality.
What's the Difference Between Slow Cookers, Pressure Cookers, & Multi-Cookers Like Power Quick Pot?
We explain in Best Slow Cooker Buying Guide that these devices work simply by allowing you to throw all of your ingredients into a single pot, turn it on, and let it cook. As it does so, the closed environment seals in moisture and flavor, delivering hands-free, savory, fall-off-the-bone meals by the time you return.
Pressure cookers also infuse food with moisture and flavor, but do so by heating liquid inside a sealed container, which forms steam and raises the boiling point and interior pressure. Comparatively, they deliver similar results much faster than slow cookers.
Perhaps splitting the difference, multi-cookers like Power Quick Pot combine many of the benefits of slow cookers and pressure cookers into s single device, with common settings for baking, cooking, frying, stewing, and steaming, as well as for making pasta, pilaf, and plain grains.
If you're on the fence about whether to purchase a slow cooker or a pressure cooker, a multi-cooker might seem like a solid middle-of-the-road option. But before zooming in and comparing Power Quick Pot's functionality with popular competitors, let's take a look at the price and the manufacturer.
How Much Does Power Quick Pot Cost?
Power Quick Pot is available in three different capacities on Amazon
6 Quart (13" H x 13" W x 12" D): 64.26
8 Quart (14.5" H x 14.5" W x 13.5" D): $89.67-$166.51 (Depending on Seller)
10 Quart (15" H x 14.5" W x 13.5" D): $210.09
What Do We Know About the Company Behind Power Quick Pot?
Tristar Products has been in business since 1992 and has grown to become the second-largest manufacturer in the As Seen on TV industry. In that time, they've released numerous hits, including recent popular products like the original Clear TV, Power Pressure Cooker XL, and the Copper Chef lineup.
The Fairfield, NJ-based company held an A+ rating with the Better Business Bureau, based on 21 customer reviews and more than 640 closed complaints, as of 4/4/18. Although a company representative responded in each instance, the majority of these seemed to revolve around quality and support concerns.
Power Quick Pot vs. Other Multi-Cookers
Returning to the Complete Multi-Cooker Buying Guide from earlier, we emphasize that when choosing which model to buy, there are three main factors you'll want to focus on:
Power Capacity – The power capacity—measured in watts—is a direct representation of how fast it will cook your food. Therefore, the higher the wattage, the better. Pro tip: You'll want to look at models with 900 watts of power or more if you plan to use your multi-cooker regularly.

Pressure settings – Similarly, the higher the pressure your device is capable of reaching, the faster it will cook your food. For safety, make sure it features a locking lid and steam release valve.

Internal Coating – Power Quick Pot's interior lining is made of stainless steel, which is not a naturally non-stick surface. On the flip side, many come with 'marbled' coatings that offer PFOA and PTFE-free nonstick functionality.
» Related: Non-Stick Cookware 101: Is Teflon Safe?
Furthermore, since they offer fewer places to hide old food, touch panels are typically preferable to knobs, while interior parts should disassemble easily for quick cleaning.
Given these core criteria, let's see how some of the top multi-cookers on marketplaces like Amazon and Google Shopping compare to Power Quick Pot, which also feature multiple one-touch settings, center knobs for navigation, backlit LCD displays, locking lids, automatic time, temperature, and heat adjustment using internal microprocessors; PFOA/PTFE-free interiors, keep warm settings, and obviously, multi-functionality:
| | | | |
| --- | --- | --- | --- |
| | Power Quick Pot | Instant Pot Ultra | Souvia 8-in-1 Multi-Cooker |
| Price | $99.99; $129.99; $159.99 | $129.99; $149.95; $179.99 | $69.99; $149.99 |
| Power Capacity | N/A | 1,000 watts | 1,500 watts |
| Pressure Settings | N/A | 7.2 PSI (40 - 50 kPa); High Pressure: 10.2 - 11.6 PSI (70 - 80 kPa) | N/A |
| Internal Coating/Capacity | Stainless steel; 6-10 quarts | Nonstick; 3 - 6 quarts | Nonstick; 6 -7 quarts |
| Interface | One-touch panel; knob navigation | One-touch panel; knob navigation | Scrollable panel |
| Special Features | 32 one-touch settings, Cook IQ Technology | 16 one-touch settings, steam release reset button, also features a central dial for navigation | 8 preset modes, clear lid, time/temperature selection (no microchip detection) |
During our calls to customer support, we also inquired about Power Quick Pot's power capacity (wattage), pressure settings, and whether or not it features a steam release valve or button, none of which were able to offer additional insight.
Does this mean you should go with any of the models above, or continue looking for your 'perfect' multi-cooker?
Our Bottom Line About Power Quick Pot
Multi-cookers, in general, seem to live up to customers' expectations, as most of them seem pleased with their purchases, regardless of the model. As such, choosing the 'best' option might largely come down to those features most important to you, including:
Budget (as with most electronics, you typically get more features with high-priced models)
Operation (i.e., buttons vs. knobs, LCD vs. numeric display, etc.)
Functionality (the number of devices it's intended to replace, the number of one-touch settings, etc.)
Capacity (how much food the interior can hold and still function optimally)
Considering all of this, Power Quick Pot is available in three capacities, features more one-touch capabilities than competitors, comes with an ultra-competitive price and 60-day refund policy, and built-in microprocessor technology that automatically adjusts time, temperature, and pressure based on the food you add. In other words, it seems to deliver a lot of core features for a low price.
With these positives in mind, since customer support wasn't able to provide wattage or pressure settings, these are two criteria that can't be compared apples-to-apples with the competition.
Furthermore, the company doesn't provide support for its claims of heating 50 percent faster and cooking 70 percent faster. Also, while stainless steel is PFOA/PTFE-free, it's not naturally non-stick, which could lead to longer clean-up times after each meal.
Bottom line: Choosing a multi-cooker isn't exactly rocket science, but Power Quick Pot comes from a manufacturer with years in business and mostly positive online customer feedback, which could be an indication of what you'll experience after becoming a customer.
On the other hand, if you prefer an interface without a knob, or one with fewer bells and whistles (and subsequently, a potentially lower price point), there are certainly other brands and models—including many of which are available locally, saving time and potential S&H charges—available to explore.
Some important things missing

By Julie L.

,

New South Wales, Australia

,

Sep 13, 2019
Verified Reviewer

Good for soups and stews, but where is the information needed to bake a roast? How do I cook rice when there is no guide for quantities? Ditto pasta, etc, etc.

The cookbooks supplied have weird, complicated food that only a Southern American could like, but you're marketing this product world-wide. I only need to know the basics, but the basics are missing.

Also, where is the wire basket that one demonstrator boils eggs in?

Bottom Line: No, I would not recommend this to a friend

---

DO NOT BUY

By Elizabeth C.

,

Cranston, RI

,

Aug 12, 2019
Verified Reviewer

This product is an instrument of torture. I can't tell how well it works BECAUSE I COULD NOT EVEN REMOVE THE INNER LID TO CLEAN IT BEFORE USING, as instructions say to do. I read the instructions carefully before wasting 45 minutes trying to remove the inner lid. When I finally gave up and decided to pack the pot back into the box, it took me another half hour to get the outer lid closed so the pot would fit back into the box.

I also noted that several parts have to be removed and washed by hand every single time the pot is used. In what universe does this product make anyone's life easier? Back to the store it goes. Total fail.

Bottom Line: No, I would not recommend this to a friend

---

Advertisement

---

New owner

By Roger S.

,

Massachusetts

,

Jul 17, 2019
Verified Reviewer

The 6qt Power Quick Pot works good for cooking beef and chicken under pressure, compared to regular stovetop cooking. I just followed the recipes available on YouTube and other websites. The meat is more tender and cooking time is less.

Cleanup of the pressure lid, removing the gaskets takes time and longer than using pots and pans that you can stick in the dishwasher.

The offshore customer service dept absolutely sucks. Twice they could not answer the question, once they hung up and when I called back the guy gave me an answer that was opposite of what their own manual tells users. I pointed the difference to him and it went over his head.

They should train their agents or just not have an offshore company answering questions.

I wish they sold spare gaskets and seals at a reasonable price.

Bottom Line: Yes, I would recommend this to a friend

---

Save your money

By Barbara W.

,

Texas

,

May 6, 2019
Verified Reviewer

I have bought 2 of the 8 quarts TODAY. Neither one worked. When calling customer service they did not seem to care. I am SO very disappointed! Such bad customer service. So wish I could have gotten one that worked.

Bottom Line: No, I would not recommend this to a friend

---

Advertisement

---

Love my Power Quick Pot

By Tamara K.

,

Laurel, MD

,

Mar 21, 2019
Verified Reviewer

I absolutely love the Power Quick Pot. I started off with the 6qt and loved it so much that I bought a 10qt and got the second one for the price of shipping.

Cooks food fast and the food comes out delicious! My favorite dishes to cook are soups and stews! I have given so many of my friends info on how to order this Pot! They love theirs too!

Bottom Line: Yes, I would recommend this to a friend

---

Love it!

By Kristin B.

,

Arkansas

,

Mar 21, 2019
Verified Reviewer

My only prior experience with pressure cookers is my big stovetop pressure canner that makes me nervous every time I used it. This thing is sooo much easier to work with! It's my go-to for so many basics now, like my farm fresh "hard-boiled" eggs that peel like a dream! It's so easy to use that even my husband doesn't mind get dinner started in it. He's even excited about the yogurt I make in it.

It's not magic, there is a bit of a learning curve so read the manual and start small. But after almost three months of regular use, the only semi-fail I had were drumsticks that were so big I needed to cook longer.

Bottom Line: Yes, I would recommend this to a friend

---

Absolutely love it

By Brandy T.

,

Georgia

,

Feb 9, 2019
Verified Reviewer

Not owning this, I had no idea what I was missing. As a full time salaried working mom with two kids who really value nutritional content, I didn't always have time to cook. But this baby makes 8 servings of jasmine rice in 8 minutes. A pull of the bone with a fork pork roast in an hour. That used to be a full day's process. It came out incredibly juicy, and perfect. 8-minute rice? Thought no way, it will be mushy, or hard, the texture will be wrong...it was better than my rice cooker makes it. I think I need 2 so I can have meat cooking in one and sides in the other. Can't wait to try sweet potatoes in this!

Bottom Line: Yes, I would recommend this to a friend

---

Love it

By Terri T.

,

Highland, IN

,

Jan 17, 2019
Verified Reviewer

I received my Power Quick Pot free when I ordered the Power Air Fryer oven. I love it. I made two slabs of baby back ribs, they were fall off the bone delicious. I've even made a pot roast. The entire process was super easy as was the clean up. I have never used a pressure cooker before and was a little scared but now I can't believe how easy it is...I am always looking up new recipes to use.

Bottom Line: Yes, I would recommend this to a friend

---

Pleased with this purchase

By Vicky R.

,

Georgia

,

Jan 16, 2019
Verified Reviewer

I just purchased my Power Quick Pot at Sam's Club. My decision was based on the number of features, price, and capacity. The Power Quick Pot had more settings, lower price, and a smaller capacity than the Instant Pot, which is better suited my kitchen and family size.

My first meal was a rolled turkey roast. The roast was partially thawed, so I used the pressure cooking instructions for poultry. Using the preset, my roast was almost cooked through in 30 minutes. A few minutes in the microwave and the roast was delicious. I know that I will need to experiment to get perfection, as there is a learning curve. I would suggest that the manufacturer would add more cooking time instructions. However, based on how good my first try tasted, I am ready to keep using my new appliance.

Bottom Line: Yes, I would recommend this to a friend

---

Best appliance I ever purchased

By Catherine C.

,

Plymouth Meeting, PA

,

Jan 11, 2019
Verified Reviewer

I love the Power Quick Pot. It is simple to use - of course, I thoroughly read the manual before using it the first time. I just love being able to make bean soup in just 60 minutes without soaking the beans first. I also made fall-off-the-bone pigs feet in 45 minutes. I like the fact if something needs just a little longer to cook, you can add 20 or 30 minutes upon completion by simply setting it again. And because the contents are already hot, pressure builds up again in no time. Try doing that in the old fashioned pressure cooker. You may have to soak the rubber gasket in distilled white vinegar to rid it of strong cooking odors - a small price to pay for the convenience. So far, I have no complaints.

Bottom Line: Yes, I would recommend this to a friend

---

Love it!

By Deb R.

,

Kendallville, IN

,

Jan 10, 2019
Verified Reviewer

I love the Power Quick Pot. I live alone and don't like to spend a lot of time making meals for myself. With the Power Quick Pot, I find myself looking forward to making meals. I am not disappointed one bit. I highly recommend the purchase of the Power Quick Pot.

Bottom Line: Yes, I would recommend this to a friend

---