Power Remote by Bell & Howell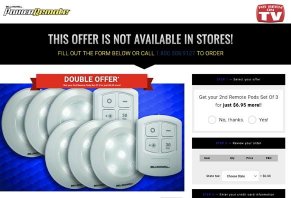 Lighting up dark areas in your home is much easier with the Bell & Howell Power Remote LED light set. The small lights and multi-function remote control provide a nice set of features for any homeowner or renter.
Power Remote Pods by Bell & Howell Review
The Bell & Howell Power Remote is a series of three remote and touch-controlled LED lights you can place anywhere in your home, office or car using each light's simple adhesive pad.
The product is a time-saver and convenient because you don't need to plug them in and out of an outlet when you want them to turn on, nor do you have to use drywall anchors and screws to place them on walls.
Bell & Howell is a manufacturer who sells multiple types of indoor and outdoor home products, including tactical flashlights, desktop humidifiers, animal repellers, and lanterns. Their Power Remote is an As Seen on TV product like several other of the items they sell.
In this review, we'll talk about how these lights work, how much they cost and their return policy and how they compare to similar products you could buy through Amazon.
How Bell & Howell Power Remote Pods Work
Every home has dark spots where light has a hard time reaching high- or low-traffic areas. For example, in our house, our pantry gets partial illumination from a hallway bulb. The corners of the pantry can be hard to see.
These are the types of situations for which Power Remote is designed. The product comes with three LED-powered lights that, according to the website, last more than 20,000 hours.
These three lights are a few inches across and come with a round adhesive pad on the back of them. Peel off the protective paper on the pad and then stick the light anywhere you'd like.
You can control how the light works either by pressing down on it to turn it on and off, or by using the remote you get with the product.
The remote has several different functions. First, you can use it to turn the lights on and off. Second, you can dim the lights and, third, you can set the lights to go off after 30 minutes.
The ability to turn the lights on and off either by pressing them with your hand or using your remote is nice because it allows you to turn some lights on and off depending on where and how you're using the lights.
Another small perk of the light set is that the remote control comes with a holder you can affix to a wall. When you're done with the remote, you slide it in the holder so it's ready for the next time you come by and want to turn the lights on or off.
We called the Bell & Howell's customer service line to ask about the range on the remote control because we felt like it's an important part of using this product. However, the customer service rep with whom we spoke was not able to find the information and referred us back to the website.
Pro tip: These lights use AAA but do not ship with any batteries. A customer service rep we spoke with said she did not know how many batteries each light needs.
Bell & Howell Power Remote Pricing
At the time of publishing, you could buy the Power Remote for $19.99 and free shipping. The site was also offering a deal in which you could get a second set of lights for an additional $6.95. Keep in mind that adding the additional three lights does not include another remote.
You won't have to pay sales tax on the items you buy unless you live in California, New Jersey, Nevada, and New York. Also, keep in mind that residents of Alaska and Hawaii will pay a $10 shipping surcharge and residents of Puerto Rico will pay a $20 shipping surcharge.
So, depending on where you live, six lights and a remote could cost you anywhere from $26.94 to $46.94.
If you're unsatisfied with your product, you have 60 days to return it. You'll want to call 866-304-4265 to start the return. When you send the lights back, you'll send it to the following address: ATTN: Returns, 400 RETURNS RD, Wallingford, CT, 06494.
How the Bell & Howell Power Remote Compares to Other Remote LED Lights
Part of making a good buying decision – even if the product is $19.99 – is knowing how much similar items cost. Understanding this information can help you see if you're truly getting a good deal on your Bell & Howell Power Remote lights.
At the time of publishing, the best-selling remote-controlled LED lights were the Brilliant Evolution Wireless LED Puck Light six-pack for $34.99.
This product came with a remote control and six LED lights just like the $25.94 package from Bell & Howell.
The remote control on this product did everything the Bell & Howell remote did with one big difference. The timer on the remote gives you the following options: 15, 30, 60 and 120 minutes. The Bell & Howell lights, if you remember from earlier, have one timer setting: 30 minutes.
Another difference is that the Brilliant Evolution lights ship with enough batteries for all the lights. The Power Remote lights do not ship with batteries, and she could not tell us how many batteries each light needed.
Assuming that each light uses at least two AAA, it would cost you $6.64 to buy the sufficient amount of Amazon Basics batteries from Amazon. This extra purchase would push the cost of six Power Remote lights to around $31.58, which is still a few dollars cheaper than the Amazon set.
As far as reviews go, the Brilliant Evolution lights received an average of 4.4 stars from more than 3,000 reviews.
Wrapping It Up: Our Final Thoughts About the Bell & Howell Power Remote Pods
Based on our analysis of how this product works, how much it costs and how it compares to a popular similar product, we've come to some research-based conclusions about the Power Remote's pros and cons.
We believe this product's strengths are its price – $26.94 is competitive compared to the best-selling remote-controlled LED light set on Amazon. While the timer isn't quite as varied as it is with the competing Amazon light set, it's still a nice feature to have a 30-minute turn-off.
As far as the downsides go, it's really hard to tell exactly how bright the lights are on this product. Customer service wasn't very helpful in answering our questions and they seemed to be limited to the information that was available on the Power Remote website.
The other downside is that you'll have to buy batteries for your lights as they do not ship with batteries. And, since a company rep wasn't able to tell us how many batteries we'd need, it was hard to know how many to buy.
If you choose to go ahead with your purchase, remember, that you have a 60-day, money-back guarantee working in your favor. Should the lights not function how you want them to, you can call the customer service number we listed earlier to start your return.