Power Smokeless Grill Reviews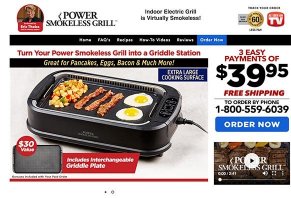 Power Smokeless Grill comes with essential features like interchangeable grill and griddle plates, adjustable temperature control, and a Cerami-Tech non-stick coating.
About Power Smokeless Grill
Using AirFlow Technology with a built-in smoke extracting fan, the Power Smokeless Grill promises to help you cook just about anything—eggs, pancakes, bacon, steaks, seafood, chicken, burgers, vegetables, Paninis; you name it—while virtually eliminating all hot, smoky air.
Additional features include a heavy-duty die-cast aluminum construction, an extra-large (13.5" X 8") cooking surface covered in Cerami-Tech non-stick coating and a removable heating element that delivers 1,200 watts of cooking power for temperatures up to 450°F, with no hot spots.
Its grill and griddle plates are interchangeable, the drip tray/collection pan catches excess fat while you're cooking, and you can keep an eye on your food using the stainless tempered glass cook-n-look lid. The power cord is also detachable for easier storage.
Except for the cord, base, fan, and heating element, all of Power Smokeless Grill's parts are detachable and dishwasher safe for easy cleanup.
Together, the manufacturer advertises that you can grill your favorite foods to perfection all year round, regardless of the weather. In fact, they explicitly claim that Power Smokeless Grill will deliver "the convenience of indoor grilling, with outdoor results."
Advertising claims aside, let's help you figure out if it's worth handing over your hard-earned money for this model, or if you should consider versions from third-party manufacturers—starting with its basic functionality.
How Does the Power Smokeless Grill Work?
You'll start by removing Power Smokeless Grill's drip tray, heating element, and grill plate. Then, add about two cups of water to the water tray/collection pan and reassemble.
After making sure the unit is resting on a flat surface (otherwise, it can cause the grease to leak out) and inserting the detachable power cord, you'll touch the 'Fan' button to turn it on, and then the 'Power' button to activate the heating element.
Using the LED smart temperature control, you'll press the up or down arrows to toggle the heat settings, and you're ready to start adding your favorite foods and grilling indoors.
As Power Smokeless Grill grills your food, Turbo Speed Smoke Extractor Technology is said to create a "vacuum-like environment, which pulls smoke down through the vent into the unit, so the smoke does not escape into the air." Instead, it's channeled into the water contained in the collection tray.
At the same time, we're told food particles like grease and other airborne molecules are trapped, while the water helps cool the smoke and eliminates almost all of it from the system. This way, they advertise it won't smoke up your kitchen, or the air in the rest of your home.
When you're done, press the 'Fan' and 'Power' buttons to turn each off.
Although the grill and griddle plates, lid, drip pan, and water tray are dishwasher safe (you can also hand wash), the manufacturer emphasizes that you'll want to let Power Smokeless Grill cool down before cleaning.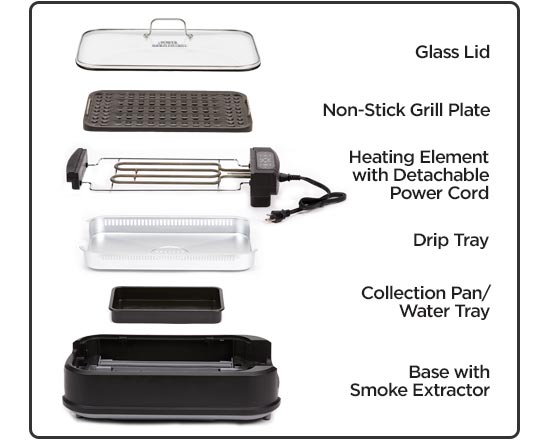 Here, we can see each of Power Smokeless Grill's parts, which are removable for quick and easy cleaning. Credit: Tristar Products, Inc.
If cleaned in the dishwasher, they point out you'll want to avoid using lemon-scented detergent, while hand-washers should never use scouring pans, abrasive pads, or harsh cleaners. Instead, they recommend using a nylon bristle brush or plastic scrubbing pad.
The base unit should be washed using a damp cloth, warm water, and mild cleaning liquid. The electric fan is removable if you require a more thorough cleaning.
Outside of these, the manufacturer points out that you should always avoid using metallic utensils, as well as cutting food on the grill plate using sharp metal utensils like knives and forks.
Always use potholders or kitchen mitts when handling the unit, and keep your fingers, face, and unprotected skin away from its hot surfaces while cooking.
How Much Does the Power Smokeless Grill Cost and Where Can You Buy It?
If purchased directly from Tristar, Power Smokeless Grill is priced at three payments of $39.95, plus free S&H, for a total of $119.85. In addition to the grill and lid, you'll also receive two recipe books.
The XL version is also available for 3 payments of $54.95 or a one-time payment of $164.85
Each order comes with two recipe books and a riddle plate.
Tristar Products offers a 60-day money-back guarantee on all Power Smokeless Grill purchases, less S&H. To request one, customer support can be reached at 973-287-5108.
Just keep in mind that at more than 15 pounds, it might cost more than a few dollars to ship the grill back to the manufacturer.
Note: During our research, we also found Power Smokeless Grill available on Amazon for $89.99, which was eligible for free shipping for Prime members. Several customers also responded that this model doesn't feature the griddle plate or cookbooks.
What Can We Learn from Power Smokeless Grill Customer Reviews?
On Amazon, more than 20 customers had given Power Smokeless Grill an average rating of 4.7 stars.
There, common compliments related to versatility (it can cook a wide variety of foods), effectiveness (significantly reduced smoke, good-tasting results, actual grill marks, etc.), and quality construction.
The single complaint related to difficulty obtaining a replacement for a damaged lid.
Power Smokeless Grill vs. Other Indoor Smokeless Electric Grills
Although we encountered plenty of third-party electric grill/griddle combos during our research on sites like Amazon and Google Shopping, there were meaningfully fewer smokeless models.
Of these, many shared the same core features advertised by Power Smokeless Grill, including countertop functionality, drip pans, non-stick grilling surfaces, adjustable temperatures, dishwasher safe grills/griddles, quickly disassembly for easy cleaning, and even heating and temperature distribution.
Here were some of the more popular search results:
| | | | |
| --- | --- | --- | --- |
| Model | Price | Cooking Surface Dimensions | Standout Features |
| Power Smokeless Grill | $120 | 13.5" X 8" | 1,200 watts, interchangeable grill/griddle plates, heats up to 450°F |
| Gotham Steel Smokeless Electric Grill | $60 (Original), $70 (Large) | 12" x 10" (Original), 14" x 9" (Large) | Only 4 temp settings (warm, low, medium, high), no griddle plate |
| Philips Smoke-less Indoor Grill | $230 | 21.8" x 13.5" (total – no dimensions listed for grilling surface) | 1,660 watts; patented design for faster, even heating |
| Chefman Electric Smokeless Indoor Grill | $50 | 13.5" x 8.5" | 1,120 watts, overheat auto shut-off protection, 3 heat zones on grilling surface (low, medium, high) |
| Chef's Choice Indoor Smokeless Electric Grill | $150 | 14 5/8" x 9 5/8" | 1,500 watts, cast iron grill plates |
As with most other products, choosing the best option is going to start out by deciding on a comfortable budget. After all, as we can see from the examples above, some models are priced almost five times higher than others.
Sharone Stela at TheIndoorGrill.com explains that the number of features you'll have access to with any smokeless grill is often proportional to your budget.
This typically includes the overall size (and therefore the cooking capacity), as well as higher-end features like automatic temperature control and wattage:
"Wattage is the main factor for cooking food, and an indoor grill's price also depends on its wattage. Lower wattage is cost-effective, but this also means it takes longer to cook food. On the other hand, higher wattage models will cook food quickly, but are costly."
"From my practical experience, I can tell you that 1,200 watts is perfect for indoor grilling."
Another factor to consider is that some models feature incremental heating, which can provide a broader range of cooking temperatures, depending on your needs. On the other hand, models like Power Smokeless Grill only feature four different heat settings (warm, low, medium, and high).
From a non-stick perspective, many models will feature traditional PTFE-based coatings, while others, like Power Smokeless, use a ceramic alternative. In general, customers of other brands often report that ceramic coatings are initially better, but tend to lose their non-stickiness faster than PTFE.
» Related: Is Non-Stick Cookware Harmful to Your Health?
Our Bottom Line on the Power Smokeless Grill
At about $120, Power Smokeless Grill comes in at a middle-of-the-road price point compared to popular competitors, is manufactured by a company who's been in business for a couple of decades, and features the same Cerami-Tech coating as the Copper Chef cookware line.
In addition, it comes with many essential features like a see-through tempered glass lid, adjustable temperature, removable parts (many of which are dishwasher safe), as well as 1,200 watts of cooking power.
Tristar also seem to stand behind the smokeless grill with a 60-day refund policy if you're dissatisfied. Just remember that it's about 15 pounds, which might be expensive to ship back, depending on your location.
Automatically turning temp down

By Brian M.

,

Pennsylvania

,

Mar 10, 2020
Verified Reviewer

The grill is automatically turning temp down and the fan off in the middle of grilling the food. Only been using the grill for about 1 and 1/2 months. No support to explain why. Very disappointed.

Bottom Line: No, I would not recommend this to a friend

---

NOT Smokeless Grill

By Ray R.

,

Bristol, CT

,

Jan 22, 2020
Verified Reviewer

I like the design and it cooks good. But my fan cut out. At first it cut in and out but now that it's out of warranty, NOTHING.

I will eventually replace it with a higher quality product. It's too bad they didn't add more quality to it.

Bottom Line: No, I would not recommend this to a friend

---

Disappointed

By Cheryl B.

,

Claverack, NY

,

Nov 1, 2019
Verified Reviewer

I purchased the Smokeless Grill back in April 2019. Today it stopped working. I didn't purchase a service contract, but I would expect something that costs over $200 would work more than under 6 months. It was used that much maybe 1 or twice every 2 or 3 weeks. Very disappointed in the company and product.

Bottom Line: No, I would not recommend this to a friend

---

Customer service experience

By Linda C.

,

Park Ridge, NJ

,

Oct 18, 2019
Verified Reviewer

Purchased the grill in July along with the protection plan they offer.

While washing the glass lid in the sink recently the handle came loose and the silicone gasket and screw fell down the drain. I called customer service twice. Spoke with Monique, a supervisor. She could not help me. She told me I had to buy an entire new lid which costs $24.99 because they cannot replace a gasket which costs probably $0.32! She was nasty, rude. I told her this was unacceptable. She told me do what you have to do. She refused to give me the name of her manager or who puts the unit together. They want me to spend $25.00 for an item that costs 32 cents!

Bottom Line: No, I would not recommend this to a friend

---

Advertisement

---

Horrible customer service

By Lillian J.

,

Texas

,

Oct 12, 2019
Verified Reviewer

I purchased and it broke before the warranty was out. Called the company and they started acting like I did something to it. After a 30-minute grilling on how to use it and acting like I was a total moron, they finally agreed to replace it. At my expense. UPS shipping is $50 ground or $115 air...REALLY? So I now have a 2-month-old broken useless smokeless grill.

Bottom Line: No, I would not recommend this to a friend

---

3 strikes and you are out

By Anne K.

,

Rhode Island

,

Sep 22, 2019
Verified Reviewer

I purchased my Power Smokeless Grill as an early Father's Day gift for my partner. I figured it would be good to use during bad weather or when the wind was too strong for our gas grill to function properly. Well, tonight I took it out to use for the third time and it will not work. I can't find a number to call to assist me in trouble shooting the grill. Everyone seems to love this grill. I think it is an expensive bust. If anyone can assist me I would appreciate it.

Bottom Line: No, I would not recommend this to a friend

---

Worth every penny

By Lori P.

,

Whitewater, WI

,

Sep 16, 2019
Verified Reviewer

I don't typically review items online but I have told every one of my family and friends that of all the items I've purchased online this is one of the best. I love this grill and it will be something I purchase for others as wedding and Christmas gifts. Thank you for such a great product!

Bottom Line: Yes, I would recommend this to a friend

---

Nightmare on Elm Street

By Lois P.

,

Mississippi

,

Aug 27, 2019
Verified Reviewer

I bought a Power Smokeless grill in April when we moved to the country. It was broke on arrival, so I don't know how it worked, could never get it to turn on. I immediately called them and wanted to return it, which they were supposed to send me a return label. Never did. After SEVERAL calls never got a response. Yesterday I got a letter from a collection agency for the balance. They want me to pay it IN FULL then try and get a full refund for it from the company. NOT GOING TO HAPPEN. Customer service told me just now, sorry, nothing we can do. I can, DON'T EVER TRY this piece, there is NO WARRANTY OR GUARANTEE, and they don't care if your credit is affected. Read reviews first!

Bottom Line: No, I would not recommend this to a friend

---

This has been a lifesaver!

By Christie B.

,

Allensville, NC

,

Aug 16, 2019
Verified Reviewer

I love grilled food, even built a new 15x24 back deck with all the goodies and new grill, used 3 times. My brain tumor came back, and I received another dangerous, incurable diagnosis and I can longer regulate my temperature. My husband bought me this grill for indoors. I was mad! I didn't need another appliance! There's no way the food would taste as good as an outdoor! I WAS SO WRONG! We throw frozen burgers on, 5-6 on each side, most delicious, juicy burgers ever, we even tried 2" thick filet mignon that we treat ourselves with every week and it's better than when I use the cast iron pan (Gordon Ramsey would beat me, lol). And the days I'm struggling to eat during my treatment, I can easily grill myself delicious vegetables and fruit kabobs. Now I just need a griddle top! It didn't come with ours.

Bottom Line: Yes, I would recommend this to a friend

---

Updated review

Would return

By Ed A.

,

Alfred, ME

,

Aug 13, 2019
Verified Reviewer

Had I not thrown out the box, I would return it!

Bottom Line: No, I would not recommend this to a friend

Previous review
Aug 7, 2019

Pros and cons

First of all, I bought this with the idea of replacing my propane outdoor grill. Guess what? I'm keeping the outdoor grill! It takes 3 times as long to BBQ chicken breasts on the smokeless grill! Secondly, I don't have a dishwasher, so cleaning it is a pain in the butt! The extra time it takes to BBQ can raise havoc on your power bill! Grilling hot dogs is ok, but, again it takes a lot longer than the outside grill. We have long Winters here in Maine, so I'll keep the grill for "occasional" use over the Winter.

(

read more

read less

...)

---

Disappointed and disgusted

By Nelly L.

,

Dallas, TX

,

Aug 13, 2019
Verified Reviewer

I ordered a Power Smokeless Grill on 06/08/2019. After trying it 3 times, I was so disappointed with the product and I returned it for a refund.

I called the customer returns department, and an associate offered me $50.00 to keep it. This automatically told me that they know the product is not worth the money that they sell it for. The associate also told me to keep the bonus breakfast kit so I don't pay more shipping and handling.

I end up losing $56.00 for shipping and handling.

I also lost $25.00 that they charged me for the breakfast kit.

The associate in no shape or form told me that I had to pay for that. He told me don't worry, just keep it so you don't have to pay shipping and handling.

Bottom line, I'm disgusted with how they stole my money and will continue stealing money from people.

Bottom Line: No, I would not recommend this to a friend

---