Power Steam Pro Reviews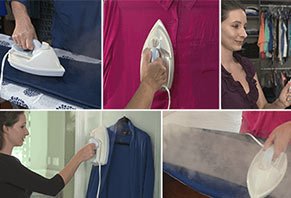 Power Steam Pro is an eco-friendly at-home steamer that can quickly and safely removes wrinkles and odors from clothing, bedding, upholstery, and much more.
About Power Steam Pro
Using an ultra high-powered steaming element, Power Steam Pro quickly, conveniently, and affordably removes wrinkles and odors from every type of fabric, without burning, scorching, or damaging clothes. Which is why the company claims it provides "commercial grade steam in the palms of your hands."
But compared to commercial steaming machines, Power Steam Pro doesn't use toxic chemicals, additives, or salt, weighs less than one pound (easy for travel!), and uses 75% less energy than ordinary irons. Not only will you be able to effortlessly glide over buttons and beadwork, but you'll also be able to de-wrinkle and deodorize bedding, curtains, upholstered furniture, and much more.
Sure, Power Steam Pro has a solid marketing department, but will it live up to the infomercial's hype, or just leave you dripping with anger? Is it the best product available, or are there other options that represent better values? After reading this review, you'll have a much better idea of where you stand on these important questions.
To begin our journey, let's talk about the basics behind steam cleaning.
Steam Cleaning vs. Dry Cleaning
When you apply heat to your clothes, it gets rid of wrinkles by breaking the polymer bonds within the fabric, making them less rigid and able to shift into new positions. The only question is which method you'll use to accomplish this.
Despite what the name might lead you to believe though, dry cleaning isn't a "dry" process. Instead, garments are added to something closely resembling a traditional washing machine, after which they're washed in perchloroethylene, a chemical that's exceptionally good at degreasing fibers without damaging them. Unfortunately, it's also a dangerous chemical with too much exposure.
Then, the garments are pressed, placed in a place bag, and await your return.
On the other hand, because steam is above the boiling point of water, it's very effective at removing dirt and reducing wrinkles, but without the use of potentially harmful chemicals, not to mention the high cost of frequent dry cleaning. As you might imagine, this steam is also quite effective at killing bacteria that can lead to unwanted odors.
Here's the thing: Most modern dry cleaners can also steam clean your garments, although it could be just as expensive as dry cleaning. But can you expect to get the same kind of results at home that a professional could achieve?
How Good Are At-Home Steam Cleaners?
In the market for an at-home, portable steam cleaner? You're in luck, because there are only about a thousand to choose from. Seriously though, search for the term online (or browse the aisles of your nearest superstore) and you'll come up with more results than you'll know what to do with.
How do these other options stack up? We'll talk more about price in the next section, but from a performance perspective, much of the competition seems to get relatively good marks from customers. Unfortunately, since it's such a new product without any online reviews yet, we can't be sure how Power Steam Pro will compare.
In general though, these portable at-home units are considered ideal for occasional touch-ups, but if you're looking for some serious, deep-down cleaning and de-wrinkling (think along the lines of a shirt left in the bottom of your suitcase for a couple days), harsher dry cleaning will win the bout every time.
In a nutshell, while garments require dry cleaning at different intervals—depending on fabric type, how frequently they're worn, and more—if you're really expecting that you'll never have to dry clean your clothes again, you might end up disappointed with Power Steam Pro (or any steam cleaner, for that matter).
Now, let's move on to price.
How Much Does Power Steam Pro Cost?
Power Steam Pro will cost you $39.99 plus $7.95 S&H. For this price, your order will include:
Spa Facial Attachment
Over-the-Door Hanger
Fabric Brush
Travel Bag
Measuring Cup
Mini-Go Roller
All Power Steam Pro purchases come with a 30-day refund policy, less S&H charges. In order to request a refund, you'll need to call Easy Living Products' customer service department at 770-528-0884.
What Do We Know About Easy Living Products, Inc.?
We've reviewed more than 600 As Seen On TV products here at HighYa, and Power Steam Pro is our first encounter with Easy Living Products. According to their website, this appears to be their only offering.
We did learn that the company had a D+ rating with the Better Business Bureau at the time of our research, despite having only 4 closed complaints (one of which the company failed to respond to). Three of these complaints referenced Power Steam Pro (customers didn't think it worked as advertised), and one referenced unauthorized credit card charges.
Does Power Steam Pro Add Up?
Let's say you have five pairs of slacks and five dress shirts that require dry cleaning once per week. And although costs can depend on the market you live in, the fabric of your clothes, and how often they're worn, let's say this costs you $30 per week. This means, in less than two weeks, your Power Steam Pro could possibly pay for itself.
However, the fact of the matter is that, unless you stain your clothes with something like mustard or red wine, you can care for your normally-dry-cleaned clothes at home, without having to spend any extra money. This includes hanging your garments in the bathroom while you're taking a shower, hanging them in a well-ventilated area, brushing regularly to remove surface oil, or even filling a spray bottle with vodka!
So, if you're looking for the most value for your money, these options might be worth a try. Still thinking about a portable steamer? Then be sure to check locally before placing your Power Steam Pro order, which can save you money on non-refundable S&H charges if you're not satisfied.
Great product - great customer service

By Teresa T.

,

Nashville, TN

,

Jul 22, 2019
Verified Reviewer

Travel for business and hotel irons often have buildup that puts white marks on my clothing so I bought this to travel! It is lightweight and compact and safe to use on all my clothing. It works great! Recently it took a while to steam and I emailed the company to see about getting it repaired or replaced. I received an email back that day and a phone call the following day in which they walked me through cleaning in about 5 minutes. It's back to working great again! Not only is this a great product but it comes with great customer service! You won't be disappointed!

Bottom Line: Yes, I would recommend this to a friend

---

Advertisement

---